Noemi Pérez at the MCA Chicago
Routes and Territories
Thursday, April 16, 2020
Time is short today, but what I want to begin thinking about are some mural-sized works of charcoal on canvas that I saw in February at the Museum of Contemporary Art as part of their exhibition Routes and Territories.
The artist is Noemi Pérez, who is from Colombia. Together, the set of pieces are called Panorama Catatumbo. She made them in two groups, one group from 2012 to 2016, the other in 2018. One of the 2018 panels was shown courtesy of the artist and Institut Vision; I believe the 2012-16 panels belong to the Museum of Contemporary Art. Most of my photographs show the 2012-16 panels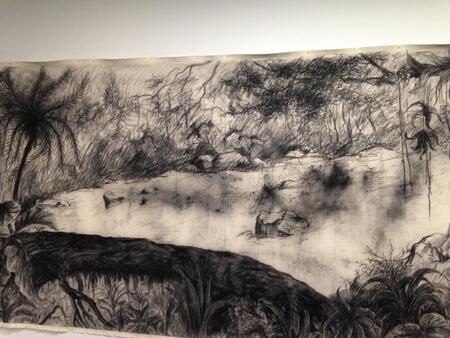 All I want to draw attention to today is that the vegetation and landscape are given in very dense, rich terms.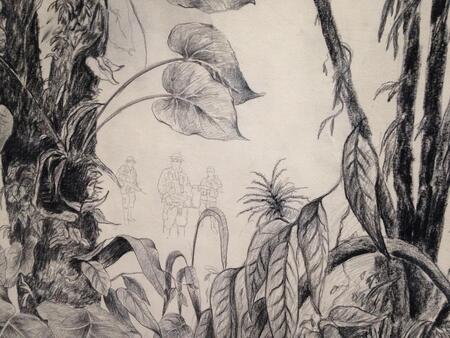 In among the vegetation are thin penciled figures – refugees from Venezuela, people involved with drug cartels, Indigenous Bari people – who are in the activity of their lives. You have to work hard to discern the people, in the museum, and in the photographs.