Austen Years: A Memoir in Five Novels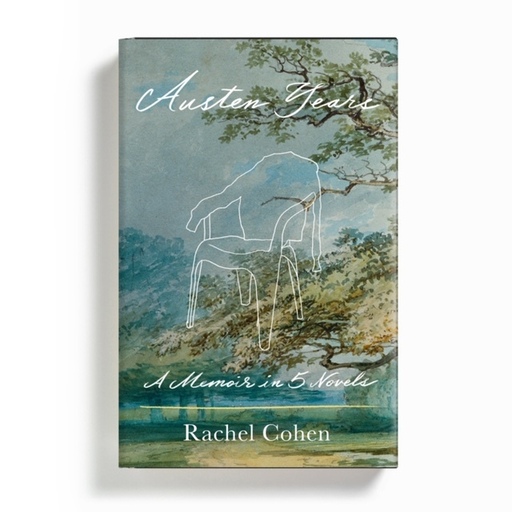 My third book Austen Years: A Memoir in Five Novels, has just been published by Farrar, Straus and Giroux. It's a memoir about a period of life, when my father died and we had two children; it's a consideration of Austen's novels; and it's a book about reading, and going back to read again, in times of isolation and transformation.
Austen Years has been selected by Literary Hub as one of its most anticipated books of 2020, by Vulture as one of the best books of Summer 2020, and by the Christian Science Monitor as one of the ten best books of July, 2020.
Read an essay drawn from the book at the New Yorker Online:
https://www.newyorker.com/culture/personal-history/living-through-turbulent-times-with-jane-austen
Praise for Austen Years
"A thoroughly authentic, smart and consoling account of one writer's commitment to another." ― Sophie Gee, The New York Times Book Review"
"Cohen has taken her fascination with – and personal dependence on – one great author and transmutes it into something any reader in the world will find downright marvelous." ― Scott Donoghue, Christian Science Monitor
"Austen Years is a different and much better sort of book. Cohen doesn't want to show us the ways Austen taught her to live or made her into some kind of better person. She has written instead about the ways the death of her father and the birth of her children (and all of the mundane things in between) taught her to read Austen...Cohen's Austen Years offers us a moving and intelligent guide to reading Austen in our days of death." ― Ann Fabian, The National Book Review

"Moving and introspective . . . In parts criticism, literary history, memoir, and philosophical questioning, Austen Years tackles the subjects of writing, reading, grief, and ourselves with lyrical mastery." ―Julia Hass, Literary Hub
"A
wondrous
mix of memoir and biography . . . [Austen Years] is a book not to be hurried through but consumed in small portions and pondered over as it sparks introspection. [Cohen's] deep knowledge of and respect for Austen's novels will equally impress Austenites and readers less versed in her works." ― Stacey Hayman, starred review
Booklist
"This haunting and haunted narrative pulls off the impossible task of allowing us to read over a thoughtful writer's shoulder, allowing us to discover these known-to-death novels by watching her observe, think, and, yes, feel through their pages." ―Leah Price, Public Books
"Rachel Cohen's Austen Years is a work of compassionate and meditative alchemy. It explores the patterns that hold together life, art, love and loss; the spaces between memory and memorialisation, between literary creation and lived experience, between inspiration and revelation, reading and re-reading. Like the implacable action of tidal waters upon the shore, it returns to, shapes, and quietly unearths hidden treasures from what we thought was familiar ground. It's an absolutely fascinating book: I will never read Austen the same way again." —Helen Macdonald, author of H is for Hawk
"I'm excited to read anything Rachel Cohen writes, inspired by the delicate precision of her thought and the grace of her expression. In Austen Years, the marriage of Rachel's rare attentiveness with Jane Austen's beloved novels makes for an exhilarating and beautiful book." ―Claire Messud, author of The Burning Girl
"In the achingly precise Austen Years, the refusal to be finished reading the texts that mean most to us converges with the desire to bring a halt to time's passage in the mourning of the loss of a parent, or the daily transformations of being one. The delicacy and patience of Rachel Cohen's approach match that of her subject." –Jonathan Lethem, author of The Feral Detective
"I read Austen Years with real pleasure and fascination over several evenings — it's a truly exceptional piece of work, a tender and moving meditation on fiction and family memory, on Austen and on Cohen's beloved father, all so surprisingly combined and acutely observed. It's completely captivating."—Richard Holmes, author of This Long Pursuit: Reflections of a Romantic Biographer
"In her biographies, Rachel Cohen displays one of the most widely ranging minds I've ever encountered in a book. Stunningly, in Austen Years, she reveals that during a lengthy period of personal transitions, she turned exclusively to a single author, Jane Austen, immersing herself intensely. Her memoir is an astonishingly fresh reading of Austen's novels, a deeply felt reexamination of their great themes (love, inheritance, how to be with others in the world), and a lyrical ode to the pleasures and rewards of paying close attention. It will sit next to Pride and Prejudice on my shelf." ―Ruth Franklin, author of Shirley Jackson: A Rather Haunted Life