Gorky
Second Gorky
Saturday, May 17, 2014
"There is my world." – Arshile Gorky on
Summation
What would it be to begin without a location in time? A letter or an email always begins with a date, even the hour; when I begin these entries my first instinct is always to situate in time – last Wednesday, after studying Ernst's collages. But I think part of the strangeness of Arshile Gorky's
Summation
is that it avoids a location in time. The experience is of many, local, whirring events or personages. Maybe as the mind feels on waking in the night, though with more tranquility than that, as, on a quiet day, taking a thankful walk. The mind casts about, and, although it dreams and wonders about the unknown and recollects and watches the known, this is not really felt as looking forward and backward but as looking around.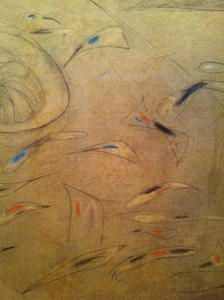 Why is it only now, many months after I saw and struggled with
Summation
, that this seems evidently its mode and quality? I remember that when I went to see it I was in a hurry to get home to the baby and had been unable to find a taxi, and that there were only a few minutes before closing. I remember that I hoped to find something to help me think about my father. Perhaps, fixed on locating the sequence of events in the months before he died, turning from this to picture hurrying to the immediate needs of next days, I was too oriented toward calendar time to see the Gorky. [Here it is, whole, though too small to feel at wall's expanse.]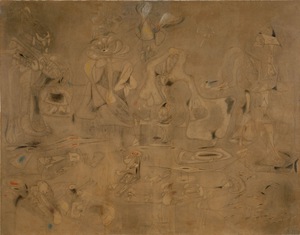 In my mind now it seems well-distributed, elegant and coherent. It would be very difficult to say where it starts, even where one's eye lights first or in what order it observes. A summation bears a different relationship to time, or happens in another realm of time – a repetitive, cyclical, associative time – not approachable in a sequence of minutes, but felt in the round of years. Part of the fear of death must be that, as the minutes are torn from us one by one, we will not be able to hold, and hold to, the beautiful spaciousness of rounding in time.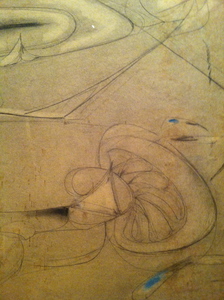 Surrealism and Form
Sunday, November 3, 2013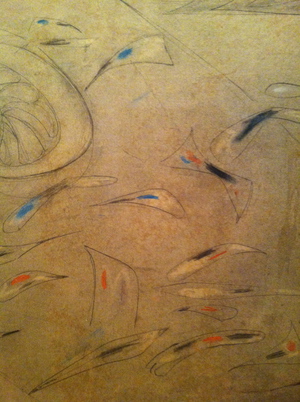 There are other feelings for form, of course, but that doesn't mean the Surrealists didn't have formal feelings. Form is often described in spatial terms, as arrangements of objects, as landscapes with prominent and receding features. Perhaps the Surrealist feeling for form could be evoked by inversion: one could speak of a disarray of objects, or of interior landscapes in which prominence is, like that in dreams, more a matter of excitation and disturbance.
This is not to say that when you look at, say, a Max Ernst collage, your eye is not still balancing the long pointed beak of the rooster against the long line of the legs of the naked woman he has turned over his knee, but that your awareness of the beak and the body, as a beak and a body, are affecting your seeing as loci of attention in a way that is not mostly about parallel lines but about balancing visceral experiences and grappling with perceived and imagined relations between them.
The thought I've been trying to get articulated for a few days, since seeing Arshile Gorky's
Summation
, is that these turbid experiences of suggested meaning might still in some way be understood as
formal
.
I rushed into the MoMA last Saturday at 5:00 (the museums closes at 5:30). I didn't plan to go, had been in New York for five days without setting foot in a museum, had given up on the possibility of going, all of us, the baby, too, were sick, we were leaving early the next morning. After a meeting, I had been unable to get a cab for fifteen blocks and realized I was within blocks, decided to chance it…
I knew that if I had to check my backpack I would be left with ten minutes at most. I discussed this with a sympathetic man at the information booth who, blessings on him, comped me; the much less sympathetic man at the entrance did make me go check the bag. I couldn't remember where things were; I've never spent time at the new MoMA the way I used to at the old MoMA; on the narrow escalators I was trapped behind someone who preferred to stand.
These are all aspects of seeing art in New York, but I'm not sure which should be brought out and which let drop. I was hoping to hit Abstract Expressionism. My father loved Rothko and I thought maybe if I got one of those I could use my ten minutes for missing him, but the one I saw through a doorway opening had a kind of bright lime green edge that I recoiled from and before I quite realized what was happening I saw a Gorky and thought I've been meaning to think about Gorky and stopped.
In the wall text next to
Summation
, Gorky is quoted as saying, "There is my world." I could see from the dates that he had died the next year, and remembered dimly that there was something untimely and terrible about his death. [I looked it up later. He killed himself the following year, at the age of forty-four, after a gruesome two years, in which his studio burned down, a car accident left him with a broken neck and a temporarily paralyzed painting arm, and his wife left him, and took their two children.] What had stayed in my mind was the sense that he had been an extremely important link from the Surrealists to the Abstract Expressionists – and that his loss had been bitterly mourned by both André Breton and Willem De Kooning.
The significance of Gorky's influence was pointed out both in the Whitney drawing retrospective (winter 2003-2004), a show I thought was very profound, and in "Abstract Expressionist New York," at the MoMA three years ago. Although people do talk about it, I still think it is easy to overlook how totemic and dream-oriented the Abstract Expressionists were in their early days. Frank O'Hara's great essay on Jackson Pollock has a long useful section on Surrealism.
Another approach in the direction of my hoped-for thought might be: if one thinks of the forms discovered by the Surrealists as being in some way taken in and then diffused throughout the canvases of the Abstract Expressionists then one could in a way actually be a witness to this in looking at the works of Gorky.
An Early Interview
Thursday, February 6, 2014
In college (when I was an ardent feminist, and also somewhat uncomfortable about bodies), it seemed hard to like, or even to tolerate, the works of Max Ernst. I'm not even sure I knew which paintings were his. Now I am surprised that I seem not to have encountered even the most famous instances of his ravaging vision, like the
Ange du Foyeur,
let alone the collages of
Une Semaine de Bonté
that have absorbed my attention in recent years.
The first time I remember suddenly
seeing
Ernst, what he could do as a painter, how ferocious and intelligent and clear he was, was at the Menil Museum in Houston. I had gone down there to interview Walter Hopps, one of the 20
th
century's master curators, first to show Joseph Cornell and Marcel Duchamp in California, he who brought discernment and force to the display of California artists, who worked with Kienholz and Warhol and Jay DeFeo, who had a perfect touch for Donald Judds, and did the great Oldenburg show at the Guggenheim.
We had an odd interview. I was just starting out as a writer, and had never conducted an interview before. I had been asked to write something for
Modern Painters
, and I don't remember now why I came up with the idea of Hopps, perhaps it was meant to be a piece about a curator, and I had been writing about Joseph Cornell and thought that early show might be something to find out about. I remember standing in the kitchen of my parents' house, telling them that the magazine had said I could do this interview, and I remember my father saying encouragingly that this was an opportunity. My parents gave me some frequent flyer miles, and I bought a tape recorder that I was none too sure about, and flew down to Houston, and was picked up by Hopps's very kind wife, Caroline Huber.
I had read quite a lot about Hopps and his exhibitions. I had various ways of trying to imagine his working life, could see the light in which he had worked – my parents had grown up in the southern California of the 50s and 60s where his was a radical and celebratory presence. Nevertheless, when I found myself across a table from him in his acrid office across the street from what he wryly called "the museum as office park," designed by Renzo Piano, I realized that
I had no idea what I was doing
. Of course Hopps must have realized this, too, but his attitude seemed to be one of grimly marching forward. He talked of artists and artworks I knew a little something about as if he were involved in a strong colloquy with himself that I and the tape recorded merely attended. There were glimmers of dark humor in his speech, and I tried to bring these out in the piece I wrote. I couldn't then articulate what subsequent events made me realize, namely, that he was already ill and facing down the question of what what he had done had meant.
I felt the edge of it. His wife anxiously told him not to smoke during the interview and I had wondered about that and then been surprised when he immediately lit up and smoked – smoked not like a chimney, more like a furnace, like he was eating the cigarettes – while on the desk in front of him he set going an odd little gnashing machine that I think was a sort of ashtray but was also in a way meant to consume the smoke, to draw it down and keep it from filling the room. My remaining impression is of the jaws of this machine clanking away at their ineffectual labor while the room became thick, hazy, a pall of smoke. I believe I was enjoined not to tell his kind and worried wife, though of course she would immediately smell what had happened when he was picked up afterwards.
Perhaps not so many still came to talk to him about paintings. He could have used a more knowledgeable and forceful interlocutor, but perhaps it was still a welcome occasion to get out to the office – he was now an emeritus curator – and to speak of these things.
When he had done, I shook myself from the smoky listening stupor and he said we would walk through some of the rooms he had done. There were the Judds, clean-tempered force fields that Hopps had installed with autistic clarity and there, to my surprise, lining the walls of a small room, were what I remember as four Max Ernsts that I surprisingly loved.
Hopps believed in hanging paintings to be ready for a fist-fight with the viewer, much lower than the height dictated by blockbuster shows where crowds need to see over one another's shoulders. He believed the viewer and the painting should be body to body and sometimes quoted another Menil curator, Jermayne McAgy saying that they should "hit the tits." This seemed to be just the kind of context Ernst needed because the paintings were suddenly so alive, so arresting in their life that I was shaken and drawn and a little disoriented. It was at least another five years before I had a similar experience of
La Semaine de Bonté
and I didn't look at Ernst in the meantime, but you don't forget raw force like that, and from then I knew it was there.
Walter Hopps died not long after my small article was published. I know that he and his wife had liked the draft I checked with them; that was the end of our contact. I thought I should try to reach her and to see if she would like the tapes of his muffled clenched voice with the grinding cigarette machine drawing him out. I had the instinct that it would be right to send them, and at the same time could not quite feel that any record really existed, or was mine to send. I felt that I had watched him as he barricaded himself behind something, and had emerged from the room as if from a dream.
This all came back to me on Tuesday, out walking in the snow, S. asleep in the stroller. We had returned to Cambridge after being home at my mother's, S. and I. Sunday was the anniversary of my father's death. He did not smoke, but he died of cancer in his lungs, and toward the end I sat by him, amid the oxygen machines. He talked, and I listened with a sharp, painful attention.
For years I have been trying to write about Max Ernst, and this year I have had a puzzling feeling that there would be something to say about Ernst's work and my father's death together.
Something – etched and strange – in this configuration. A man who can feel in his lungs that the end is coming; two hopeless, helpful machines – the little cigarette jaws, the little tape-recorder – trying desperately to fight back to life, to hang on to its meaning; a young incomprehending woman sitting by, catching at the edges of this parade of figures for whom life has been violent and radiant. And then: a momentary experience of razor-sharp clarity about deeply mysterious objects that have the hybridity and continuity of dreams. This followed by fumbling efforts to ascertain in language what might have been there. None of this is foreign to the capacious and impossible work of Max Ernst.
Degas Portrait Trio
Wednesday, February 26, 2014
At the MFA right now, a trio of Degas portraits are not to be missed. They can be stumbled upon in a narrow blue-green corridor on the second floor, next to the sealed off construction zone that is normally Impressionism. It is as if three of the finest musicians – one at the beginning of his career, one at the end – happened to all be passing through a town on the same night and to have the idea of playing some chamber music – and you happened to be staying at the hotel and to walk by the room they'd found for their rehearsal.
One of the portraits actually is of musicians – of a guitarist and of Degas' father, listening.
Then in the middle hangs the famous double portrait of Degas' sister and her to my mind supercilious husband.
On the right, the formidable Duchessa di Montejasi and her two wavery daughters.
Of course they are famous pictures, but hung together in this order the experience is extraordinary.
Things noticeable: a significant progression in Degas' style – from the middle couple painted in 1865,
to the portrait of his father and Lawrence Pagans dated 1869-72, through to the later piece in 1876.
Then there are the family relationships – the father, a little weary but firmly engaged with the music, seems almost to see his outward-gazing daughter as he looks toward the middle portrait – the mother and her two daughters on the right suggest a different balance between the generations.
The heights of the paintings, the textures, and palettes, go beautifully together. And then formal resonances: from far apart, the musician and the pair of daughters face each other, while the Duchessa and the married couple have the prominence of facing the viewer squarely, even demandingly.
And who would have thought the cramped hallway, 253, with its poor lighting and difficult bluish-green paint would make such an astonishing space for them. You have just enough room, by dint of backing and turning, to see all three at once and it is good to look from the long angles the hallway affords and to be brought into such direct confrontation with the pictures.
Degas' beautiful-ugly palette is perfect against the wall color, which flattens out most paintings, but seems to make these only more astringent and demanding.
It is all the strictest happenstance – because the museum is renovating its main Impressionist gallery, where two of these portraits often hang, but in no clear relation to one another; because the renovation has been made the occasion of the "Boston Loves Impressionism" show; because when offered the choice of fifty great Impressionist works the public voting online chose thirty pictures and not one of these Degas portraits; because the curators, possibly a bit frustrated with the limits of curating by public taste saw an opportunity; because the cramped and difficult space is actually better for seeing these paintings then the larger halls in which they more often hang, because of all of this, a rare chance…
Do go. A little further along the hallway, you will also get to see what is possibly Cézanne's last self-portrait, hung immediately next to his wonderful "Woman in a Red Armchair," (moved since I last wrote about it here). This, too, is a powerful juxtaposition, strong in the tight hallway, not before displayed in like fashion. The shadow show, the Impressionism Boston does not love, is as revelatory a sequence of paintings as the seven works in the Frick's Piero show were last year.
Snow
Saturday, February 15, 2014

At this time last year, in the days when my father was dying, it snowed and snowed. From the hospital windows, it had its beauty. The hallway near the elevators had windows that looked down on to a sort of large courtyard, not rustic, but still made precise by the snow. People crossed and you would see dark footprints. These would then be covered. The footprints and their being covered, traces of particular steps and shoes, then again white -- the tiny brevity of each passing figure, of the length of time in which the marks each made were visible, and then the snow.
The Impressionists painted snow -- in cities, in villages, over fields -- and snow itself seems their subject. The Dutch painters made snowy landscapes for tiny figures to skate in, but the Impressionists gave the element pride of place. They must have loved snow, which is, itself, painting. (In the time I've been writing this the pine tree outside my window has got light traces of white on every outside branch.) And it is painting as the Impressionists thought of it -- stroke after stroke, strokes themselves visible, paint as paint, so that you watch the illusion accumulate and marvel. And the snow's relations with light -- at once so wide and so complex -- to absorb, dampen, reflect, sometimes seemingly to generate. Outside my window it gets whiter and whiter, and the dark of the looming sky finds its balance in the intensification of white on the ground.
Time is slower in the snow. You can see it passing before your eyes. Discrete white that you can follow just long enough to feel that you were following it before it was lost, but over and over so that the seconds fill, and the minutes.
*
A man in a blue hat, walking vigorously -- I can see his head and shoulders beyond the fence with its white lines, through the scrim of white air -- passes the stop sign, makes his way along the road, goes behind the pine tree now more white than green, leaves the visual field.