Monet
Les Débâcles, first
Monday, February 23, 2015

débâcle: the violent flood that follows when the river ice melts in spring
In the winter of 1879-1880 the weather was unusually stormy and cold. All along the Seine there were record quantities of snow and ice. That winter, Claude Monet was at Vétheuil, a village near Argenteuil and to the northwest of Paris. Monet was living in straitened circumstances with his children; his beloved wife Camille had died earlier that year, in September. The remaining Monets were sharing a household with Alice Hoschedé and her children. The winter was so fierce that even at Christmas it was impossible for them to be joined by Alice Hoschedé's husband, Ernest, who had been one of Monet's important supporters and collectors. Ernest Hoschedé was suffering through his own difficult period; he had gone bankrupt two years before, and his entire Impressionist collection had been sold at disastrously low prices. It is not entirely clear how the merging and transformation of the Hoschedé and Monet households took place, but this grim winter was to prove a turning point both in Monet's life and in his work as a painter.
I have been reading about that winter, and the paintings Monet made then, for nearly a year. Reading very slowly, chiefly in one catalogue called
Monet at Vétheuil: The Turning Point
. The catalogue caught my attention in a used bookstore here in Cambridge, in part because the show that occasioned it was held at the University of Michigan Art Museum in Ann Arbor, where I am from, and in part because the subject of the paintings is winter. My father died in Ann Arbor in early February of 2013, during a bitterly snowy fortnight. This February, two years later, I am again confronted by mourning and by snow. Although I have been thinking about these confluences for many months, I am not making any progress on drawing them together as an essay. So I have decided to try writing a series of broken pieces instead.
During the winter of 1879-1880, Monet painted a series of canvases of the snowbound river and of the eventual catastrophic breakup of the ice. The series of paintings, called Les Débâcles, take their name from the river floods that followed the thaw in early January of that year. Until this point, much of Monet's work had been of urban landscapes. There had also been portraits and still lifes; the work depicted or implied the presence of people. But this winter, he painted landscape alone, deliberately removing the boats and industry which photographs from the time show to have been part of the landscape at Vétheuil. Instead, the viewer of the painting is alone in nature; the subject of the pictures is the terrible majesty of winter and its devastations.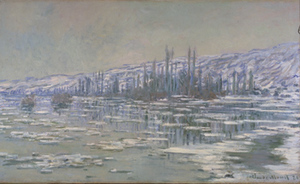 Monet, Le Débacle, 1880, University of Michigan Art Museum