Sargent Stone Water Stone Paper
Frederick Project: Materials
Thursday, April 9, 2020
In 2013, a show of John Singer Sargent watercolors. I saw it at the Museum of Fine Arts in Boston; it was co-organized with, and also shown at the Brooklyn Museum of Art. These two institutions have the two finest collections of Sargent watercolors.
These first details are from I Gesuati, ca. 1909.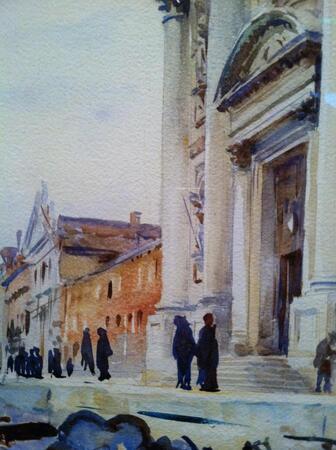 [Works shown in this post belong to the Museum of Fine Arts, Boston; except for two, belonging to the Brooklyn Museum, noted below.]
It interested me that walls were so beautiful in his hands. Some of what he showed were walls of houses that had been painted with paint, and it made sense that the fluidity of watercolor would serve. But other walls would have been of marble.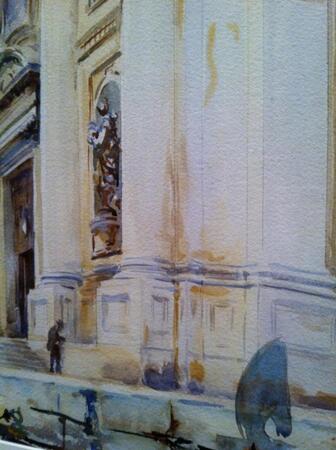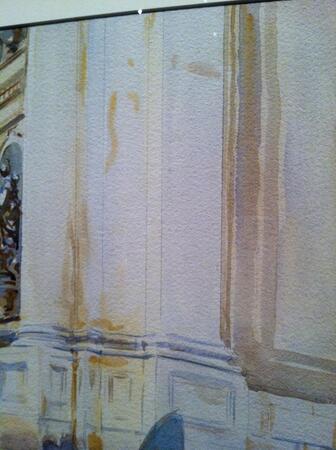 Venice was one of his great subjects. Water flowing before and among walls. Bridges over and under. Here is a detail from Santa Maria della Salute, 1904, from the Brooklyn Museum of Art.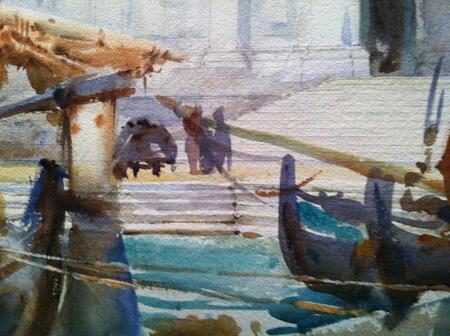 This extraordinary curve, the vault of the Rialto Bridge, seen from underneath, water running below stone and light echoing above. Venice: Under the Rialto Bridge, 1909.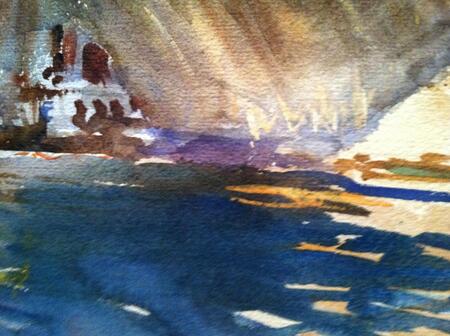 Water itself was not only Sargent's subject but his technique, his material, and his ideas of time. This, All'Ave Maria, (from about 1902-1904, belonging to the Brooklyn Museum) is of people walking on the Zattere near Santo Spirito, at the time of evening vespers, was done very fast, the technique called "wet on wet" which makes the colors bleed into one another, as they do at that time of day.
Late in the show, this watercolor made on a trip to Carrara, Sargent called it Carrara: Wet Quarries. It's from 1911.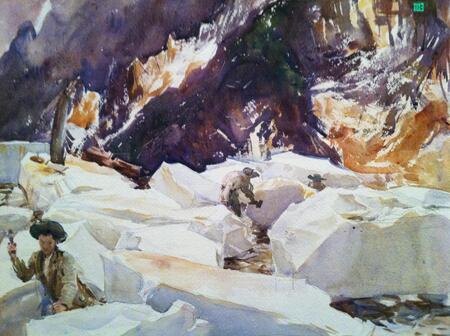 I haven't been able to figure out why wet; something to do with the process of cutting stone, but I don't see how water is involved.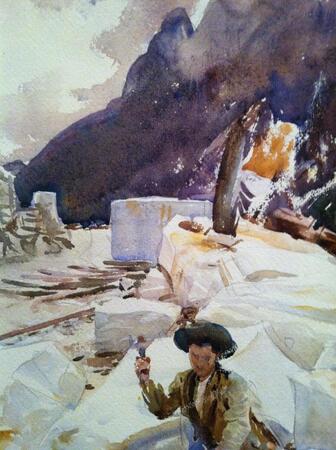 The men working look very hot among their blocks of stone. Sargent spent two weeks at this camp, he would have stood among his pieces of paper.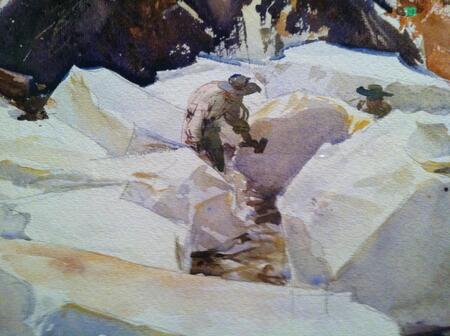 Quarrying had changed at that time, and was being done with dynamite which laid waste to much of the marble.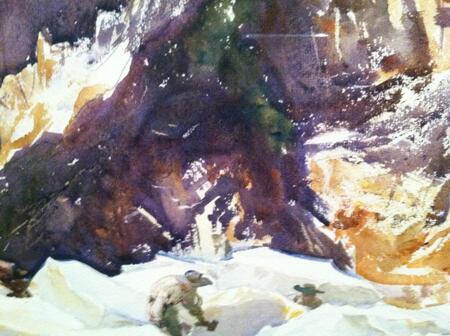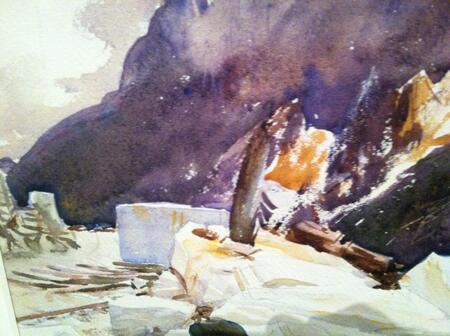 These are all from one watercolor, but in the exhibition, there were a whole series done at Carrara, strikingly abstract, with purples, yellow, green, and the great stones strewn about.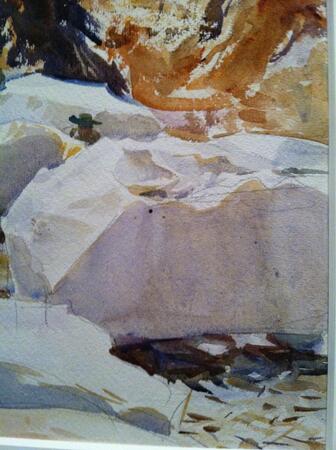 When I look at this set of five Sargent watercolors – I Gesuati, Santa Maria della Salute, Venice: Under the Rialto Bridge, All'Ave Maria, Carrara: Wet Quarries – I read a history of stone, made with water, on paper. A story of the most substantial medium, conserved in translucence.
for Massimo Warglien, Anna Gerotto, and in memory of Michael Cohen, all sheltering in Venice
for Hilary Cohen, sheltering in Ann Arbor
A little more late Manet
Frederick Project: Fortitude
Monday, March 30, 2020
Yesterday, I began from Manet's morning glories and nasturtiums to arrive at a letter he sent to Marthe Hoschedé, with a water color of a horse chestnut on it.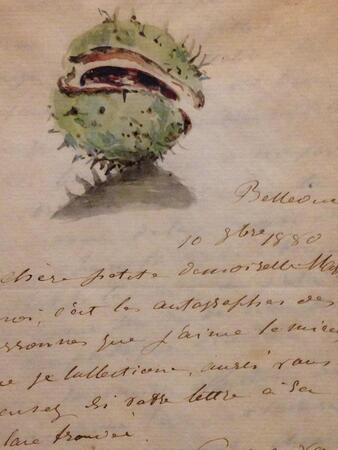 Letter to Marthe Hoschedé, Decorated with a Chestnut, October 10, 1880, private collection.
Detail photo Rachel Cohen.
In the exhibition, at the museum, next to the letter with the horse chestnut, there hung a watercolor of plums. Today I'm going to begin there.
Three Plums, 1880. Collection of Cecille Pulitzer. Detail photos Rachel Cohen.
Believed to have been made for an autograph album or a collector, but still with the casual, personal quality, watercolor on paper, a line of inscription.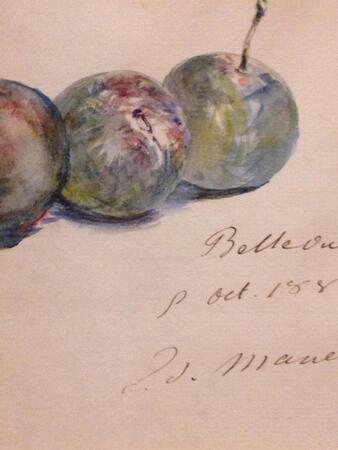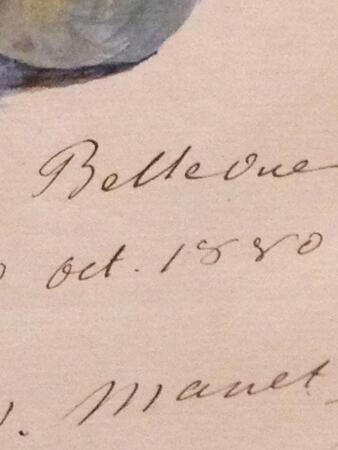 Mostly, I just want to show the layers, the colors.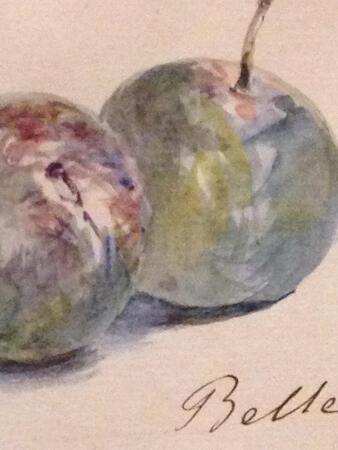 Notice the definition of the space just below and between the two fruits on the left, that unexpected red over blue.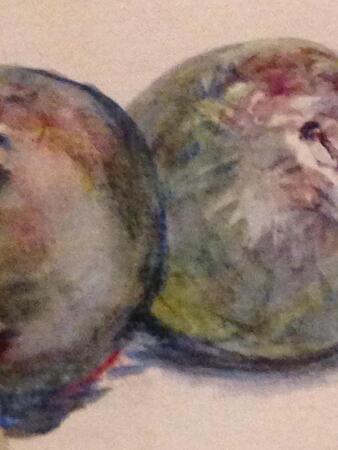 In the show, two rooms later, there was one of the great assemblages, perhaps a dozen still lifes from the very last years, when Manet was exhausted and ill and alone. In 1880, the same year he sent the watercolored letters, he painted these plums: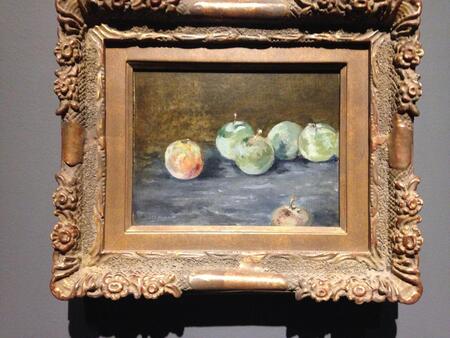 Plums, ca.1880, Museum of Fine Arts, Houston. Detail photos Rachel Cohen.
The still life has a long association with mortality, from the vanitas paintings of the Dutch tradition that Manet had studied intently, to the nature morte (literally translated dead nature) paintings of the French tradition, especially those by Chardin (1699-1779), who was one early father of Impressionism, and whose wonderful still lifes still impart tenderness, domestic fortitude, and courage. Manet, perhaps thinking of Chardin: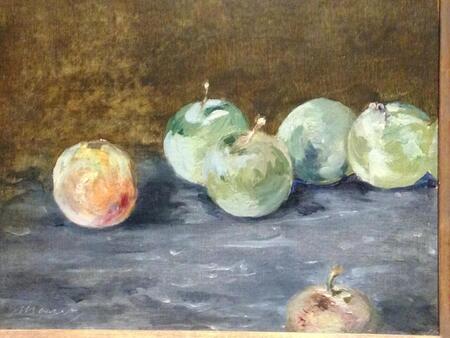 Topaz of the background: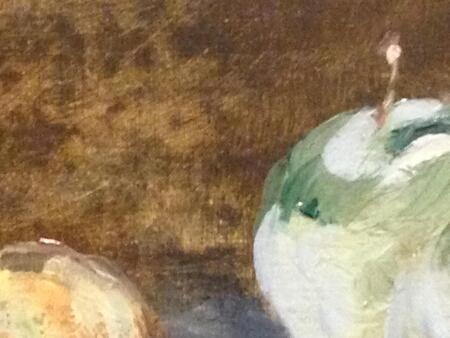 Notice the space between, the definition in blue this time: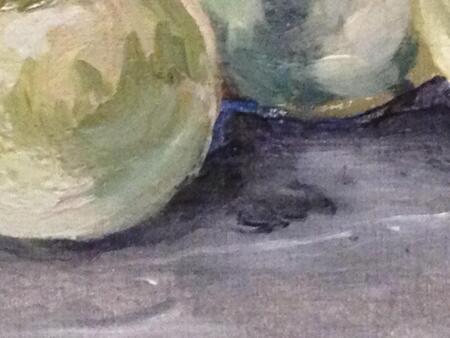 Manet had painted huge revolutionary canvases, the Déjeuener sur l'Herbe, and the Bar at the Folies Bergère, paintings that had provoked battles and schisms and had their place on the barricades. When he was dying and saw very few friends, and loved them, he painted these.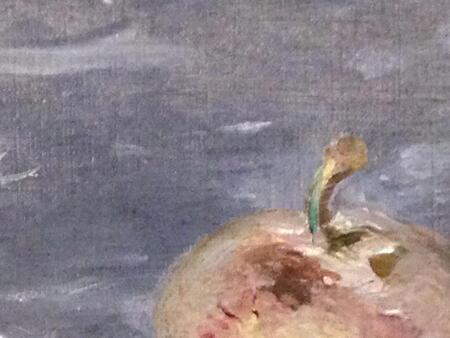 Private Collection
Monday, May 13, 2013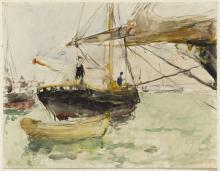 A small watercolor by Berthe Morisot was the most surprising thing I saw on our trip to New York. At the Frick, on loan from the Clark, in that basement space they use for special exhibitions and works on paper, in an assortment of drawings by French Impressionists. The watercolor is of a dark boat floating in green water among other crafts – masts, bow, lines for sail and anchor, a few indistinct figures moving about their work. Colors wonderful – shadows of boats reflecting darker green below, sense of movement, mass, buoyancy. Apparently she drew while herself on a neighboring boat and relished the difficulty of getting the lines while she herself went up and down. A much better draughtsman than I had realized, learning from Turner's watercolors in ways that I've not seen others do, allowing the colors to make a structure. Who is she? Berthe Morisot. The images I know are of her, especially Manet's portraits, not by her. At the Met later that day four or five really wonderful paintings by Morisot as part of their "Impressionism and Fashion" exhibition. The women in these paintings – reclining or sitting, looking in mirrors or at us – emerge out of a shaded and subtly modulated atmosphere. The air itself is thick with paint that condenses in the figure. Clothes are beautiful. A manifestation of what animates their wearers. These women have not been dressed, they dress themselves. I had little time, but tried to look carefully at just these paintings, promising myself that I would spend more time with them one by one in the museums where they reside. In the gift shop, quickly scanning the one book on Morisot, I saw to my disappointment that nearly all her work is in private collections.
Watercolor: Translucence and Resolution
Friday, October 11, 2013
On Tuesday the baby and I saw the John Singer Sargent watercolors now up at the MFA. The baby saw much to please her. In addition to the particularly nice low cushioned gray benches, she liked best the room labeled "watercraft," and in particular this image of boats, also my favorite:
We seemed both drawn to it simultaneously, though how much each might have anticipated the other's preference is hard to determine. She could see immediately that it was boats and then called out the colors – first, her favorite, "orange!" and then, another color she particularly likes, and one pronounced in the picture, "green."
In the last six months or so, watching the baby learn to name her surroundings, I've found again and differently how much of the pleasure of looking is naming. To know what a thing is called is to see it with a distinctness that, nameless, it lacks. One pleasure of Impressionism is of making out what's there – that is a face, a hat, a shadow, a boat upon the water, a reflection. The Impressionist styles of painting slow down the eye's recognition enough that you can feel, again, the early pleasure of coming-to-know-what's-there.
This is also a pleasure of Sargent's work. Though he was not an Impressionist, he developed just a little later and responded to some of the same influences. Many of the watercolors that are part of the exhibition are from the latter half of his career. Watercolor is a great late medium: translucent, indelible, it requires judgment and assurance from its maker.
A mature form for artists, it is also a late form for lookers – requiring subtleties of discernment and resolution. The more experience you've had looking at the world, the more astonished you feel to recognize the effects of diaphanous atmosphere in the watercolor. (Translucent is even one of the names for the kind of paint, the exhibition's wall text lists both translucent and opaque watercolor.)
I had no idea if the baby would be able to see things in this medium – they require much more advanced powers of resolution than what she grasped a couple of months ago when we last went to look together. But, in the last room, labeled, I think, "light on stone," when I said I wanted to look at this white house, she seemed pleased
and when I carried her over to it, she said, of her own accord, "clouds!" That's right, I said. I took out the phone and she wanted to look at the picture of herself with a cat that she knows is on it, but when I said that I wanted to take a picture of the green door she approved and her tone suggested to me that she saw both the object and the way that taking a picture of it was like naming it, an act of recognition: "Door!"
[First two images iphone details of "Portuguese Boats," 1903, last four images iphone details of "Lights and Shadows," 1909.]
Turner before Monet
Sunday, December 29, 2013
In Cleveland for the holidays, M. and I walked through the galleries of the art museum, and stumbled upon Turner's
The Burning of the Houses of Lords and Commons, 16 October, 1834
.
If I'd seen it before, I'd entirely forgotten. A painting of great power and intricacy.
Turner one of those rare colorists who seems, to me, to have control
within
the color – especially here of red that really burns at the heart of the painting and of the expanding cloud of yellow and white.
The color has shape and density, symmetry and modulation. It is not so much that the painting seems to have a geometry as that the color, within itself, does.
Monet knew Turner's paintings and his admiration for them was part of his decision to go to London to do his three late series. One would like to be sure that he had had adequate time with this particular picture, which seems to have a project related in an important way to his own. Monet set the Houses of Parliament, the Thames before them, and the air above them in such a way that each could be transmuted into the others. Turner and those with him along the banks of the Thames that night saw this happen.
The night of the great fire, October 16, 1834, Turner worked all night, up and down the banks of the Thames sketching rapidly in watercolor, which was his habit. One of these sketches is reproduced in a beautiful called
Turner: Les Carnets de Dessins
with text by William Gaunt. Turner's watercolors, the most wonderful I have ever seen, were his private work, and were not brought before the public until well into the 20
th
century. Thus Monet, hurrying up and down the sides of the Thames desperate to catch his evanescent effects, never knew how close a ghostly colleague he had.