Delaney and Morisot Ochre: This Week in Self-Portraits
Friday, April 24, 2020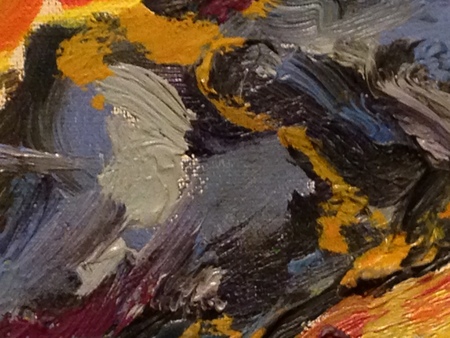 Yesterday, looking at pictures of Beauford Delaney's Untitled, 1965, I noticed a kind of ochre in the corner that I hadn't remembered being part of the palette. It's down in the lower right corner, near the rosy orange, under the diagonal of green.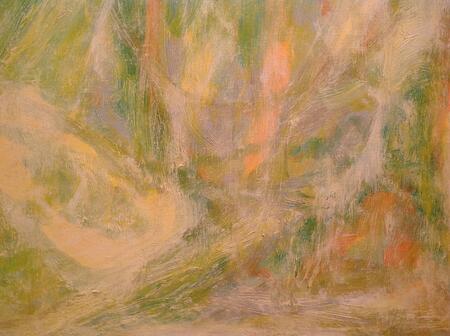 Beauford Delaney, Untitled, 1965. Art Institute of Chicago. Photo Rachel Cohen.
I have also been going through Morisot paintings this week, and her self-portrait, with its ochre, came into view.
Berthe Morisot, Self-Portrait, 1885, Musée Marmottan Monet. Photos Rachel Cohen.
Ochre was so important that she used it to show her own palette, the physical artist's palette that she the painted painter held:
*
Following ochre, I started to think about the two of them together. Which I anyway do fairly often because two shows – Berthe Morisot: Woman Impressionist, and Beauford Delaney and James Baldwin: Through the Unusual Door – have been two of the deep experiences of learning about a painter that I've had in the last three years. Here is a self-portrait Delaney did that is, among other things, a consideration of ochre.
Beauford Delaney, Self-Portrait, 1962. Collection of halley k Harrisburg and Michael Rosenfeld. Photos Rachel Cohen.
Both are painters who have been difficult to see – with works widely dispersed and a very large number in private hands. Both long under-recognized, so not part of every large group show on Impressionism or Modernism. Both were courageous, independent, and, about painting, self-assured.
At what layer of presence does a person's perception of themself reside? Is it the innermost layer, private and nearly inaccessible to anyone else? Or is it the outermost layer, where they present themself to the world? Or is it just beyond the edge of the self?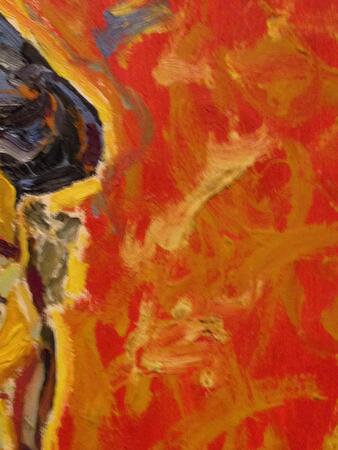 Part of what I love in both Morisot and Delaney is the way layers over- and under- layer.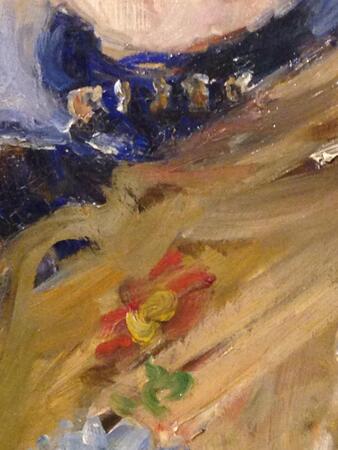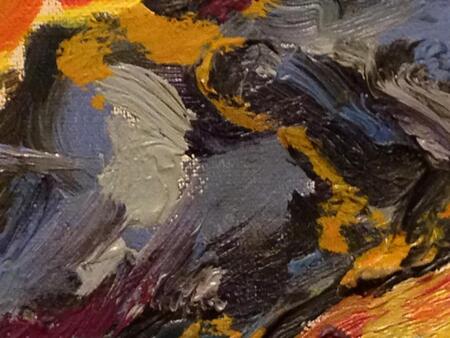 *
Learning as I go, I look up ochre. It is a family of pigments — red-yellow-brown. It comes out of the earth, and all the members of the family have in common the presence of iron oxide. It is the ferric element that gives the yellow. Earliest artistic use uncovered so far: pieces of ochre with abstract designs carved into them at the Blombos Cave in South Africa, 75,000 years ago. Used on every continent inhabited by people, important in cave and mural work among Aboriginal people, Greco-Romans, Egyptians.
Both Morisot and Delaney would have used ochres that came from the Vaucluse part of Provence in France, where the famous red and yellow cliffs were the central source for the finest pigments for artists for two hundred years, after Jean-Étienne Vastier discovered the method of refining that clay in the 1780s. So there is also a mineral proximity.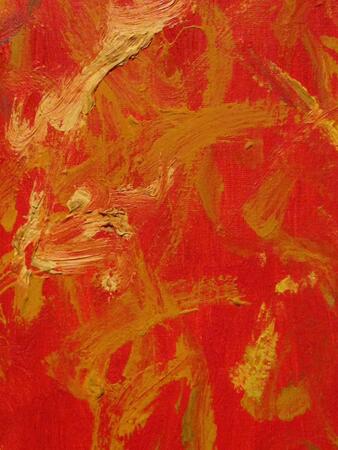 *
The Self-Portrait, 1885 is the main Morisot self-portrait. Delaney painted himself many, many times. Each also painted another person at all the stages of that other person's life. Delaney painted a man he was friends with, and mentored, and loved, James Baldwin, whom Delaney first met when Baldwin was still a teenager. Morisot painted her daughter Julie (nearly a third of her paintings are of Julie).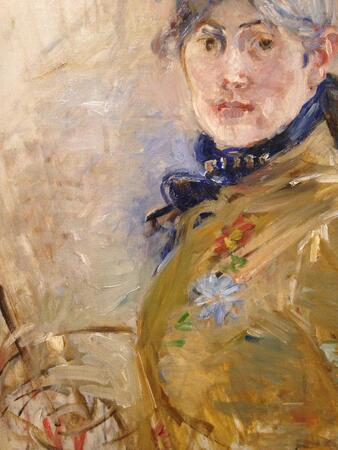 Morisot painted the 1885 self-portrait in between the paintings of her daughter that I showed earlier this week. Her daughter was growing beautifully, was observant, was interested in painting and loved her mother's painting; they were close.
Delaney painted this self-portrait in 1962, in a year when he moved back into Paris after several very important years living in Clamart, outside of Paris, where he had really understood his own abstract style, and where he had often sat in the evenings with Baldwin looking out a window together.
Seeing yourself in other people, seeing other people and being free of yourself for a while, taking pride in someone else, all of these may let a self-portrait swing out.
Beauford Delaney Close Looking
Thursday, April 23, 2020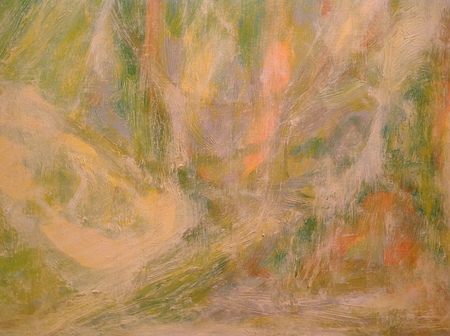 I had about a half an hour with it. The kind people who work at the Art Institute of Chicago had arranged an appointment. It was in the director's suite, behind an administrator, who typed away at her computer while I was looking and photographing. Which is by way of saying that the impression of calm is hard-won, mostly due to the painting, and to efforts of concentration.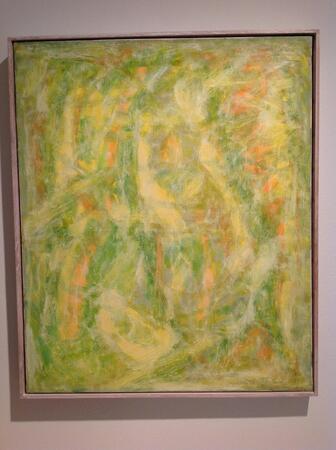 What a painting.
It's 21 x 26 inches (53.3 by 66 cm). A little taller than it is wide, a painting you could put your arms around. Here I photographed it in six sections, with the edges of frame.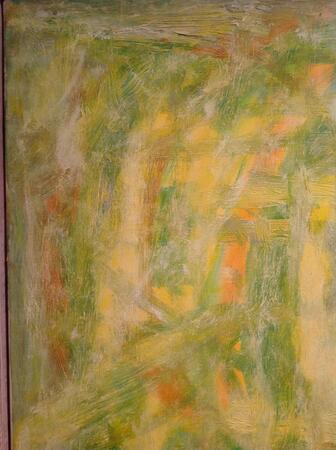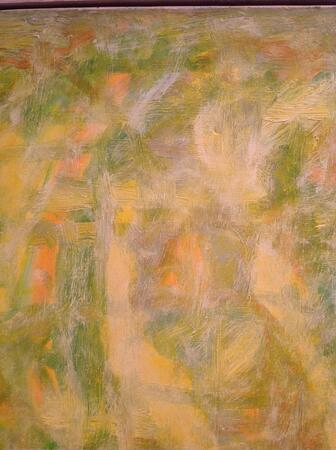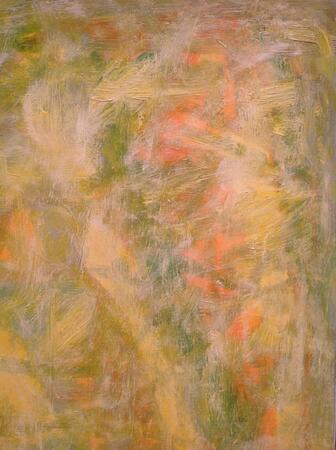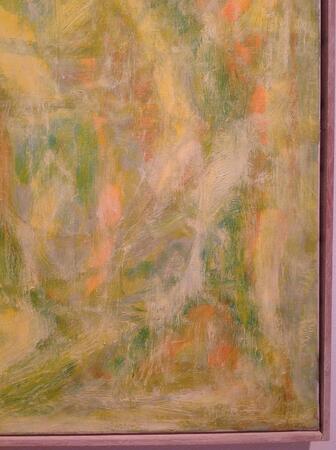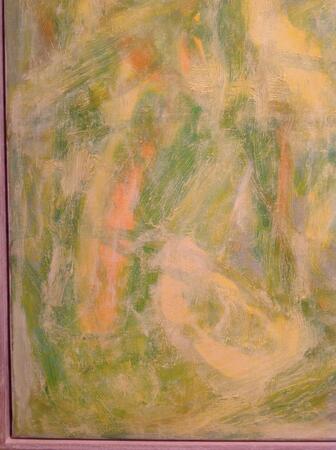 On seeing it, I was struck by the quality of the paint, thin and dry, which I think helps the layers to show through, many thin translucent layers.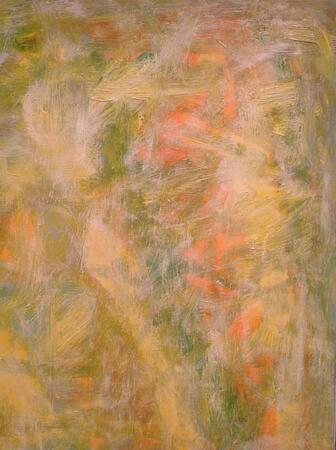 Standing quietly, you can trace the way each gesture in paint leads under and over others. You could paint over it, add layers, but it would be difficult to change the foundations, because it is an all-over painting, in free strokes. You could not scrape off an area you wanted to paint again. So it is an oil painting like a watercolor – you just lay it down.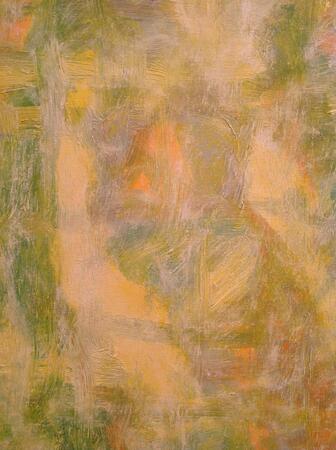 Which isn't to say it was quickly done. Delaney reworked his water colors a lot, returning to them sometimes years later. If he did that kind of long-term reconsideration with this painting, he would have had to continue to work with what's already there. His abstract paintings held the record of his thoughts about them in an unusually transparent way.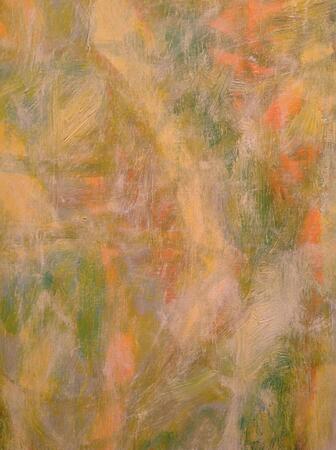 Painted in 1965. He had been in Paris for twelve years, and was now very experienced in a realm of complete abstraction.
Impressions of radiance and gentleness.
I think I started thinking of this painting today partly because I am tetchy, and also sad.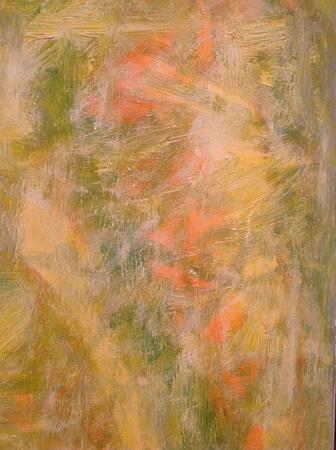 And partly because the tonalities that I came to yesterday in thinking about Poussin's Landscape with St. John on Patmos are close by. See the striking similarity in palette and quality of light to this area of the Poussin:
How much variety there may be among a handful of colors, closely held.
But really I just want to stop my busy typing and let you look.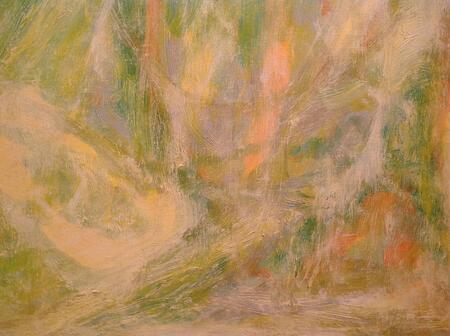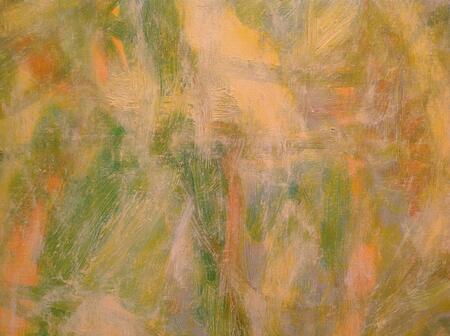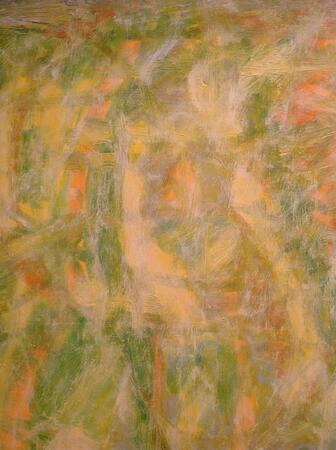 Here, the whole painting again, just before taking leave.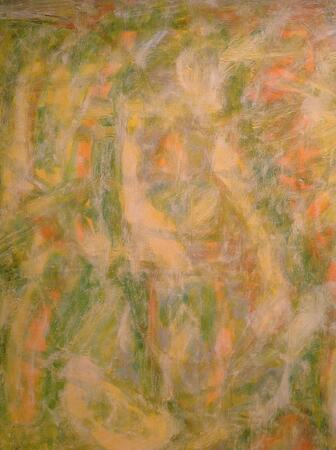 Delaney Self-Portrait Sketches
Frederick Project: Hasty
Thursday, April 2, 2020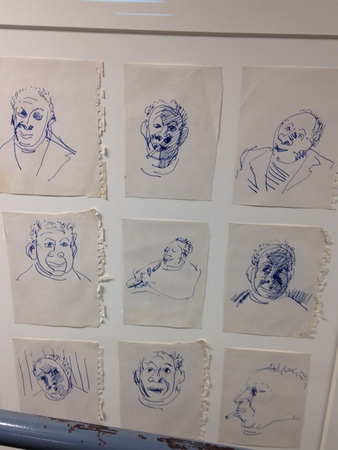 This morning I went for groceries, had a zoom faculty meeting, the man came to help cement the cracks in our back foundation through which the mice are coming; my husband did the kids' school and meals, wiped down the groceries… It's a sunny and beautiful day, New York is running out of ventilators, Chicago is on the edge of serious trouble, I am probably already too anxious to write clearly.
For the last few weeks, I have had an hour or two, even three, to write, and have been able to write first, before the world arrives. I started doing that many years ago, first getting up early to write before my day job, then before teaching, then relying on my husband to take the kids first, but, anyway, not today.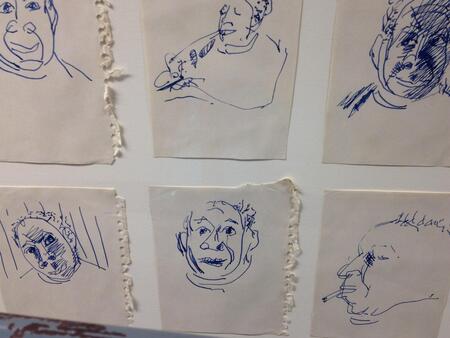 Yesterday and the day before I wrote about Rembrandt self-portraits, and last night I tried to prepare an entry in advance. I was going to quote from Hervé Guibert's powerful small book Ghost Image, in which there is an entry about Rembrandt self-portraits. But I am too restless.
I thought of Rembrandt's quick self-portrait etchings, where he tried out different expressions. And this reminded me that, in storage at the Knoxville Museum of Art, I recently saw a wonderful set of nine self-portrait sketches done by Beauford Delaney.
They are so fast.
And so various.
Done on little sheets of paper torn from a spiral notebook, you can still see the paper edges with the holes. (I was in a hurry, photographing in storage, and this one blurred, but is beautiful.)
Stephen Wicks, curator at the Knoxville Museum, and largely responsible for building their Delaney collection, the best in the world at a public museum, told me he saw the sketches in the holdings of the estate and had to have them. He organized them into rows three by three and framed that that way, but thinks other arrangements might also be strong.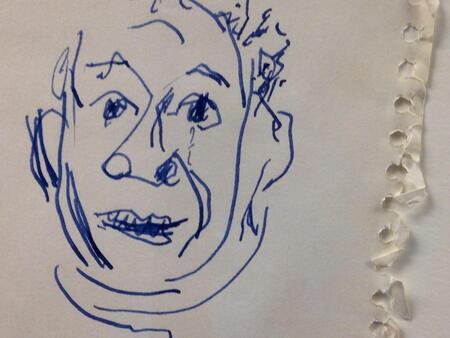 This one draws back a little.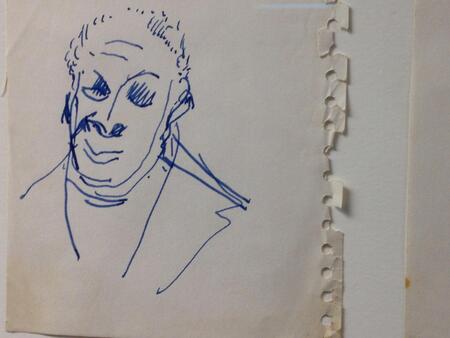 And this one I love.
I can't draw a whole thought from this. But these quick self-reflections – economy, freedom, repetition, assurance, courage, flexibility, psychological curiosity, a relationship between introspection and geometry – these are what I want to be looking at on this hasty day.
Blue of Paul Cézanne
Frederick Project: To Resolve
Wednesday, March 18, 2020
Yesterday, I wrote about Beauford Delaney's blue, green, and yellow – the way the blue filters down through the trees; the radiant effect of combined green and yellow. Today, I want to pursue blue.
I've taught Rebecca Solnit's essay on blue from her Field Guide to Getting Lost, and I've taught Maggie Nelson on blue in her book Bluets. Blue runs through many fields of study – those two writers and many others have traced its threads in landscape, in vision, in philosophy, memory, sorrow, tranquility.
Today I'd like to think about blue as a color of resolve.
My mind skittered for a bit. But it settled on Cézanne. That is a way to talk about blue and resolve. Which Cézanne? The Bay at L'Estaque here at the Art Institute? That unfinished oil I've written about that's at the Fogg Museum in Cambridge? Or the mountain, St. Victoire, that he painted so often. The St. Victoire my mind is most familiar with is the one at the Metropolitan, with that long slow curve of rising brown. Mont Sainte-Victoire, ca. 1902-1906.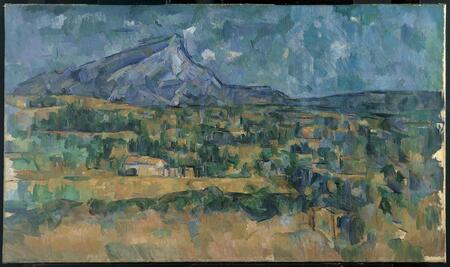 Surely I have photos? A kind of desperation to get to them all, photograph them again with their accumulating areas of blue, the blue over blue. Panic of separation. Forty-five minutes of searching through photos, no, it seems I never took pictures of that. How many hours have I stood in front of it. The reproduction is impressive, the Met allows you to focus in on brushstrokes, but it doesn't seem like my own impression, I feel it effacing my memory. So not that painting. And not the Bay of Marseille, Seen from L'Estaque c. 1885 at the Art Institute either.
We were to go to France this spring. I was going to see paintings and talk with curators, go to Aix, and see, for the first time, the bay at Estaque, Mont St. Victoire. Small losses; nevertheless, impediments to understanding; better to acknowledge.
Here's what I can find today. I did photograph the painting that hangs next to the Bay on the wall at the Art Institute. Here is the museum's photo of the The Bathers 1899 / 1904.
Four photographs.
And perhaps this is not so bad. Because you could look at them all day.
The lines around the figures are of a deep blue, I think it has cobalt in it. Without those lines the figures would dissolve. And blue is also the atmosphere, the air, sky, and water of the painting.
What I want to think about is this. There are two meanings of the word resolve, both from the French resolver. One began in the 14th century. As etymonline has it:
Late 14c., "melt, dissolve, reduce to liquid;" intransitive sense from c. 1400; from Old French resolver or directly from Latin resolvere "to loosen, loose, unyoke, undo; explain; relax; set free; make void, dispel."
Why is explain with loosen, set free, undo and dispel?
The second meaning came a century later:
From early 15c. as "separate into components," hence the use in optics (1785). Meaning "determine, decide upon" is from 1520s, hence "pass a resolution" (1580s).
Here the sense of determination, the courage and clarity to proceed. This is what I will think about today, and write about again tomorrow – how is Cézanne's blue holding both of these senses of resolve?
Beauford Delaney in Knoxville
Frederick Project: Trees
Tuesday, March 17, 2020
I just saw it for a minute. It was low down on the storage rack, and I had to crouch down to get to it. My one attempt to photograph the whole of it is clearly angled from above.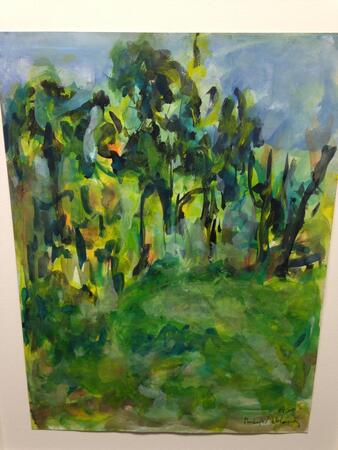 Watercolor on paper. Even in this poor photograph, the sense of the colors is not far from the actual. 12 ½ inches high and 9 ½ inches wide. A little larger than an ordinary piece of paper.
The curator at the Knoxville Museum of Art, Stephen Wicks, tells me that it is similar in style and subject to a group of works belonging to the museum that were all done on Beauford Delaney's last trip home, when he came back from Paris to Knoxville in December 1969 and January 1970. It had been sixteen years since he had been home.
*
The trees in Knoxville do have a particular look, there is a certain air. The city is in the Smoky Mountains, and the blues are special, and have certain relationships to the greens. Delaney had been working on the relationships of blue, green and yellow for his whole life as a painter, and, especially after he moved into completely abstract painting in Paris in the 1950s, he had done painting after painting of layered blues and greens that gave the impression of looking through a particular window of the rooms he lived in, in Clamart.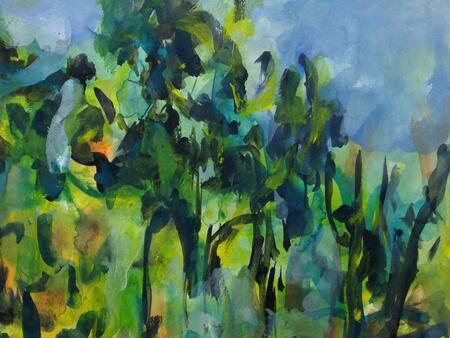 To come from the Smoky Mountains, to spend sixteen years in Paris in other blues and greens, and then to return to the blues and greens of childhood. Many thousands were gone. Life had been a very great struggle. He was happy to be with his family. But he didn't stay long; his life and his painting held together in Paris.
Just look at it.
Just look at the blue filtering down.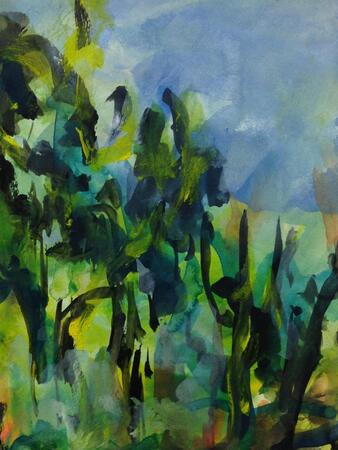 At the luminous combinations of yellow and green.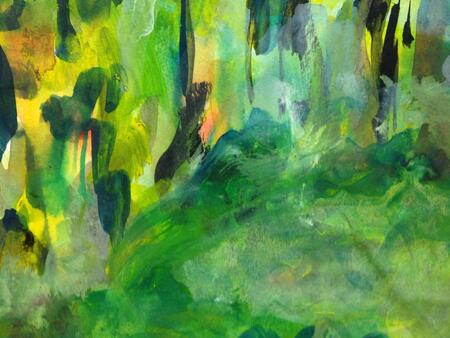 At the calligraphic trees in their hushed arcade.
A little before, in Paris, in 1965, Beauford Delaney had had a show at the Galerie Lambert. There was a catalogue. One of Delaney's dearest friends – they had been friends for nearly twenty-five years at that point – was the writer James Baldwin. Baldwin wrote the catalogue essay. Here is his description of that window at Clamart:
There was a window in Beauford's house in Clamart before which we often sat—late at night, early in the morning, at noon. This window looked out on a garden; or, rather, it would have looked out on a garden if it had not been for the leaves and branches of a large tree which pressed directly against the window. Everything one saw from this window, then, was filtered through these leaves. And this window was a kind of universe, moaning and wailing when it rained, light of the morning, and as blue as the blues when the last light of the sun departed.
Well, that life, that light, that miracle, are what I began to see in Beauford's paintings, and this light began to stretch back for me over all the time we had known each other, and over much more time than that, and this light held the power to illuminate, even to redeem and reconcile and heal. For Beauford's work leads the inner and the outer eye, directly and inexorably, to a new confrontation with reality.
The photographs I took in Knoxville are their own kind of storage, holding impressions of that watercolor that I didn't know I was taking. I did not even have a first impression of Knoxville trees against the fluent sky until later that day, getting a ride to the airport, and I did not really guess at the emotional depths of the details until now, much later, looking at the expanded images here on my computer on March 16, 2020, on a day when the city of Chicago is almost silent, when we are all to keep far apart. It is snowing a little, and a small tree in a planter near my window, and the large trees, of our backyard and our neighbors', press, draw flattened dark lines against a dull gray sky.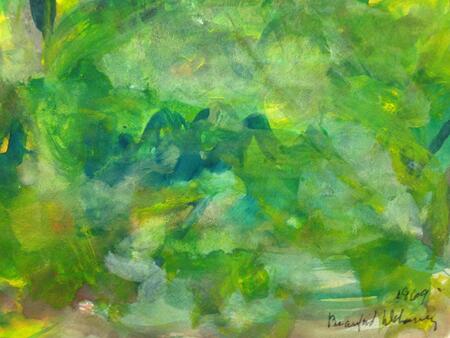 Abstraction and Eyes
Sunday, April 13, 2014
One of the unusual aspects of Beauford Delaney's work as an abstract painter was that even late in his career, when he lived in Paris and had moved very fully into abstraction, he also painted very specific and characterful portraits. These two kinds of paintings were shown together during his lifetime – at, for example, the Galerie Lambert on the Île St. Louis in 1964 – and have been shown so since his death – in particular at the Levis Gallery in Chelsea last year, an exhibition, that, regrettably, I was not in New York to see. [Here are Dr. Ahmed Bioud, 1968, and an untitled work from ca. 1958-9.]
From accounts I've read, this alternating display of persons and abstractions asks something very particular of the viewer. I caught a suggestion of the experience from watching a video of the opening at the Levis Gallery – it might interest the reader to look at it here:
http://www.youtube.com/watch?v=y0ZJcvenRpw
One thing that clearly holds the two approaches together is something essential about the paint itself, its handling. Responding to the 1964 show, the French art critic Jean Guichard-Meili felt that, in the end, the two kinds of works "do not differ… Background, clothing, hands, faces, are the pretext for autonomous harmonies." Guichard-Meili describes the paint itself as having "movements of internal convection," and says that the one experiences "the vibrations of underlying design." [This account appeared in the journal
Arts
and is quoted in David Leeming's wonderfully gentle biography of Delaney,
Amazing Grace
, p165.]
A similar idea – that the patterning and movement of the paint is common to both the portraits and the abstractions – is to be found in the Minneapolis Institute of Arts catalog of its Delaney retrospective of 2004-2005. Here is Delaney's
The Sage Black (James Baldwin)
of 1967. [Photo courtesy of Michael Rosenfeld Gallery.]
The catalog says that, "Delaney superimposed a calligraphic outline on the abstract composition of reds, greens, yellows and blues. Filled with all the colors of a flame, this incendiary, combustible background peers through Baldwin's form…" This language seems to me to greatly simplify what I can tell even from reproductions of the work, which is that the colors shift dramatically between the ground and the figure, that the background does not merely "peer through," but is transformed, condensed, reconstituted in and by the person. I find it hard to understand the eyes in this painting.
* * *
In Paris, Monique Y. Wells maintains a wonderful website called Les Amis du Beauford Delaney, an important resource, and she has two entries on Delaney's portraits of his friend James Baldwin. This was one of the most significant friendships of either man's life. On the site, the art historian Catherine St. John offered comments on another portrait of Baldwin, this one backed in Delaney's signature yellow.
St. John writes two things that seem to me exactly to the point. The first is her description of how to consider Delaney's yellow: "His tactile surfaces of brilliant colors are prime carriers of light and space and it is in his use of yellow - ochre, cadmium, lemon - that we discover the substance of light in relation to spirit." She goes on to suggest a way of thinking about this relationship, of light to spirit, in terms of the figure. "The isolated, self-contained image of Baldwin is the special intersection of the world of light and the subjective consciousness that Beauford Delaney brought to his portraits. It is a supremely expressive portrait in which the eyes, the most intimate and powerful feature of the face, act like magnets."
This is a deeper understanding of the relation between abstraction and the figure in Delaney's work and near to something Delaney himself said in trying to explain the single project that lay behind what seemed two divergent methods. David Leeming says that "Beauford explained to friends that both approaches were studies in light revealed—the light that gave meaning to the individuals depicted in the large volumes of color in the portraits and the light considered directly as contained in the juxtaposition of minute and closely packed bits of blue, red, and especially yellow in the abstract paintings." [Leeming, p164.]
There is much to be said, and much has been said, on the metaphysics of inward light in Delaney (and in Baldwin) but here I want to confine myself to one observation, which is that the eyes, in some important way, do
not
have it. They seem in their dark opacity, or even in their dark brilliance, to reflect on light rather than to be lit. Like magnets, they also have darkness, and draw us by an absorbing force that pulls inward. And this seems very precisely understood. For the eyes would have to be the very site of inversion, the very place where the abstract meets the formed person, the lens across which the inner and outer worlds interpret one another.