Michelangelo on Sunday
Sunday, May 24, 2020
Two important exhibitions of Michelangelo drawings in recent years. The drawing below was in the show at the Metropolitan Museum of Art, Michelangelo: Divine Draftsman & Designer (Nov. 2017 - Feb 2018).
It's a composition sketch for a planned sculptural relief at the church of San Lorenzo, the subject is St. Lawrence Coming Before the Emperor. The Emperor is enthroned on the viewer's left.
Michelangelo began in red chalk, on the left, and then began to use pen and brown ink, and eventually abandoned the chalk.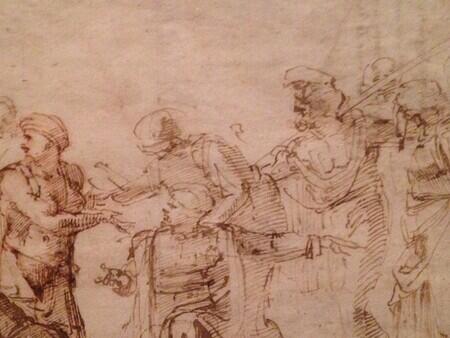 It seems so alive, the materials let you see it coming together over time, and there is another drawing, too, of a limb, I think, sinew, muscle and bone, another idea that you can hold and hold aside, as you watch the figures gesture in their world.
Wishing you a peaceful holiday weekend.