Looking Forward Monet
Sunday, October 4, 2020
Tomorrow, Monday, I'm going to virtually 'walk' with people through the last gallery of the beautiful Monet in Chicago show at the Art Institute of Chicago. I have some dozens of close pictures to show of the eight late water lily paintings in that wonderful room. It's a free public program and quite a lot of people have registered and, in the odd way we live now, I'll meet each of them in the ether between my screen and theirs.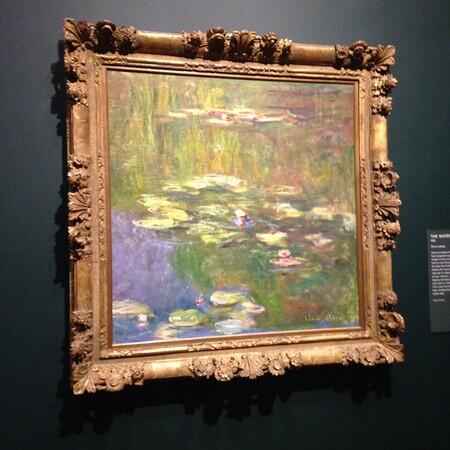 Claude Monet, The Water Lily Pond, 1919, private collection. Detail photo Rachel Cohen.
There will be much to say about Monet and the twenty years he spent painting the water lily pond that he made at Giverny.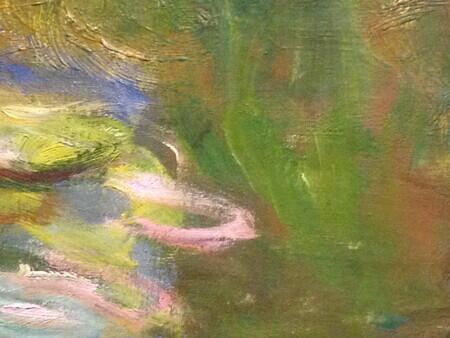 And there will be time to look quietly at some of the beautiful moments in a few paintings.
It has been an incredibly tumultuous week in the news. More and more people are sick. The president is in the hospital. 209,000 people have died.
It seems important to be still with that.
Claude Monet, The Water-Lily Pond, c. 1917-1920, private collection. Detail photo Rachel Cohen.
Monet painted the water lilies all the way through World War I, a war in which both his son and his stepson served at the front.
In this entry, I am showing two groups of details, each group is from a late painting, both of these paintings are held in private collections. The paintings have a very peculiar relationship to time and to the future, which I do not yet understand.
What I am thinking about now is that this is the 94th entry in this project, and it is the first entry since I began that does not look back at a moment when I did see a painting, but looks forward to the next day, when I will be thinking about paintings with other people, in the present.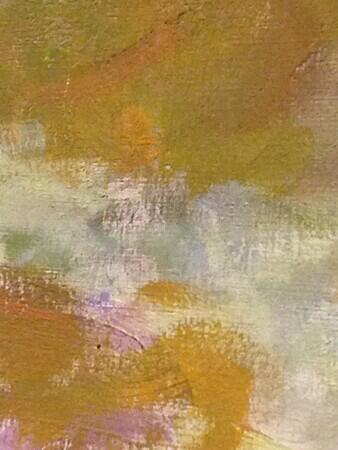 Anything you see in a museum was made in the past. But I have seen Monet in Chicago twice in the last few weeks, and have spent new hours with paintings I had spent many hours with before. I have learned something new about seeing Monet and I have the chance to anticipate bringing that news to people far away.
Monet believed the paint would dry. And that later someone would see it. Perhaps he could not have imagined us, but the touch of the future is there.