Ruth Asawa Sculpture in Air
Wednesday, July 8, 2020
Today I was drawn to Ruth Asawa's wire sculptures, which I learned about (long after many else had) from the show at the Art Institute of Chicago, In a Cloud, In a Wall, In a Chair: Six Modernists in Mexico at Mid-Century. I went to the show several times, but only took a few photographs, and do not have the proper credit line for the group of sculptures, but the central form in the top picture is the one described in the credit line above, made in 1951.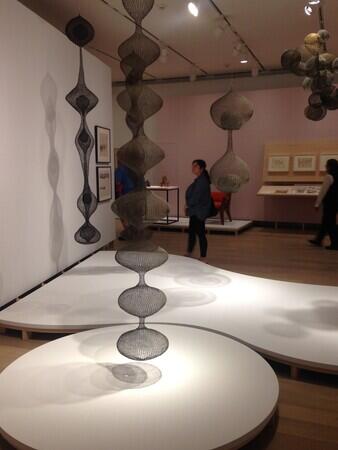 On the last visit, our daughter liked this drawing that Asawa made in relationship to the sculptures, and I liked it, too.
Perhaps it follows in certain ways from the Beckmann drawing I wrote about late on Monday night. I seem to be thinking about survival of different kinds, about lines, and the color black. The Beckmann drawing was in made in 1949, when Ruth Asawa was about twenty-three, and had gone to Black Mountain college to study. In 1942 and 1943, she and her family had been in the internment camps that the US government set up for people of Japanese descent. This had been a very difficult experience, and she had drawn a lot while in the camps. She made more than one trip to Mexico, and the exhibition described how, in 1947, studying the traditional way wire egg baskets were made had an important effect and helped her find her way with the wire sculptures.
I went to visit the website for her work and legacy, and was pleased to find that there will be a Ruth Asawa postage stamp in August.