Tara Geer At Home, Drawn
Monday, April 27, 2020
Tara Geer draws from life. There were some months, maybe years, where she spent hours up on the roof of her studio building on 133rd Street sketching the tar stains. She drew backpacks and socks, the buses in the city lot across the street, and the cobwebs in the freight elevator shaft. Right now she is sheltering with her family, and like many artists cannot get to her studio.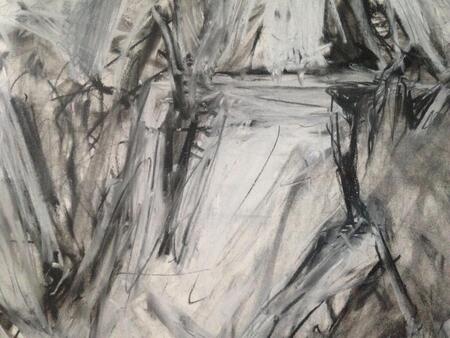 The things she looks for are oblique, at odds. A relationship of the edges from two separate objects seen across space; a shape from wood grain but no longer embedded in a pattern, and not the dark lines from the wood, but the lighter spaces between.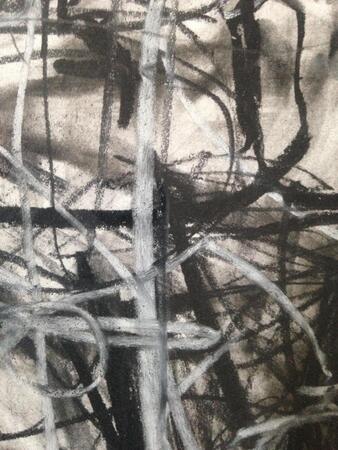 This gives the drawings a quality of life. The lines have the animated movement of the living world; they seem a part of understood space that can be moved through and felt, even though they don't fall into an easily recognizable form. In this way, they have something in common with Chinese calligraphy, a form Geer attends to, where the characters may seem to leap and spin – a drawing, a thinking mind, a figure, all at once.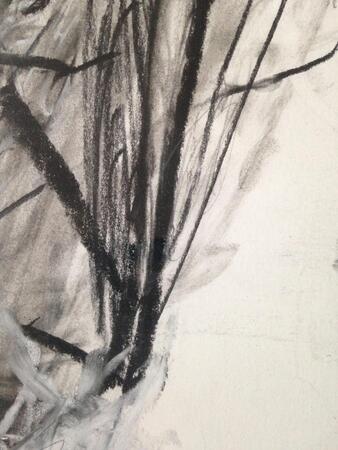 As in memories or dreams, the details have been recombined to draw attention to something that matters, though, also as in memories or dreams, sometimes by turning away, veiling, sometimes by stepping akimbo or making a joke.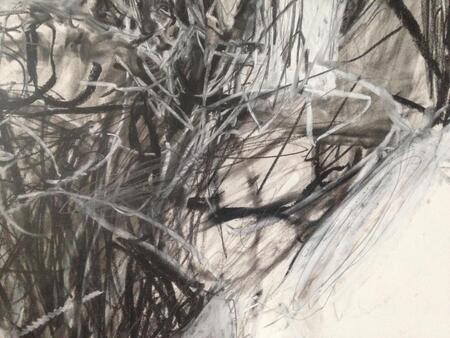 In many of the drawings, there is a feeling of creatures or beings, that the whole drawing is a being, or that there are creatures lingering in the depths.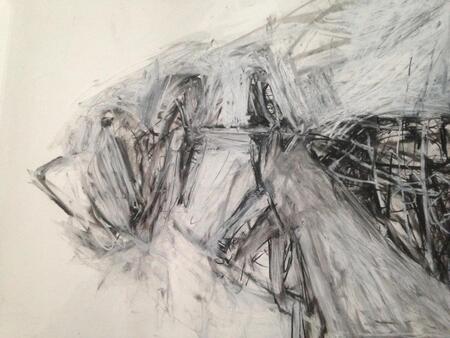 *
This drawing by Tara Geer, made in early 2013, or late 2012, hangs in our dining room.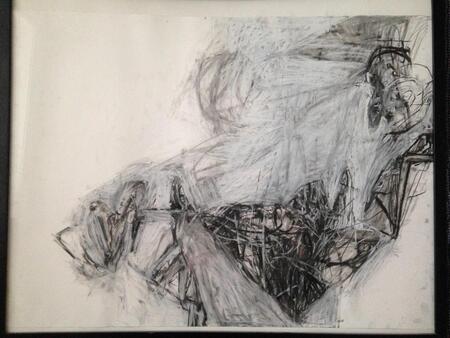 I see it hundreds of times a day. Sometimes, like this morning, I stand in front of it and study it, with museum-quality attention. Most of the time it is a companion. Or, I do not even notice that I am looking at it, it is a space of reverie, a bit like a window, or a book that one has put down but not yet closed.
This morning I drew some of the areas in it:
This upper corner that seems almost like a planetary area, of axis and orbit.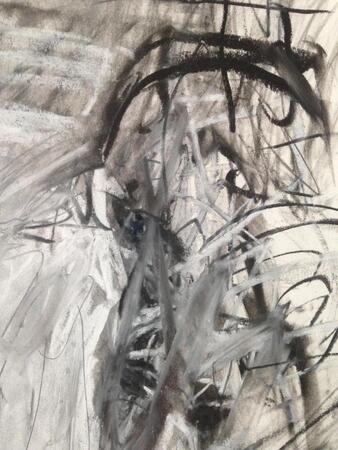 Two areas where dark angled lines surround an area of wash, of which this is one: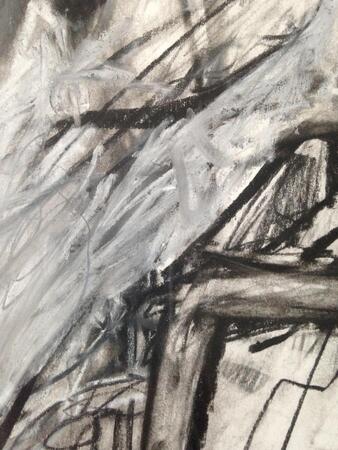 And the central area of tangle.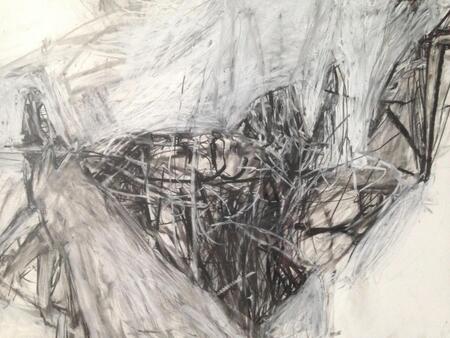 I thought about it how she managed to make this all one thing that holds together when the pieces are made so disparately, with such different densities and kinds of lines.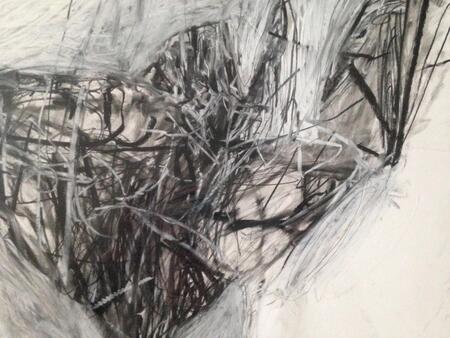 It has a lot to do with the wash, and with the whites and grays that run over and through, the thick cloudy areas which hold it together geometrically, spatially, and also psychologically.
I was surprised that after I looked at the tangled area for a while there was a very distinct clarity of the space through and behind. A sense of clear, lit clarity, like the increase in light before sunrise at the end of a quiet street.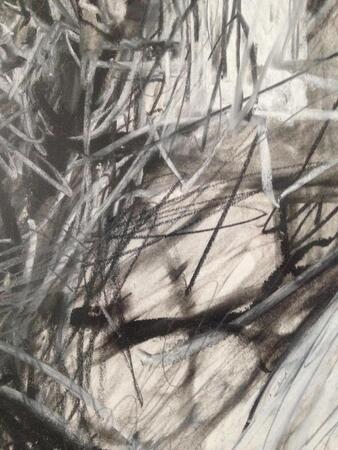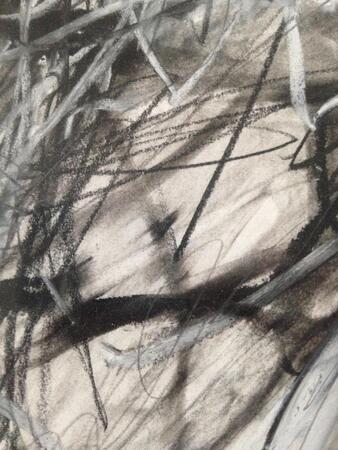 It is airy and surprising.
Weekend Space Tara Geer
Saturday, April 25, 2020
I met the artist Tara Geer at the MacDowell Colony in 2002. For the next nine years or so, we were both living in New York, and I spent quite a bit of time at her studio, looking. Eventually, I came to have three of her works, which are drawings.
This is one that does not have a title, done before May of 2013, probably in early 2013 or late 2012.
It is work that takes attention very seriously, and I hope, even through these photos, will offer contemplation, at the end of another difficult week, looking ahead to another difficult week.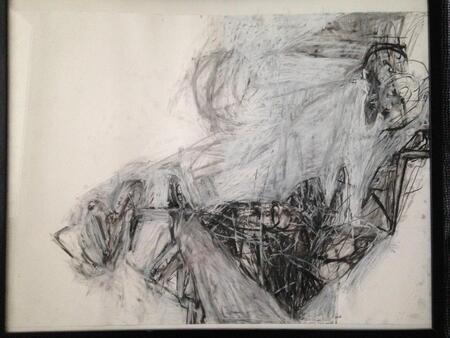 Some areas of the drawing: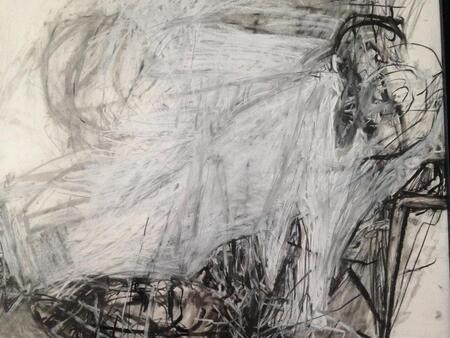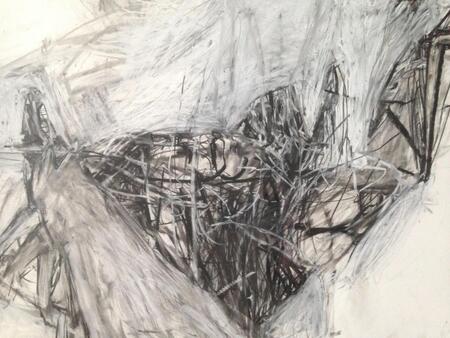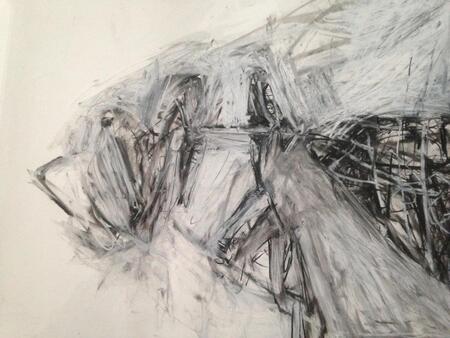 Closer: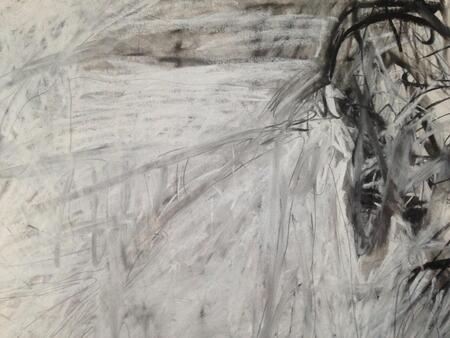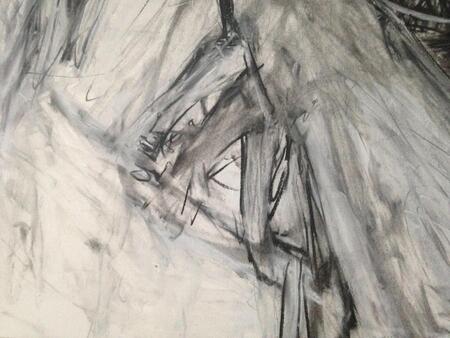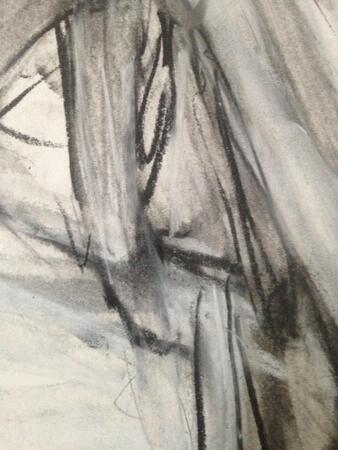 Staying close, movement and edges: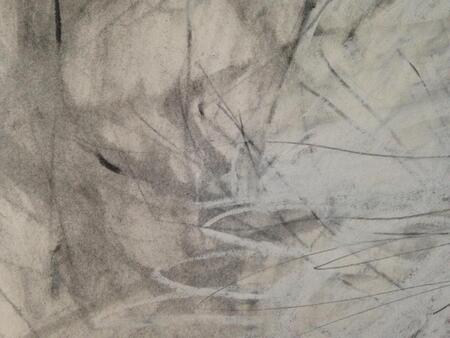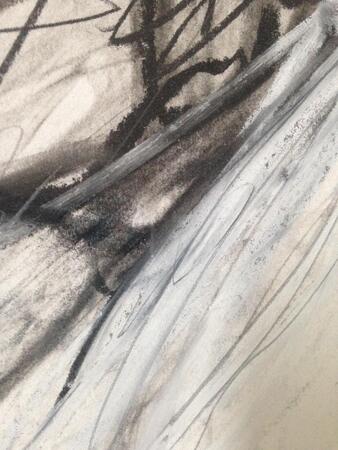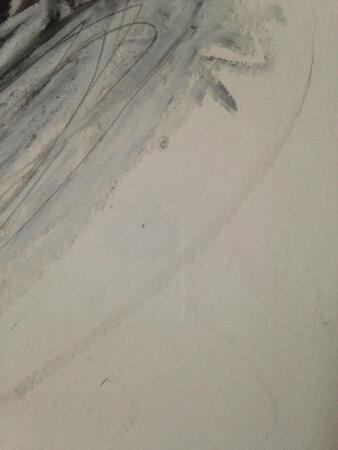 Beauford Delaney Close Looking
Thursday, April 23, 2020
I had about a half an hour with it. The kind people who work at the Art Institute of Chicago had arranged an appointment. It was in the director's suite, behind an administrator, who typed away at her computer while I was looking and photographing. Which is by way of saying that the impression of calm is hard-won, mostly due to the painting, and to efforts of concentration.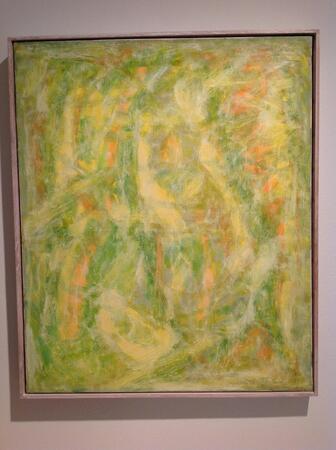 What a painting.
It's 21 x 26 inches (53.3 by 66 cm). A little taller than it is wide, a painting you could put your arms around. Here I photographed it in six sections, with the edges of frame.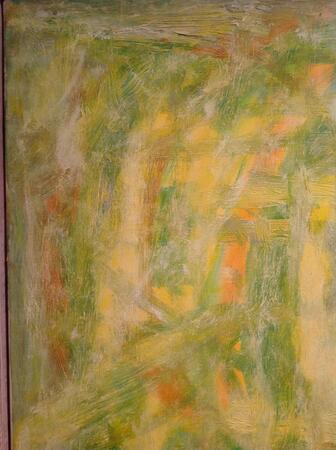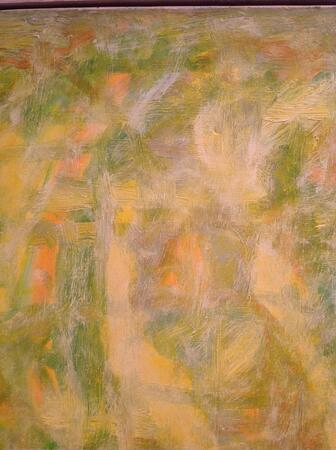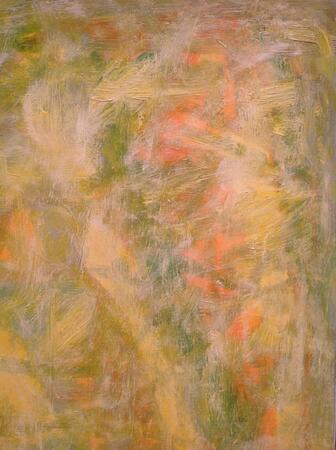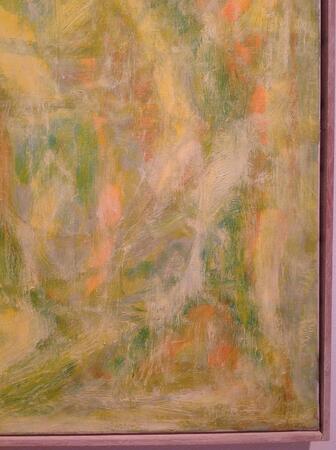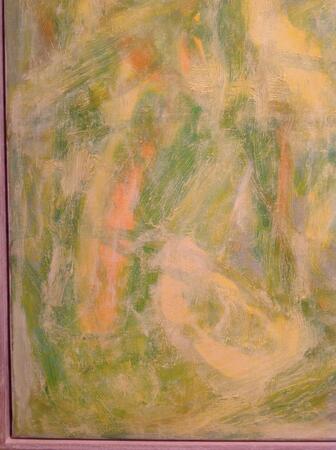 On seeing it, I was struck by the quality of the paint, thin and dry, which I think helps the layers to show through, many thin translucent layers.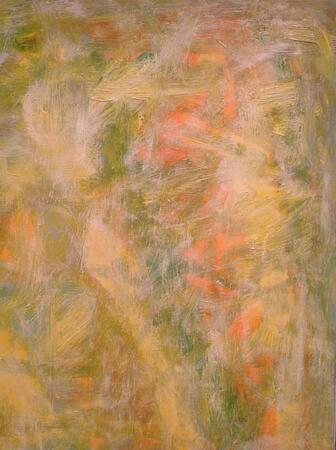 Standing quietly, you can trace the way each gesture in paint leads under and over others. You could paint over it, add layers, but it would be difficult to change the foundations, because it is an all-over painting, in free strokes. You could not scrape off an area you wanted to paint again. So it is an oil painting like a watercolor – you just lay it down.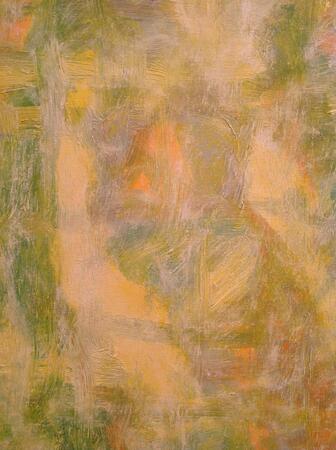 Which isn't to say it was quickly done. Delaney reworked his water colors a lot, returning to them sometimes years later. If he did that kind of long-term reconsideration with this painting, he would have had to continue to work with what's already there. His abstract paintings held the record of his thoughts about them in an unusually transparent way.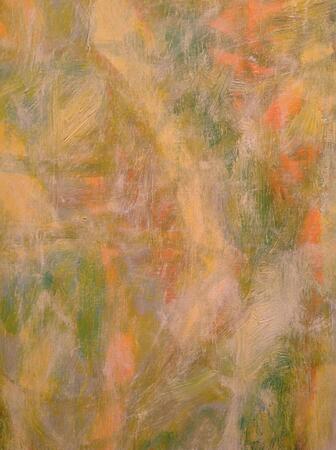 Painted in 1965. He had been in Paris for twelve years, and was now very experienced in a realm of complete abstraction.
Impressions of radiance and gentleness.
I think I started thinking of this painting today partly because I am tetchy, and also sad.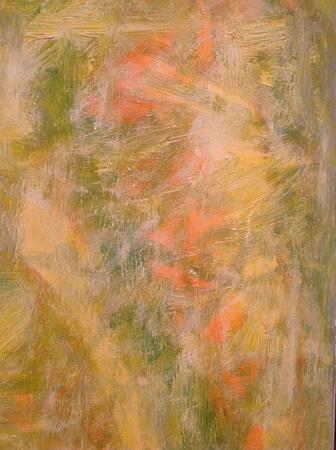 And partly because the tonalities that I came to yesterday in thinking about Poussin's Landscape with St. John on Patmos are close by. See the striking similarity in palette and quality of light to this area of the Poussin:
How much variety there may be among a handful of colors, closely held.
But really I just want to stop my busy typing and let you look.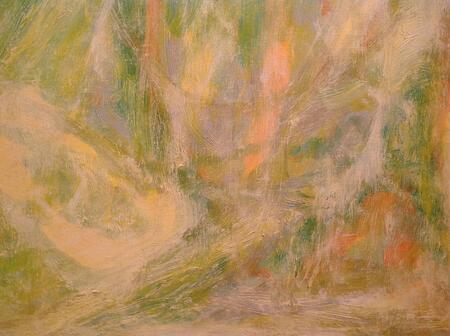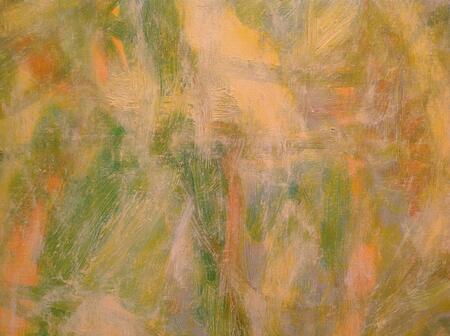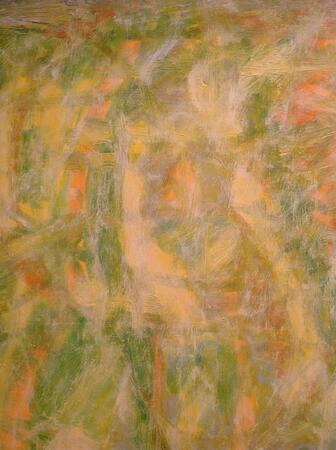 Here, the whole painting again, just before taking leave.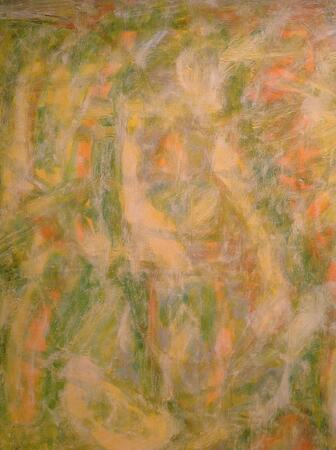 A Shawl for Morisot
Tuesday, September 10, 2019
Last summer, the summer of 2018, I was immersed in the work of Berthe Morisot.
I spent three days in Québec City, at the Musée national des beaux-arts de Québec, at the revelatory Morisot retrospective, which I reviewed for Apollo Magazine.
https://www.apollo-magazine.com/berthe-morisot-comes-into-her-own/
I was one of the critics who called for a reconstitution of our understanding of Impressionism with Morisot centrally placed. I said that scholarship and consideration should be given to Morisot in relation to Manet, Degas, Renoir, and Monet, on all of whom she had considerable influence, both as a painter, and as a close friend. I speculated about shows I would like to see – shows of Morisot and Monet, a show on landscape painting, another on gestural painting; another, A Woman Alone: Paintings by Morisot, Toulouse-Lautrec, Valladon, Manet.
In the year that followed, I saw the Morisot show again, in Philadelphia at the Barnes Collection. The months passed, and, in the back of my mind, I went on with a kind of subconscious labor. It really is hard work to change received notions about significance. I have loved Morisot's work for years, and sought it out in every museum I can; I have been writing about it in this notebook since 2013.
https://rachelecohen.com/blog/Impressionism/Morisot/23
And yet, it is so engrained in my apprehensions – what is important in a painting, what constitutes a discovery, what I am looking for as I first cast my eyes over a canvas – that I am still just at the very beginning of seeing Impressionism again with Morisot worked through my vision.
This summer, of 2019, there was a show at the Art Institute of Chicago called Manet and Modern Beauty. I reviewed this show for Apollo, too, and saw it five or six times over the course of the summer. The Manet show was many years in the planning, and so it would have been hard for the curators to take account of the 2018 Morisot show. It did not seem fair to criticize this lack in my review.
Nevertheless, I feel a missed opportunity, to let the Manet show build upon what was brought out by last year's Morisot show. The curators' choice to focus on lesser known works – Manet's green garden paintings, his late portraits of women alone, his interest in fashion, the delicate still lifes of his last year of illness – meant that they did turn their attention to the paintings most directly in conversation with Morisot. But this conversation was only acknowledged briefly in one wall text, next to a nude that Morisot had bought for herself at Manet's estate sale after his death. The show focused on the influence several other women had on his work, women with whom he enjoyed conversation, whom he painted, and to whom he sent lovely illustrated letters. But what of one of the geniuses of the period, who was his sister-in-law, and whom he saw sometimes daily, whose paintings he owned and valued, who had painted next to him for nearly fifteen years, and whom he had painted fourteen times? Surely his ambitions in these greener domains had to do with his relationship with Morisot?
* * *
I think it might be interesting to get all the way down to the fine grain of looking at one painting, to see if I can bring out what it would be to see Manet with Morisot in mind. I am trying to give myself the consciousness of someone who, as a child, had always seen Morisots displayed prominently in important museums, had always been told that the freedom of her brushwork was one of the great achievements in the history of paint, one that had opened the gates for gestural abstraction in the 20th century.
At the Manet show, I round a corner and see this: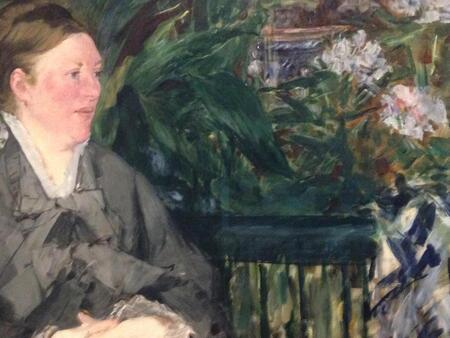 And the first thing I think, is 'look at that shawl on the right, that is pure Morisot.' That is just the way that she gets volume by feathered strokes of white – the rush and power of a swan.
I look at the date, signed and dated by the artist in 1876, but, because of a complex set of different historical accounts, considered by curators to have been worked on in the range of 1876 to 1879. Suzanne Manet was a pianist, from the Netherlands. She kept this portrait for herself, and it was not displayed publicly. Eventually, in 1895, she could no longer afford to keep it, and she had to sell it.
Édouard Manet would already have thought of Morisot as a virtuoso of white. Some years before, she had given him her painting of 1869, The Harbor at Lorient, with a woman seated on a stone wall, dressed in white with touches of dark blue. In 1876, beginning this painting of his wife, stopping by Morisot's studio, which was the center room of the family home, a studio that he saw both because he paid attention to her work, and whenever he went to see his brother, he could have seen The Mirror (1876) taking shape: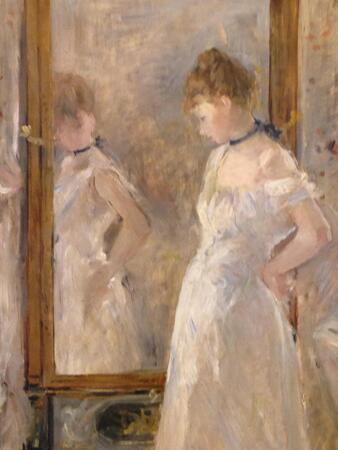 He would have seen her white cloths over a long fence, in Hanging the Laundry Out to Dry, from the previous year, of 1875,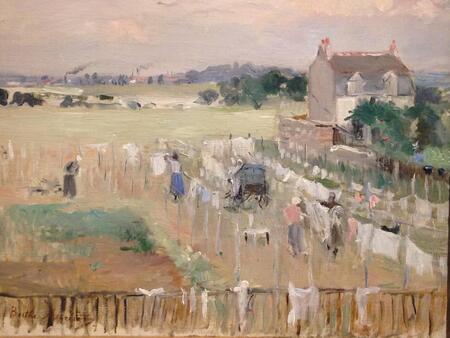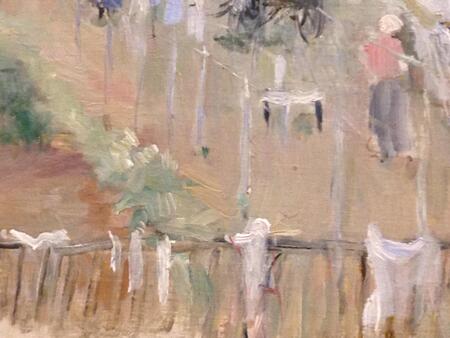 Perhaps his eye would have been caught by these two girls, from a painting done in England, also in 1875. She often intermingled white with blue around children, and the waists and necks of women: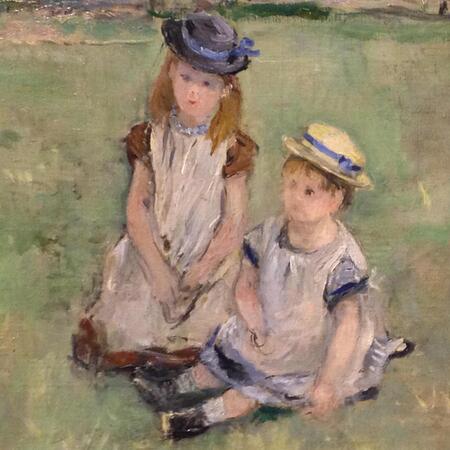 He would certainly have known this 1875 portrait, In England, of his brother looking out the window.
How related their two private paintings are: on the left, loved spouse; dark green connecting rail – of a window, of a bench – ; white effusion on viewer's right.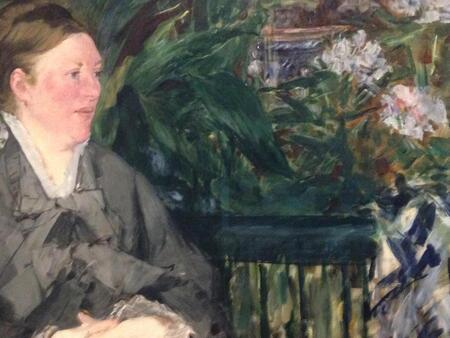 Manet had a wonderful eye, and he knew what to borrow. In that white scarf or shawl thrown over the back of the green bench, he interlaces a deep many-shaded blue. It was as if he saw it and tossed it off, a magnification of what Morisot was already doing and would do more of. This combination was, and would go on becoming, one of Morisot's most characteristic – she would use them again and again – her own complex white, with touches of that deep bright blue.
Near the arm of a woman dressed for a ball, in 1879: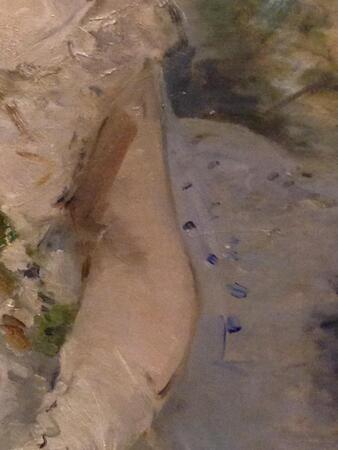 Her daughter, Julie Manet, daughter of the painter Eugène Manet, niece of Édouard Manet, uniting three painters, painted here with her nurse, in 1880.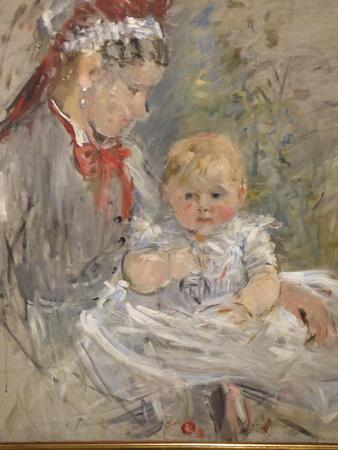 The shawl Manet painted is a record and a prediction, and it is a guide for looking at Morisot's work, and for how he looked at it. It is as if it were Morisot's shawl, perhaps she left it visiting one day, that he has included as a part of the portrait of his own talented wife. Four adults, three painters and a musician, their private thoughts and the world they shared.
When she painted Serving Girl in 1886, her brother-in-law had been dead for three years. She had thought so much about it -- there it is, pooled again, above and beneath the woman's feet.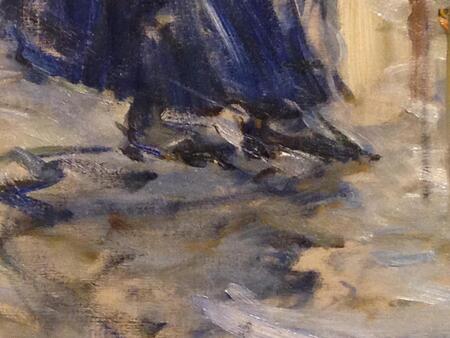 Tara Geer: Carrying Silence
Monday, August 12, 2013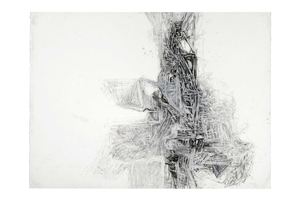 At Glenn Horowitz, 87 Newtown Lane, East Hampton, NY, 11937, through September 3, 2013. Here is the first section of my catalog essay, "Looking at Tara Geer's Drawings":
One way to begin is just by quietly trying to notice things. In "walk along the border," your eye might be drawn by the smudges off to the left, or by the white surround and the sense of movement in the white surround.
In my notes: white area with a little falling black squiggle; then other little black details, these somewhere between figures and lines, running on a diagonal from lower left to upper right.
Almost like little embedded panels – as if there is a progress toward the final window.
In the gray an effect of a waterfall down the right-hand side.
A gray patch and a gray triangle make a space between them.
On the right, the softness almost of hair.
An immense variety of texture.
The central column like vertebrae.
This central black part is strangely flat like a mosaic and also has a lot of depth.
A problem I returned to in looking: the skein in the lower right corner seemed dirty in a way that was familiar. After a while I felt that it looked like an old cobweb in which flakes of dirt have gathered. Hesitatingly, I mentioned this to Tara and she said that for a long time she had been stopping the freight elevator at her studio between floors so that she could study the cobwebs. This – the suspended elevator, webs between floors, painstaking attention to the derelict – could be a sort of parable for Tara Geer's way of looking. The drawing is a meditation on space. It is full of respect for spiders.
Reading Toward Renoir
Tuesday, July 16, 2013

Renoir to me has always been the outlier – the one among the Impressionists without austerity enough to make room for me. Too sweet, too voluptuous. All skin, no air. But loved by Leo Stein, Gertrude's brother, who understood Cézanne's apples right away. When he and Gertrude split up the household they had for decades shared, both wanted the apples, but were content for her to keep the Picassos, him to take the Renoirs.

---

Stein was a man for whom sensuality was difficult and I've wondered if Renoir seemed to offer in an uncomplicated way, enjoyment. It sounds from the memoir written by the son, Jean Renoir, as if the painter was a rare person, fundamentally tolerant of himself and of other people. It's true that his paintings show people taking pleasure in life. Who else does that? Perhaps some Dutch painters, though there is often a suspicion that Frans Hals is laughing at his revelers. In Renoir they take a quiet pleasure. Jean Renoir says the sitters have "serenity." They are settled, but they are still full of the activity of being themselves; they look out on their surroundings and see much to interest them.

---

When the son spoke to the father of different women he had admired and painted, a great variety of women, society ladies and street walkers, the painter was full of appreciation, his greatest commendation, "she posed like an angel." In the portraits, the sitter and the painter seem to share a lively and devoted understanding.

---

There is a Renoir of Monet in a garden painting. I wondered when I saw the reproduction recently if it were a Renoir or a Monet. The flowers have a lot of whites reaching upward in a way that I thought might be Monet, but when I checked the back flap I was not really surprised to see that it was a Renoir. The way to tell would have been to look at the figure, the painter in his hat, all his energy turned toward his craft. Features, soft, almost indistinct, but the impression of the face is of concentration and happiness. He could be humming.

---

Apparently Renoir loved all craftsmanship. He had himself begun by painting porcelain and then window shades. His father was a very good tailor. Renoir used to lament the passing of know-how and the replacement of hand industries by machines. He had felt grateful to grow up in the old Tuileries neighborhood before it was torn down – all the stairways and niches and small corner carvings of the buildings bespoke the loving care of craftspeople. Women, he told his son, at their daily tasks, know how to live. "Around them I feel happy."

---

In a state of happy engagement people are very close to the surface, much closer then we usually are able to be even with close friends, whose faces barricade them in reserve. Perhaps what I have taken for too much luster, too much skin, is really more unsettling, the close presence of people in a state to which we are no longer accustomed, as we may find the unsanitized smells from earlier eras – a barnyard, a field of clover, dried lavender in sheets – overwhelmingly, almost intolerably, sweet.