Frankenthaler Woodcut Color
Frederick Project: Colors and Collaboration
Friday, March 27, 2020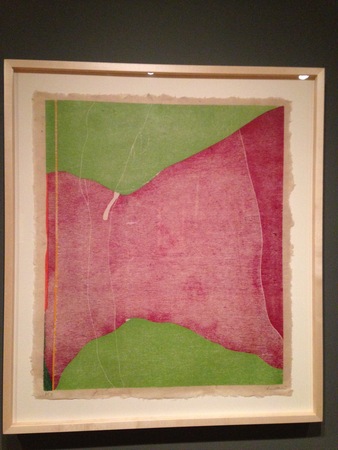 Helen Frankenthaler (1928-2011) worked with many kinds of material. Two springs ago, the Art Institute of Chicago held a show of her prints: Helen Frankenthaler Prints: The Romance of a New Medium. I went a couple of times, and once took our daughter, for whom colors are living presences.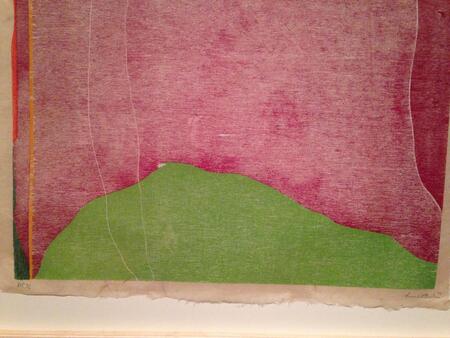 Frankenthaler started working seriously as a high school student, with artist Rufino Tamayo as her teacher. Tamayo, born in Oaxaca, painted in an abstract style, and was influenced by surrealism. Octavio Paz said that to say in one word what distinguished Tamayo's work from that of his contemporaries was to say "sun." Tamayo once told an art critic that using fewer colors increased the possibilities of those colors you used.
Frankenthaler began printing in 1961. She worked at a print workshop on Long Island called Universal Limited Art Editions (ULAE) that had been founded by Tatyana Grosman. Artists whom Frankenthaler was friendly with, Grace Hartigan and Larry Rivers, persuaded her to try the medium out. Together with the various master printers who were her collaborators, she printed seriously for the next seventeen years.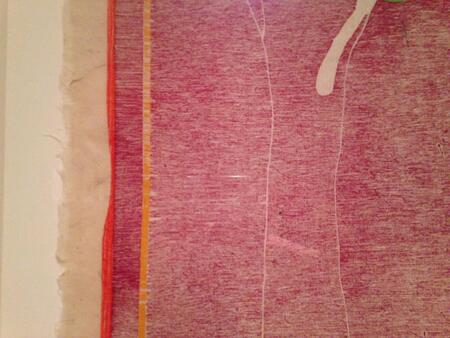 This one we've been looking at is called Savage Breeze. It was hard to get, she said, the hardest print she ever worked on.
Savage Breeze was printed by Bill Goldston and Juda Rosenberg. Pulling prints is extremely technically demanding and printers play a central role. In Japanese woodblock prints, the printer was always acknowledged as a fellow creator, as were those who carved the wood blocks. Mary Cassatt and Edgar Degas both worked with master printers. When I saw the Frankenthaler show, I was delighted by the little handwritten notes from her to the printers on certain draft prints, explaining the effects she was hoping for.
Color is not a given. A long process of trial and error. Savage Breeze began as Vineyard Storm.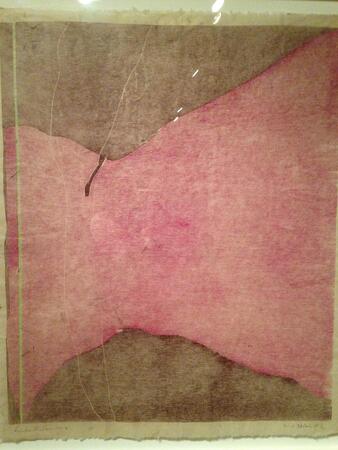 And even once she'd moved from brown to green, the colors still didn't look right. The wall text had a nice quotation from her:
Savage Breeze went dead like a lead balloon. So after many tries, I finally said, let's scratch it. I was almost exasperated. I couldn't get the light I desired. I knew the drawing was right. I knew the scale was right. Then I thought—why don't we whitewash the paper first and then print the other colors I'd mixed over it. We did. And it glowed.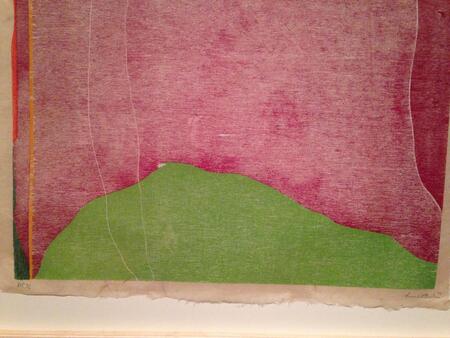 But the composition, the areas of color, still didn't work. They tried a darker burgundy block over the green, but Frankenthaler didn't like the result. In some places, she told them to cut back the burgundy block, and made crayon marks to show where. The cut away areas showed white in the final prints. In another spot, she attached a little green square of paper to show how she wanted it to look – color as edit.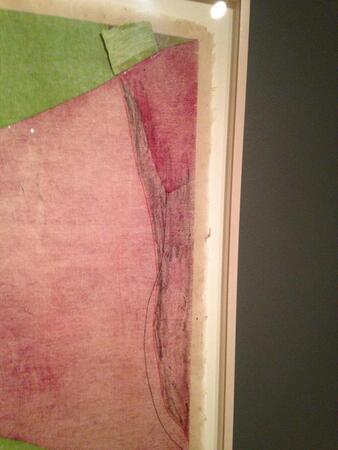 Here in Chicago, the day began with a thick fog and still there seems a layer of gray cotton over the trees and houses. We are waiting, so intently, for spring. Wash, pare, wait, pull the sheets again.
For Tara, sheltering on the Vineyard
Faith Ringgold at St. Tropez
Frederick Project: Colors and History
Friday, March 20, 2020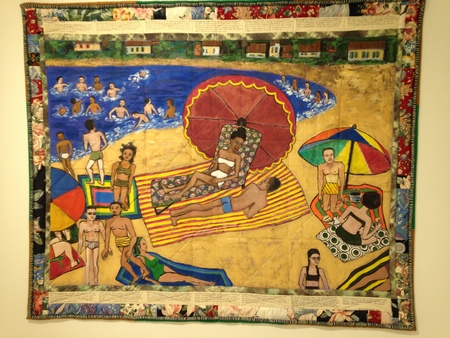 Thinking of intense experiences of color in the last few months. Immediately Faith Ringgold. Her painted canvas and quilt On the Beach at St. Tropez, from the series of twelve story-quilts The French Collection, which came as a revelation in the Smart Museum of Art's show called Down Time: On the Art of Retreat this past fall.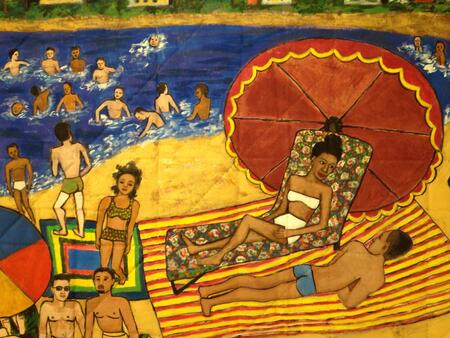 You walked into the gallery and were literally flooded with color.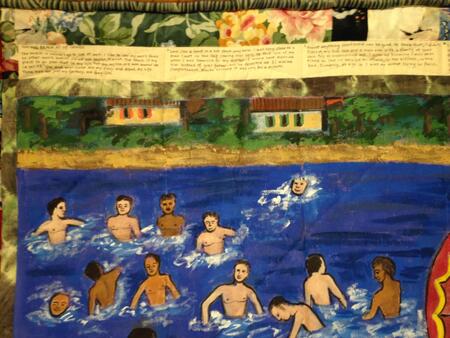 Ringgold paints on canvas then stitches the canvas to quilt, finishes the backs with cotton batting. A bravura painter, years of careful experiments with pigment to get the skin tones she wanted, the flatnesses and depths of water, cloth, patterns.
You are also immediately aware of the story – border of carefully written incidents running along the edges. The stories are about Willia Marie Simone, a fictional character with some qualities of the painter and some of the painter's mother and some that are the character's own. (I will try to decipher one of the stories for a later entry, my pictures are smaller than I had thought.) Willia Marie Simone ran away to Paris at the age of 16, in the 1920s, and had a storied life. The work is so very witty.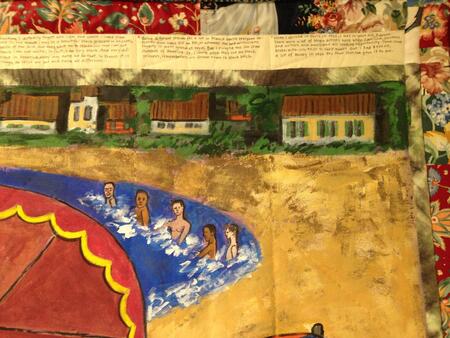 There are many articles that follow a well-worn, useful, but somehow insufficient path, explicating how, in this series, Faith Ringgold insists on the place of African-American women and artists who have been left out of history and museums. Looking at this quilt, the size of a wall, its flooding colors, my impression was more of something that shrugs its shoulders and rises.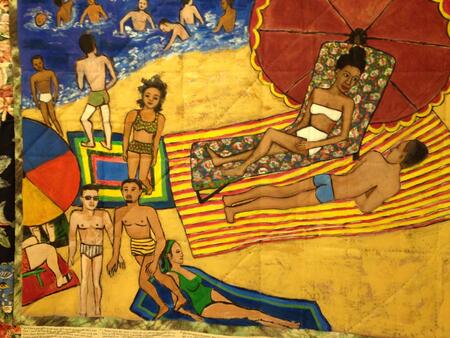 It's all there, really: the quilters of Gee's Bend, making their glorious abstractions from the worn clothes of their families who labored; the bathers of Cézanne and Degas stretching back to the bodies of the Italian Renaissance; the rogue persona storytellers in Zora Neale Hurston and Fernando Pessoa; all these kinds of work that Ringgold had done her training with, and had loved enough to do justice to them (meaning that she saw them whole, with their beauties and the things they failed to see). She knew them, and had thrown them over her shoulder, so that art could rise anew.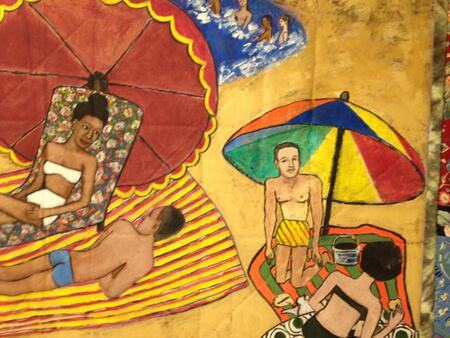 Color tells stories that cannot be abstracted from history – joyful as a child in sand, forceful as a woman at the height of her powers, unforgetting as age.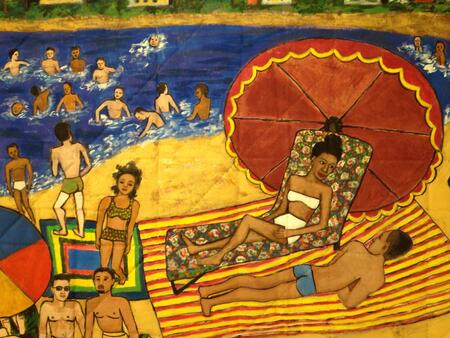 Down Time: On the Art of Retreat at the Smart Museum of Art was curated by Leslie Wilson in collaboration with the students University of Chicago's department of art history's course Exhibition in Practice.
Unsteady Hands
Friday, May 5, 2017

The prose fragment is a form capable of kindness. After I thought of that sentence, I thought of reading Hervé Guibert again, with students, this quarter. In his use, the fragment has so much discretion all along its edges. We all exist beyond those edges. It's like sending a note when a call might be intrusive, or stepping aside the right degree, to make way but not to shun.
It's not that his writing is especially interested in kindness, but, in writing and photography, he is interested in recognition, both the kind you can accomplish steadily, and the kind where you flinch away. This is a Guibert self-portrait, from 1981.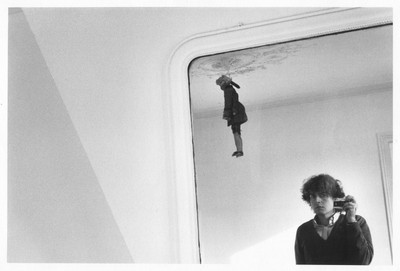 Yesterday I was thinking about Degas. And wondering about his hands when, late in life, he could barely see. I remember reading in a wall text at the Metropolitan Museum that one of his friends helped him to feel a painting he was curious about. What I wondered yesterday was how the paint felt to his fingers, if his hands felt steady to him. I think of steadiness of hand and steadiness of gaze going together. The fact that my hands feel unsteady to me lately seems related to how much I flinch away, from what I am reading, even from watching peoples' faces. In every news article, in the faces of people crossing the street, I seem to see great vulnerability, that we are menaced.
Here is an essay by Guibert I didn't know about. It is a photograph, the joint effort of the subject and the photographer to understand, among other things, Degas. Some day, I hope I will write about the way the picture reflects on Degas' ideas about the brave efforts of our bodies, about drawing and sculpture and form. But my hands are a little unsteady today.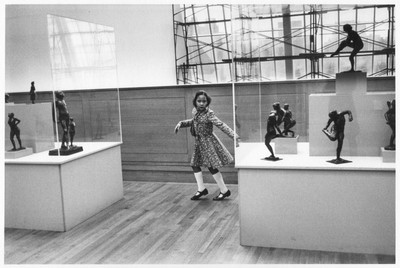 First in a Series
Sunday, September 29, 2013


On a fleeting visit to the Cleveland Museum of Art late last December – five women of three generations, including the baby and her much-admired five-year-old cousin L. – I caught a first glimpse of something that seemed suddenly very interesting, or rather it was as if I had already for a while been interested and had come upon the occasion when a dim returning attraction becomes a definite line to pursue.

We were a small cloud of Brownian motion bounding and rebounding in that museum's great atrium, recently-completed, and its great white rooms – it was almost by accident that we found ourselves in a small exhibition of Mary Cassatt's prints. On one side of a hallway a room with works on paper having to do with life in Paris – something of Degas, something of Toulouse-Lautrec. And on the other side of the hallway the room of Cassatt prints. Their fine yellow, slightly Japanese in tone, women seated, stillness, design. In the different impressions, deliberation. I didn't have time to look comparatively, and envied the men and women spending a careful hour in that room.

Last weekend, at the Raven bookstore, a find: Mary Cassatt: The Color Prints, by Mathews and Shapiro, for an exhibition in Boston, DC, and Williamstown, 1989-1990. And last night, reading late, found the thought I might have had, or begun to have, that dark December day.

In 1879, at the invitation of Degas, Cassatt began exhibiting with the Impressionists. Later that fall, she made a trip to the Alps – I imagine one of those trips during which vision is clarified and from which one returns full of the energy to redouble one's efforts. She found that Degas, Pissarro and Bracquemond had the idea for a new print journal, La jour et la nuit. She joined in. "At the moment," Degas wrote to Bracquemond of the project, "Mlle Cassatt is full of it."

At the Impressionist exhibition the following spring, Degas, Cassatt and Pissarro showed etchings they had been doing over the winter. Interestingly, they showed early "preliminary" states as well. [The states of an etching are prints made at different stages from the same plate, often there are considerable changes both because the artist may draw and scrape out aspects of the design, and because the plate itself changes and wears in the process of being printed.]

The Impressionists were unusual in valuing preliminary unfinished states, and this bears an important relation to their understanding and depiction of time. As Shapiro and Mathews point out: "States thus must be seen as a larger work of art; in a sense they form a "series" as in other Impressionist groups of related works." Cassatt, they continue, "keeps reworking the plate and redefining the lights and darks in endless variation as if to capture the changing light of the actual scene."

At the Milliner's
Saturday, March 22, 2014
A lady, and a hat. The lady is Mary Cassatt. She posed for Degas, she is supposed to have said, "only once in a while when he finds the movement difficult and the model cannot seem to get his idea."
Is the difficult movement here that of the woman herself, coming to an understanding with the hat?
Or is it the movement across the barrier, the mirror, between her and the shop assistant, who hands her another hat.
These shop assistants were not allowed to sit down – they still don't, sit down, women working in shops. Here it means that one of the figures is at leisure to imagine herself becoming another woman, one who wears such a hat
while the other, somewhat obscured, politely, and by constraint, awaits her transformation.
[All images are iphone pictures from Degas,
At the Milliner's
, Metropolitan Museum, 1882, pastel.]
Private Collection II (with Paul Valéry)
Monday, June 3, 2013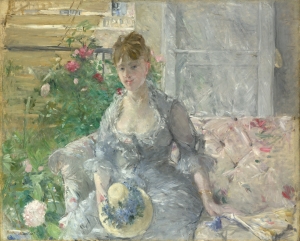 Some weeks later I remembered that I had read something about Berthe Morisot, long ago, in a book by Paul Valéry, a collection of occasional pieces about painting with the somewhat misleading title
Degas, Manet, Morisot
. I hurried back to read the passages on Morisot, three really, altogether perhaps ten pages.
The man who wrote the introduction to the volume decided, rather ruefully, that, despite living among the Impressionists and being himself so intelligent, Valéry's writing about them was only in a limited way perceptive. The poet seems in a way to take the painters and their achievements for granted. But, for me, these few passages, coming as they do from a man who was married to one of Morisot's nieces, and lived in the house that had been Morisot's, offer something more than useful about "Tante Berthe." Morisot's daughter and her cousins had grown up surrounded by paintings: Morisot's and also those of their close friends – Renoir, Degas, Monet. Berthe Morisot was Berthe Manet, as she was married to Édouard Manet's brother, Eugène. I've read Morisot's correspondence with Stephane Mallarmé now, too, and the letters give the impression of life intensively lived among a few choice acquaintances. "Rare and reserved," Valéry says; the work, too, is private.
Of all the artists he encountered, Valéry weighed it out, Morisot, he thought, was the one:
to live her painting and to paint her life, as if the interchange between seeing and rendering, between the light and her creative will, were to her a natural function, a necessary part of daily life. It is this which gives her works the very particular charm of a close and almost indissoluble relationship between the artist's ideals and the intimate details of her life. Her sketches and paintings keep closely in step with her development as a girl, wife, and mother. I am tempted to say that her work as a whole is like the diary of a woman who uses color and line as her means of expression. (119)
This might be a subtle way of dismissing a woman's work – another woman damned with praise for her understanding of the quotidian – but it doesn't strike my ear that way. Valéry also says of her canvases:
Made up of nothing, they multiply that nothing, a suspicion of mist or of swans, with a supreme tactile art, the skill of a rush that scarcely feathers the surface. But that featheriness conveys all: the time, place, and season, the expertise and swiftness it brings, the great gift for seizing on the essential, for reducing matter to a minimum and thus giving the strongest possible impression of an act of mind…. (121)
The surprising texture of paint in her handling, the odd inward structure of the material, these phrases of Valéry's, give something to think about.
Landscape of La Creuse, 1882, Private Collection.
Woman Hanging Out the Wash, 1881, Ny Carlsberg Glyptotek
Young Woman in a Rowboat, Eventail, 1880, Private Collection.
Citations from: Valéry, Paul,
Degas, Manet, Morisot.
Translated by David Paul. Edited by Jackson Matthews. With an Introduction by Douglas Cooper. Princeton University Press: 1960.
Paintings: see the Athenaeum.
Dancing Couple
Sunday, August 4, 2013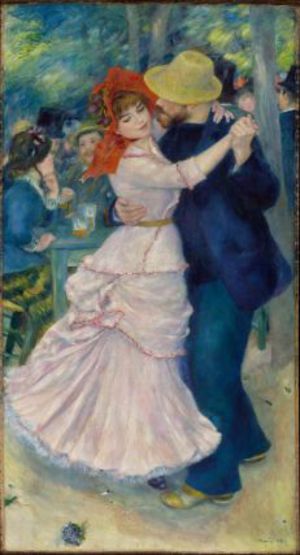 I went with the baby, perhaps two weeks ago now, to look at the Renoirs at the MFA. In the great room of the Impressionists, she liked best the Degas ballerina, "girl! girl!" though she liked better still an actual girl in a polka dot skirt who sat on the bench. In general, her preference was for statues, mirrors, the lime green chairs in the café, the beaded curtain hanging between two rooms of contemporary works, things with which she could have a spatial interaction. It was hard to get her to stand still in front of the great Renoir, the full-length dancing couple. (The people posing for this painting were the painter Suzanne Valadon and Renoir's friend Paul Lhote.) Woman in a red hat, cluster purple fruits part of bonnet, girlish delight; man's face somewhat obscured; both bodies in happy motion. I looked as well as I was able to and already had the impression of a more complex light, space, and atmosphere than I had before credited to Renoir. We hurried out, both of us pushing the stroller, and some time passed – we accustomed ourselves to long strings of glittery beads, were hushed and still in the presence of a magnificent towering seated bodhisattva from the Eastern Wei dynasty, tried the new gelato at the café (excellent, though, as an administrator in the elevator pointed out to us over his delicately balanced cup, dangerously sticky) and purchased a children's board book at the gift shop with pictures of Renoirs, "girl! girl!" said the baby. I wanted, though, to see the Renoir again, and we made our way back to the room – again I saw mostly in glimpses, but how different the painting seemed – now it had those strange depths that open in paintings after longer consideration, now the space moved about the figures and the figures moved through the space. The air
was
soft, but not cloying, pleasures of a summer breeze as summer turns toward autumn. Probably, I thought, as we clambered into the sticky stroller and hastened down to stand in the fountain outside, this is a very great painting indeed.