Michelangelo on Sunday
Sunday, May 24, 2020
Two important exhibitions of Michelangelo drawings in recent years. The drawing below was in the show at the Metropolitan Museum of Art, Michelangelo: Divine Draftsman & Designer (Nov. 2017 - Feb 2018).
It's a composition sketch for a planned sculptural relief at the church of San Lorenzo, the subject is St. Lawrence Coming Before the Emperor. The Emperor is enthroned on the viewer's left.
Michelangelo began in red chalk, on the left, and then began to use pen and brown ink, and eventually abandoned the chalk.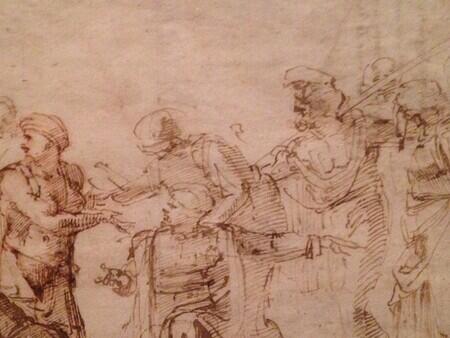 It seems so alive, the materials let you see it coming together over time, and there is another drawing, too, of a limb, I think, sinew, muscle and bone, another idea that you can hold and hold aside, as you watch the figures gesture in their world.
Wishing you a peaceful holiday weekend.
Tara Geer At Home, Drawn
Monday, April 27, 2020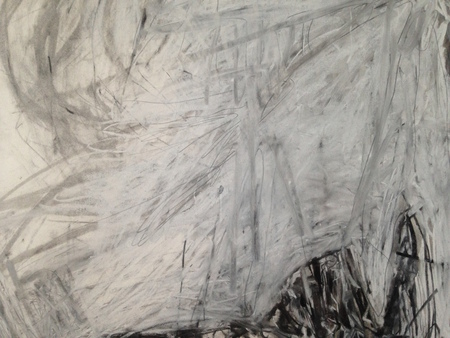 Tara Geer draws from life. There were some months, maybe years, where she spent hours up on the roof of her studio building on 133rd Street sketching the tar stains. She drew backpacks and socks, the buses in the city lot across the street, and the cobwebs in the freight elevator shaft. Right now she is sheltering with her family, and like many artists cannot get to her studio.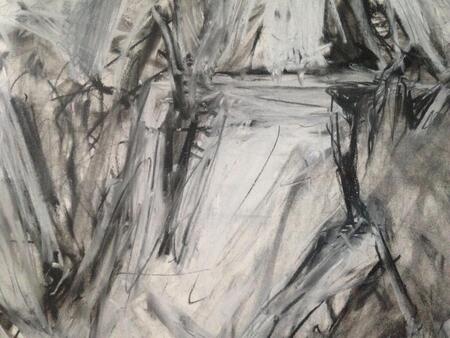 The things she looks for are oblique, at odds. A relationship of the edges from two separate objects seen across space; a shape from wood grain but no longer embedded in a pattern, and not the dark lines from the wood, but the lighter spaces between.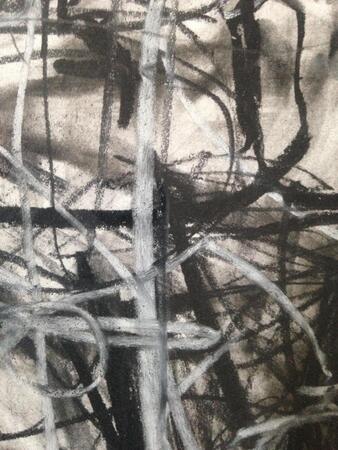 This gives the drawings a quality of life. The lines have the animated movement of the living world; they seem a part of understood space that can be moved through and felt, even though they don't fall into an easily recognizable form. In this way, they have something in common with Chinese calligraphy, a form Geer attends to, where the characters may seem to leap and spin – a drawing, a thinking mind, a figure, all at once.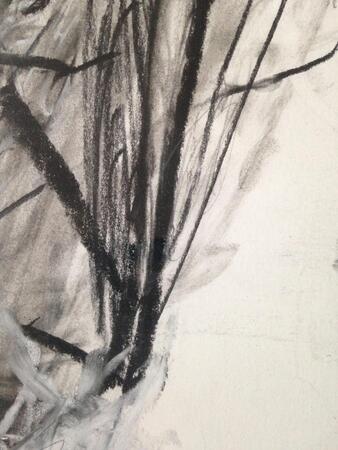 As in memories or dreams, the details have been recombined to draw attention to something that matters, though, also as in memories or dreams, sometimes by turning away, veiling, sometimes by stepping akimbo or making a joke.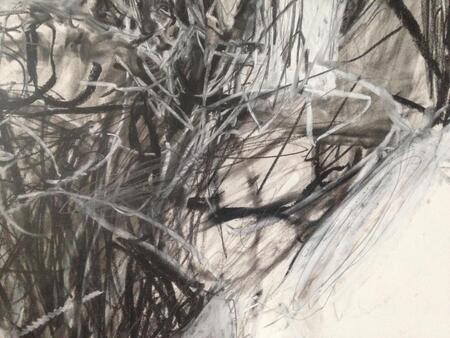 In many of the drawings, there is a feeling of creatures or beings, that the whole drawing is a being, or that there are creatures lingering in the depths.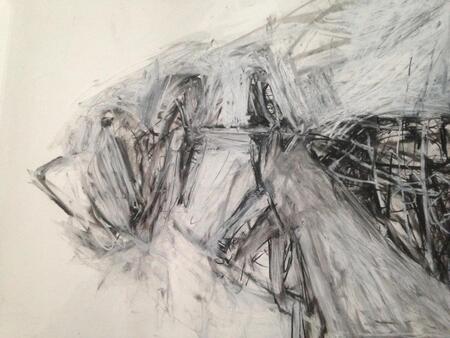 *
This drawing by Tara Geer, made in early 2013, or late 2012, hangs in our dining room.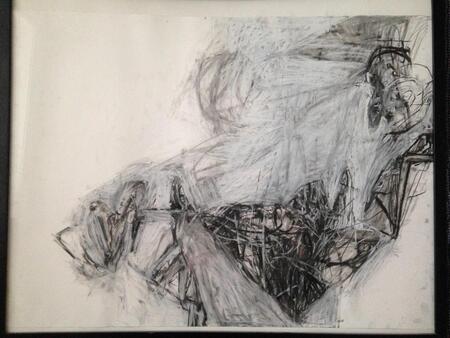 I see it hundreds of times a day. Sometimes, like this morning, I stand in front of it and study it, with museum-quality attention. Most of the time it is a companion. Or, I do not even notice that I am looking at it, it is a space of reverie, a bit like a window, or a book that one has put down but not yet closed.
This morning I drew some of the areas in it:
This upper corner that seems almost like a planetary area, of axis and orbit.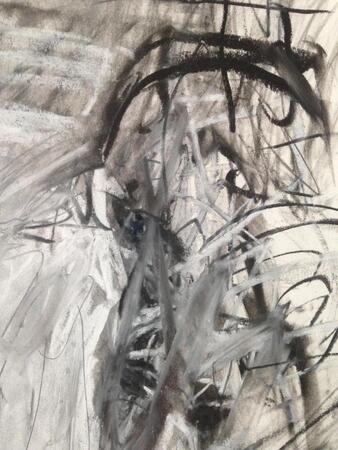 Two areas where dark angled lines surround an area of wash, of which this is one: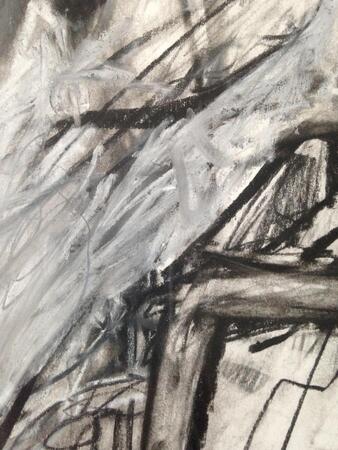 And the central area of tangle.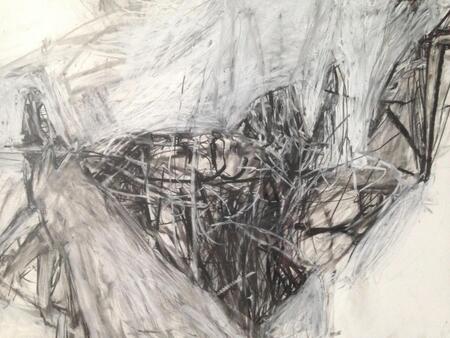 I thought about it how she managed to make this all one thing that holds together when the pieces are made so disparately, with such different densities and kinds of lines.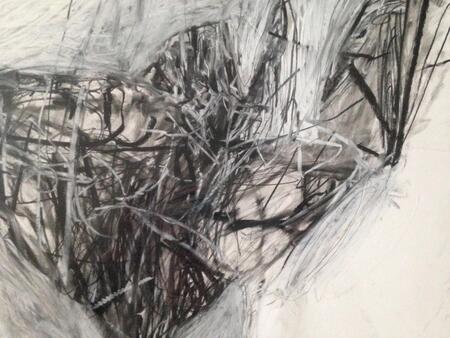 It has a lot to do with the wash, and with the whites and grays that run over and through, the thick cloudy areas which hold it together geometrically, spatially, and also psychologically.
I was surprised that after I looked at the tangled area for a while there was a very distinct clarity of the space through and behind. A sense of clear, lit clarity, like the increase in light before sunrise at the end of a quiet street.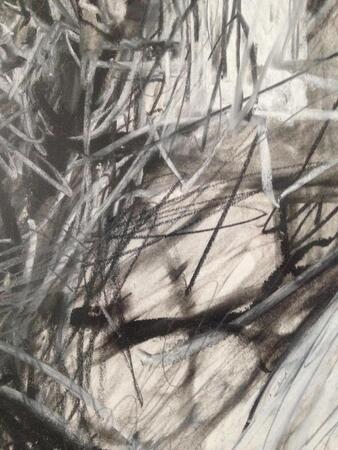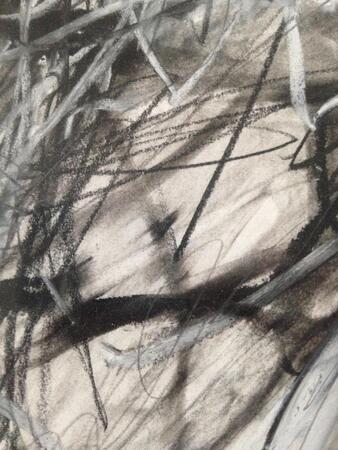 It is airy and surprising.
Kemang Wa Lehulere: Sensibility
Frederick Project: Reconstruction
Friday, April 10, 2020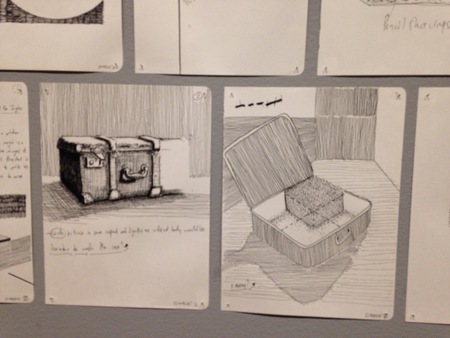 Late in 2016, when we had been living in Chicago for about six months, I went to the Art Institute, and wandered into a show of works by Kemang Wa Lehulere, who is from Capetown. The show was called In All My Wildest Dreams and was curated by Kate Nesin. [All photos are from the exhibition, I don't have titles for all the pieces.]
In the first room there was a large installation. Old, small brown suitcases, some open, some closed. Cut pieces of green artificial grass. Porcelain dogs, something like German shepherds, but quite small, and with inquisitive faces. Some were seated inside the suitcases, some next to on the floor. The wall behind looked like a huge blackboard, and drawn in chalk on it was an enormous old-fashioned pencil sharpener, with an intricate chalk pattern underneath.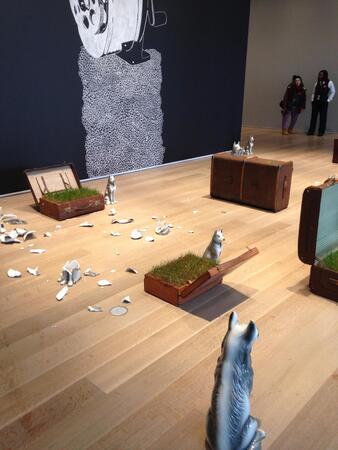 From 2016 installation of When I Can't Laugh, I Can't Write, 2015.
Why was this so immediately coherent?
Behind the chalkboard wall, on the other side, were three tires with crutches.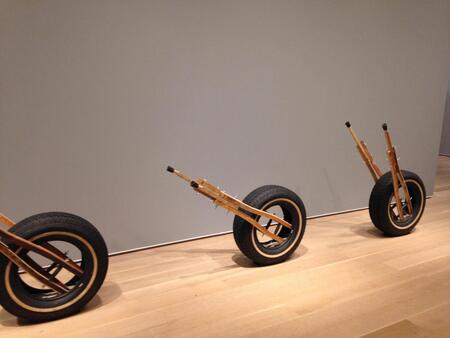 Again, these were as clear as a very good schematic drawing of how a machine works, but as clear about what?
In the corner, a kind of wooden house with a taxidermied African gray parrot installed in it. A tape loop was playing of a fairly deep voice, probably a woman's, reading some kind of school instruction. The wood, like the wood in many of Wa Lehulere's sculptures, is taken from old school desks. Thoughts about education run through his work.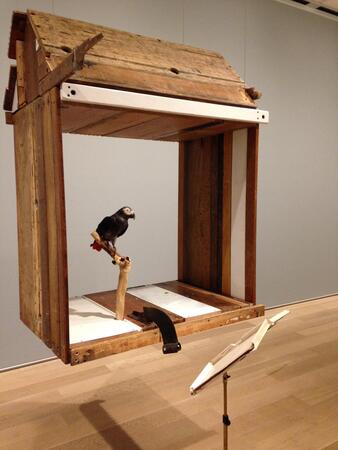 One is too many, a thousand will never be enough, 2016.
Other pieces were drawings of large size musical notation made from human hair. I didn't photograph those. I took some pictures of other drawings made in pen and ink.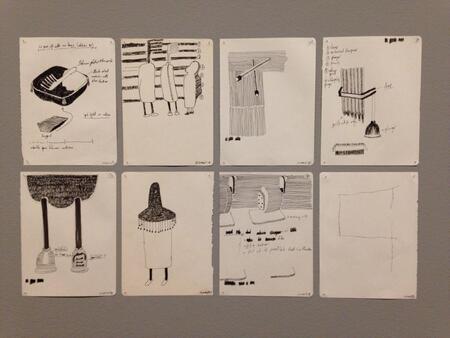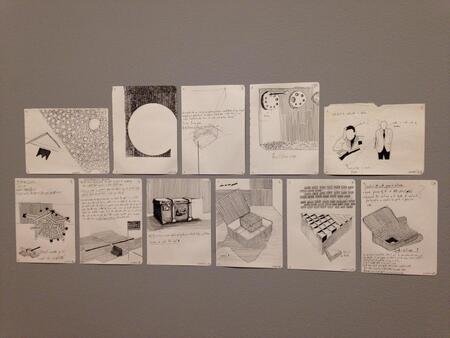 I believe these are, top, grass greener on the other side 5, 2014 and bottom, sketch 5, 2013-2014.
A central piece, in the last room, was a film of a performance piece on a large wall-size screen with a couple of chairs in front of it that gave a viewer an uneasy invited feeling of some kind of theater that was also an interrogation room.
The exhibition as a whole was made of many different materials – drawings, sculptures, found objects, performance piece and documentation, preparatory sketches, polaroids, a handwritten letter to the Nobel Prize committee – at the level of the show, too, it was striking that these all felt like they were obviously aspects of one person's artistic imagination.
*
For a piece in the New York Times at the time of the Chicago exhibition, Wa Lehulere spoke with Roslyn Sulcas. "Performance frightens me because I am a very shy person," he said. "But it also incorporates so many previous experiences." Very thin layers, then, a person's experience like layers of chalk on a school chalkboard, worked, worked, erased, worked.
How would I define this sensibility? Schooled. Aware of institutions. Oriented toward symbols, but obliquely. Sense of carpentry – plumb, adjoined. Historical and detached.
The use of materials is so settled. After long consideration, I choose this.
Wa Lehulere's gallery in South Africa is Stevenson Gallery. Lerato Berang, of the Stevenson Gallery, for the same piece in the Times: "He collects materials both physically and conceptually and let's things unfold," the gallerist added. "I never know what the form of a Kemang work will be." But, the unsaid following sentence, it will always recognizably be a Kemang work.
I have some thoughts I would like to collect – about Es'kia Mphahlele and schooling in South Africa, about the Meleko Mokgosi show recently held at the Smart Museum and the role of dogs in South African history, about Joseph Cornell and theatrical collage – but I will have to try to take that up another time.
*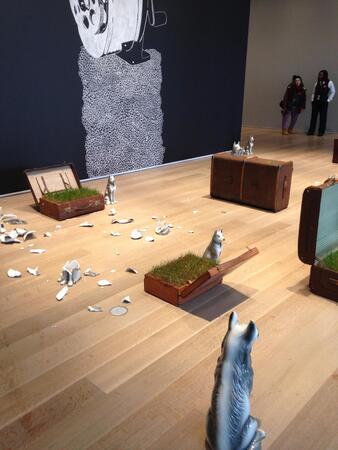 I went to Capetown once, in 2000; Wa Lehulere would have been about sixteen then. I was traveling with a man who had grown up in Zimbabwe and who had friends in Capetown. We went up to Table Mountain, which is a sort of symbol of the city. It is quite level and flat, hence its name. During the day, a mist collects and hangs over it; the people who live in the city call this the Table Cloth. I remember the feeling of the mist and the look of the patchy grass, the sense of clarity looking down, detached but not removed from the city, a sense that the name was exactly right, though I didn't know why.