Cassatt The Child's Bath
Tuesday, June 30, 2020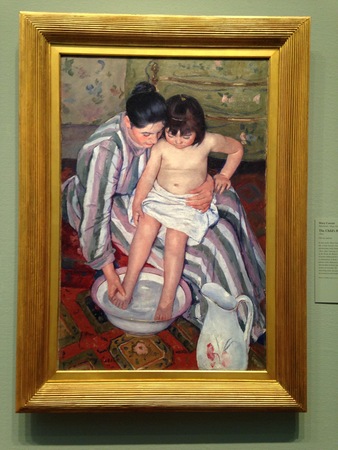 Today, I am thinking about loving a child, and worrying about them.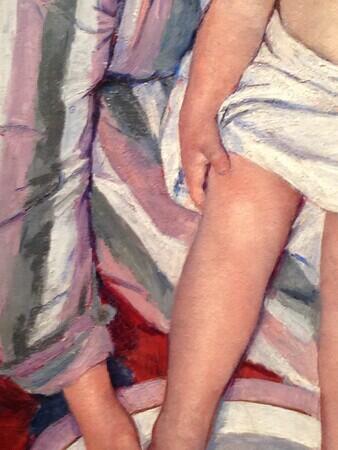 Over the last few years, I have spent a fair amount of time with this painting, seeing it sometimes with our children, sometimes by myself.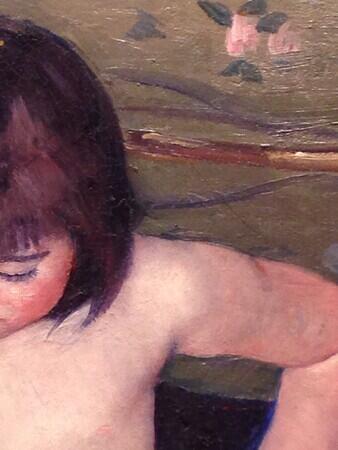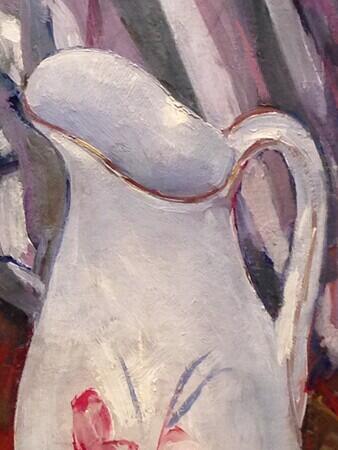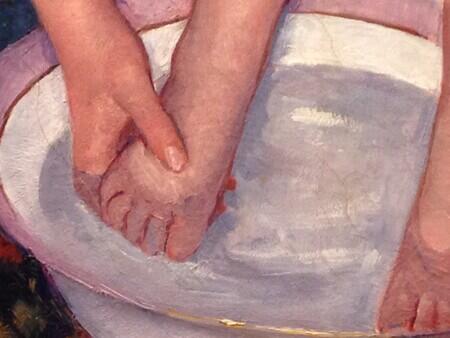 Every part of it is full of understanding.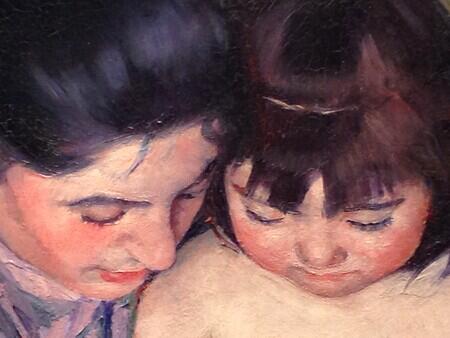 Second in a Series
Wednesday, February 4, 2015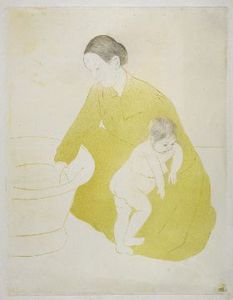 The Bath
is a print, or a series of prints, made by Mary Cassatt in 1891 – at the height of her powers and at a moment when her interest in Japanese prints opened a wonderful set of visual ideas in her mind.
Her powers were considerable. When Pissarro visited her studio in April of that year he wrote of her work to his son Lucien (the two Pissarros had been experimenting with prints themselves.)
You remember the effects you strove for at Eragny? Well, Miss Cassatt has realized just such effects, and admirably: the tone even, subtle, delicate, without stains on seams: adorable blues, fresh rose, etc…. the result is admirable, as beautiful as Japanese work, and it's done with printer's ink! [Letters to Lucien, p158]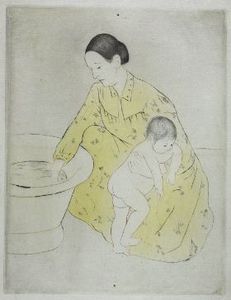 Many of Cassatt's prints are now regarded as technical masterpieces. She pulled sheets herself in her studio, and also had the help of an extremely talented printer, Modeste Leroy, whom she took the unusual step of crediting, as is the Japanese tradition. The prints are marked
Imprimée par l'artiste et M. Leroy / Mary Cassatt.
At the Fogg Museum right now, one may see a sequence of nine versions of
The Bath
, the first print in a set of twenty-five. Cassatt worked on
The Bath
in a great many stages because, as she said, "I was entirely ignorant of the method when I began." [
Mary Cassatt: The Color Prints
, p45] The whole series originally had the subtitle "an attempt at imitating Japanese printing," although she later dropped this description.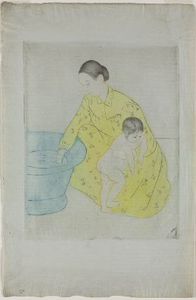 Cassatt had studied Japanese prints for twenty years, and owned many of them by the time she undertook the series; her interest in Japanese style had been given new point by an important exhibition of Japanese works that took place at the Ecole des Beaux-Arts in 1890. In a well-known letter to Berthe Morisot, Cassatt exhorted her to see the exhibition:
… you could come and dine here with us and afterwards we could go to see the Japanese prints at the Beaux-Arts. Seriously, you must not miss that. You who want to make color prints you couldn't dream of anything more beautiful. I dream of it and don't think of anything else but color on copper. [letter from Cassatt to Morisot, quoted p36 of Mary Cassatt: The Color Prints.]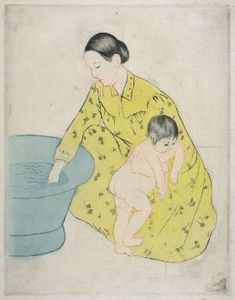 The Japanese influence on
The Bath
is evident right away. You can see it in the particular shade of blue that makes the basin of water a significant equal weight in the picture, in balance with the mother and the child; it is in the pattern on the yellow dress that has gone from being penciled in to being part of the plate; and it is in the outlined figures that seem almost cut out and then laid over the background.
Cassatt's color prints are stylized and also about style. Here style is not ornament. The hallmark of these prints may be their tenderness, but here style is paring down and juxtaposing in order to achieve a kind of force.
First in a Series
Sunday, September 29, 2013


On a fleeting visit to the Cleveland Museum of Art late last December – five women of three generations, including the baby and her much-admired five-year-old cousin L. – I caught a first glimpse of something that seemed suddenly very interesting, or rather it was as if I had already for a while been interested and had come upon the occasion when a dim returning attraction becomes a definite line to pursue.

We were a small cloud of Brownian motion bounding and rebounding in that museum's great atrium, recently-completed, and its great white rooms – it was almost by accident that we found ourselves in a small exhibition of Mary Cassatt's prints. On one side of a hallway a room with works on paper having to do with life in Paris – something of Degas, something of Toulouse-Lautrec. And on the other side of the hallway the room of Cassatt prints. Their fine yellow, slightly Japanese in tone, women seated, stillness, design. In the different impressions, deliberation. I didn't have time to look comparatively, and envied the men and women spending a careful hour in that room.

Last weekend, at the Raven bookstore, a find: Mary Cassatt: The Color Prints, by Mathews and Shapiro, for an exhibition in Boston, DC, and Williamstown, 1989-1990. And last night, reading late, found the thought I might have had, or begun to have, that dark December day.

In 1879, at the invitation of Degas, Cassatt began exhibiting with the Impressionists. Later that fall, she made a trip to the Alps – I imagine one of those trips during which vision is clarified and from which one returns full of the energy to redouble one's efforts. She found that Degas, Pissarro and Bracquemond had the idea for a new print journal, La jour et la nuit. She joined in. "At the moment," Degas wrote to Bracquemond of the project, "Mlle Cassatt is full of it."

At the Impressionist exhibition the following spring, Degas, Cassatt and Pissarro showed etchings they had been doing over the winter. Interestingly, they showed early "preliminary" states as well. [The states of an etching are prints made at different stages from the same plate, often there are considerable changes both because the artist may draw and scrape out aspects of the design, and because the plate itself changes and wears in the process of being printed.]

The Impressionists were unusual in valuing preliminary unfinished states, and this bears an important relation to their understanding and depiction of time. As Shapiro and Mathews point out: "States thus must be seen as a larger work of art; in a sense they form a "series" as in other Impressionist groups of related works." Cassatt, they continue, "keeps reworking the plate and redefining the lights and darks in endless variation as if to capture the changing light of the actual scene."

At the Milliner's
Saturday, March 22, 2014
A lady, and a hat. The lady is Mary Cassatt. She posed for Degas, she is supposed to have said, "only once in a while when he finds the movement difficult and the model cannot seem to get his idea."
Is the difficult movement here that of the woman herself, coming to an understanding with the hat?
Or is it the movement across the barrier, the mirror, between her and the shop assistant, who hands her another hat.
These shop assistants were not allowed to sit down – they still don't, sit down, women working in shops. Here it means that one of the figures is at leisure to imagine herself becoming another woman, one who wears such a hat
while the other, somewhat obscured, politely, and by constraint, awaits her transformation.
[All images are iphone pictures from Degas,
At the Milliner's
, Metropolitan Museum, 1882, pastel.]