Cassatt
Second in a Series
Wednesday, February 4, 2015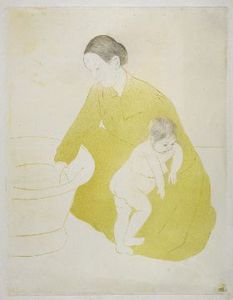 The Bath
is a print, or a series of prints, made by Mary Cassatt in 1891 – at the height of her powers and at a moment when her interest in Japanese prints opened a wonderful set of visual ideas in her mind.
Her powers were considerable. When Pissarro visited her studio in April of that year he wrote of her work to his son Lucien (the two Pissarros had been experimenting with prints themselves.)
You remember the effects you strove for at Eragny? Well, Miss Cassatt has realized just such effects, and admirably: the tone even, subtle, delicate, without stains on seams: adorable blues, fresh rose, etc…. the result is admirable, as beautiful as Japanese work, and it's done with printer's ink! [Letters to Lucien, p158]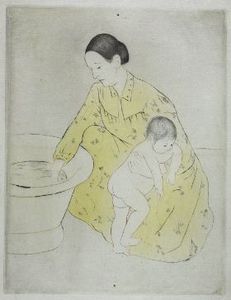 Many of Cassatt's prints are now regarded as technical masterpieces. She pulled sheets herself in her studio, and also had the help of an extremely talented printer, Modeste Leroy, whom she took the unusual step of crediting, as is the Japanese tradition. The prints are marked
Imprimée par l'artiste et M. Leroy / Mary Cassatt.
At the Fogg Museum right now, one may see a sequence of nine versions of
The Bath
, the first print in a set of twenty-five. Cassatt worked on
The Bath
in a great many stages because, as she said, "I was entirely ignorant of the method when I began." [
Mary Cassatt: The Color Prints
, p45] The whole series originally had the subtitle "an attempt at imitating Japanese printing," although she later dropped this description.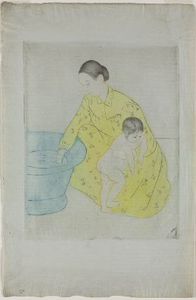 Cassatt had studied Japanese prints for twenty years, and owned many of them by the time she undertook the series; her interest in Japanese style had been given new point by an important exhibition of Japanese works that took place at the Ecole des Beaux-Arts in 1890. In a well-known letter to Berthe Morisot, Cassatt exhorted her to see the exhibition:
… you could come and dine here with us and afterwards we could go to see the Japanese prints at the Beaux-Arts. Seriously, you must not miss that. You who want to make color prints you couldn't dream of anything more beautiful. I dream of it and don't think of anything else but color on copper. [letter from Cassatt to Morisot, quoted p36 of Mary Cassatt: The Color Prints.]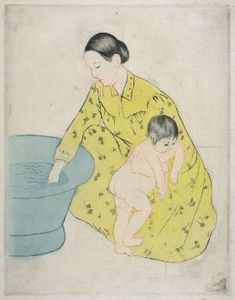 The Japanese influence on
The Bath
is evident right away. You can see it in the particular shade of blue that makes the basin of water a significant equal weight in the picture, in balance with the mother and the child; it is in the pattern on the yellow dress that has gone from being penciled in to being part of the plate; and it is in the outlined figures that seem almost cut out and then laid over the background.
Cassatt's color prints are stylized and also about style. Here style is not ornament. The hallmark of these prints may be their tenderness, but here style is paring down and juxtaposing in order to achieve a kind of force.