Pissarro and Public Spaces
Frederick Project: Commons
Saturday, March 28, 2020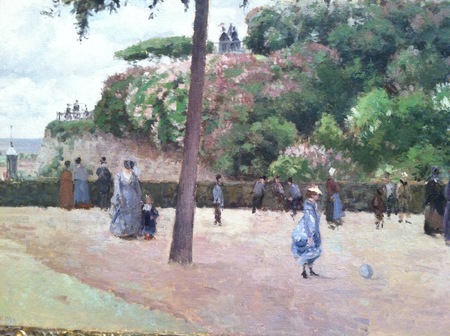 Yesterday in Chicago the lake front and many of the public parks closed. A day or two earlier, there had been a beautiful warm day, and too many people went out to the places we always go to. Jackson Park was closed, too, where the children and I have been going to keep track of spring, and to run around the perimeter of what they call 'the circle garden.' This morning, I am thinking about the relationship between museums and public parks, places whose colors we see, year in and year out, changing and constant.
Camille Pissarro was one of Impressionism's great painters of urban spaces – streets of Paris seen from a balcony in snow, on days of parades, traffic circulating, barges at work along the river. There is a wonderful book about his work on city life, the monograph from an exhibition, The Impressionist and the City: Pissarro's Series Paintings, by Richard Brettell and Joachim Pissarro.
This morning I happened upon a few photos I took of a Pissarro that's at the Metropolitan Museum of Art, The Public Garden at Pontoise, 1874. This beautiful space is connected to the person walking through it, her dress and the feet we can't see in the upper right.
Pissarro was, to my mind, the most radical person in the Impressionist group. Born to Portuguese-French-Jewish parents on St. Thomas, which was then the Danish West Indies, living in Venezuela, then in Paris, a figure whom many historians think held the French Impressionists together, by the breadth of his vision and the kindness of his heart, an appreciator of all their individual talents, probably the one among them with the deepest commitment to portraying working people, the mentor Cézanne needed in the period he most needed it, going ahead into neo-Impressionism with Georges Seurat and Paul Signac, writer of beautiful letters to his friends and his children, a person I have sometimes wished to write a book about.
This is just spring, taking the air on a simple day in Pontoise, one hundred and forty-six years ago. I last saw it in the fall of 2013, on an overnight trip to New York without our daughter, then one and a half. I missed her physically, missed the stroller I would have been pushing had she been there.
This morning I miss our parks through the children, the way the tree bark feels under their hands. This will be such a different spring than any other we have had. Without the places of common discovery.