Mitchell
Joan Mitchell: Cities in Winter
Thursday, December 22, 2016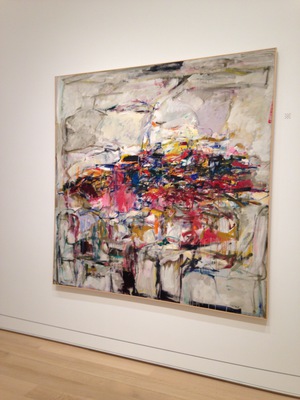 Two weeks ago, I went to the Art Institute to spend some time in the new modern wing and my attention was caught by a Joan Mitchell from 1955 called
City Landscape.
Since the election I have been thinking about cities, and living in them, the ways that a city's life may be dealt a blow.
It is December in Chicago, and cold, and I saw the heart of the city, what the wall text calls "nerves and arteries" in the colors, so many, too many to look at all at once, that drip together into brown, that, at least in my pictures, resembles the collecting trunk and lower limbs of trees, and I saw the grays and whites above and below as the bleak surrounding sky.
What a painting this is. Difficult to know, as a real city is, but also, I'm pretty sure, although I haven't yet had time to find out, it is a painting possible to know, as a real city is.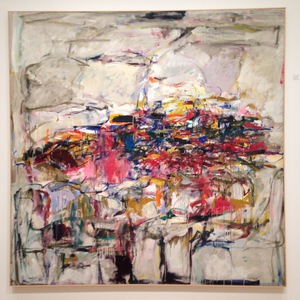 Cities, one of the largest things people make together that are still, more or less, on a human scale, can be walked across in a day, can be, with effort and diligence, comprehended by a studying person.
A moment later, I came to one of the museum's edges, where it looks out over Millennium Park. Everything was gray, but clustered at the center was the vitality of roads, traffic, the living though not visibly inhabited city, and above there were the rectilinear outlines, the gray buildings fogged at the gray sky.
In this room, there are Giacomettis, studying and participating in the city.
They were made in 1947, 1948, 1949, 1960. After the war, before and after the Joan Mitchell. All of their cities have struggled.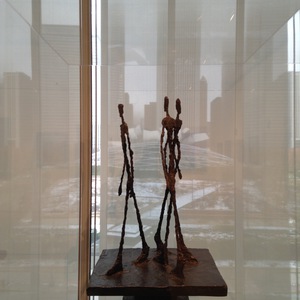 The gray around, the extreme density of the interior. In the new year, we will learn more.