Hunter
Elliott Hunter
Wednesday, October 24, 2018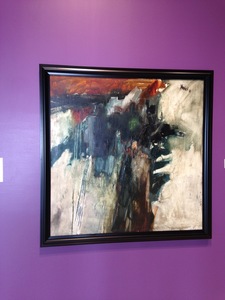 Yesterday, at the Smart Museum, "The Time is Now!" I was immediately struck by this painting:
A large square, four feet by four feet. Each inch compels.
The painter is Elliott Hunter.
It was made in 1967, and is called Grasshopper.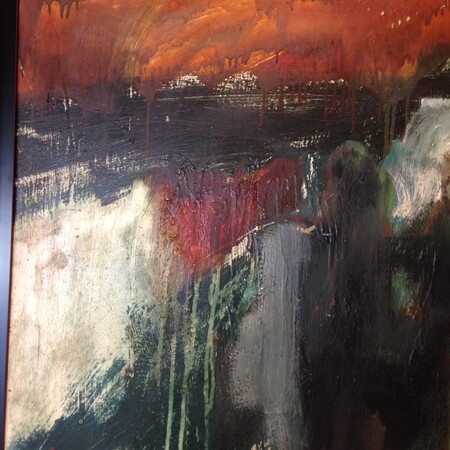 Twice, recently, I have seen grasshoppers on the pavement. Once along the curved inlet behind the bus stop at 47th and Lake Park. Holding very still, I thought as if recognizing the coming cold. A second, not far from the Pot Belly Sandwich place as I was hurrying through the parking lot, to pass the now-empty grocery store that was called Treasure Island. This second, also very still, not jumping away at my passage. The second made me think of the first – a pattern, a time of the year. The second week of October, when the grasshoppers begin to hold still on the pavement.
Something of the brittleness, and perhaps also something of the ebullient potential of the close-held grasshopper.
After a while, a face: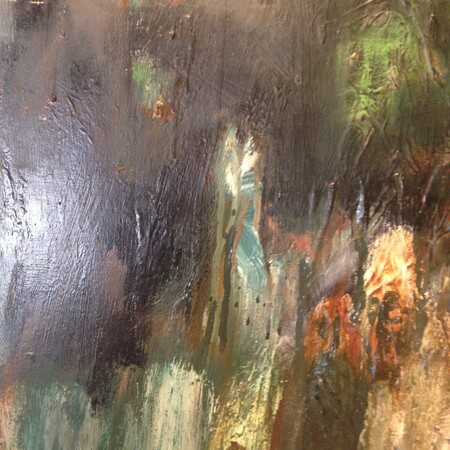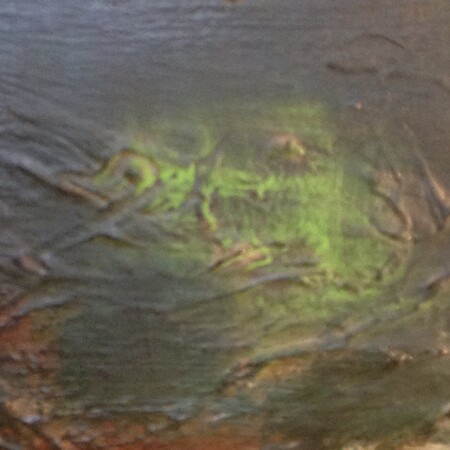 A new painter – I am learning gestures:
There is another work by the same artist in the exhibition. This one, called Black Depression, also makes me stand still. I will visit it again before attempting to say something.
When I get home, I search. The painter, Elliot Hunter, is mentioned in a piece in the Chicago Tribune about the simultaneous exhibitions of work by Chicago artists that are currently running across the city. This is where I have first seen the work, at "The Time is Now: Art Worlds of Chicago's South Side, 1960-1980" which illuminates the Smart Museum of Art this fall. There are no other mentions of Elliot Hunter on the web. Odd, the balked unfamiliar feeling that there is nothing to sit with online. So, for the next person, from the summary in the exhibition catalog:
Elliott Hunter (1938-1970) was a painter and muralist. He studied at the School of the Art Institute of Chicago and was a founding member of the Seventy-Ninth Street Collective and the Organization of Black American Culture (OBAC) in Chicago in the 1960s. He contributed to the Wall of Respect mural and later joined Edward Christmas, William Walker, and Eugene "Eda" Wade to paint the Wall of Dignity mural in Detroit in 1968. He died at age thirty-one following a brief illness.