Giacometti Difficult Hand-Writing
Tuesday, April 28, 2020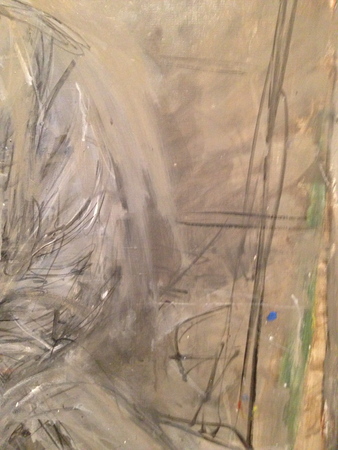 Writing of Tara Geer's work yesterday put me in mind of Giacometti, whose line in drawings and in paintings also has a quality of being written.
This is from the Geer of yesterday: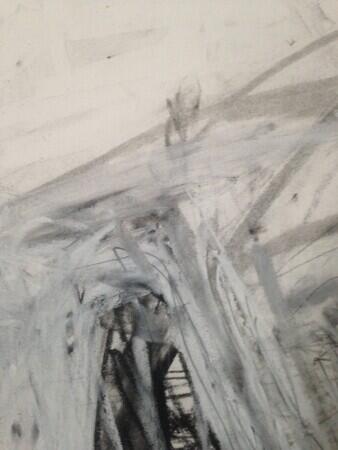 Giacometti's hand: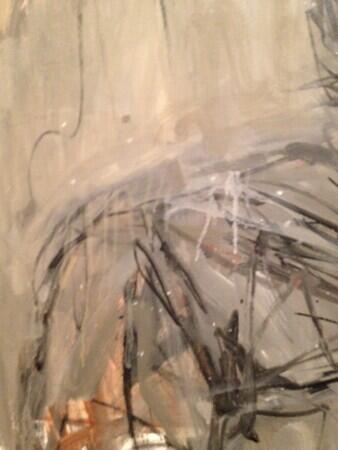 He, too, is calligraphic: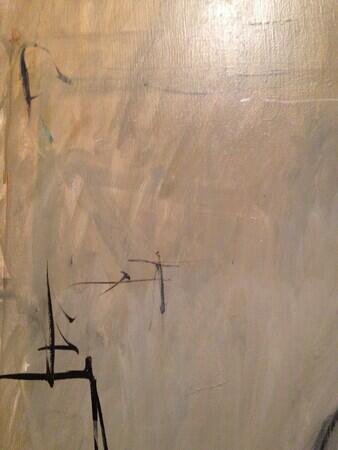 These details are from a Giacometti that I spent a fair amount of time with at the Harvard Art Museums, a portrait of the art critic David Sylvester.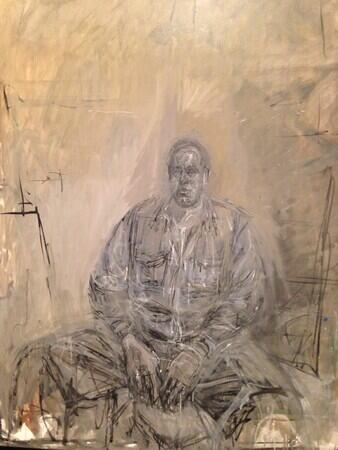 I wrote an entry about the portrait for this notebook in 2014, about the way the figure seems to coalesce from the background. I said this felt deeply humane.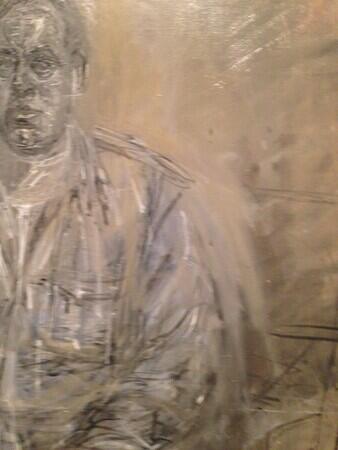 I still have my photo of the wall text for the picture, and, when I go back to look at it, the voice of the museum announces that this portrait, painted in 1960, is a recognition of peoples' "unspeakable brutality," and that the face is like a "death's head or skull." In the classes I teach on writing about art, we often debate the different styles of wall texts in museums, and I would probably class this one as intrusively over-written. But, anyway, it's interesting that I didn't remember anything of that language or what must then have been my resistance to it. Nor, I find, had I really remembered the particulars of the painting.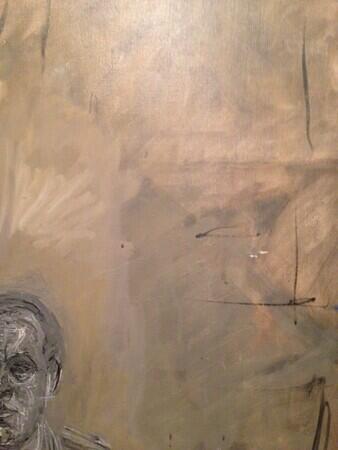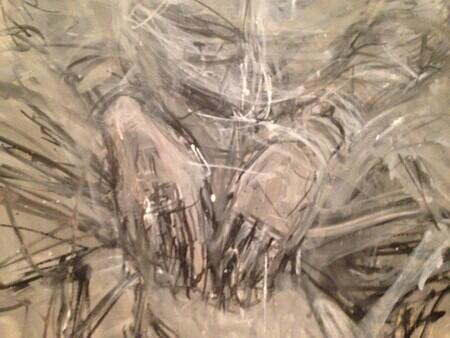 The impression I held in mind was of a lot of white gouache about the head, and of the head and its expression as gentle and something I could get close to. Looking at my photographs, I am surprised by how large the widespread legs are, by how much black is the structure of the hands and legs, by the recessed quality of the head, and, perhaps most of all, by the very beautiful luminous beige that is the atmosphere.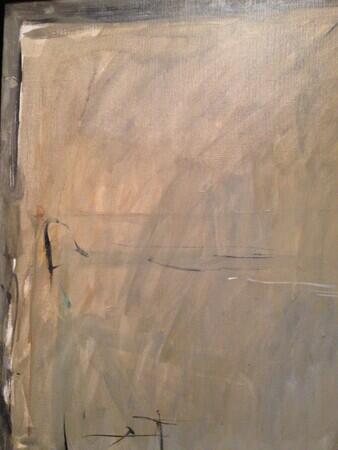 Despite having blurred all this, I can still get back the feeling of coming to rest before this painting, which is large, and rises well above my head so that I can square my shoulders and look up at it.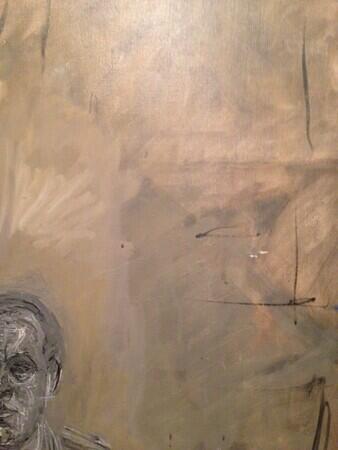 The feeling, which is a very specific relief to me, is that it has all been written. By a person who was here before and painted this.
Morisot – A Daughter at the Window
Monday, April 20, 2020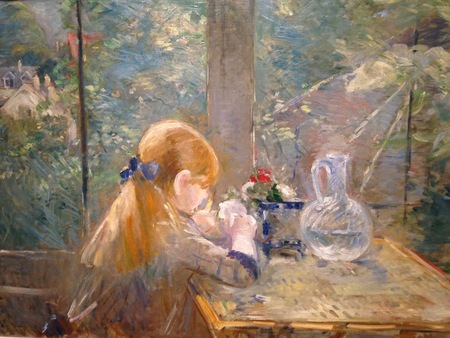 A daughter at the window is poignant. She is here with you, in the interior, but she is thinking of what lies beyond.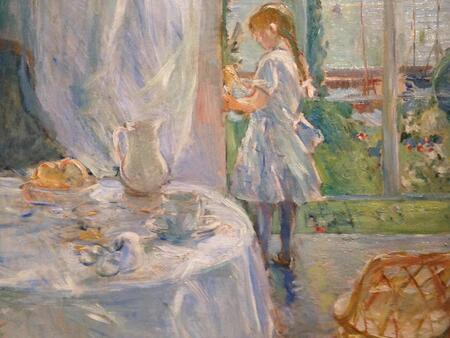 Berthe Morisot, Cottage Interior, 1886. Musée d'Ixelles. Photos Rachel Cohen.
Berthe Morisot painted and drew her daughter Julie probably several hundred times. There are masterpieces of Julie as a baby with her wet nurse, as a toddler swinging her foot in a chair, as a little girl with her father in the garden. I've studied three of Morisot's daughter as a little bit bigger girl, with her auburn hair pulled back, near windows, looking out windows.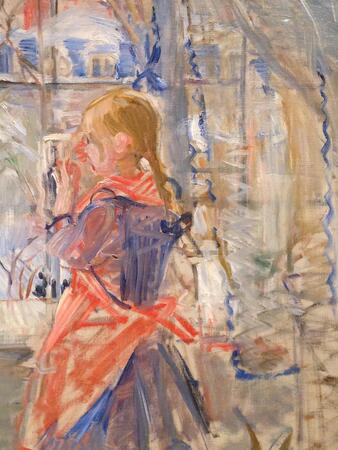 Berthe Morisot, Child in a Red Apron, 1886. Rhode Island School of Design Museum, Providence. Photos Rachel Cohen.
A daughter at the window is free also – she has her own thoughts even if she knows you are watching her.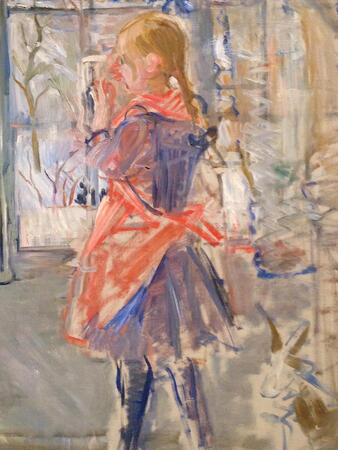 Windows are so important right now, in our confinement. These days, our children often go to watch the birds and squirrels out the back window, with great enjoyment, but they go less than they used to to the front window, where we can see people going by. I think it makes them feel too wistful.
These window paintings of Julie were mostly done at houses in the country, where the two painter-parents would go with their only child for summer months. It would be radiant and solitary.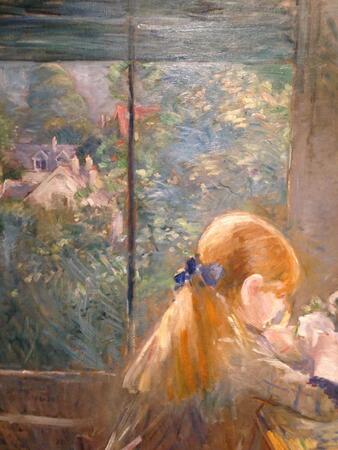 I imagine that the three of them worked on observation together, and Julie, from the diary she left, did grow up to be very observant of color in the natural world.
I imagine that, much later, it was a beautiful experience for the daughter to look again out the windows of her childhood, in the paintings her mother had made. She would be able to see what she saw, and what her mother saw.
Sometimes, watching our daughter at the window these days, I think that that is a part of every window, a mother or father standing behind, perhaps slightly reflected in the glass, watching us watching the world.
Pissarro in Snow
Out of Season
Wednesday, April 15, 2020
Snow this morning.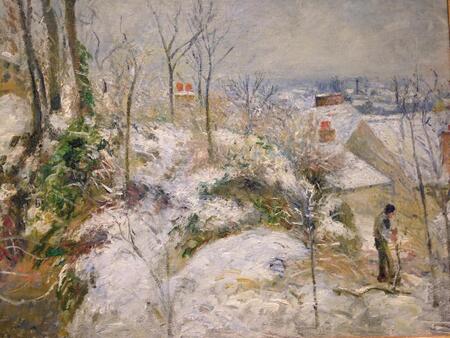 This painting – Rabbit Warren at Pontoise, Snow by Camille Pissarro, 1879 – is a regular point of reference for me, one I visit fairly often at the Art Institute. I had thought that writing of it would wait until next year. (Will we be inside again? There are questions and predictions about future waves of the disease. Hard to grasp what the year will be.)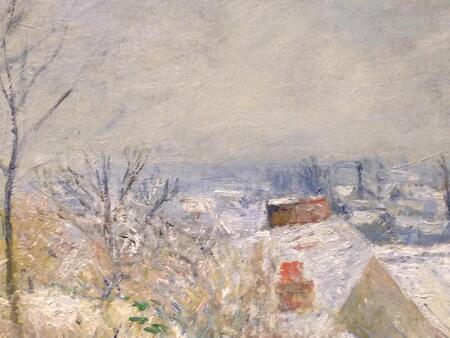 Most winters I write a little about snow and painting because snow is painting in nature.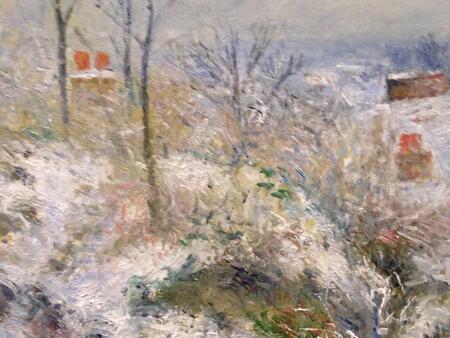 Pissarro was a great snow painter. He painted nearly a hundred paintings in which snow was a central theme. This winter, of 1879, was an especially severe one in France, and there are many great snow paintings from that year.
The snow over the rabbit warrens gives this a hummocky shape.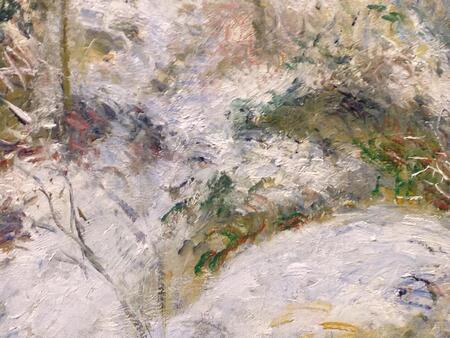 One of the difficulties with painting layered white is that you get too much opacity and a painting loses its depth. Besides the quality of actual snow is not of airlessness. There have to be other colors layered in to get the feeling of the snow.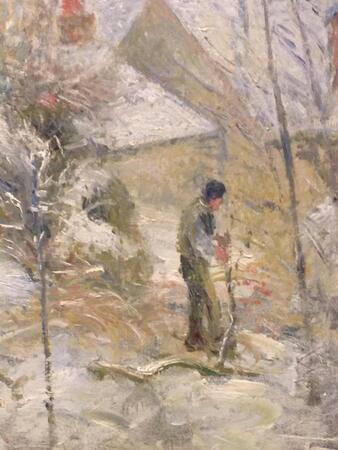 I remembered – walking out this morning to fill the bird feeder, to see how the daffodils were managing bent under their burdens – that to enter a landscape of snow seems almost like entering paint.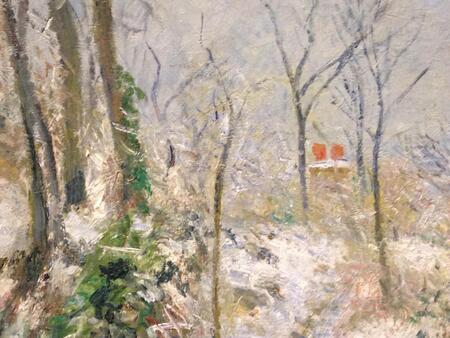 Some paintings are seasonal. To feel the air in them out of season is like trying to pack for a trip to a different climate, you can't really guess with your body how it would feel.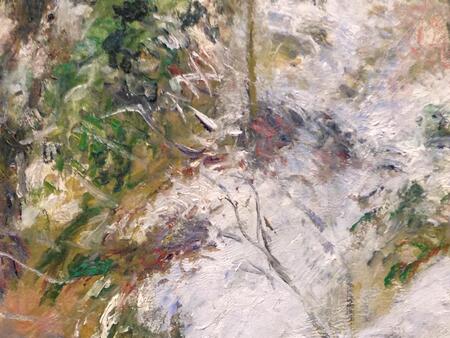 The snow is already melting here as I write this. And I notice this odd bright green that Pissarro used. Perhaps the painting too is of snow early or late, stretched beyond its season.
Sargent Stone Water Stone Paper
Frederick Project: Materials
Thursday, April 9, 2020
In 2013, a show of John Singer Sargent watercolors. I saw it at the Museum of Fine Arts in Boston; it was co-organized with, and also shown at the Brooklyn Museum of Art. These two institutions have the two finest collections of Sargent watercolors.
These first details are from I Gesuati, ca. 1909.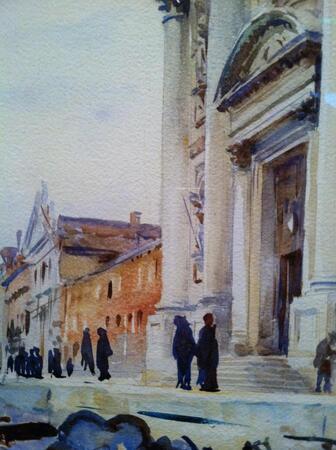 [Works shown in this post belong to the Museum of Fine Arts, Boston; except for two, belonging to the Brooklyn Museum, noted below.]
It interested me that walls were so beautiful in his hands. Some of what he showed were walls of houses that had been painted with paint, and it made sense that the fluidity of watercolor would serve. But other walls would have been of marble.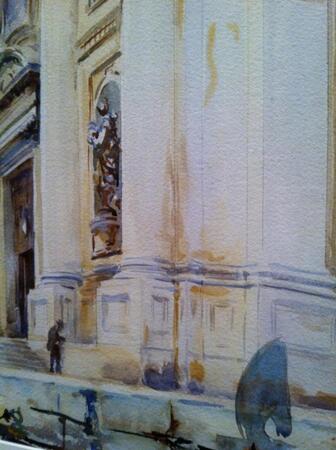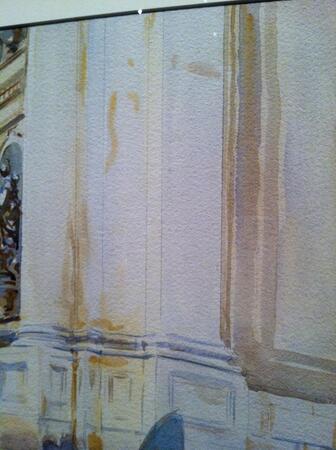 Venice was one of his great subjects. Water flowing before and among walls. Bridges over and under. Here is a detail from Santa Maria della Salute, 1904, from the Brooklyn Museum of Art.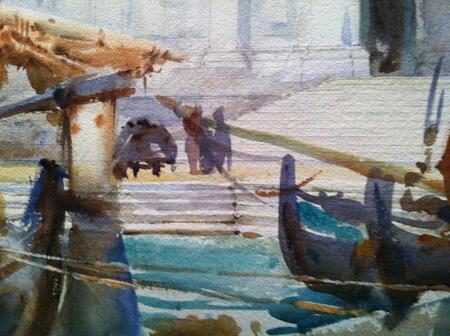 This extraordinary curve, the vault of the Rialto Bridge, seen from underneath, water running below stone and light echoing above. Venice: Under the Rialto Bridge, 1909.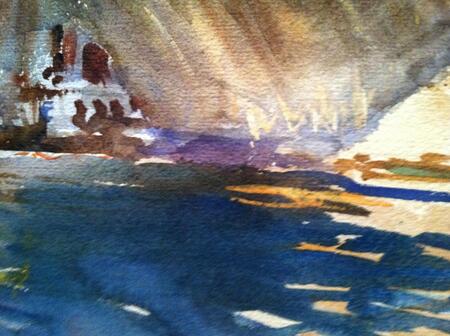 Water itself was not only Sargent's subject but his technique, his material, and his ideas of time. This, All'Ave Maria, (from about 1902-1904, belonging to the Brooklyn Museum) is of people walking on the Zattere near Santo Spirito, at the time of evening vespers, was done very fast, the technique called "wet on wet" which makes the colors bleed into one another, as they do at that time of day.
Late in the show, this watercolor made on a trip to Carrara, Sargent called it Carrara: Wet Quarries. It's from 1911.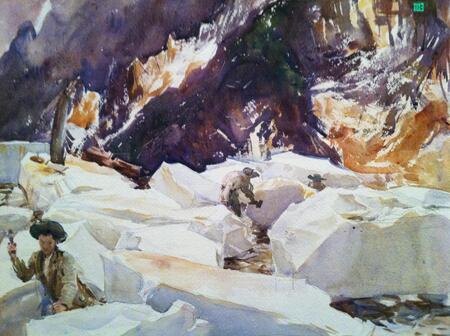 I haven't been able to figure out why wet; something to do with the process of cutting stone, but I don't see how water is involved.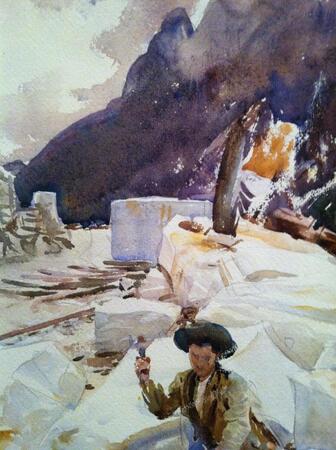 The men working look very hot among their blocks of stone. Sargent spent two weeks at this camp, he would have stood among his pieces of paper.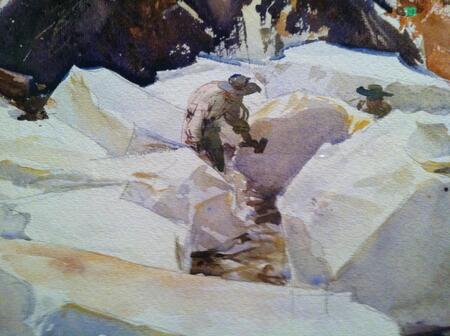 Quarrying had changed at that time, and was being done with dynamite which laid waste to much of the marble.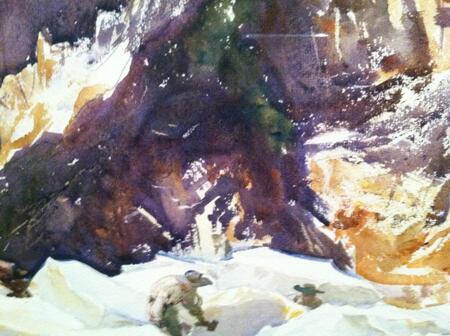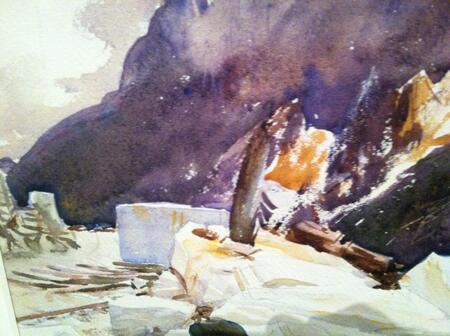 These are all from one watercolor, but in the exhibition, there were a whole series done at Carrara, strikingly abstract, with purples, yellow, green, and the great stones strewn about.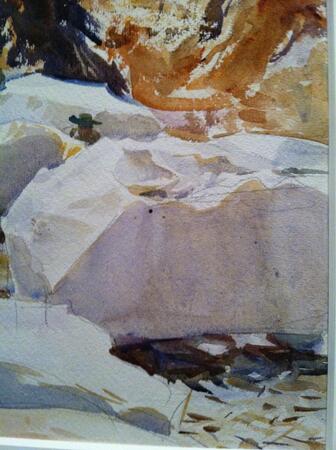 When I look at this set of five Sargent watercolors – I Gesuati, Santa Maria della Salute, Venice: Under the Rialto Bridge, All'Ave Maria, Carrara: Wet Quarries – I read a history of stone, made with water, on paper. A story of the most substantial medium, conserved in translucence.
for Massimo Warglien, Anna Gerotto, and in memory of Michael Cohen, all sheltering in Venice
for Hilary Cohen, sheltering in Ann Arbor
Snow
Saturday, February 15, 2014

At this time last year, in the days when my father was dying, it snowed and snowed. From the hospital windows, it had its beauty. The hallway near the elevators had windows that looked down on to a sort of large courtyard, not rustic, but still made precise by the snow. People crossed and you would see dark footprints. These would then be covered. The footprints and their being covered, traces of particular steps and shoes, then again white -- the tiny brevity of each passing figure, of the length of time in which the marks each made were visible, and then the snow.
The Impressionists painted snow -- in cities, in villages, over fields -- and snow itself seems their subject. The Dutch painters made snowy landscapes for tiny figures to skate in, but the Impressionists gave the element pride of place. They must have loved snow, which is, itself, painting. (In the time I've been writing this the pine tree outside my window has got light traces of white on every outside branch.) And it is painting as the Impressionists thought of it -- stroke after stroke, strokes themselves visible, paint as paint, so that you watch the illusion accumulate and marvel. And the snow's relations with light -- at once so wide and so complex -- to absorb, dampen, reflect, sometimes seemingly to generate. Outside my window it gets whiter and whiter, and the dark of the looming sky finds its balance in the intensification of white on the ground.
Time is slower in the snow. You can see it passing before your eyes. Discrete white that you can follow just long enough to feel that you were following it before it was lost, but over and over so that the seconds fill, and the minutes.
*
A man in a blue hat, walking vigorously -- I can see his head and shoulders beyond the fence with its white lines, through the scrim of white air -- passes the stop sign, makes his way along the road, goes behind the pine tree now more white than green, leaves the visual field.