Gorky
Second Gorky
Saturday, May 17, 2014
"There is my world." – Arshile Gorky on
Summation
What would it be to begin without a location in time? A letter or an email always begins with a date, even the hour; when I begin these entries my first instinct is always to situate in time – last Wednesday, after studying Ernst's collages. But I think part of the strangeness of Arshile Gorky's
Summation
is that it avoids a location in time. The experience is of many, local, whirring events or personages. Maybe as the mind feels on waking in the night, though with more tranquility than that, as, on a quiet day, taking a thankful walk. The mind casts about, and, although it dreams and wonders about the unknown and recollects and watches the known, this is not really felt as looking forward and backward but as looking around.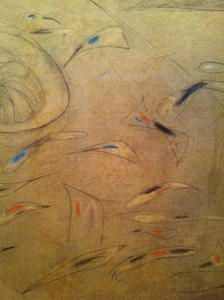 Why is it only now, many months after I saw and struggled with
Summation
, that this seems evidently its mode and quality? I remember that when I went to see it I was in a hurry to get home to the baby and had been unable to find a taxi, and that there were only a few minutes before closing. I remember that I hoped to find something to help me think about my father. Perhaps, fixed on locating the sequence of events in the months before he died, turning from this to picture hurrying to the immediate needs of next days, I was too oriented toward calendar time to see the Gorky. [Here it is, whole, though too small to feel at wall's expanse.]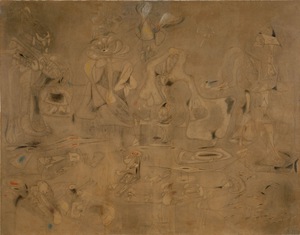 In my mind now it seems well-distributed, elegant and coherent. It would be very difficult to say where it starts, even where one's eye lights first or in what order it observes. A summation bears a different relationship to time, or happens in another realm of time – a repetitive, cyclical, associative time – not approachable in a sequence of minutes, but felt in the round of years. Part of the fear of death must be that, as the minutes are torn from us one by one, we will not be able to hold, and hold to, the beautiful spaciousness of rounding in time.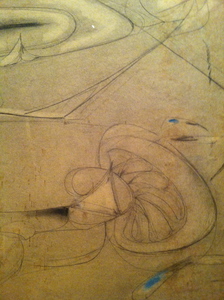 Acquisition and Time
Sunday, January 26, 2014
Working on a talk to be given at the Isabella Stewart Gardner Museum – about the collection of Italian pictures that Gardner acquired with significant help from Bernard Berenson – has been the occasion for thinking again about the collector's passion. When one stands in a gallery in front of a picture one is not only affected by the passions of the painter, or made aware of the forces of history, one is directly confronted with provenance, namely, by what combination of human passions did this object come to be here?

Isabella Gardner's letters to Berenson came dashing across the Atlantic, mixed with a flurry of cables – "Of course I want the Giotto—" "if our stupid and impossible Art Museum does not get the Giorgione (the Christ head, you know) please get it for me…. They won't move quickly enough to get it I fear." I've been struck again by the strange urgency collectors feel seemingly as part of their decision to buy a painting. Before the painting presents itself, it is an ordinary day – one will play with the dog, read the papers – and then the opportunity arrives, an offering letter, cable, call, a dealer at a gallery makes a discreet suggestion – and suddenly there is frenzy, haste, all the wonderful uncertainty of romance, will they call, is one making a fool of oneself, to what lengths is one willing to go.

I think I can guess something of the feeling from my own experience of buying concert tickets, or books I want very badly. Every aspect of the transaction seems fraught and significant – I can hardly believe the chance will not be snatched away for me, even when the white envelope with the tickets arrives in the mail, I feel certain I'll lose them. I always have a great stab of anxiety as I walk up to the usher to present these pieces of paper, my claim.

There is something fundamentally strange about acquisition. One lives in a household of objects, in a soul full of experiences, a few precious, many not, and one feels these things as one's familiars – books have a known heft, trousers carry the spot from a sandwich, a memory of a particular quartet arises unbidden and is pleasurable again. Very mysteriously, one can promise something that one already feels a little uncertain is actually a possession, a portion of a number in an account, to some institution in another part of town or on another continent, and this can result in an experience or an object leaving the wide world and crossing over into one's narrower private realm, to sit by the bed and be mulled over in the night.

Of course this has to do with the strangeness of money itself. Something that can render dental services and turpentine and a Rembrandt into commensurate terms must occupy an oddly-shaped conceptual space. But what's interesting to me at the moment is how much the anxiety of acquisition seems to affect and be affected by one's sense of time. The most important gambit for the salesman is that 'time is running out.' "If you don't take it," Berenson wrote to Gardner, "the Paris Rothschilds almost certainly will." But this urgency only intensifies as one begins to take hold. My feeling in acquisition at least is a desperate desire to get across the field of empty time and to the safety of possession. I will decide to buy in part to ward off the sensation that to pause is fatal, and, once I have decided, it will feel that the time left to wait is unbearable.

It may be that these two fears are one fear, and that every negotiation to acquire is really a small negotiation with one's own mortality. This whole train of thought would then just be another way of arriving at a thought that already feels familiar and likely: the great desire and anxiety unleashed in us by wanting to possess art is bound up with the sense that time is running out for me.



Garden Windows
Sunday, February 19, 2017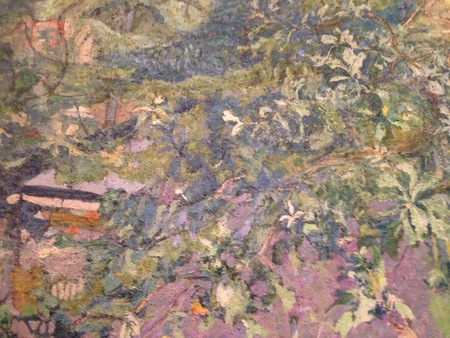 I was standing in our kitchen this afternoon, and the light from the garden was coming through the windows, garden light, unlike any other, and I started to think of painted gardens. How it is that sometimes the paint itself is even more beautiful than the real light.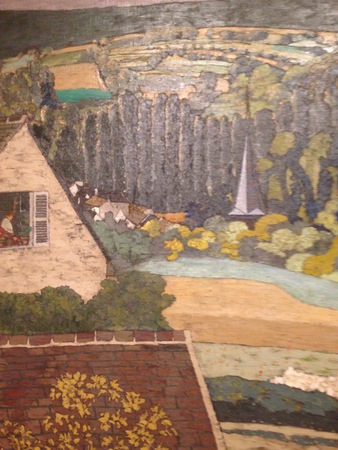 Yesterday and today the air is full of light, sixty-four degrees, sixty-seven degrees, days like April. The trees are rushing to throw off their silver February garb. Green shoots are already up in the garden, although next week it is to freeze.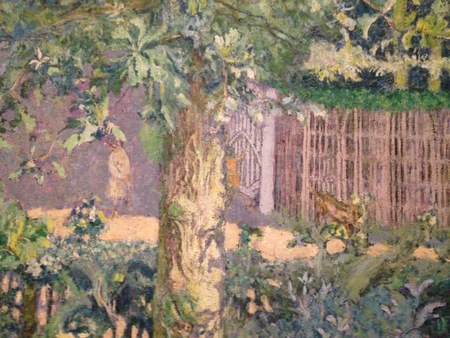 A friend of my friend's has died. We are in different cities and cannot take a walk together. He wrote that it would be nice to go to a museum.
The last time we were in the same city – he was here, in Chicago – we went to the Art Institute, and looked at this and that, and what we were taken by was Vuillard. In one room, there are two beautiful earth-banners.
Landscape: Window Overlooking the Woods
, 1899, is twelve feet long, eight feet high.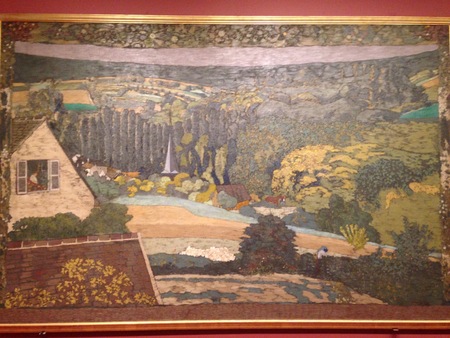 The other,
Foliage—Oak Tree and Fruit Seller,
1918, is a little over nine feet across, some six feet high. You could go every day to look at them.
I had just seen them for the first time a few days before my friend's visit, so we could begin together. There is a woman on the left side, with a child, there, back in the leaves, that is the fruit seller.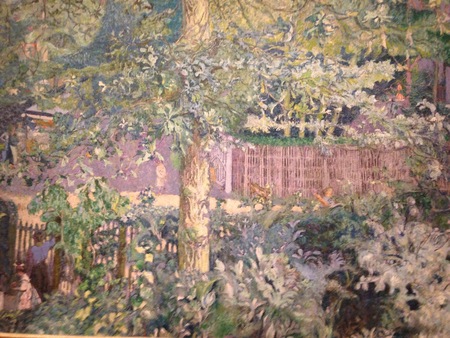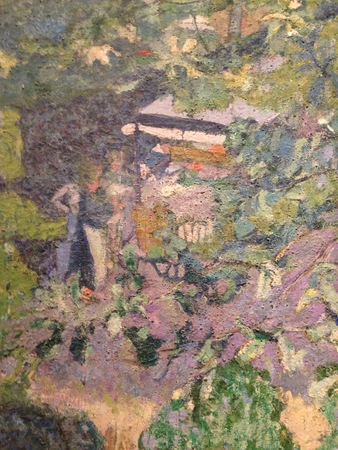 In making
Foliage—Oak Tree and Fruit Seller
, Vuillard used the medium of distemper, in which paint pigments are bound with melted glue. You have to paint quickly, it dries very fast. The wall text also points to the "closely ranged tones of the palette." Sage against olive against forest. In life, friends are like this, right up next to each other, in contrast and bound in their shared medium.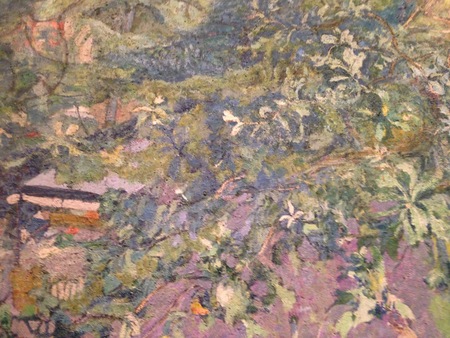 The abstraction of paint, that it may represent both the thing and the light, both the evanescent and the enduring, that would be a comfort, if we could go and look at it today.