If you think of each act, Pissarro
Thursday, May 14, 2020
If you think of each act. I mean, every time a person comes into contact with someone else or a living being, or the life of the world. Every time she talks to the cashier as she pays for groceries at the store, or calls the pharmacy about a prescription, every time she does or doesn't nod to a person she passes as she's out walking, every time she puts out bird seed or chases away a rat who has come to eat the bird seed, or decides to bring in the bird feeder for now and moves a dry leaf so a fern can struggle on. Every time she answers the children with a laugh, and every time she answers sharply, impatiently, every time she writes a note back, every time she doesn't.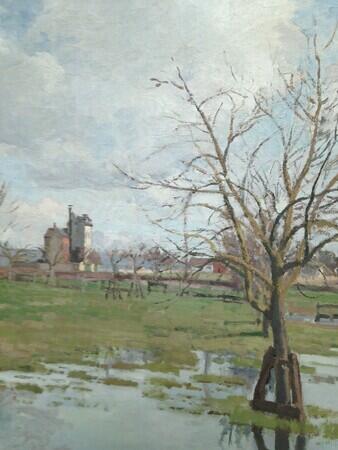 If you think of each act as a drop of rain. Then every life would have millions. Millions and millions of tiny acts. A vast ramifying sky of rain pouring down.
This morning it is raining torrentially. Rain is pouring in cataracts across our windows, and seeping in the back basement door to run down the cement floor, rain is pounding on the windows and the roof.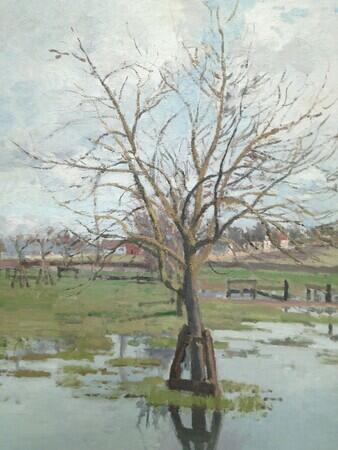 My old friend's mother has died. Not of coronavirus, of other long illnesses. He and his siblings couldn't go to her. She died in the night of May 12th becoming May 13th. I never met her, but my friend is a kind, insightful, brilliantly perceptive person, formed in the rain of thousands upon thousands of her tiny acts, kind and unkind, and so I know something of the weather she carried.
When my father died, seven years ago, the weather was so present to me. It was in storms that I felt he was closest again. I looked to the sky for signs.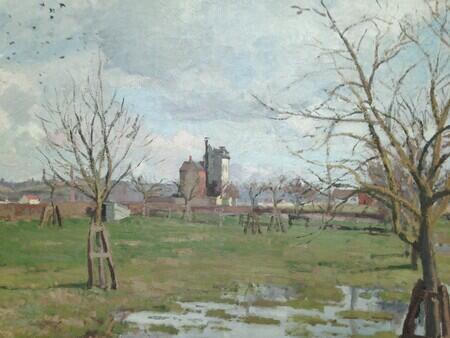 Rembrandt – Somber
Tuesday, May 12, 2020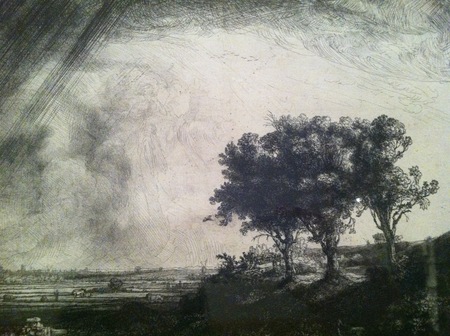 Today three different messages of death reached me. A colleague's father has died, from a long illness, not the coronavirus. It is very complicated for the son to go; he will have to quarantine away from his family on his return.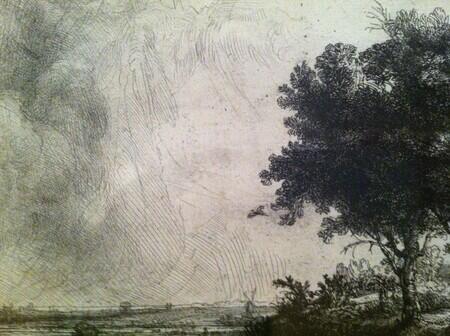 At noon, I gave a virtual reading with another colleague, who lives on a block one block away from me. Both of us read about memorialization. After the reading, my colleague said that five households on his block - I can see the backs of these houses through my study window as I write this – have lost or are losing someone of the grandparents' generation.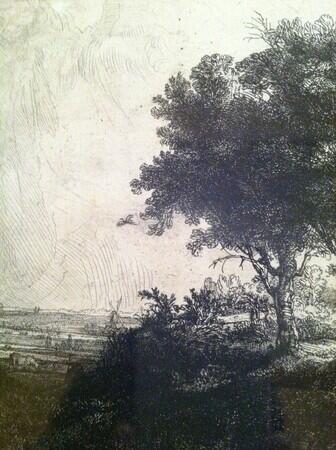 And I received an email from a cherished friend that his mother is dying in a nursing facility, also not of coronavirus, and no one, not even her husband, can go to be with her.
**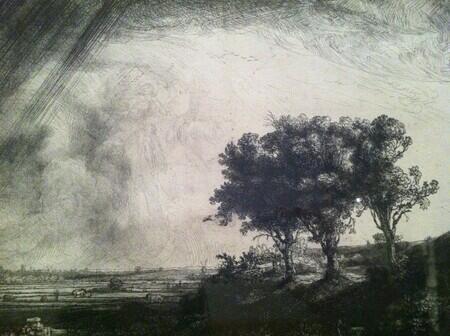 I first saw Rembrandt's Three Trees (1643) in the first art history course I took in college – which was the last class taught by the wonderful Seymour Slive before his retirement. As a special present to him, the Fogg Art Museum held a show of Rembrandt etchings that coincided with the class. My dormitory was on the same block at the museum, and I went so often and stood so long that going to see the etchings became like going home.
Ever since, for nearly thirty years, every Rembrandt etching I see in person is like a kind of embrace. Even the light-hearted ones have a solemnity to them, and a softness. Ink was gentled on his etching plates, as a great rider brings horses into their full expressiveness.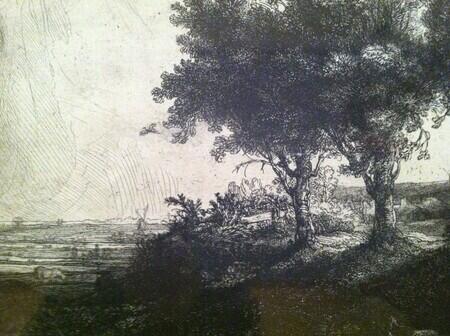 The Metropolitan Museum of Art has an etching of Rembrandt's Three Trees that I just happened to pass one day when I was visiting New York after long being away. I took a few pictures. Today, I was so glad to find them. Just look at the ink and the illumination.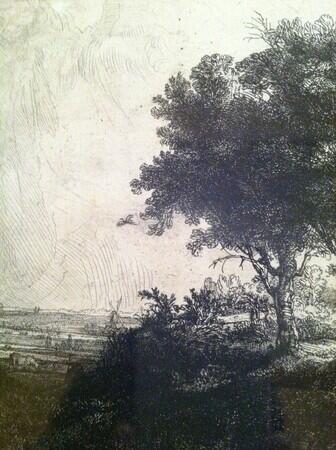 The text on the Met's website says that the "unusual cloud formations left of center" may be because Rembrandt had initially sketched another subject on the plate, one for The Death of the Virgin, which he ended up needing a larger plate to complete. I didn't know, but I might as well have, because the landscape is suffused with ideas of eternity.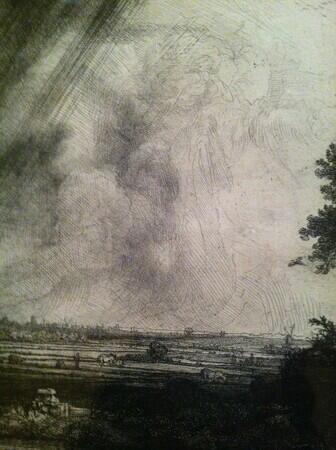 for Peter Helm
Second Gorky
Saturday, May 17, 2014
"There is my world." – Arshile Gorky on
Summation
What would it be to begin without a location in time? A letter or an email always begins with a date, even the hour; when I begin these entries my first instinct is always to situate in time – last Wednesday, after studying Ernst's collages. But I think part of the strangeness of Arshile Gorky's
Summation
is that it avoids a location in time. The experience is of many, local, whirring events or personages. Maybe as the mind feels on waking in the night, though with more tranquility than that, as, on a quiet day, taking a thankful walk. The mind casts about, and, although it dreams and wonders about the unknown and recollects and watches the known, this is not really felt as looking forward and backward but as looking around.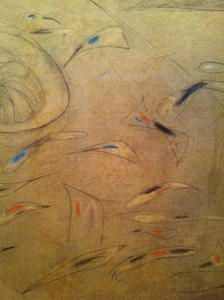 Why is it only now, many months after I saw and struggled with
Summation
, that this seems evidently its mode and quality? I remember that when I went to see it I was in a hurry to get home to the baby and had been unable to find a taxi, and that there were only a few minutes before closing. I remember that I hoped to find something to help me think about my father. Perhaps, fixed on locating the sequence of events in the months before he died, turning from this to picture hurrying to the immediate needs of next days, I was too oriented toward calendar time to see the Gorky. [Here it is, whole, though too small to feel at wall's expanse.]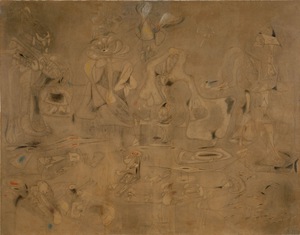 In my mind now it seems well-distributed, elegant and coherent. It would be very difficult to say where it starts, even where one's eye lights first or in what order it observes. A summation bears a different relationship to time, or happens in another realm of time – a repetitive, cyclical, associative time – not approachable in a sequence of minutes, but felt in the round of years. Part of the fear of death must be that, as the minutes are torn from us one by one, we will not be able to hold, and hold to, the beautiful spaciousness of rounding in time.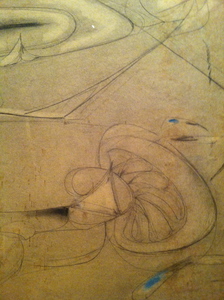 Surrealism and Form
Sunday, November 3, 2013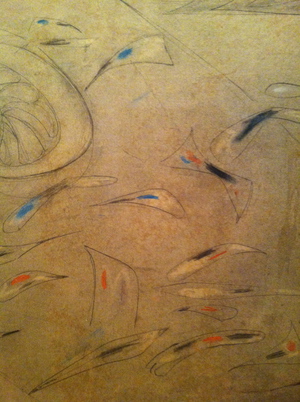 There are other feelings for form, of course, but that doesn't mean the Surrealists didn't have formal feelings. Form is often described in spatial terms, as arrangements of objects, as landscapes with prominent and receding features. Perhaps the Surrealist feeling for form could be evoked by inversion: one could speak of a disarray of objects, or of interior landscapes in which prominence is, like that in dreams, more a matter of excitation and disturbance.
This is not to say that when you look at, say, a Max Ernst collage, your eye is not still balancing the long pointed beak of the rooster against the long line of the legs of the naked woman he has turned over his knee, but that your awareness of the beak and the body, as a beak and a body, are affecting your seeing as loci of attention in a way that is not mostly about parallel lines but about balancing visceral experiences and grappling with perceived and imagined relations between them.
The thought I've been trying to get articulated for a few days, since seeing Arshile Gorky's
Summation
, is that these turbid experiences of suggested meaning might still in some way be understood as
formal
.
I rushed into the MoMA last Saturday at 5:00 (the museums closes at 5:30). I didn't plan to go, had been in New York for five days without setting foot in a museum, had given up on the possibility of going, all of us, the baby, too, were sick, we were leaving early the next morning. After a meeting, I had been unable to get a cab for fifteen blocks and realized I was within blocks, decided to chance it…
I knew that if I had to check my backpack I would be left with ten minutes at most. I discussed this with a sympathetic man at the information booth who, blessings on him, comped me; the much less sympathetic man at the entrance did make me go check the bag. I couldn't remember where things were; I've never spent time at the new MoMA the way I used to at the old MoMA; on the narrow escalators I was trapped behind someone who preferred to stand.
These are all aspects of seeing art in New York, but I'm not sure which should be brought out and which let drop. I was hoping to hit Abstract Expressionism. My father loved Rothko and I thought maybe if I got one of those I could use my ten minutes for missing him, but the one I saw through a doorway opening had a kind of bright lime green edge that I recoiled from and before I quite realized what was happening I saw a Gorky and thought I've been meaning to think about Gorky and stopped.
In the wall text next to
Summation
, Gorky is quoted as saying, "There is my world." I could see from the dates that he had died the next year, and remembered dimly that there was something untimely and terrible about his death. [I looked it up later. He killed himself the following year, at the age of forty-four, after a gruesome two years, in which his studio burned down, a car accident left him with a broken neck and a temporarily paralyzed painting arm, and his wife left him, and took their two children.] What had stayed in my mind was the sense that he had been an extremely important link from the Surrealists to the Abstract Expressionists – and that his loss had been bitterly mourned by both André Breton and Willem De Kooning.
The significance of Gorky's influence was pointed out both in the Whitney drawing retrospective (winter 2003-2004), a show I thought was very profound, and in "Abstract Expressionist New York," at the MoMA three years ago. Although people do talk about it, I still think it is easy to overlook how totemic and dream-oriented the Abstract Expressionists were in their early days. Frank O'Hara's great essay on Jackson Pollock has a long useful section on Surrealism.
Another approach in the direction of my hoped-for thought might be: if one thinks of the forms discovered by the Surrealists as being in some way taken in and then diffused throughout the canvases of the Abstract Expressionists then one could in a way actually be a witness to this in looking at the works of Gorky.
Les Débâcles, first
Monday, February 23, 2015

débâcle: the violent flood that follows when the river ice melts in spring
In the winter of 1879-1880 the weather was unusually stormy and cold. All along the Seine there were record quantities of snow and ice. That winter, Claude Monet was at Vétheuil, a village near Argenteuil and to the northwest of Paris. Monet was living in straitened circumstances with his children; his beloved wife Camille had died earlier that year, in September. The remaining Monets were sharing a household with Alice Hoschedé and her children. The winter was so fierce that even at Christmas it was impossible for them to be joined by Alice Hoschedé's husband, Ernest, who had been one of Monet's important supporters and collectors. Ernest Hoschedé was suffering through his own difficult period; he had gone bankrupt two years before, and his entire Impressionist collection had been sold at disastrously low prices. It is not entirely clear how the merging and transformation of the Hoschedé and Monet households took place, but this grim winter was to prove a turning point both in Monet's life and in his work as a painter.
I have been reading about that winter, and the paintings Monet made then, for nearly a year. Reading very slowly, chiefly in one catalogue called
Monet at Vétheuil: The Turning Point
. The catalogue caught my attention in a used bookstore here in Cambridge, in part because the show that occasioned it was held at the University of Michigan Art Museum in Ann Arbor, where I am from, and in part because the subject of the paintings is winter. My father died in Ann Arbor in early February of 2013, during a bitterly snowy fortnight. This February, two years later, I am again confronted by mourning and by snow. Although I have been thinking about these confluences for many months, I am not making any progress on drawing them together as an essay. So I have decided to try writing a series of broken pieces instead.
During the winter of 1879-1880, Monet painted a series of canvases of the snowbound river and of the eventual catastrophic breakup of the ice. The series of paintings, called Les Débâcles, take their name from the river floods that followed the thaw in early January of that year. Until this point, much of Monet's work had been of urban landscapes. There had also been portraits and still lifes; the work depicted or implied the presence of people. But this winter, he painted landscape alone, deliberately removing the boats and industry which photographs from the time show to have been part of the landscape at Vétheuil. Instead, the viewer of the painting is alone in nature; the subject of the pictures is the terrible majesty of winter and its devastations.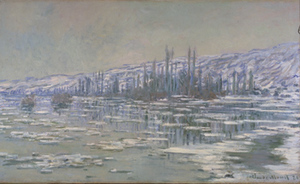 Monet, Le Débacle, 1880, University of Michigan Art Museum
Garden Windows
Sunday, February 19, 2017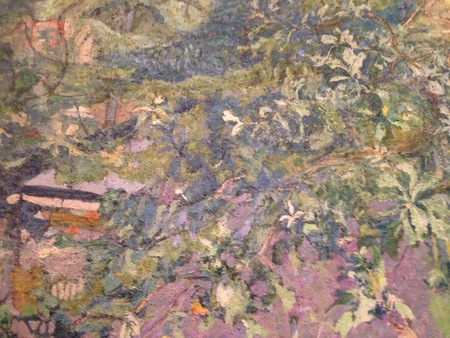 I was standing in our kitchen this afternoon, and the light from the garden was coming through the windows, garden light, unlike any other, and I started to think of painted gardens. How it is that sometimes the paint itself is even more beautiful than the real light.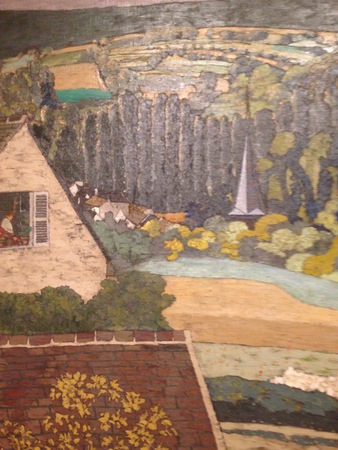 Yesterday and today the air is full of light, sixty-four degrees, sixty-seven degrees, days like April. The trees are rushing to throw off their silver February garb. Green shoots are already up in the garden, although next week it is to freeze.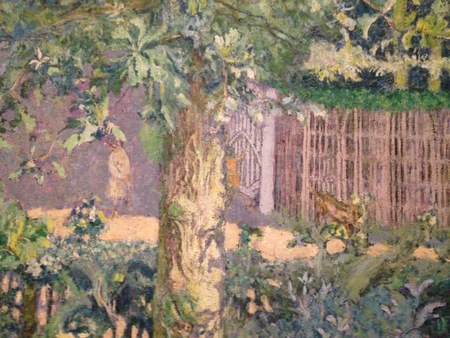 A friend of my friend's has died. We are in different cities and cannot take a walk together. He wrote that it would be nice to go to a museum.
The last time we were in the same city – he was here, in Chicago – we went to the Art Institute, and looked at this and that, and what we were taken by was Vuillard. In one room, there are two beautiful earth-banners.
Landscape: Window Overlooking the Woods
, 1899, is twelve feet long, eight feet high.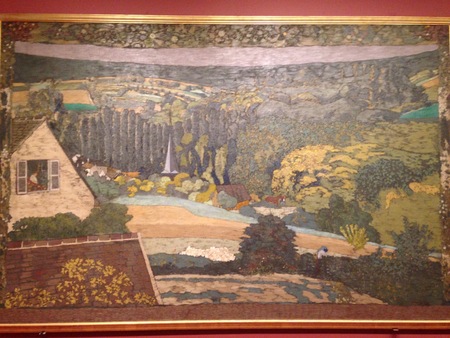 The other,
Foliage—Oak Tree and Fruit Seller,
1918, is a little over nine feet across, some six feet high. You could go every day to look at them.
I had just seen them for the first time a few days before my friend's visit, so we could begin together. There is a woman on the left side, with a child, there, back in the leaves, that is the fruit seller.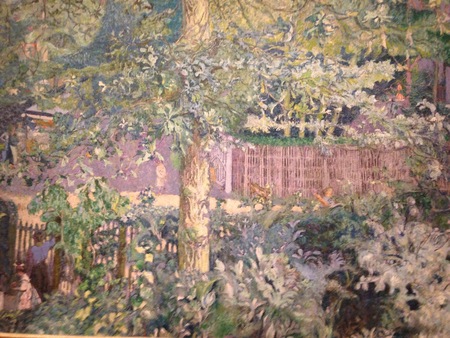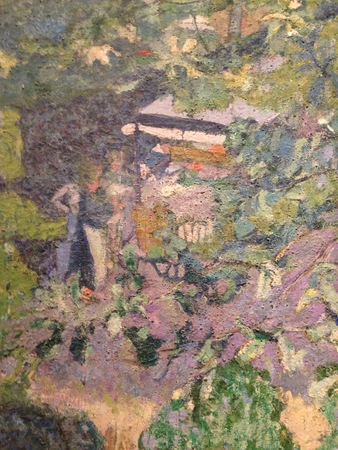 In making
Foliage—Oak Tree and Fruit Seller
, Vuillard used the medium of distemper, in which paint pigments are bound with melted glue. You have to paint quickly, it dries very fast. The wall text also points to the "closely ranged tones of the palette." Sage against olive against forest. In life, friends are like this, right up next to each other, in contrast and bound in their shared medium.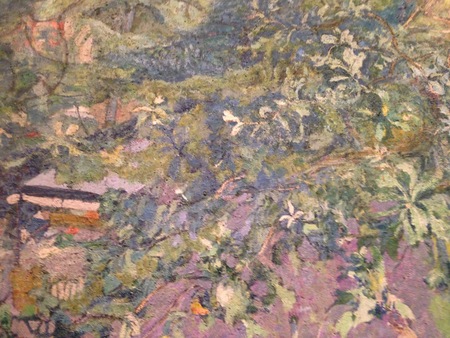 The abstraction of paint, that it may represent both the thing and the light, both the evanescent and the enduring, that would be a comfort, if we could go and look at it today.