Rembrandt – Somber
Tuesday, May 12, 2020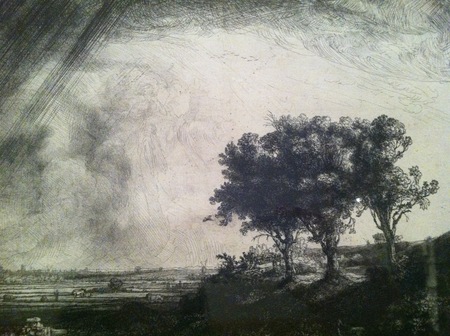 Today three different messages of death reached me. A colleague's father has died, from a long illness, not the coronavirus. It is very complicated for the son to go; he will have to quarantine away from his family on his return.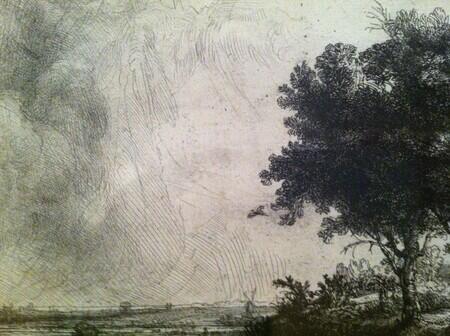 At noon, I gave a virtual reading with another colleague, who lives on a block one block away from me. Both of us read about memorialization. After the reading, my colleague said that five households on his block - I can see the backs of these houses through my study window as I write this – have lost or are losing someone of the grandparents' generation.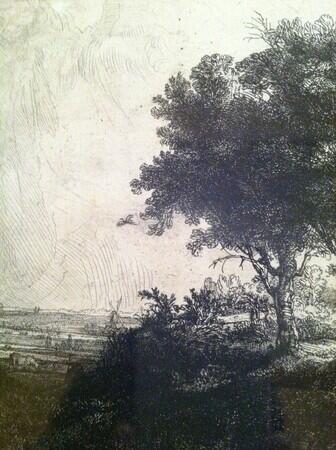 And I received an email from a cherished friend that his mother is dying in a nursing facility, also not of coronavirus, and no one, not even her husband, can go to be with her.
**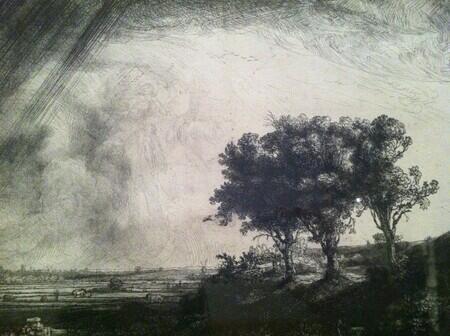 I first saw Rembrandt's Three Trees (1643) in the first art history course I took in college – which was the last class taught by the wonderful Seymour Slive before his retirement. As a special present to him, the Fogg Art Museum held a show of Rembrandt etchings that coincided with the class. My dormitory was on the same block at the museum, and I went so often and stood so long that going to see the etchings became like going home.
Ever since, for nearly thirty years, every Rembrandt etching I see in person is like a kind of embrace. Even the light-hearted ones have a solemnity to them, and a softness. Ink was gentled on his etching plates, as a great rider brings horses into their full expressiveness.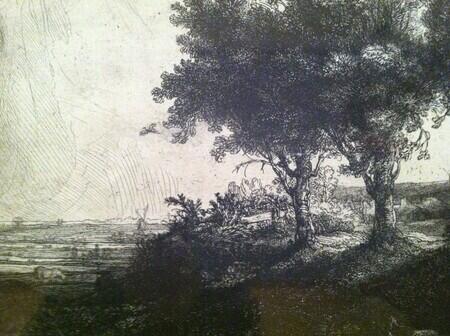 The Metropolitan Museum of Art has an etching of Rembrandt's Three Trees that I just happened to pass one day when I was visiting New York after long being away. I took a few pictures. Today, I was so glad to find them. Just look at the ink and the illumination.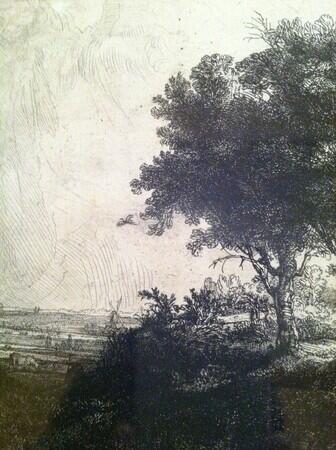 The text on the Met's website says that the "unusual cloud formations left of center" may be because Rembrandt had initially sketched another subject on the plate, one for The Death of the Virgin, which he ended up needing a larger plate to complete. I didn't know, but I might as well have, because the landscape is suffused with ideas of eternity.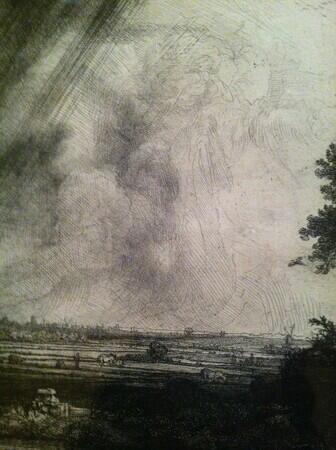 for Peter Helm
Rembrandt in Gray at the Gardner
Frederick Project: Stolen
Tuesday, March 31, 2020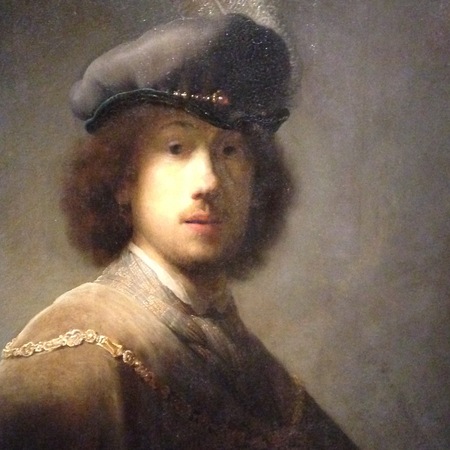 I wish I could say that I knew this painting well, but the truth is that I walked by it a few times when we lived in Boston. I went to the Isabella Stewart Gardner Museum fairly often, because I was writing a book about Bernard Berenson, who was one of her most important advisors in building the collection. But Berenson was focused on Italian paintings, and when I went to the museum I spent a lot of my time in the Italian rooms. On most visits, I never even went around to the side of the museum that has this dark room of Flemish and Netherlandish painting, and where this Rembrandt self-portrait hangs.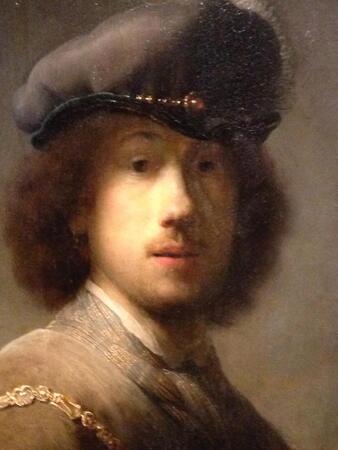 The Dutch paintings room at the Gardner is the one from which several important works were stolen in 1990. I also sometimes avoided it because I found it upsetting to see the empty places on the walls where the missing paintings (Vermeer's The Concert, the two large Rembrandt paintings, the tiny Rembrandt self-portrait etching) should have been.
I won't show that injured wall. This is the wall with the as-of-today present Rembrandt Self-Portrait in the photo that the Gardner Museum thoughtfully offers on its website.
My pictures are dated June 10 of 2016, so I must have gone just a few days before we left Boston to move to Chicago. This was a farewell visit. Rembrandt self-portraits have been a touchstone for me, as for so many writers, for a long time. I first remember looking at them carefully when I was seventeen, so about thirty years.
I guess I thought I might at some point want to write about this painting, because I took quite a few pictures and they came out well. I think you can get a sense of the incredible variety of textures that you feel looking at the painting – the velvet hat, beads, the hair, skin, moustache, cloth.
This morning my eye was caught by the gray.
Gray seemed to be connected both to the gray skies we still have, last of March, and to the still life I looked at yesterday by Manet (a Manet was also stolen from the Gardner, which I had forgotten until I looked it up just now.)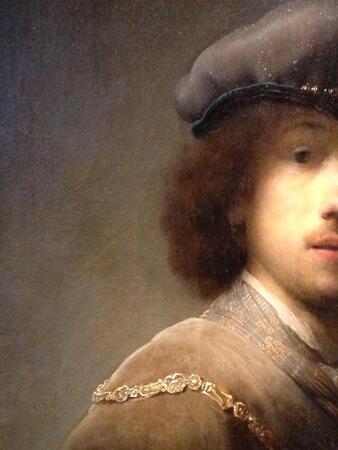 It was only when I began to picture myself walking into the room that I thought about the stolen works. And remembered a headline from yesterday, that a Van Gogh had been stolen from a museum in the Netherlands shuttered by the coronavirus.
Wherever there is money, misfortune, human passion, beauty, violence, trust and mistrust, there will be paintings. When you see a painting in a museum, you do not know if you will see it again, if it will be seen by anyone again.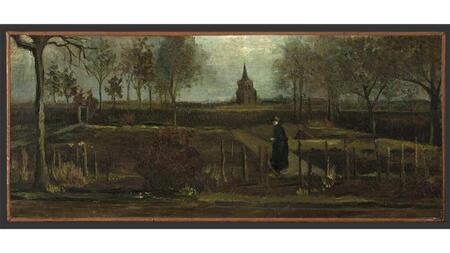 This is the Van Gogh, The Parsonage Garden at Nuenen in Spring, belonging to the Groninger Museum, but on loan to the Singer Laren museum. It was stolen early in the morning of March 30th, which was the painter's birthday. The Parsonage Garden at Nuenen in Spring was painted in 1884. Van Gogh's father was a pastor, and this was the garden of his parents' home, where he stayed with them between 1883 and 1885. It looks to me, in reproduction, an intimate and significant painting, connecting back to Corot and forward to Vuillard. Van Gogh died in 1890 and was, in the mid-1880s, at the height of his powers. It would be nice to see this painting right about now, at the cusp of spring.
This is a little area of the Rembrandt that struck me as especially beautiful a few days before we left Boston.
Acquisition and Time
Sunday, January 26, 2014
Working on a talk to be given at the Isabella Stewart Gardner Museum – about the collection of Italian pictures that Gardner acquired with significant help from Bernard Berenson – has been the occasion for thinking again about the collector's passion. When one stands in a gallery in front of a picture one is not only affected by the passions of the painter, or made aware of the forces of history, one is directly confronted with provenance, namely, by what combination of human passions did this object come to be here?

Isabella Gardner's letters to Berenson came dashing across the Atlantic, mixed with a flurry of cables – "Of course I want the Giotto—" "if our stupid and impossible Art Museum does not get the Giorgione (the Christ head, you know) please get it for me…. They won't move quickly enough to get it I fear." I've been struck again by the strange urgency collectors feel seemingly as part of their decision to buy a painting. Before the painting presents itself, it is an ordinary day – one will play with the dog, read the papers – and then the opportunity arrives, an offering letter, cable, call, a dealer at a gallery makes a discreet suggestion – and suddenly there is frenzy, haste, all the wonderful uncertainty of romance, will they call, is one making a fool of oneself, to what lengths is one willing to go.

I think I can guess something of the feeling from my own experience of buying concert tickets, or books I want very badly. Every aspect of the transaction seems fraught and significant – I can hardly believe the chance will not be snatched away for me, even when the white envelope with the tickets arrives in the mail, I feel certain I'll lose them. I always have a great stab of anxiety as I walk up to the usher to present these pieces of paper, my claim.

There is something fundamentally strange about acquisition. One lives in a household of objects, in a soul full of experiences, a few precious, many not, and one feels these things as one's familiars – books have a known heft, trousers carry the spot from a sandwich, a memory of a particular quartet arises unbidden and is pleasurable again. Very mysteriously, one can promise something that one already feels a little uncertain is actually a possession, a portion of a number in an account, to some institution in another part of town or on another continent, and this can result in an experience or an object leaving the wide world and crossing over into one's narrower private realm, to sit by the bed and be mulled over in the night.

Of course this has to do with the strangeness of money itself. Something that can render dental services and turpentine and a Rembrandt into commensurate terms must occupy an oddly-shaped conceptual space. But what's interesting to me at the moment is how much the anxiety of acquisition seems to affect and be affected by one's sense of time. The most important gambit for the salesman is that 'time is running out.' "If you don't take it," Berenson wrote to Gardner, "the Paris Rothschilds almost certainly will." But this urgency only intensifies as one begins to take hold. My feeling in acquisition at least is a desperate desire to get across the field of empty time and to the safety of possession. I will decide to buy in part to ward off the sensation that to pause is fatal, and, once I have decided, it will feel that the time left to wait is unbearable.

It may be that these two fears are one fear, and that every negotiation to acquire is really a small negotiation with one's own mortality. This whole train of thought would then just be another way of arriving at a thought that already feels familiar and likely: the great desire and anxiety unleashed in us by wanting to possess art is bound up with the sense that time is running out for me.