Van Gogh's Room In Detail
Tuesday, June 16, 2020
It is nearly midnight. Dark out. Someone is setting off fireworks. In the house very quiet. I think of Van Gogh, to whom it was important to have these few rooms, with enough room for him to paint, and for Gauguin to come and be sheltered, these rooms in the yellow house in Arles.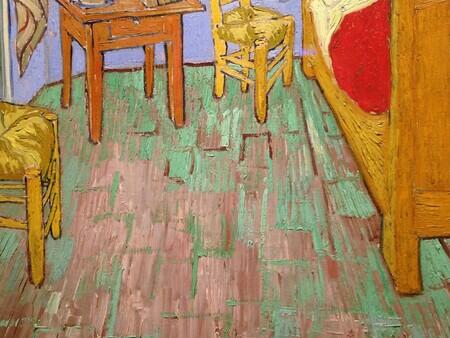 He had been working so hard in the Midi, struggling to anchor his paintings so they didn't blow away in the mistral. He wanted to reach an understanding of the landscape that the greatest work, especially work from Japan seemed to him to have. "All my work is in a way founded on Japanese art." [Dear Theo: The Autobiography of Vincent van Gogh, ed. Irving Stone with Jean Stone.]
And he was searching for an expression of color. He recalled the work and convictions of Pissarro and Cézanne. "What Pissarro says is true: You must boldly exaggerate the effects either of harmony or discord which colours produce; exact drawing, exact colour, is not the essential thing because the reflection of reality in a mirror, if it could be caught, colour and all, would not be a picture at all, no better than a photograph."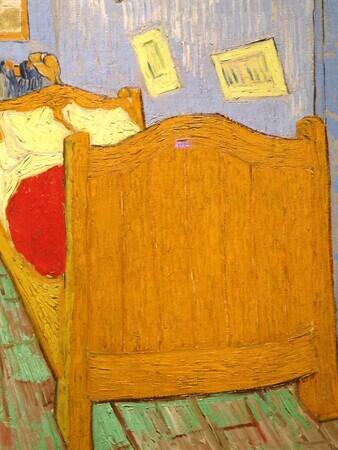 When he painted a first version of this bedroom, a work which is now at the Musée d'Orsay, he wrote to his brother."It's just simply my bedroom, but colour is to do everything, and giving by its simplification a grander style to things is to be suggestive here of rest or of sleep. In a word, to look at the picture ought to rest the brain, or rather the imagination."
Some things were quite different, by the time he painted the painting pictured here, which he did a year later.
But the colors are like what he wrote about. "The walls are pale violet. The ground is of red tiles. the wood of the bed and chairs is the yellow of fresh butter, the sheets and pillows greenish-lemon, the coverlet scarlet, the window green, the toilet table orange, the basin blue, the doors lilac. The broad lines of the furniture again must express inviolable rest."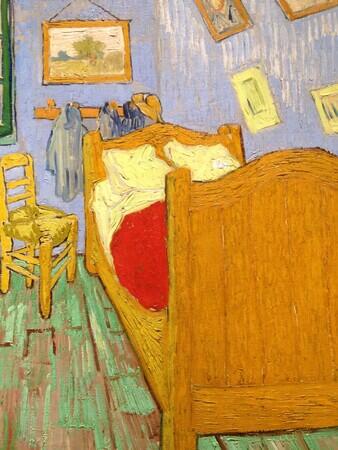 At night it is so easy to feel low, even despairing. Go to bed, we tell each other. I remind myself, even the most discordant and exaggerated colors may be a structure for rest.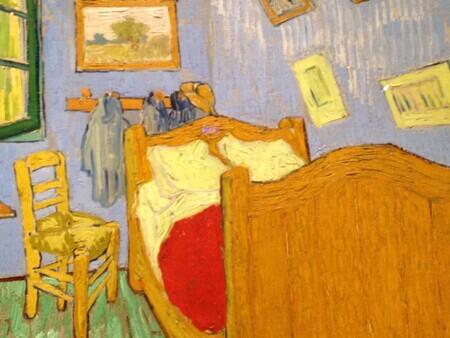 Van Gogh's Room
Monday, June 15, 2020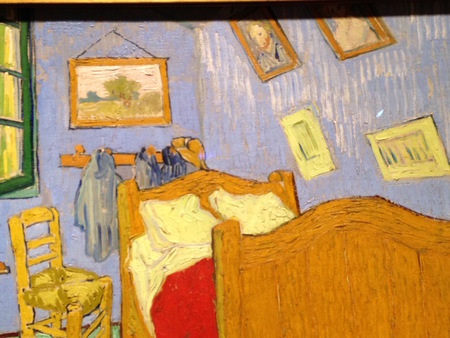 Today there is a small glitch in the program that allows me to upload images as part of these notebook entries, and this changes how I can take you through Van Gogh's room — the square table with the blue pitcher in its bowl and the stoppered glass bottles, the open green casement window, the floor with its rough texture of green and brown, the two bright yellow straw chairs, the red cover on the bed, the row of pegs on the wall on which hang the blue work clothes and the soft-brimmed hat — all this will be in words. Perhaps that is good in its way, a space to enter more like a novel, not so much considering his space as making one of your own.
What I want to make note of are the paintings on the walls. I've chosen the one picture that I can show accordingly. If you look back at it, you can see that on the side wall there are four paintings, one clearly a portrait. And that, above the head of the bed, there is a painting of a green tree in a bit of landscape. I am interested in the way Van Gogh painted trees, and this painting of a painting of a tree gives me some clues.
First, as perhaps you know. This bedroom was of great significance to Van Gogh. It was in the first, and only, house that Van Gogh called his own, the famous "yellow house" at Arles. When he moved in, in 1888, he was exhilarated, and felt that sense of groundedness and possibility that many of us have felt in a first real room, apartment, or house of our own.
He immediately painted a set of paintings to go on the walls. That is a lovely thought to me. Here is my new house, I will paint paintings to decorate the walls, and it happens that they will all be Van Goghs. Anyway, he exhausted himself. And fell into bed for two days. And then when he got up, painted his bedroom. And was delighted with the bedroom painting. There was a flood that damaged this first painting, and he painted the same painting again twice more – a year later, at very nearly the same scale, and then shortly after that again, a small version, as a present for his mother and sister.
I have spent some time with The Bedroom at the Art Institute. But the museum also did an exhibition I did not see, months before we arrived in Chicago, bringing together the three versions of the same subject. And so there is a whole set of online materials if you are curious to make close comparisons. The Art Institute's materials, and a short article by Katie Rahn, point out that there are significant changes in the portraits on the right-hand wall.
The first, happy version of the bedroom was painted a few days before the arrival of one of Van Gogh's most important friends and, some later came to feel, his most important enemy, Paul Gauguin. In the happiest bedroom, the portraits painted on the wall are actual portraits by Van Gogh, still in existence, of actual people Van Gogh knew, and anticipate camaraderie and artistic growth. One is of a painter-friend, the other of a soldier-friend.
By a year later, a devastating year, in which Van Gogh lost significant ground in his hopes for what his life could be, the paintings on the wall have become a self-portrait of the artist paired with one of an imaginary woman. The self-portraits resemble actual Van Gogh paintings, the imaginary women paintings don't exist, to our knowledge. So, he has gone from painting his own real paintings, to painting paintings of his that he will not paint.
One change that goes unremarked in the museum materials is the change to the tree. In the Art Institute's painting, the tree is green, stands on the ground, there is a blue in the background, the trunk is brown and curves and branches in a way typical of a Van Gogh tree.
While I have been working on this entry, the good people at Slabmedia have fixed the glitch. So here is a screenshot of a magnified detail of the Art Institute's Van Gogh bedroom: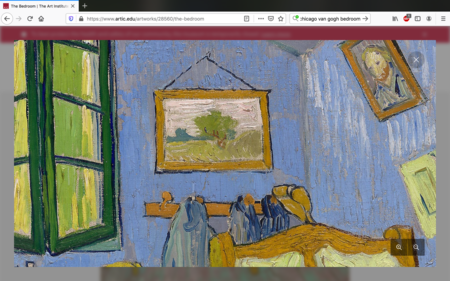 Fortunately, the Musée d'Orsay also provides the possibility of extreme magnification of their collection. Look at the tree in the next painting of his bedroom, the one he sent to his mother and sister as things began to fall apart:
It is a difficult tree. Has it been truncated? Is it growing in some wavery way? Is it phallic? Is it blowing away? Is it dawn or sunset, spring or winter. It is not what it was.
Van Gogh painted the layers of his life right on to the walls of his room. That is what each of us is doing in our confinement – you just can't see the paint.
Jeff Donaldson and Miles Davis: Report on a South Side Mood
Monday, June 8, 2020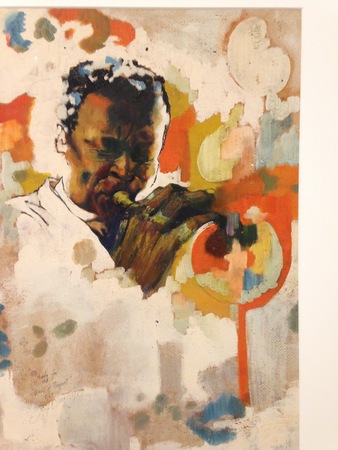 Today I just want to report on a mood that the children and I happened into around 5:30 yesterday afternoon. A beautiful mood, such as I have never encountered before, fine and distinct.
**
The children and I found the mood at Lake Michigan on Promontory Point, which was open yesterday for the first time in nearly three months. We got word from a friend that it was possible to go. We rode our bikes down around 5 in the afternoon. It was a beautiful Sunday afternoon and there were other people and families making their way through the one open tunnel and over to the familiar walkway that makes a circuit around the point, taking you out to the edge of the crashing waves, the view of the endless lake, the distant city sky-line.
"I've missed the lake so much," S, our daughter said, when we came out of the tunnel and felt the air, the lake air. We passed a father and three small children walking together – the father was wearing a shirt that said "I Can't Breathe," a face-mask that said "Black Lives Matter." He and I exchanged a hello as we shepherded our children among one another.
We rode out to the end, chose a place slightly on the northern side, where we could see the sky-line, too, clumped our bikes together and scrambled down the steep wall of rock ledges to where the water was churning. We took off our sandals and put our feet into the cold water.
The people who sit on the rocks at Promontory Point always look like our part of the city – most are Black and Brown, and there is a great sense of variety and of openness that is the understood shared atmosphere of the Point.
Yesterday, the light was exceptional – a clear perfect day, the mid-70s in June. And the lake, which is always a blessing, but which we, and all who sat there, knew, with a tremendous sense of reprieve, beneficence, grace, knew for the blessing it is.
During the time we sat there, we all kept respectfully at least six feet apart, more than that really. Far up at the eastern edge of the point, a couple talked earnestly together. There was a group of younger people, perhaps five of them, of different backgrounds, sitting up on the rocks and talking together and making little trips down to the water's edge. After a while, a young woman, who could have been Latin American or Middle Eastern or South Asian, with wavy hair down to her waist, came down and sat on one of the square blocks of stone not too far from us. Sat very erect and still, meditating on the water, and then lay down with her face to the sun. There was a family, two parents and a small girl who came to the top edge of the rocks. I thought she was speaking Russian to her daughter, the father spoke French. Two men, young, friends, speaking Arabic, I think, sat on the top ledge for a while, and moved on. Another couple, both wearing braids, arrived and sat laughing together.
The children and I perched on the edge of the rocks with the planes of water swirling around our feet, watching the waves crashing against the rectangular stone blocks that are set out as barriers. The sun was starting to decline in the sky, and there was a yellowish-white haze at the horizon. We took deep breaths. At one point I moved to leave, but they needed and wanted to stay, and we stayed.
Some of the people walking around the Point had been at the protests. I saw a woman in a t-shirt that said "Legalize Being Black." There was the thin, fine sense that the protests are working. We could think of the yellow Black Lives Matter letters running down the center of Washington DC, there had just been the news that New York City would reduce police funding, Colin Powell had come out against Trump. Later that evening would come the news that Minneapolis was going to dismantle its police force. In our city, after several days of peaceful protests, the curfew had been lifted. Earlier that day, on the South Side, a large protest had distributed 1,000 meals to people in the neighborhood who were having trouble accessing supplies of food and medicine.
The light over the understanding lake around us and beyond us, it had been there so long, was transcendent.
**
Before you read the rest of this, open a new window for the linked album title at the end of this sentence: Miles Davis's album from 1968, Miles of Sky.
The mood from the lake, or something very near to it, is in the first track, "Stuff," for which Davis was the composer. Then come back.
**
This is a sketch of Miles Davis made by Jeff Donaldson in 1967. It is made with oil and mixed media on heavy cream paper.
It was made in preparation for painting Davis's portrait as part of the Wall of Respect in 1967. Davis's portrait was one of many of the portraits of musicians included on the revolutionary wall at 43rd and Langley here. The Wall of Respect was created by the Organization of Black American Culture (OBAC). Donaldson was one of the fourteen founding members who worked on the mural. [I've written about another of the OBAC artists, William Walker, and his mural and his work on the Wall of Respect in this notebook and in the New Yorker.]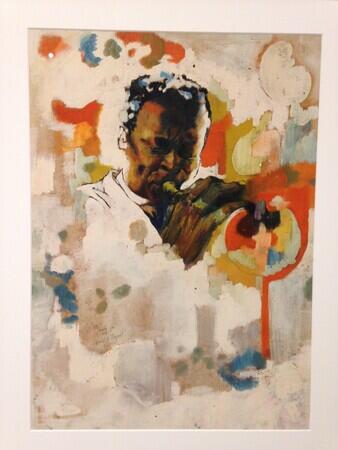 This oil sketch belongs to the Block Museum at Northwestern University and was shown at the Smart Museum of Art as part of their important exhibition The Time Is Now: Art Worlds of Chicago's South Side, 1960-1980.
When Donaldson made this portrait in 1967, there were already insurrections in US cities. It was the year before 1968, when Miles Davis returned to writing music, and Dr. Martin Luther King was killed, on April 4th.
One track of Miles of Sky, "Paraphernalia" was recorded in January, and it sounds quite different than the other three tracks, which were recorded from May 15-17th of 1968. "Stuff" was laid down in the last of these sessions on May 17th.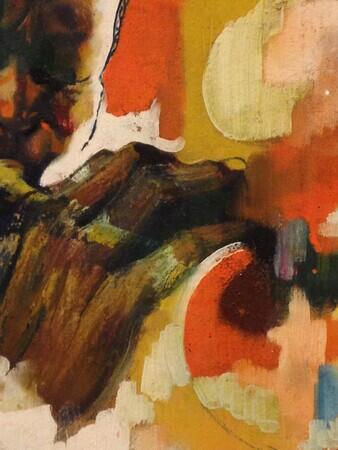 I am so glad I took this detail picture. The man's face. The horn he plays. The yellows and deep oranges. The hand with its knowledge. The negative space, gentle and beautifully defined, between his face and horn and hand.
And I am glad I took the whole picture, too. The clouds of light and sound. I saw this work of art in 2018; it looks different this morning, now that it, and the mood of yesterday, on the rocks by the lake, and the sound of Miles of Sky are associated together.
Beauford Delaney Close Looking
Thursday, April 23, 2020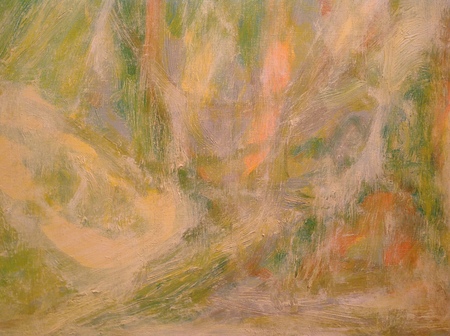 I had about a half an hour with it. The kind people who work at the Art Institute of Chicago had arranged an appointment. It was in the director's suite, behind an administrator, who typed away at her computer while I was looking and photographing. Which is by way of saying that the impression of calm is hard-won, mostly due to the painting, and to efforts of concentration.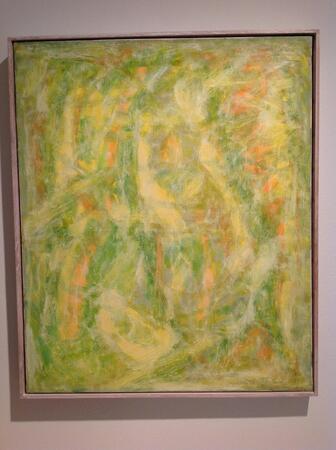 What a painting.
It's 21 x 26 inches (53.3 by 66 cm). A little taller than it is wide, a painting you could put your arms around. Here I photographed it in six sections, with the edges of frame.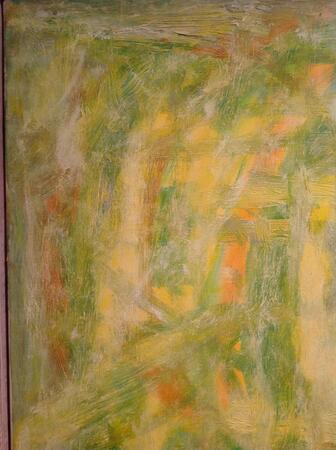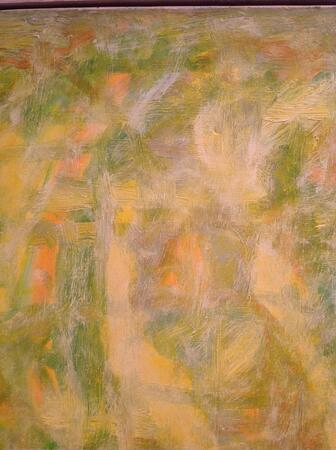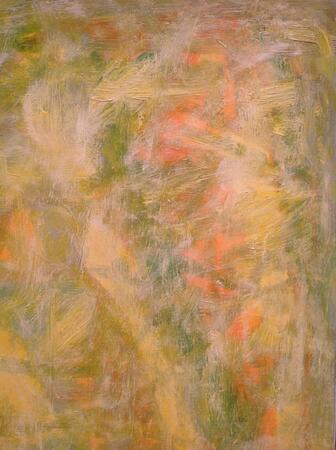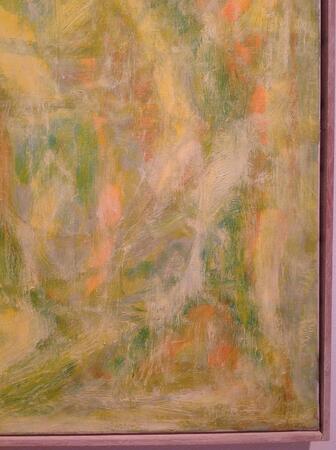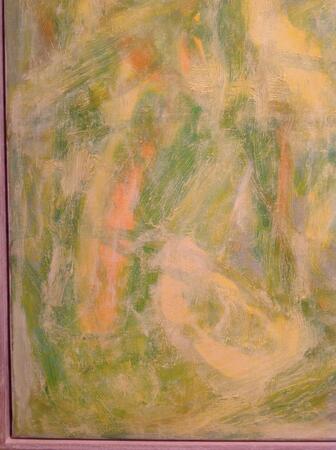 On seeing it, I was struck by the quality of the paint, thin and dry, which I think helps the layers to show through, many thin translucent layers.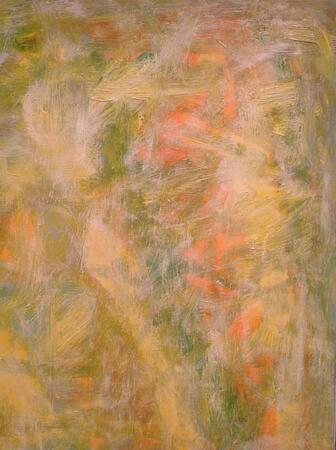 Standing quietly, you can trace the way each gesture in paint leads under and over others. You could paint over it, add layers, but it would be difficult to change the foundations, because it is an all-over painting, in free strokes. You could not scrape off an area you wanted to paint again. So it is an oil painting like a watercolor – you just lay it down.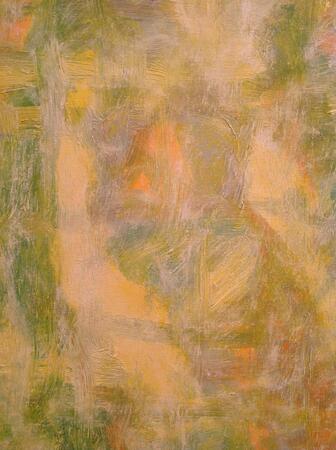 Which isn't to say it was quickly done. Delaney reworked his water colors a lot, returning to them sometimes years later. If he did that kind of long-term reconsideration with this painting, he would have had to continue to work with what's already there. His abstract paintings held the record of his thoughts about them in an unusually transparent way.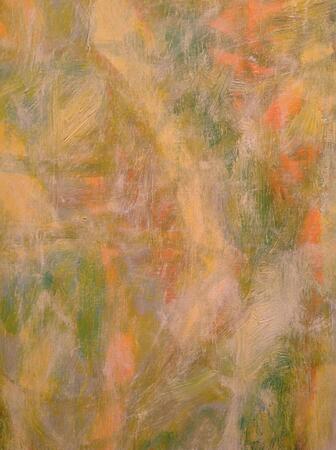 Painted in 1965. He had been in Paris for twelve years, and was now very experienced in a realm of complete abstraction.
Impressions of radiance and gentleness.
I think I started thinking of this painting today partly because I am tetchy, and also sad.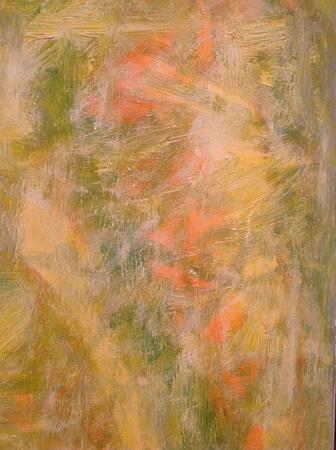 And partly because the tonalities that I came to yesterday in thinking about Poussin's Landscape with St. John on Patmos are close by. See the striking similarity in palette and quality of light to this area of the Poussin:
How much variety there may be among a handful of colors, closely held.
But really I just want to stop my busy typing and let you look.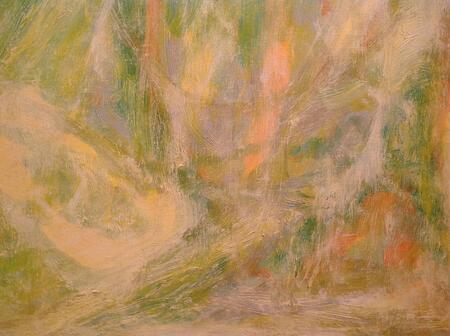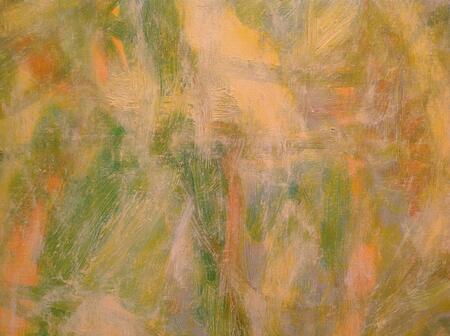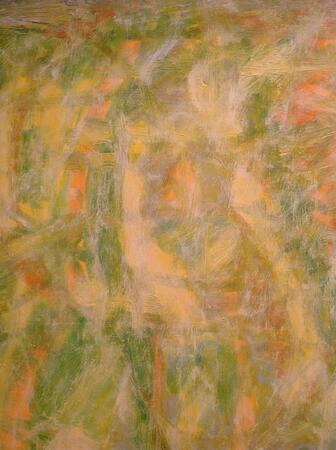 Here, the whole painting again, just before taking leave.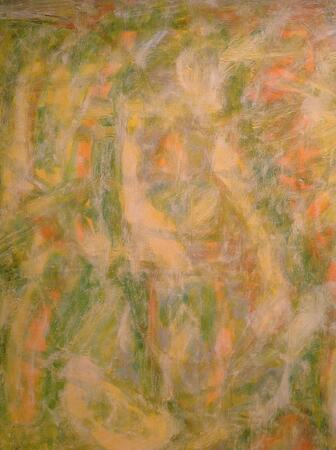 Sargent Stone Water Stone Paper
Frederick Project: Materials
Thursday, April 9, 2020
In 2013, a show of John Singer Sargent watercolors. I saw it at the Museum of Fine Arts in Boston; it was co-organized with, and also shown at the Brooklyn Museum of Art. These two institutions have the two finest collections of Sargent watercolors.
These first details are from I Gesuati, ca. 1909.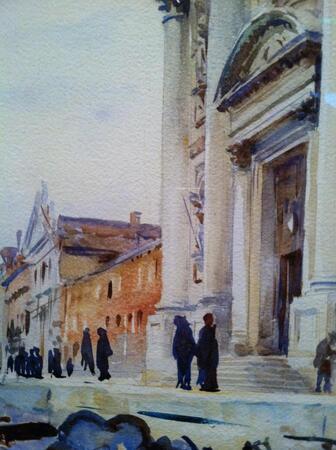 [Works shown in this post belong to the Museum of Fine Arts, Boston; except for two, belonging to the Brooklyn Museum, noted below.]
It interested me that walls were so beautiful in his hands. Some of what he showed were walls of houses that had been painted with paint, and it made sense that the fluidity of watercolor would serve. But other walls would have been of marble.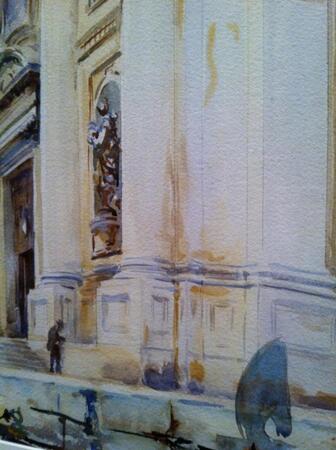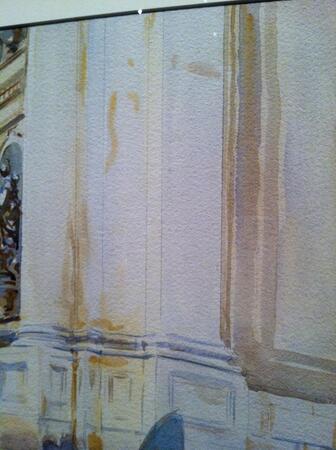 Venice was one of his great subjects. Water flowing before and among walls. Bridges over and under. Here is a detail from Santa Maria della Salute, 1904, from the Brooklyn Museum of Art.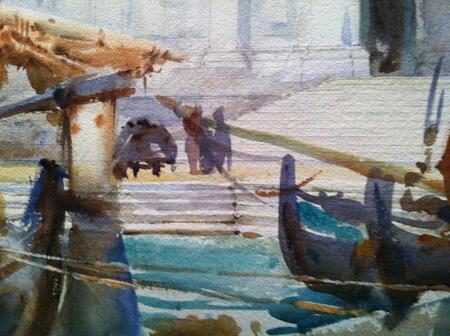 This extraordinary curve, the vault of the Rialto Bridge, seen from underneath, water running below stone and light echoing above. Venice: Under the Rialto Bridge, 1909.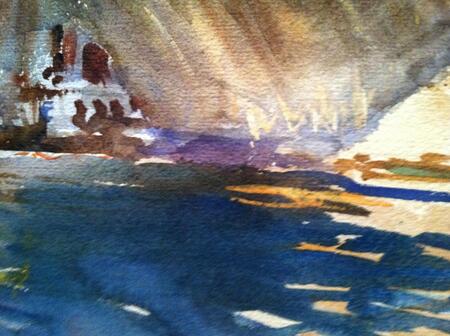 Water itself was not only Sargent's subject but his technique, his material, and his ideas of time. This, All'Ave Maria, (from about 1902-1904, belonging to the Brooklyn Museum) is of people walking on the Zattere near Santo Spirito, at the time of evening vespers, was done very fast, the technique called "wet on wet" which makes the colors bleed into one another, as they do at that time of day.
Late in the show, this watercolor made on a trip to Carrara, Sargent called it Carrara: Wet Quarries. It's from 1911.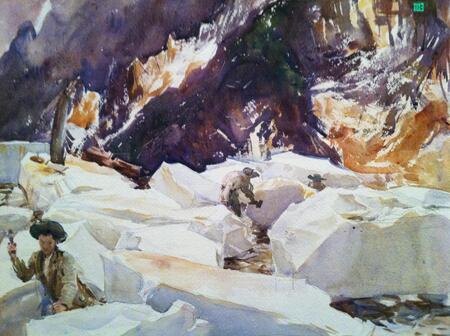 I haven't been able to figure out why wet; something to do with the process of cutting stone, but I don't see how water is involved.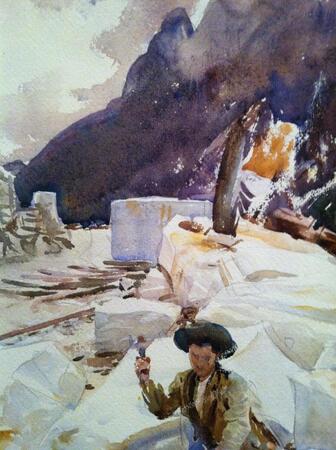 The men working look very hot among their blocks of stone. Sargent spent two weeks at this camp, he would have stood among his pieces of paper.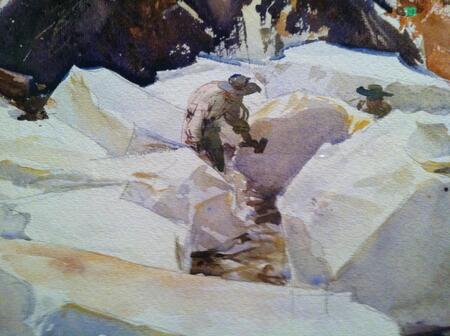 Quarrying had changed at that time, and was being done with dynamite which laid waste to much of the marble.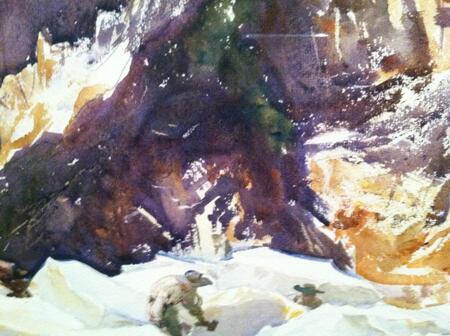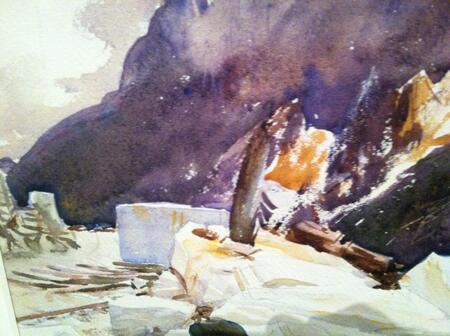 These are all from one watercolor, but in the exhibition, there were a whole series done at Carrara, strikingly abstract, with purples, yellow, green, and the great stones strewn about.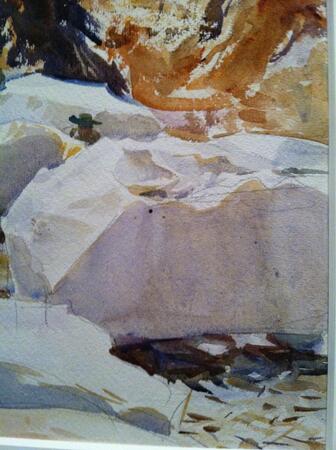 When I look at this set of five Sargent watercolors – I Gesuati, Santa Maria della Salute, Venice: Under the Rialto Bridge, All'Ave Maria, Carrara: Wet Quarries – I read a history of stone, made with water, on paper. A story of the most substantial medium, conserved in translucence.
for Massimo Warglien, Anna Gerotto, and in memory of Michael Cohen, all sheltering in Venice
for Hilary Cohen, sheltering in Ann Arbor
Faith Ringgold at St. Tropez
Frederick Project: Colors and History
Friday, March 20, 2020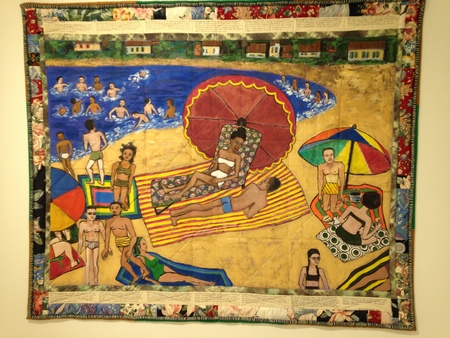 Thinking of intense experiences of color in the last few months. Immediately Faith Ringgold. Her painted canvas and quilt On the Beach at St. Tropez, from the series of twelve story-quilts The French Collection, which came as a revelation in the Smart Museum of Art's show called Down Time: On the Art of Retreat this past fall.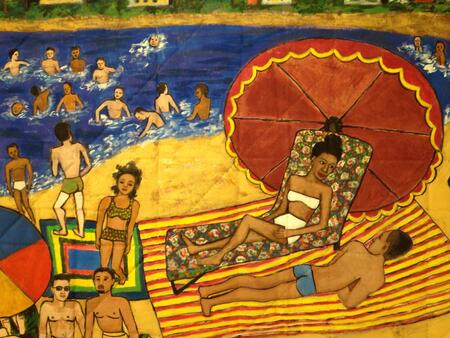 You walked into the gallery and were literally flooded with color.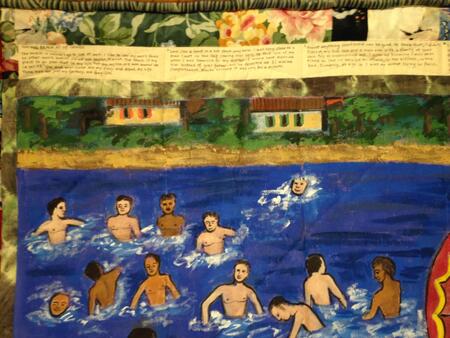 Ringgold paints on canvas then stitches the canvas to quilt, finishes the backs with cotton batting. A bravura painter, years of careful experiments with pigment to get the skin tones she wanted, the flatnesses and depths of water, cloth, patterns.
You are also immediately aware of the story – border of carefully written incidents running along the edges. The stories are about Willia Marie Simone, a fictional character with some qualities of the painter and some of the painter's mother and some that are the character's own. (I will try to decipher one of the stories for a later entry, my pictures are smaller than I had thought.) Willia Marie Simone ran away to Paris at the age of 16, in the 1920s, and had a storied life. The work is so very witty.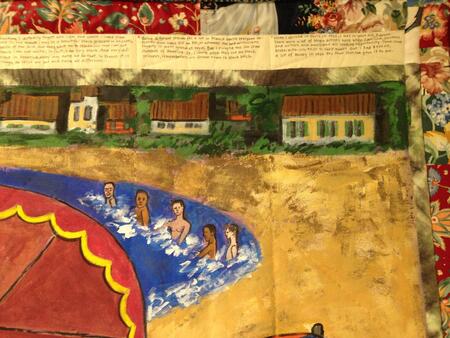 There are many articles that follow a well-worn, useful, but somehow insufficient path, explicating how, in this series, Faith Ringgold insists on the place of African-American women and artists who have been left out of history and museums. Looking at this quilt, the size of a wall, its flooding colors, my impression was more of something that shrugs its shoulders and rises.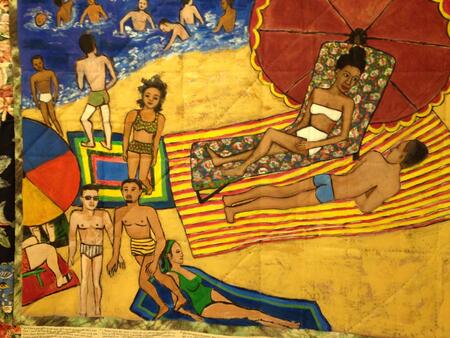 It's all there, really: the quilters of Gee's Bend, making their glorious abstractions from the worn clothes of their families who labored; the bathers of Cézanne and Degas stretching back to the bodies of the Italian Renaissance; the rogue persona storytellers in Zora Neale Hurston and Fernando Pessoa; all these kinds of work that Ringgold had done her training with, and had loved enough to do justice to them (meaning that she saw them whole, with their beauties and the things they failed to see). She knew them, and had thrown them over her shoulder, so that art could rise anew.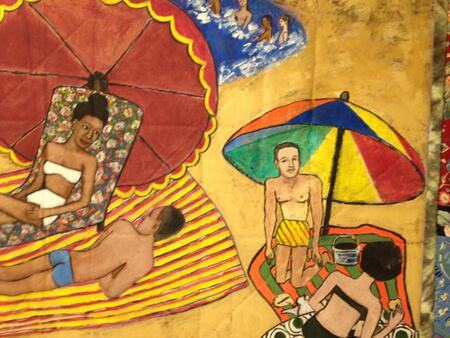 Color tells stories that cannot be abstracted from history – joyful as a child in sand, forceful as a woman at the height of her powers, unforgetting as age.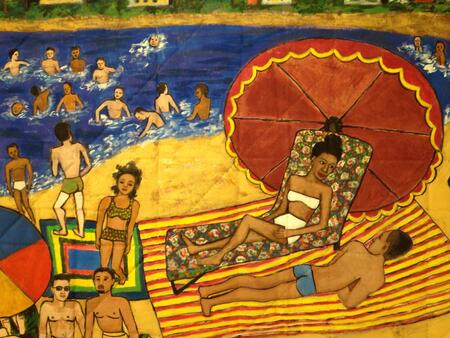 Down Time: On the Art of Retreat at the Smart Museum of Art was curated by Leslie Wilson in collaboration with the students University of Chicago's department of art history's course Exhibition in Practice.