Beauford Delaney Close Looking
Thursday, April 23, 2020
I had about a half an hour with it. The kind people who work at the Art Institute of Chicago had arranged an appointment. It was in the director's suite, behind an administrator, who typed away at her computer while I was looking and photographing. Which is by way of saying that the impression of calm is hard-won, mostly due to the painting, and to efforts of concentration.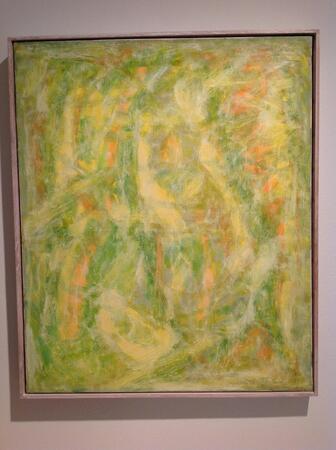 What a painting.
It's 21 x 26 inches (53.3 by 66 cm). A little taller than it is wide, a painting you could put your arms around. Here I photographed it in six sections, with the edges of frame.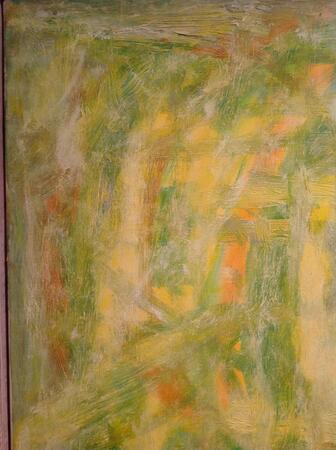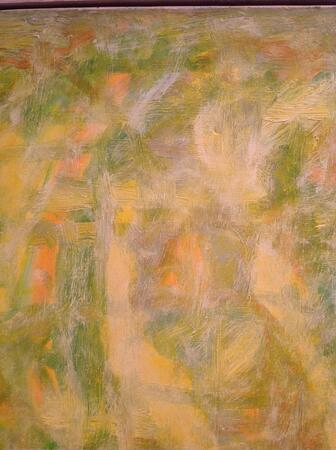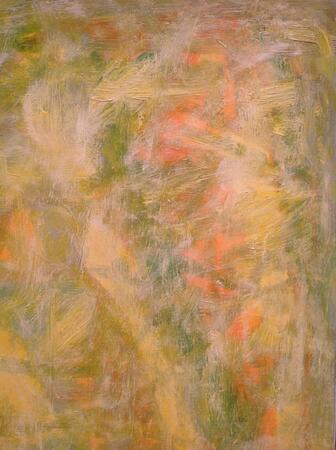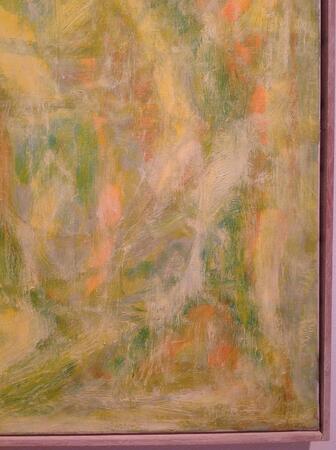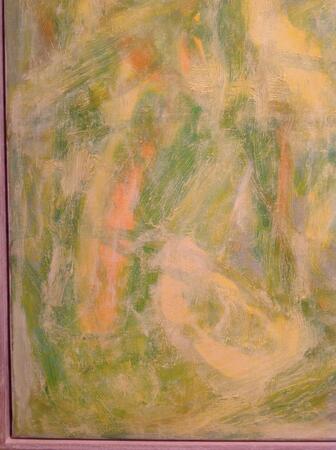 On seeing it, I was struck by the quality of the paint, thin and dry, which I think helps the layers to show through, many thin translucent layers.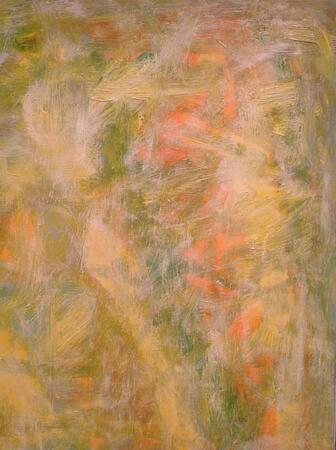 Standing quietly, you can trace the way each gesture in paint leads under and over others. You could paint over it, add layers, but it would be difficult to change the foundations, because it is an all-over painting, in free strokes. You could not scrape off an area you wanted to paint again. So it is an oil painting like a watercolor – you just lay it down.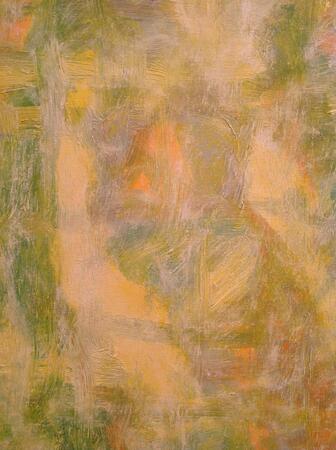 Which isn't to say it was quickly done. Delaney reworked his water colors a lot, returning to them sometimes years later. If he did that kind of long-term reconsideration with this painting, he would have had to continue to work with what's already there. His abstract paintings held the record of his thoughts about them in an unusually transparent way.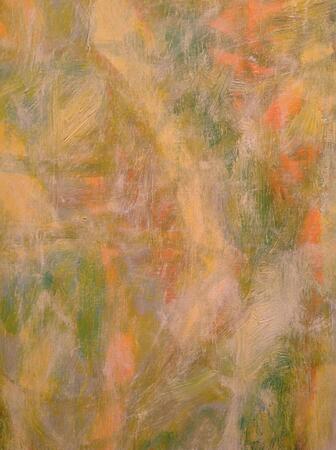 Painted in 1965. He had been in Paris for twelve years, and was now very experienced in a realm of complete abstraction.
Impressions of radiance and gentleness.
I think I started thinking of this painting today partly because I am tetchy, and also sad.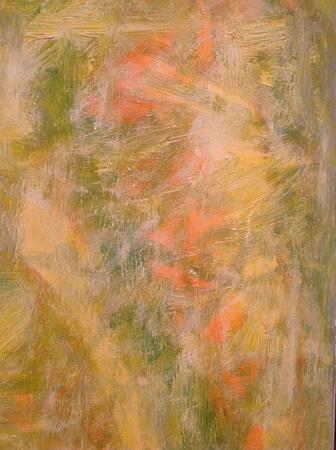 And partly because the tonalities that I came to yesterday in thinking about Poussin's Landscape with St. John on Patmos are close by. See the striking similarity in palette and quality of light to this area of the Poussin:
How much variety there may be among a handful of colors, closely held.
But really I just want to stop my busy typing and let you look.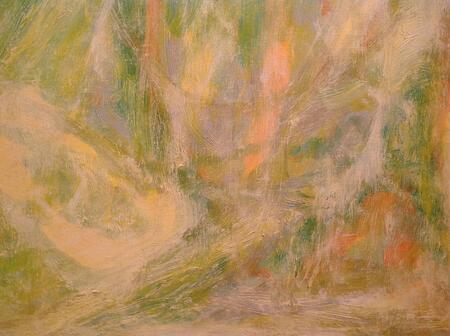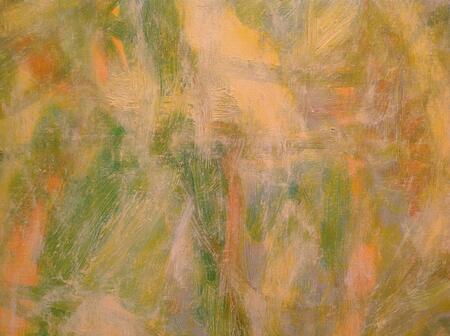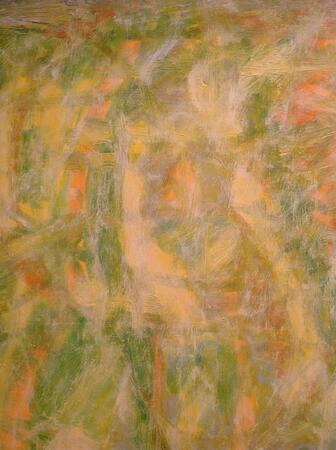 Here, the whole painting again, just before taking leave.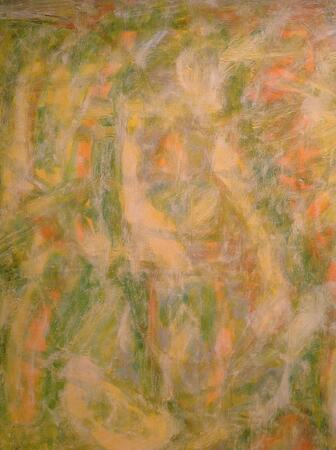 Sargent Stone Water Stone Paper
Frederick Project: Materials
Thursday, April 9, 2020
In 2013, a show of John Singer Sargent watercolors. I saw it at the Museum of Fine Arts in Boston; it was co-organized with, and also shown at the Brooklyn Museum of Art. These two institutions have the two finest collections of Sargent watercolors.
These first details are from I Gesuati, ca. 1909.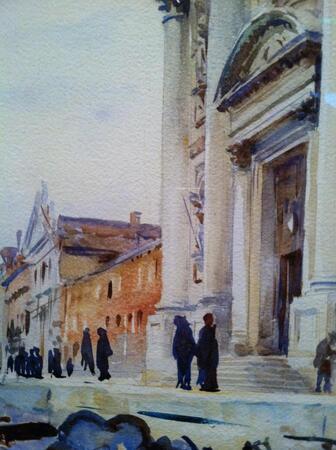 [Works shown in this post belong to the Museum of Fine Arts, Boston; except for two, belonging to the Brooklyn Museum, noted below.]
It interested me that walls were so beautiful in his hands. Some of what he showed were walls of houses that had been painted with paint, and it made sense that the fluidity of watercolor would serve. But other walls would have been of marble.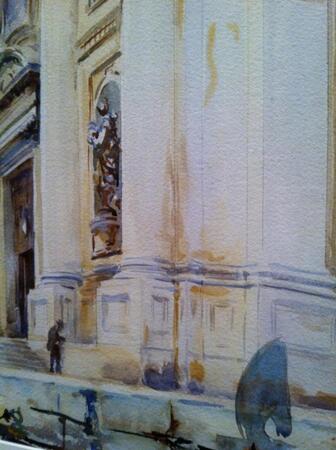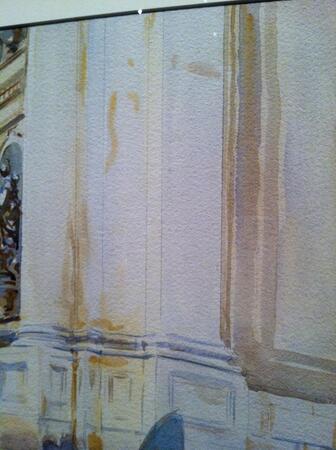 Venice was one of his great subjects. Water flowing before and among walls. Bridges over and under. Here is a detail from Santa Maria della Salute, 1904, from the Brooklyn Museum of Art.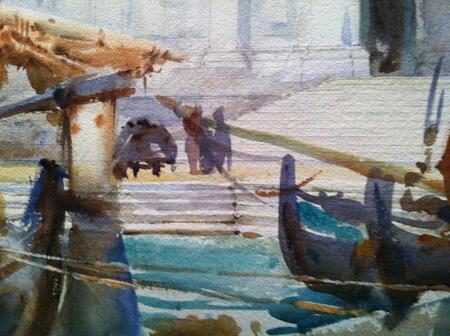 This extraordinary curve, the vault of the Rialto Bridge, seen from underneath, water running below stone and light echoing above. Venice: Under the Rialto Bridge, 1909.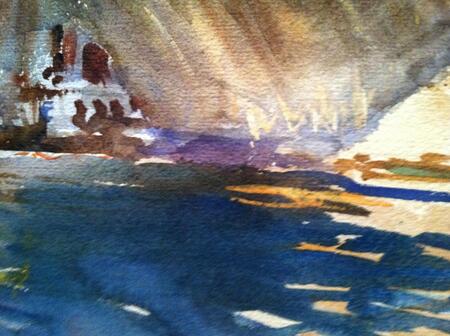 Water itself was not only Sargent's subject but his technique, his material, and his ideas of time. This, All'Ave Maria, (from about 1902-1904, belonging to the Brooklyn Museum) is of people walking on the Zattere near Santo Spirito, at the time of evening vespers, was done very fast, the technique called "wet on wet" which makes the colors bleed into one another, as they do at that time of day.
Late in the show, this watercolor made on a trip to Carrara, Sargent called it Carrara: Wet Quarries. It's from 1911.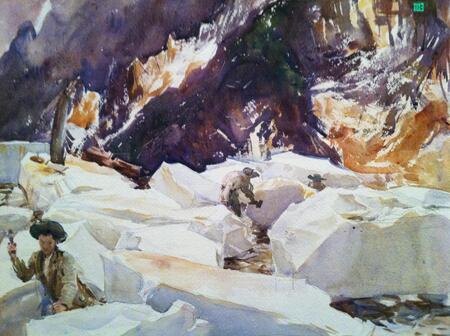 I haven't been able to figure out why wet; something to do with the process of cutting stone, but I don't see how water is involved.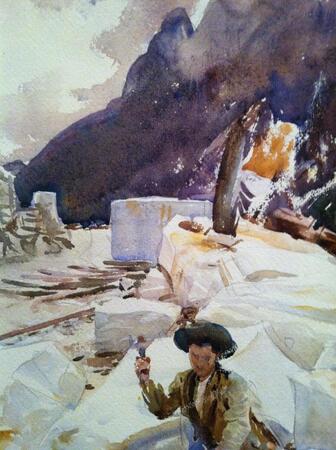 The men working look very hot among their blocks of stone. Sargent spent two weeks at this camp, he would have stood among his pieces of paper.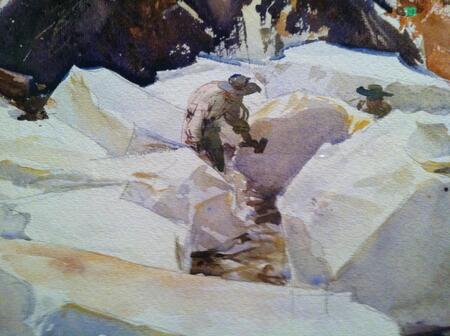 Quarrying had changed at that time, and was being done with dynamite which laid waste to much of the marble.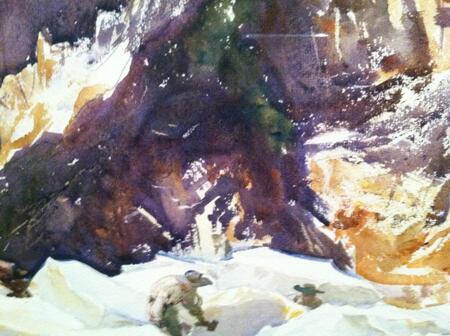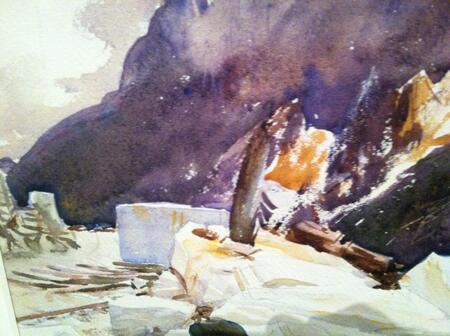 These are all from one watercolor, but in the exhibition, there were a whole series done at Carrara, strikingly abstract, with purples, yellow, green, and the great stones strewn about.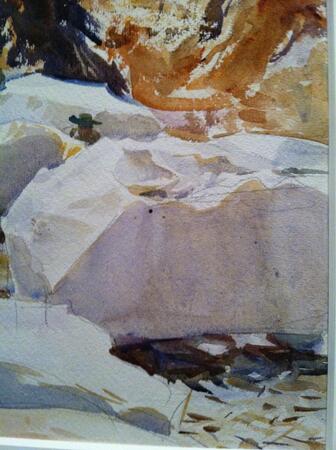 When I look at this set of five Sargent watercolors – I Gesuati, Santa Maria della Salute, Venice: Under the Rialto Bridge, All'Ave Maria, Carrara: Wet Quarries – I read a history of stone, made with water, on paper. A story of the most substantial medium, conserved in translucence.
for Massimo Warglien, Anna Gerotto, and in memory of Michael Cohen, all sheltering in Venice
for Hilary Cohen, sheltering in Ann Arbor
Faith Ringgold at St. Tropez
Frederick Project: Colors and History
Friday, March 20, 2020
Thinking of intense experiences of color in the last few months. Immediately Faith Ringgold. Her painted canvas and quilt On the Beach at St. Tropez, from the series of twelve story-quilts The French Collection, which came as a revelation in the Smart Museum of Art's show called Down Time: On the Art of Retreat this past fall.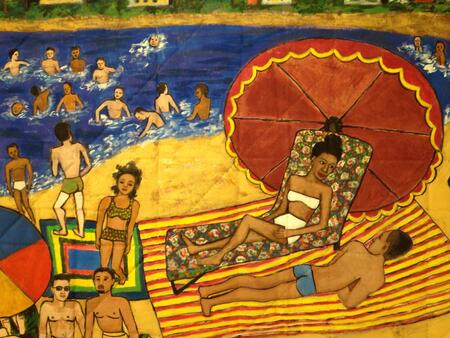 You walked into the gallery and were literally flooded with color.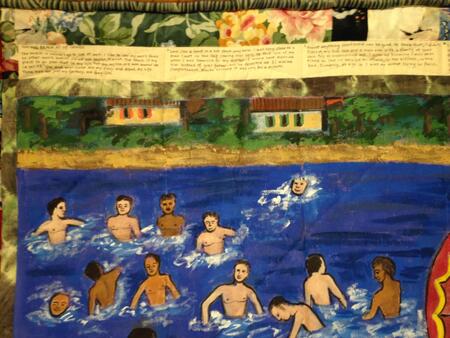 Ringgold paints on canvas then stitches the canvas to quilt, finishes the backs with cotton batting. A bravura painter, years of careful experiments with pigment to get the skin tones she wanted, the flatnesses and depths of water, cloth, patterns.
You are also immediately aware of the story – border of carefully written incidents running along the edges. The stories are about Willia Marie Simone, a fictional character with some qualities of the painter and some of the painter's mother and some that are the character's own. (I will try to decipher one of the stories for a later entry, my pictures are smaller than I had thought.) Willia Marie Simone ran away to Paris at the age of 16, in the 1920s, and had a storied life. The work is so very witty.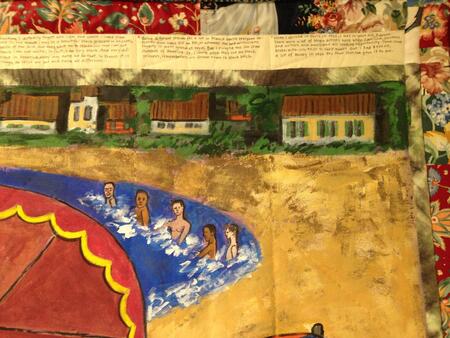 There are many articles that follow a well-worn, useful, but somehow insufficient path, explicating how, in this series, Faith Ringgold insists on the place of African-American women and artists who have been left out of history and museums. Looking at this quilt, the size of a wall, its flooding colors, my impression was more of something that shrugs its shoulders and rises.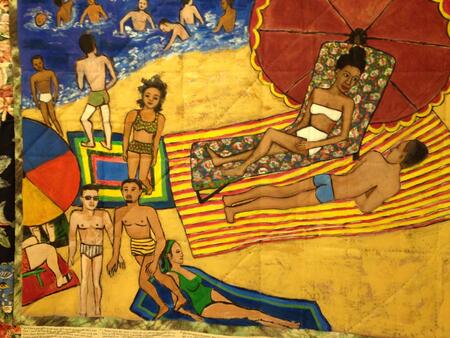 It's all there, really: the quilters of Gee's Bend, making their glorious abstractions from the worn clothes of their families who labored; the bathers of Cézanne and Degas stretching back to the bodies of the Italian Renaissance; the rogue persona storytellers in Zora Neale Hurston and Fernando Pessoa; all these kinds of work that Ringgold had done her training with, and had loved enough to do justice to them (meaning that she saw them whole, with their beauties and the things they failed to see). She knew them, and had thrown them over her shoulder, so that art could rise anew.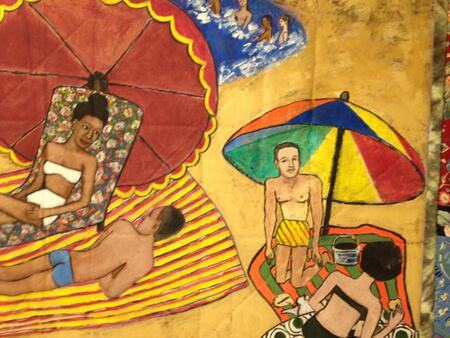 Color tells stories that cannot be abstracted from history – joyful as a child in sand, forceful as a woman at the height of her powers, unforgetting as age.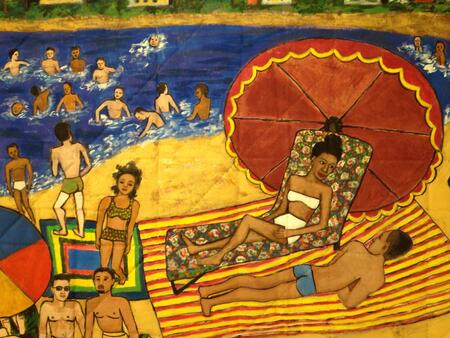 Down Time: On the Art of Retreat at the Smart Museum of Art was curated by Leslie Wilson in collaboration with the students University of Chicago's department of art history's course Exhibition in Practice.