Cézanne
Lenses
Monday, January 4, 2016
Today I got new lenses for my glasses. After more than a month of squinting and blearing and pretending, my eyes knew themselves at last understood and the world came through with that almost bulging astonishing hyper-detail. Learn the task again. A half an hour, every few years, of seeing everything in the world at once.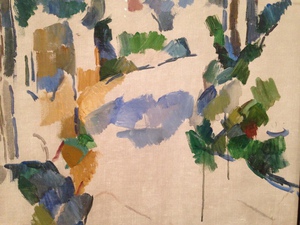 I was running errands and had not planned to go to the Fogg, but, feeling my sudden seeing, I turned left. With which painting should I use this beautiful straining and adjusting sight? I thought of a Beckmann triptych that has eluded me for months, and then of a Cézanne I have struggled with for four years, an unfinished painting from 1904.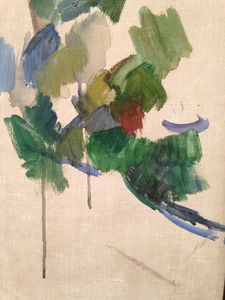 It was a wintry day in Cambridge, cold. A little snow had materialized as I walked to the optometrist, and then was held in abeyance as I walked away again, and back again, and to the museum. I saw the day first with the impeding old glasses, then with the odd freedom and powerful myopia of no glasses, and then, every branch and twig in dark lines before the gray sky, with the new glasses.
It's on the ground floor. Past the main room of the Impressionists, through a doorway and on the right. Often when I get to see a painting well, I have the experience that it seems bigger than I remembered. Before I was even looking, there was the sense of spaciousness.
With each of the different degrees of seeing I had today, I was aware of the strange effect of the snow clouds. Sometimes the gray sky is leaden, and at other times is in wondrous motion. When it actually particularizes as snow, the eyes draw a hundred relations at once.
My eyes leaped for it. And went directly to its depths. It had always seemed very flat to me, an array of touches on the surface of a gray canvas, but now unmistakeable were the curved road and arching branches.
All those touches of paint with their several directions clustered together were like little flags indicating the motion of air and light.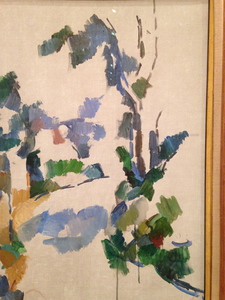 In the painting, it was summertime, some summer moment in which, by virtue of everything being a little strange, a little distorted, all the relations between things were suddenly clear.
When I walked on the street again I saw that I and the other people walking seemed made solitary by the gray snow sky. But we also seemed held up and surrounded by the palpable space.
Japanese Influence: Arthur Wesley Dow
Tuesday, May 12, 2015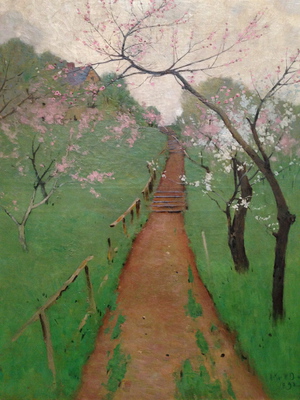 At my parents' home in Ann Arbor as spring was arriving, I had a few minutes in the University of Michigan art museum. I was surprised by a painting of Arthur Wesley Dow's – very lovely, and very Japanese in its loveliness.
The wall text said that, in 1891, a year before he painted this picture, Dow had made a visit to the Boston Public Library, where he saw Japanese woodblock prints for the first time. "One evening with Hokusai," he said, "gave me more light on composition and decorative effect than years of study of pictures. I surely ought to compose in an entirely different manner."
This year I have begun tracing lines of Japanese influence in French and American pictures. It is surprising how many there are and how they vein in and out. Dow, it turns out, wrote a book that affected several generations of American artists called
Composition: Understanding Line, Notan, and Color
. In it, he gives this definition, which I found quoted at the website of a book designer (link below):
The term NOTAN, a Japanese word meaning "dark, light," refers to the quantity of light reflected, or the massing of tones of different values. Notan-beauty means the harmony resulting from the combination of dark and light spaces—whether colored or not—whether in buildings, in pictures, or in nature. Careful distinction should be made between NOTAN, an element of universal beauty, and LIGHT AND SHADOW, a single fact of external nature.
The capitals are his, but even with the emphasis I'm not sure I've grasped the concept yet. Looking at this picture, and at the trees in flower in our neighborhood, one thing that strikes me is that in spring the trees themselves give off light. First as a kind of yellow haze around the still-bare branches, then with the spangled beauty of tiny, starry leaves, and now in the leaning, blowing light-over-shadow way that they respond to every breath of the day.