Rembrandt – Somber
Tuesday, May 12, 2020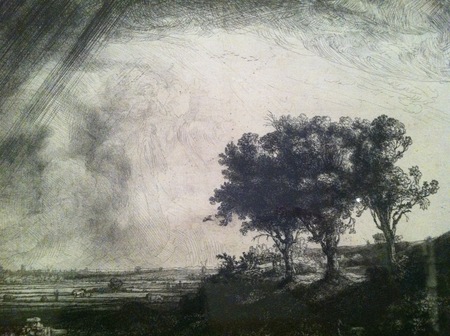 Today three different messages of death reached me. A colleague's father has died, from a long illness, not the coronavirus. It is very complicated for the son to go; he will have to quarantine away from his family on his return.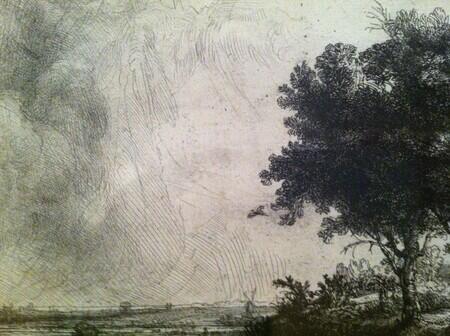 At noon, I gave a virtual reading with another colleague, who lives on a block one block away from me. Both of us read about memorialization. After the reading, my colleague said that five households on his block - I can see the backs of these houses through my study window as I write this – have lost or are losing someone of the grandparents' generation.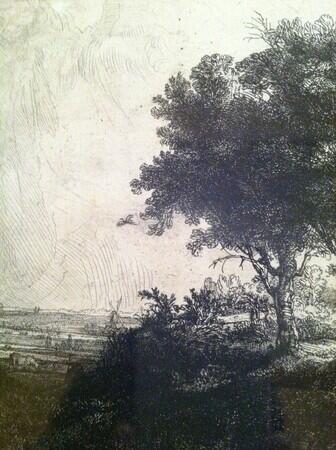 And I received an email from a cherished friend that his mother is dying in a nursing facility, also not of coronavirus, and no one, not even her husband, can go to be with her.
**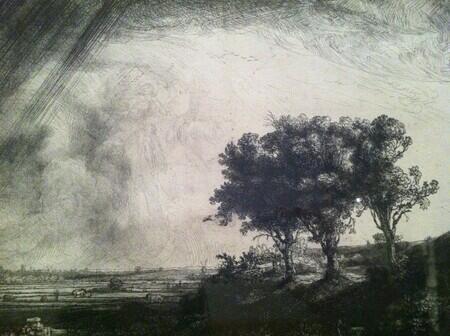 I first saw Rembrandt's Three Trees (1643) in the first art history course I took in college – which was the last class taught by the wonderful Seymour Slive before his retirement. As a special present to him, the Fogg Art Museum held a show of Rembrandt etchings that coincided with the class. My dormitory was on the same block at the museum, and I went so often and stood so long that going to see the etchings became like going home.
Ever since, for nearly thirty years, every Rembrandt etching I see in person is like a kind of embrace. Even the light-hearted ones have a solemnity to them, and a softness. Ink was gentled on his etching plates, as a great rider brings horses into their full expressiveness.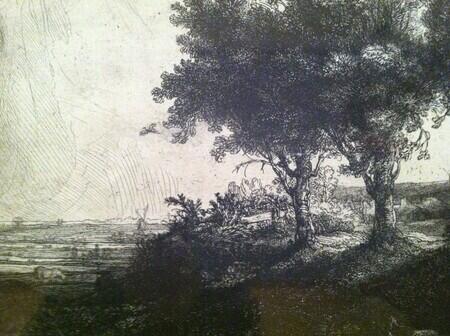 The Metropolitan Museum of Art has an etching of Rembrandt's Three Trees that I just happened to pass one day when I was visiting New York after long being away. I took a few pictures. Today, I was so glad to find them. Just look at the ink and the illumination.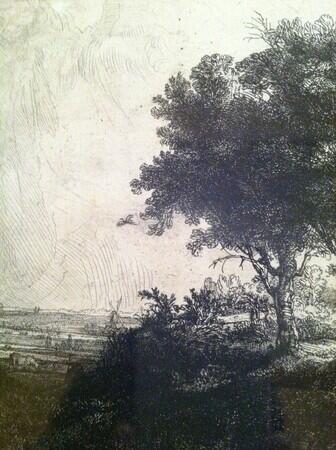 The text on the Met's website says that the "unusual cloud formations left of center" may be because Rembrandt had initially sketched another subject on the plate, one for The Death of the Virgin, which he ended up needing a larger plate to complete. I didn't know, but I might as well have, because the landscape is suffused with ideas of eternity.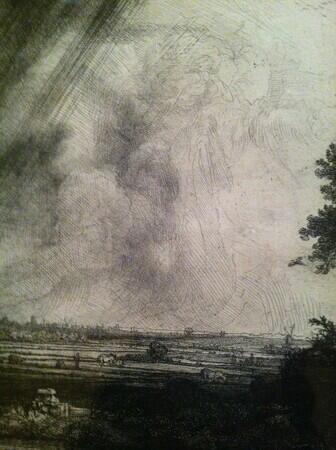 for Peter Helm
Vidura Jang Bahadur On Photography
Friday, May 8, 2020
In the spring of 2017, Vidura Jang Bahadur installed a series of photographs he had taken at the Muffler Shop at 359 E. Garfield Blvd near Washington Park on the South Side. The building is owned by the University of Chicago and is a part of its art initiatives. Bahadur's photographs were street photographs – of people at the lake shore and in the parks on the south side, of storefronts and prairie grasses, some portraits of an individual or a small group, some larger crowd gatherings.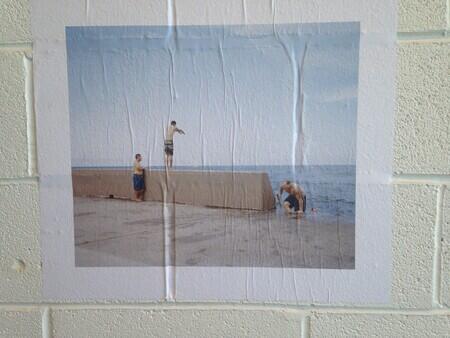 In the photographs there was stillness and composure, and I also felt the photographs raised the issue of arbitrariness, how these people came to be in this place. The images are de-saturated, which gives a sense of incompleteness. The photographs had mostly been taken in 2016 and were untitled.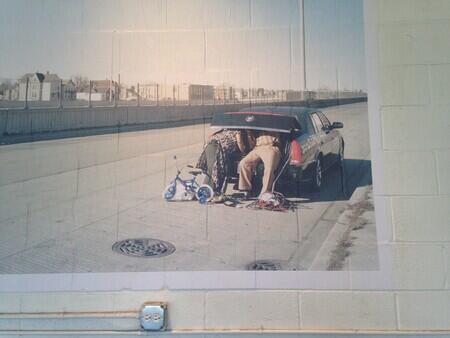 This is a different detail of the same photograph: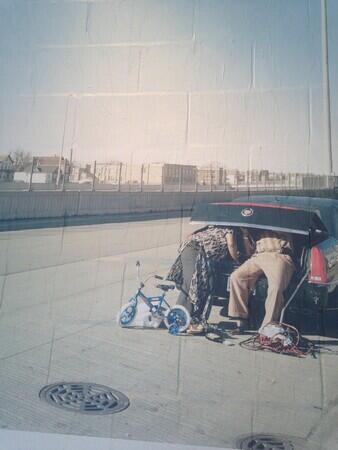 Bahadur is interested in urban planning, and in the catalogue for the show, he wrote of how the city of Chicago has been "carved" into "distinct racial geographies," by policy, through the built environment. The show was a part of the Department of Visual Arts MFA presentations for the year, and in the space there were also works by another artist, Kyle Hossli; I did not take any photographs of Hossli's work. The ensemble of works for the spring was called "And…and…and," the group of works by Bahadur did not have a specific title.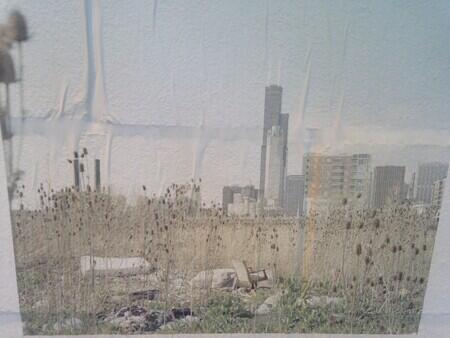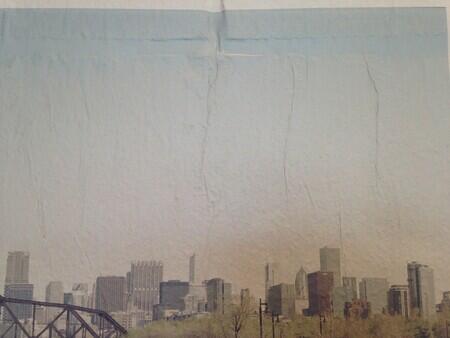 The spring of 2017 was my first spring in Chicago, and the end of Vidura Jang Bahadur's second year in the city, and in the MFA program. Before Chicago, Bahadur had worked as a photographer for many years in India, China, and Tibet, and had particular interests in photographing people who had migrated or been forced to migrate. At the University of Chicago, he had enrolled in the first course I taught there, on the essay and moving through landscape. In the years since, he and I have collaborated on several projects – working together to edit and design a community anthology and a set of chapbooks, both are of writing and images by other people having to do with migration. He also recently took the photograph I use as my author photo. At the time I saw the show, though, we knew each other less well. It is also the only show of his work that I have seen.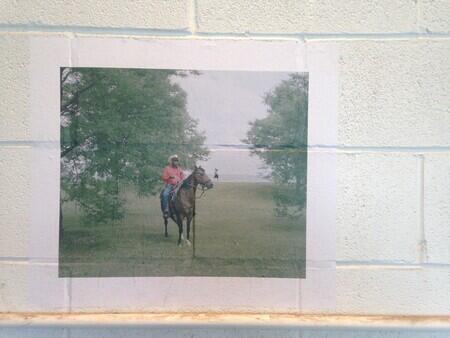 *
Bahadur has not shown these photographs in commercial galleries, and it was important to him to install the show in a way that recognized that the images were of the neighborhood, taken of the neighborhood and in some way belonging in and to the neighborhood. Some were also installed outside the Muffler Shop building on a nearby wall and storefront.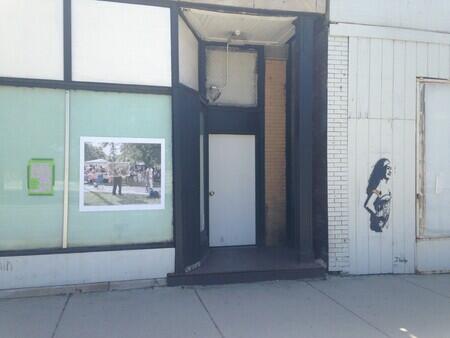 He printed the images on regular bond paper and pasted them to the walls of the Muffler Shop using wall adhesive and to the nearby exterior spaces using wheat paste. When the show was over, he washed the interior walls down, the photographs disintegrated and the images receded into the digital archive; some vestiges of the exterior images remained until last year. I went to the show close to the end of its time, and was very aware of how transitory the images were, that they were soon to be washed away.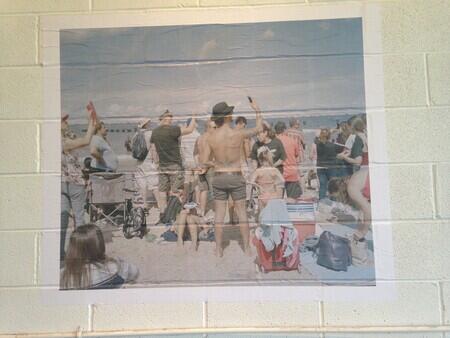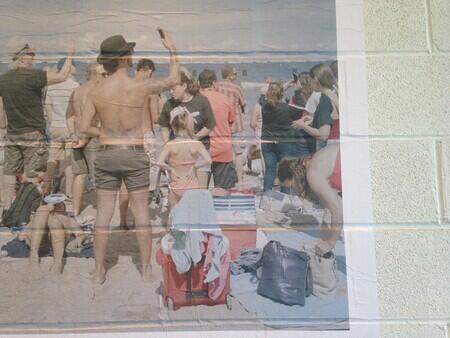 It made me see more acutely how much I assume, and invest in, the permanence of photographs. I take them to be a record that will outlast me, and to be in some way both immaterial and valuable, almost as if the point of the living were to achieve itself in the image. This show made them material — wrinkled and faded and pasted and less the point. This man on the horse did not achieve his meaning in being photographed (though he knows how to pose for a photograph) – he had his meaning, and has it still, somewhere else, when this photograph is washed away.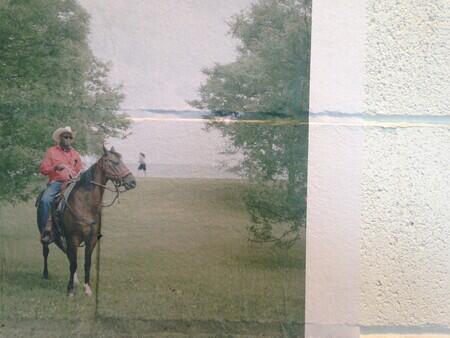 One thing that is striking to me now, going back through the photographs, is how much the show affected my own photographs of the show. I began to veer to the sides, taking pictures of the pictures with the sockets and bricks that were near to them. My photographs of the Vidura Jang Bahadur photographs look a bit like Vidura Jang Bahadur photographs. This seems a complex wit on the part of the artist, to have created this effect, or the opportunity for this effect.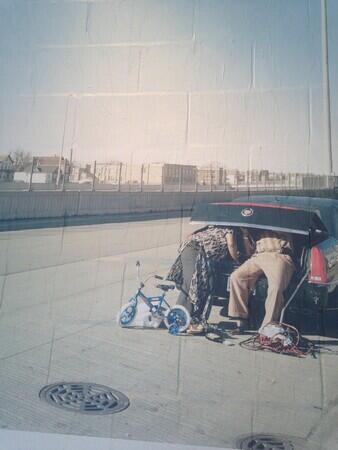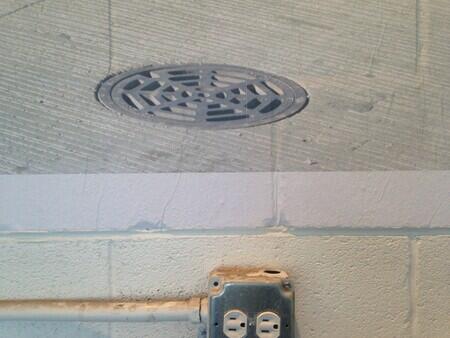 When I saw the show, I began from the inside of the space, and the images I have concentrated on were mostly mounted in the interior. Vidura Jang Bahadur was there on the day I saw the show, and he told me that he later thought he would have liked to install more of the images outside. I also spent quite a bit of time with the outside images and I found them, and their installation, trustworthy and clarifying. When I write on Monday, I would like to try to think about why.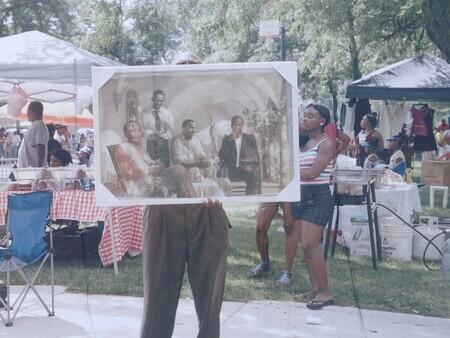 Weekend Countryside Pissarro
Sunday, May 3, 2020
Sunshine today put me in mind of three Pisssarros at the Metropolitan Museum of Art.
Camille Pissarro, A Cowherd at Valhermeil, Auvers-sur-Oise, 1874. Metropolitan Museum of Art. Photos Rachel Cohen.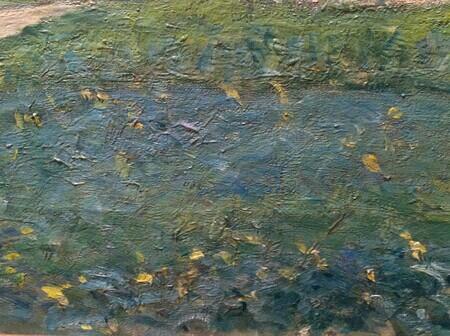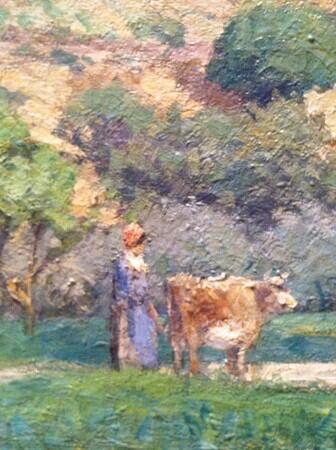 And, second:
Camille Pissarro, Jallais Hill, 1867. Metropolitan Museum of Art. Photos Rachel Cohen.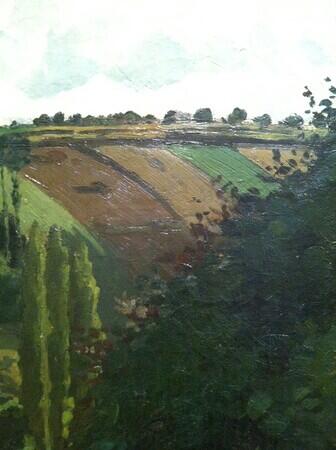 Third: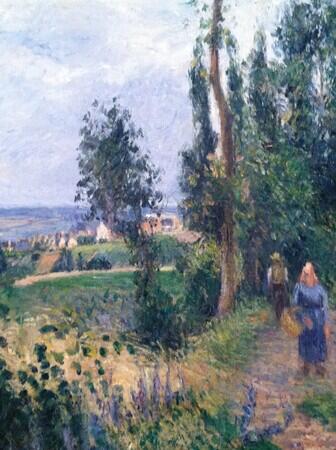 Camille Pissarro, Cotes des Grouettes, near Pontoise, probably 1878. Metropolitan Museum of Art. Photos Rachel Cohen.
May the weekend bring you sunlight and repose.
Poussin on Earth Day
Wednesday, April 22, 2020
It is Earth Day, and I want to think about the earth's time.
My colleague Kathleen Blackburn, who writes about the environment and works with the Fresh Water Lab at the University of Illinois, has drawn my attention to a book I have been thinking about without yet having read, Rob Nixon's Slow Violence and the Environmentalism of the Poor. The thought is that we can understand and respond to crises with an immediate time horizon, but that we have a very hard time acting as if, even perceiving that, we're in crisis when something is prolonged.
This is one of the many aspects of this very strange sheltering season where it is possible to see deep connections between our responses to the flu pandemic and our environmental consciousness.
What is a slow crisis – and what kind of sensory perception and intellectual clarity do you need to attend to it?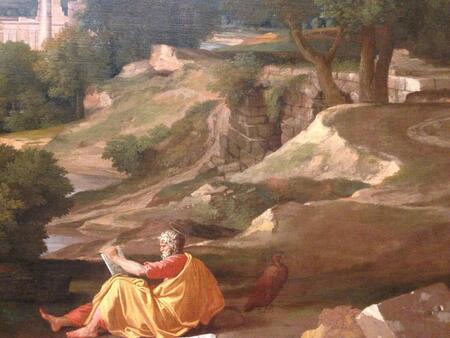 *
I started looking at Poussin because Roger Fry thought his paintings were wonderful, and I thought Roger Fry, especially his book on Cézanne, was wonderful, and I had never liked Poussin's paintings at all, found them strange and, with their often mask-like faces and statue-frozen physical poses, even a bit repellant, and I thought if Roger Fry was so into them, and I disliked them so fervently, there must be something there and I would take the challenge. It was probably competitive, to be honest, if this was the most difficult painter, damned if I was going to be left behind.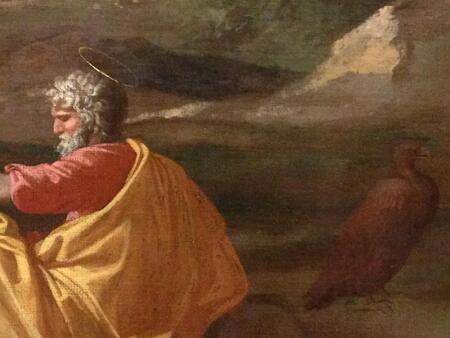 Around 2005, I had cobbled together enough money to stop working for a few months, and to go to Paris, and I went to the Louvre every week. It took most of that time, but eventually I got it. And then it was just like it so often is when you ruefully look back at your former self – it wasn't so hard really, it just took patience, practice, letting go of certain assumptions, being a little simpler, more tender, growing up a bit.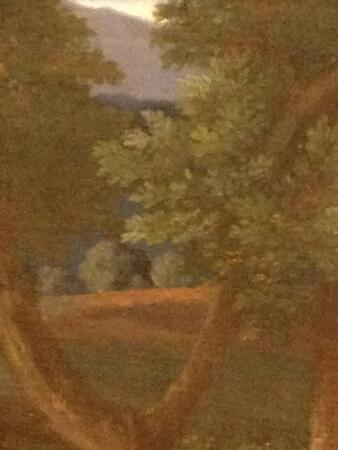 They are learned paintings. Carefully built around stories from the bible and classical literature. Set in idealized landscapes that combine layers of history in the way Rome itself does. Poussin spent most of his career painting in Italy, which is how he got qualities of light that the French love but usually can't do, though Cézanne could get close, by living in the South and looking a lot at Poussin.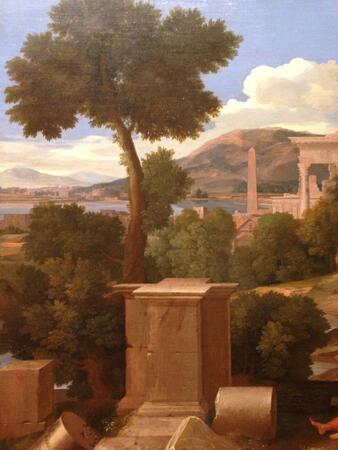 The light may be one way in.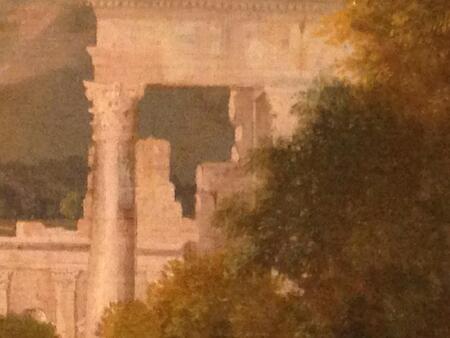 For me it was the greenery, and the great self-portrait at the Louvre, which I'll show, even though I have no photos of my own.
Nicolas Poussin, Self-Portrait, 1650. Musée du Louvre.
I spent so many days standing with this painting. He came to be a living person for me. I believed in the expressions of his face, that he had the depth of human knowledge that I saw there. I used to imagine him looking through the eyes of his self-portrait at the gallery of his paintings at the Louvre, and that helped me, too, to imagine what he might have wanted from paint.
The heroic and tragic paintings set in cities took the longest, and I still sometimes get repelled by them. But the landscapes, oh the landscapes.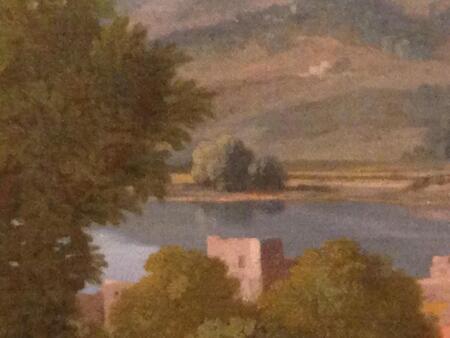 After that, to see a Poussin was always a beautiful day, a banner day. I lived with the ones at the Metropolitan Museum of Art in a prolonged way, years of weekly visits. And then came the great show at the Metropolitan, which defined Poussin for a generation, Poussin and Nature: Arcadian Visions. This was the chance of a lifetime. Poussin thought about the human relationship to the landscape. He already knew what we now understand: that there is no landscape on earth that is independent of human life and perception. And that if you take a long view, holding many layers of history in mind, you get a different kind of visual perception, and that you can then act differently, move differently.
When we moved to Cambridge, it was like a gift from the gods that there was a great, very late, possibly unfinished Poussin at the Fogg Museum. By then I was taking photographs of art, and I took so many photos of it that I learned to photograph Poussin. You don't want it too sharply in focus, or it becomes like an architectural model, all the layers built out of plywood and all the artificial trees poking up.
When we moved to Chicago, I went right away to see the Poussin that I had already often visited at the Art Institute, of St. John on Patmos, with the eagle who was the symbol of his gospel.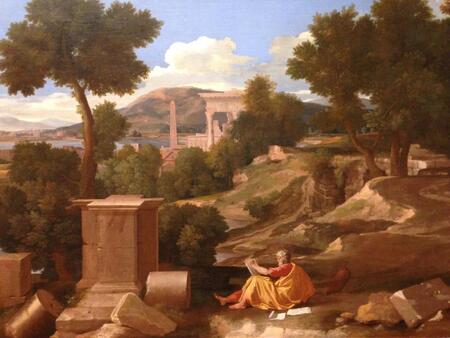 *
My favorite news stories in this time are the ones about the animals coming into the centers of cities. Sea lions near shop windows in Argentina, deer in Nara, Japan, mountain goats on city streets in Wales, herds of buffalo walking down highways in India. There are coyotes on the streets of Chicago.
This season, we are seeing what the earth looks like slowed down.
Poussin would know how to paint this.
There are eagles just behind us.