Cassatt The Child's Bath
Tuesday, June 30, 2020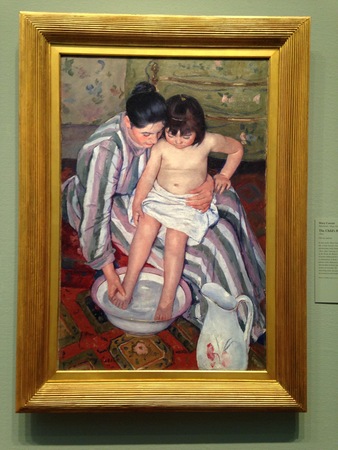 Today, I am thinking about loving a child, and worrying about them.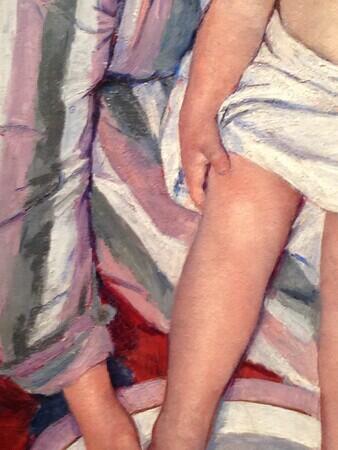 Over the last few years, I have spent a fair amount of time with this painting, seeing it sometimes with our children, sometimes by myself.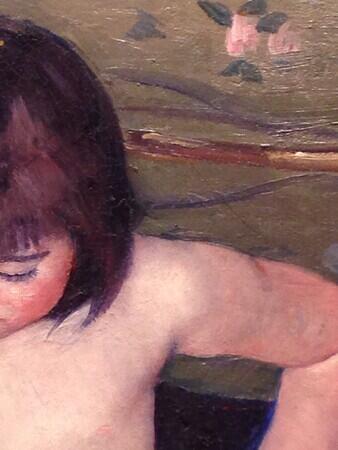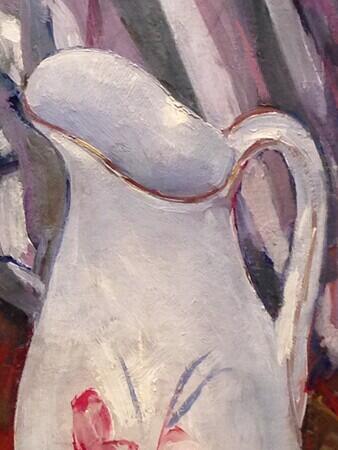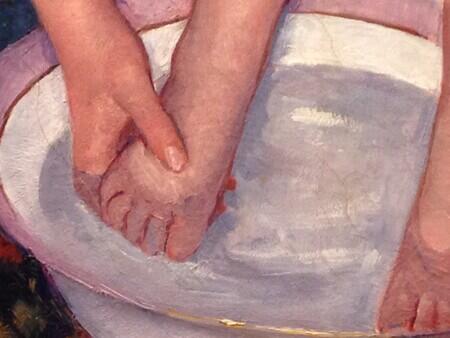 Every part of it is full of understanding.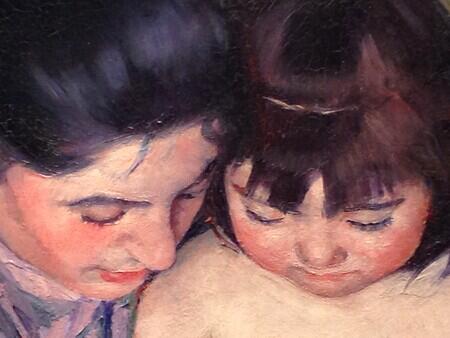 Tara Geer At Home, Drawn
Monday, April 27, 2020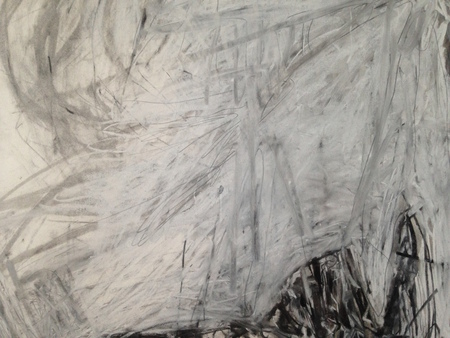 Tara Geer draws from life. There were some months, maybe years, where she spent hours up on the roof of her studio building on 133rd Street sketching the tar stains. She drew backpacks and socks, the buses in the city lot across the street, and the cobwebs in the freight elevator shaft. Right now she is sheltering with her family, and like many artists cannot get to her studio.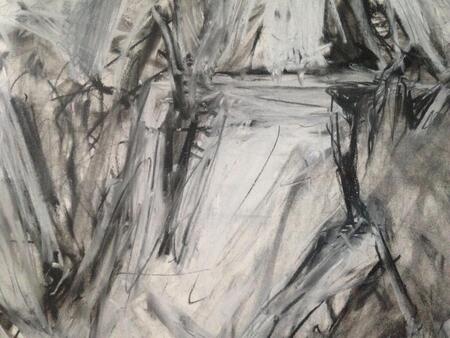 The things she looks for are oblique, at odds. A relationship of the edges from two separate objects seen across space; a shape from wood grain but no longer embedded in a pattern, and not the dark lines from the wood, but the lighter spaces between.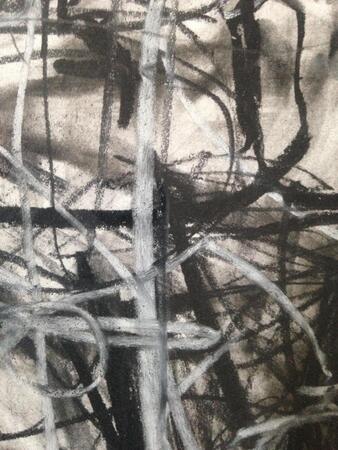 This gives the drawings a quality of life. The lines have the animated movement of the living world; they seem a part of understood space that can be moved through and felt, even though they don't fall into an easily recognizable form. In this way, they have something in common with Chinese calligraphy, a form Geer attends to, where the characters may seem to leap and spin – a drawing, a thinking mind, a figure, all at once.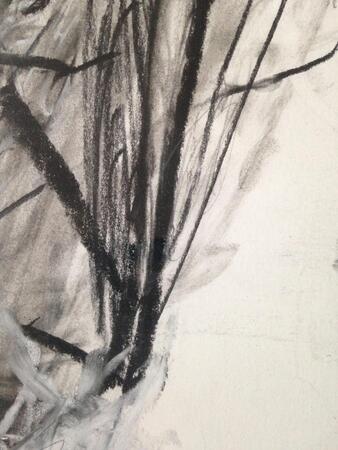 As in memories or dreams, the details have been recombined to draw attention to something that matters, though, also as in memories or dreams, sometimes by turning away, veiling, sometimes by stepping akimbo or making a joke.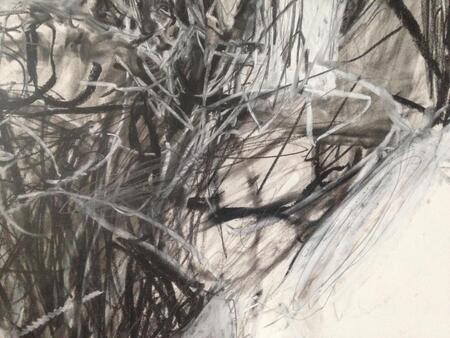 In many of the drawings, there is a feeling of creatures or beings, that the whole drawing is a being, or that there are creatures lingering in the depths.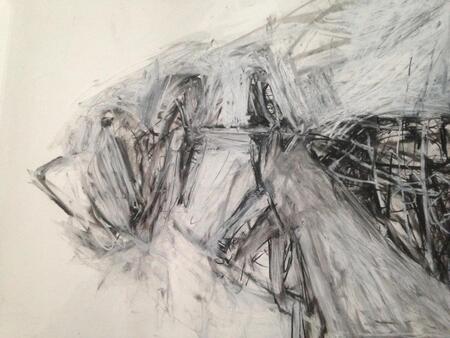 *
This drawing by Tara Geer, made in early 2013, or late 2012, hangs in our dining room.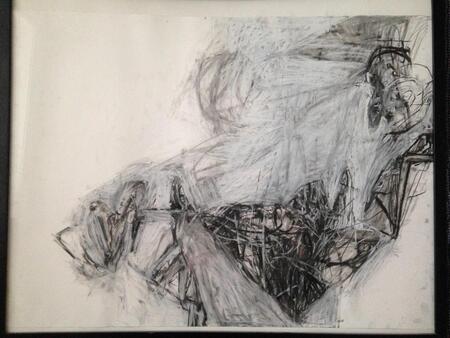 I see it hundreds of times a day. Sometimes, like this morning, I stand in front of it and study it, with museum-quality attention. Most of the time it is a companion. Or, I do not even notice that I am looking at it, it is a space of reverie, a bit like a window, or a book that one has put down but not yet closed.
This morning I drew some of the areas in it:
This upper corner that seems almost like a planetary area, of axis and orbit.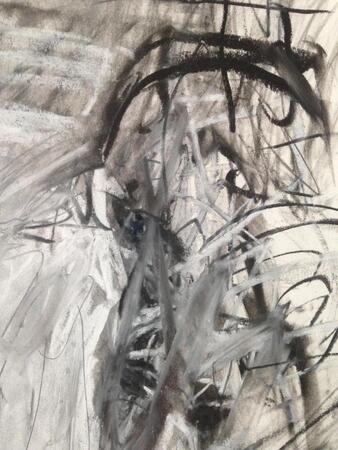 Two areas where dark angled lines surround an area of wash, of which this is one: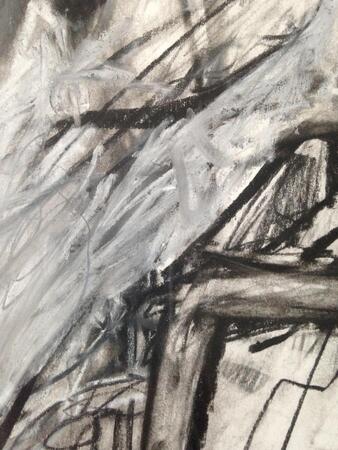 And the central area of tangle.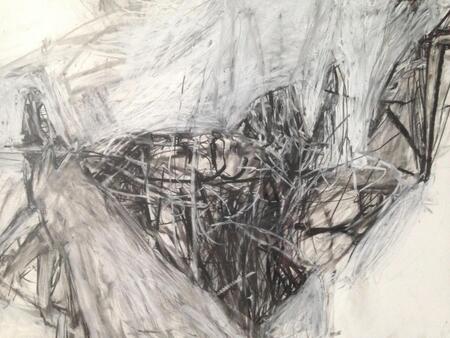 I thought about it how she managed to make this all one thing that holds together when the pieces are made so disparately, with such different densities and kinds of lines.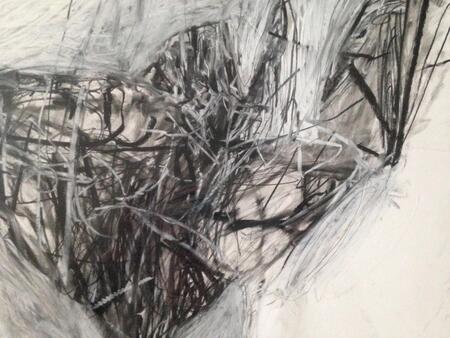 It has a lot to do with the wash, and with the whites and grays that run over and through, the thick cloudy areas which hold it together geometrically, spatially, and also psychologically.
I was surprised that after I looked at the tangled area for a while there was a very distinct clarity of the space through and behind. A sense of clear, lit clarity, like the increase in light before sunrise at the end of a quiet street.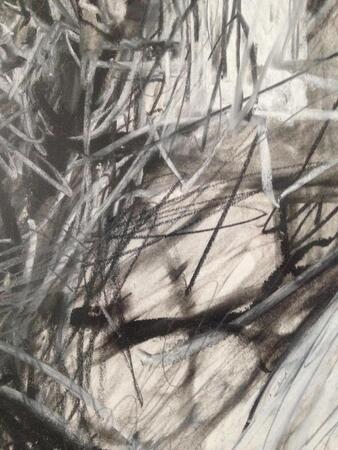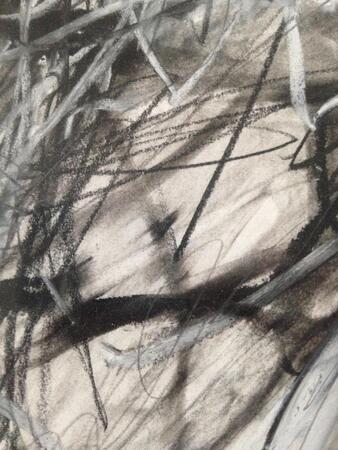 It is airy and surprising.
Weekend Space Tara Geer
Saturday, April 25, 2020
I met the artist Tara Geer at the MacDowell Colony in 2002. For the next nine years or so, we were both living in New York, and I spent quite a bit of time at her studio, looking. Eventually, I came to have three of her works, which are drawings.
This is one that does not have a title, done before May of 2013, probably in early 2013 or late 2012.
It is work that takes attention very seriously, and I hope, even through these photos, will offer contemplation, at the end of another difficult week, looking ahead to another difficult week.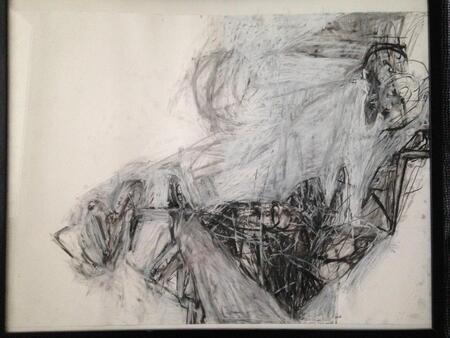 Some areas of the drawing: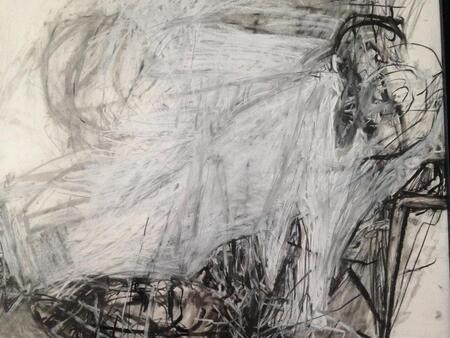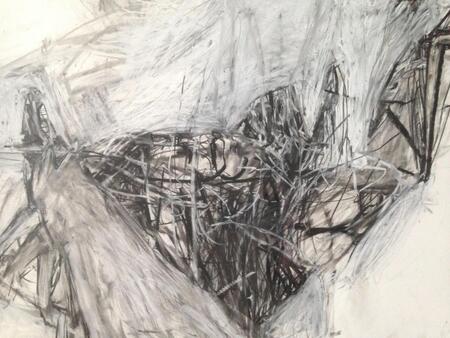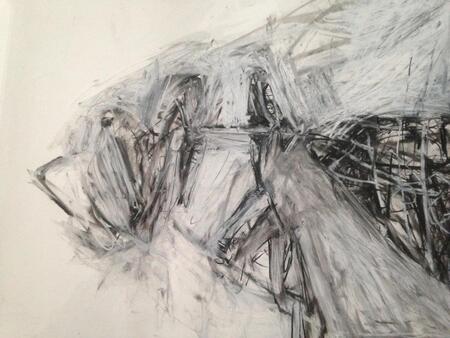 Closer: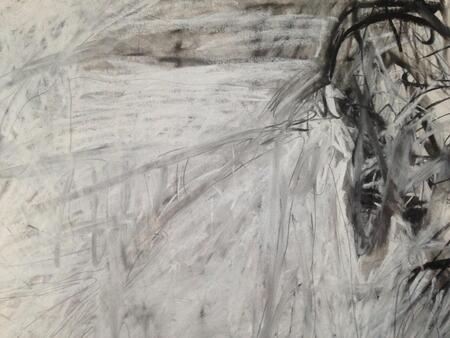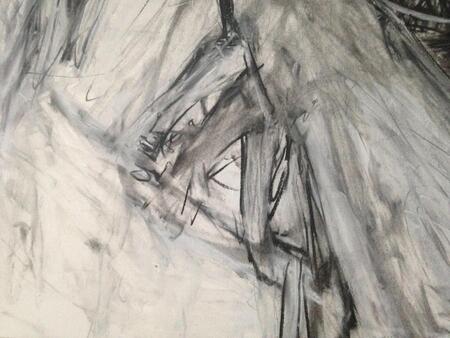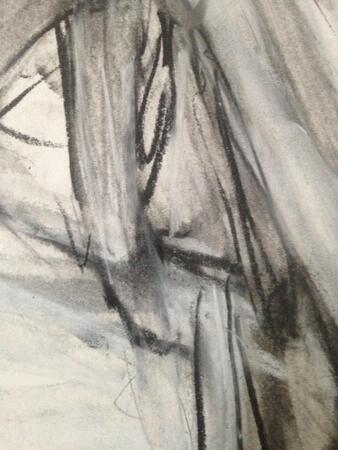 Staying close, movement and edges: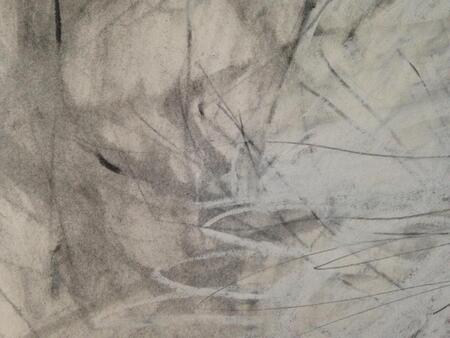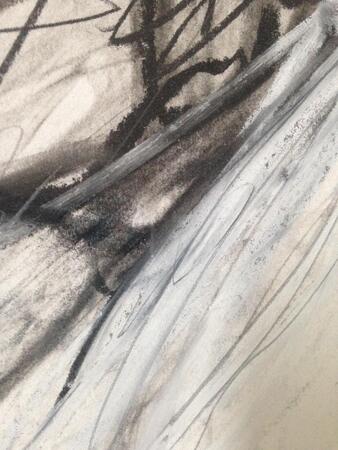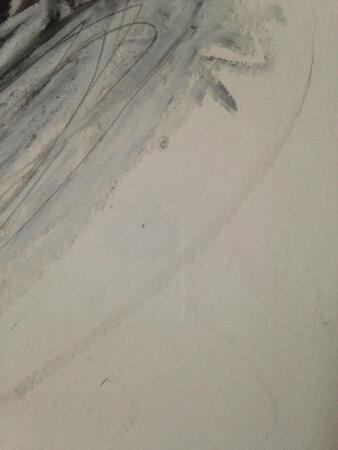 Hiroshige's Views of Kyoto
Frederick Project: Reconstruction
Wednesday, April 8, 2020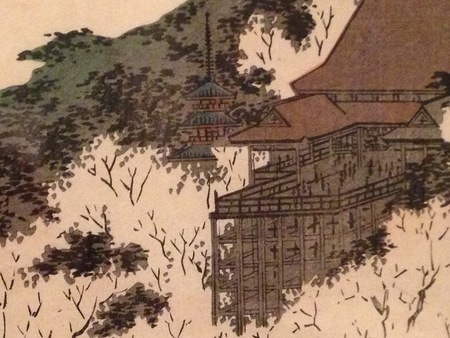 In December of 2019, I went to New York for a few days and various reasons, and I went twice to the Metropolitan Museum of Art. I was covering their show Kyoto: Capital of Artistic Imagination, for which they had reinstalled their Japanese galleries with works from their permanent collection that partake in the long Kyoto tradition. Kyoto was for many centuries the capital of Japan – this capital was eventually shifted to Edo, which is now called Tokyo. The two cities were connected by a famously beautiful road, the Tokaido Road, and many artists traveled along this road, making some of the fifty-five stops along it and recording the views of temples and natural wonders.
This morning, I thought I would like to write about a set of four abstract Joan Mitchell paintings called "La Vie en Rose," painted in 1979, which I had looked at while at the Met. But when I went to look at my pictures I couldn't bear the tones – pale rose, white, lavender, black. Some other day they will be wonderful again, but not today.
Most of the other pictures were from the Kyoto exhibition, and I idled around in them for a while. Then I came upon three that I loved.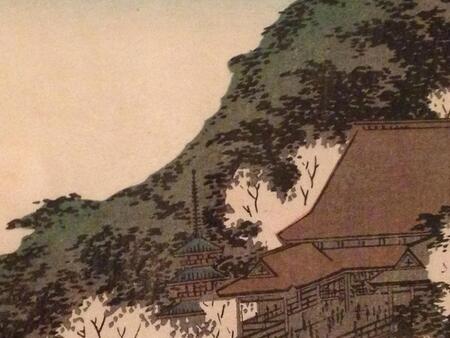 This was the tonality of this morning. It was gray out, there was a dull feeling of undertaking the routine again. I loved this brown, the way in one area it was blue-infused, and in the others combined with the under-green, like something from a pine woods. I loved the buff-colored space that had been left open in areas, the pieces of olive-gray that formed and scattered.
I was pretty sure these fourth and fifth photos were of the same print, because of the open spaces, the way the branches lifted across them, the palette of gray, and this yellow that made sense.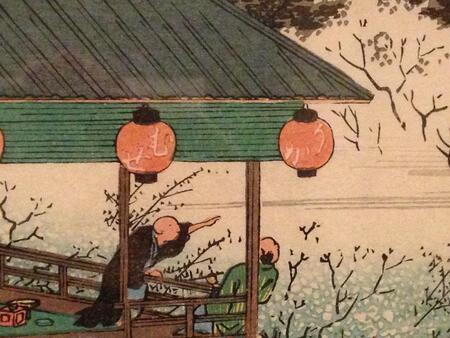 They were from a woodblock print that had been on the left-hand wall of one of the last galleries, among several, all by Hiroshige, each one under glass, with a glare, and quite hard to photograph. I had taken a few hurried shots on the first visit, and when I returned had forced myself to slow down and try to get better photographs, slightly from the side. I always photograph the wall text at the same time, so I know what my images are from, but hadn't, on the second visit. So I spent a precious forty minutes combing through the 745 Hiroshiges that belong to the Met. Who knew they had so many. In the small thumbnails, blues were most apparent. I was skipping blue, though, looking for gray-brown with some under green, some yellow in the sky. Finally it occurred to me to search for Hiroshige and Kyoto, and I found it. From the Metropolitan Museum of Art: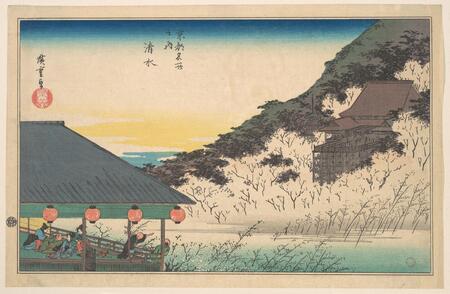 It would have been easy to have looked most at the veranda and the larger figures, but I had loved the distant view, which is in the work's title. Kiyomizu Temple (Kiyomizu), from the series Famous Views of Kyoto (Kyoto meisho no uchi), ca. 1834. The reproduction from the Met is clear, and if you go to their website you can zoom in and get details and it's quite nice. But, it does not have the warm tonality I love in my own pictures, which I believe really are closer to the original.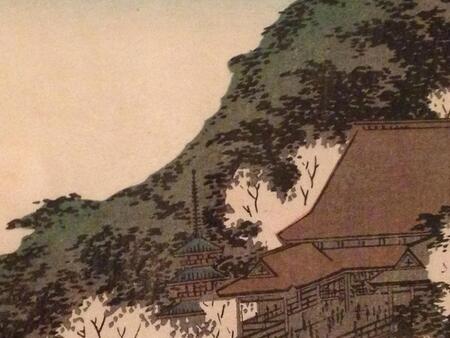 Utagawa Hiroshige (1797-1858), who lived in Edo, went several times to Kyoto. He made the trip along the Tokaido Road in 1832, and made several sets of prints about Kyoto.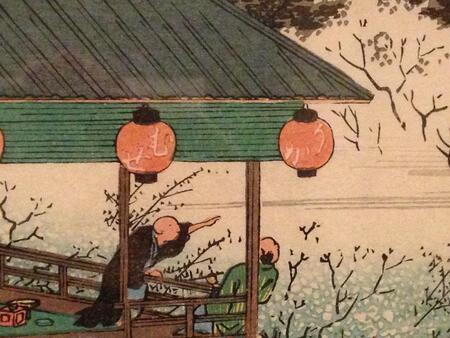 The people on this veranda are looking across to the distant temple. They point, and, looking again, I can make out small ink lines of figures in the open space of the temple. These other lines of figure seem involved in their own observance, but perhaps a few are looking in turn at the figures we stand close to.
I realized that I couldn't locate this detail, the one that had first caught my eye, whose blue seemed the necessary counterpart to the pine green of the others.
It must be in the print, the foliage so similar. But a little bit of writing lifted in the sky above couldn't be made to fit. Another print then. More searching. Ah, the one that had been next to it. The Great Bridge at Sanjo, ca. 1847-52. From the Metropolitan Museum:
That was the end of the Tokaido Road. I had also taken this detail, of two working women carrying firewood.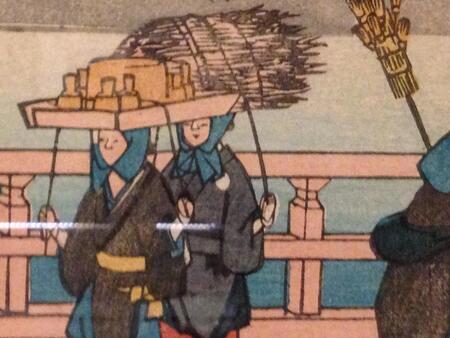 When looking back through, I had amalgamated the buildings near the edge of the hill into the other print.
Fifteen years separate the two prints. In the Met's reproductions there is not even a hint of brown in this later one, all is a slatey gray. But, because of a few accidents of juxtaposition and elision in my own records, I felt the details from the two prints were united. I can see how the artist might have thought of that earlier view across to the temple as he and his printers worked at this plate.
Out my own window, the tonality has changed entirely, sky now blue-white and branches lit from the sides with April sun. It was a frustrating little bit of morning, but I learned something about brown and its relationship to green, to buff, to olive. The yellow and blue in the sky matter, even though I could only see the tonalities I wanted when they had been set aside.
Xu Longsen and the sense of touch
Frederick Project: Felt
Monday, April 6, 2020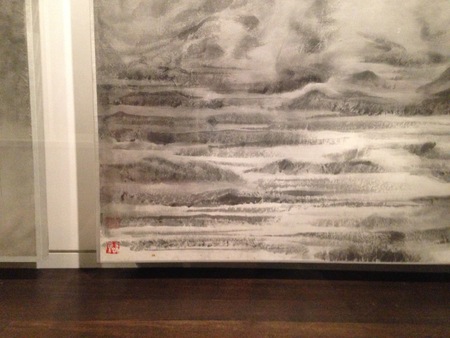 Over the weekend, I set out some pictures from Xu Longsen's Light of Heaven exhibition at the Art Institute of Chicago in 2018. The exhibition was installed throughout the museum's rooms devoted to art from China and was in complex relationships with the other works. Xu Longsen works in series and groups, and from my photographs and the museum's documentation, I can't tell which pieces had which names. All the works are from 2016-2017 and are in the collection of the artist, Beijing.
When I stumbled into it the first time, I was impressed by these tall columns made out of felt and then saturated with washes of ink. The columns conjured up the vertical mountainous ink scroll paintings I love from different eras of Chinese painting.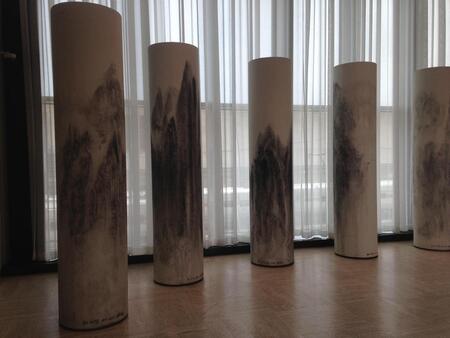 There was a row of these columns, and one much taller that reached up through the spiral staircase in that atrium space.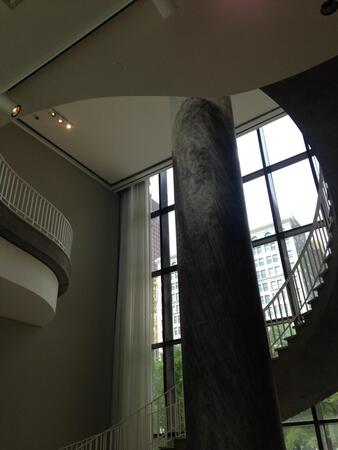 On another visit, I found the room of these large wall-size paintings. The five in the next photo were at one end, I believe, and there were two sets on the side walls as well, and a row of columns down the center of the room.
I went to the show several times, and made a lot of charcoal drawings from the room with the wall paintings in it. It was very satisfying to work in charcoal while looking at these. Here are some details from the large paintings in that very beautiful room.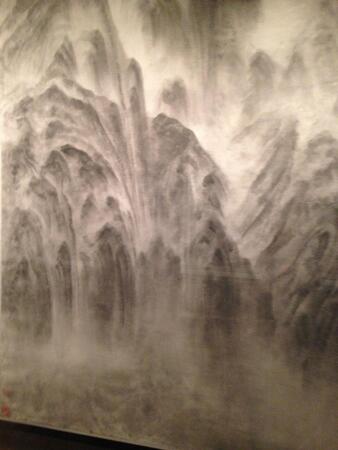 The texture is a very important part of the experience. In all the rooms with Xu Longsen's work there were many Do Not Touch signs everywhere, but I saw people touching the columns every time I visited. I think this is a part of understanding the significance of Xu Longsen's work.
*
One day, in the room that usually has works from the permanent Japanese collection, and during the Light of Heaven also had one of the large Xu Longsen columns in it, I listened to a woman, probably seventy, a regular museumgoer, a lover of art, perhaps a bit self-important, telling a family who seemed to be from China about some things she noticed in the work. The family – a mother, a father, three children, two boys and a girl, and perhaps another man, a friend or an uncle – seemed very gracious. The woman and one of the sons explained to the museumgoer that the man in their family was the artist.
The museumgoer was surprised and pleased. She went on telling the family what she thought about art. After quite a long while, she let the artist and his family go back to the conversation they had been having about the installation.
The artist, Xu Longsen, was saying something to his family about the column in the center. I can't remember now if he was just very near it, or if he actually reached up and brushed the surface of the column.
A guard said peremptorily, "don't touch the art." "He's the artist," his son said, as did a few others of us in the gallery who had overheard.
The guard said, levelly, "no one is allowed to touch the art."
Rembrandt in Gray at the Gardner
Frederick Project: Stolen
Tuesday, March 31, 2020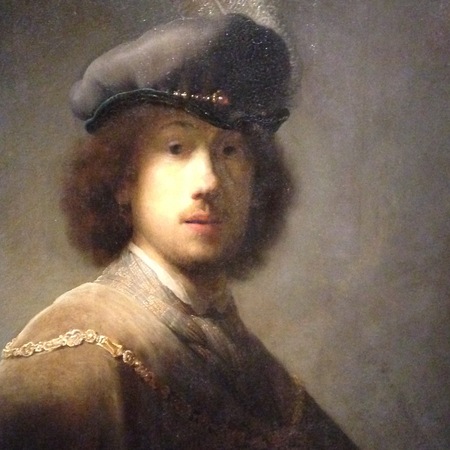 I wish I could say that I knew this painting well, but the truth is that I walked by it a few times when we lived in Boston. I went to the Isabella Stewart Gardner Museum fairly often, because I was writing a book about Bernard Berenson, who was one of her most important advisors in building the collection. But Berenson was focused on Italian paintings, and when I went to the museum I spent a lot of my time in the Italian rooms. On most visits, I never even went around to the side of the museum that has this dark room of Flemish and Netherlandish painting, and where this Rembrandt self-portrait hangs.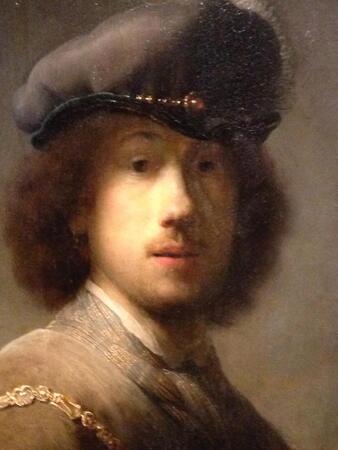 The Dutch paintings room at the Gardner is the one from which several important works were stolen in 1990. I also sometimes avoided it because I found it upsetting to see the empty places on the walls where the missing paintings (Vermeer's The Concert, the two large Rembrandt paintings, the tiny Rembrandt self-portrait etching) should have been.
I won't show that injured wall. This is the wall with the as-of-today present Rembrandt Self-Portrait in the photo that the Gardner Museum thoughtfully offers on its website.
My pictures are dated June 10 of 2016, so I must have gone just a few days before we left Boston to move to Chicago. This was a farewell visit. Rembrandt self-portraits have been a touchstone for me, as for so many writers, for a long time. I first remember looking at them carefully when I was seventeen, so about thirty years.
I guess I thought I might at some point want to write about this painting, because I took quite a few pictures and they came out well. I think you can get a sense of the incredible variety of textures that you feel looking at the painting – the velvet hat, beads, the hair, skin, moustache, cloth.
This morning my eye was caught by the gray.
Gray seemed to be connected both to the gray skies we still have, last of March, and to the still life I looked at yesterday by Manet (a Manet was also stolen from the Gardner, which I had forgotten until I looked it up just now.)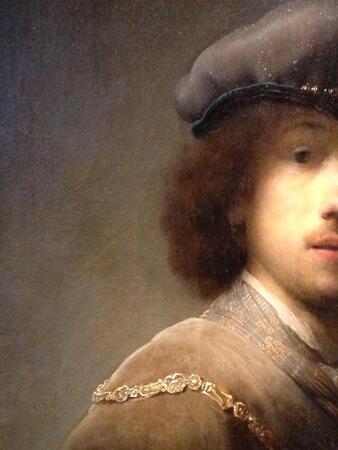 It was only when I began to picture myself walking into the room that I thought about the stolen works. And remembered a headline from yesterday, that a Van Gogh had been stolen from a museum in the Netherlands shuttered by the coronavirus.
Wherever there is money, misfortune, human passion, beauty, violence, trust and mistrust, there will be paintings. When you see a painting in a museum, you do not know if you will see it again, if it will be seen by anyone again.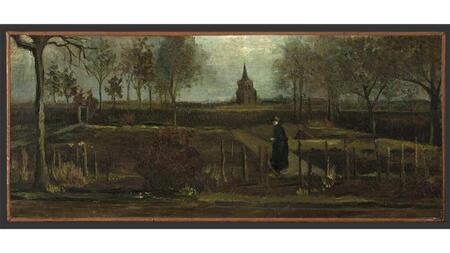 This is the Van Gogh, The Parsonage Garden at Nuenen in Spring, belonging to the Groninger Museum, but on loan to the Singer Laren museum. It was stolen early in the morning of March 30th, which was the painter's birthday. The Parsonage Garden at Nuenen in Spring was painted in 1884. Van Gogh's father was a pastor, and this was the garden of his parents' home, where he stayed with them between 1883 and 1885. It looks to me, in reproduction, an intimate and significant painting, connecting back to Corot and forward to Vuillard. Van Gogh died in 1890 and was, in the mid-1880s, at the height of his powers. It would be nice to see this painting right about now, at the cusp of spring.
This is a little area of the Rembrandt that struck me as especially beautiful a few days before we left Boston.
Late Manet
Frederick Project: Unfinished
Sunday, March 29, 2020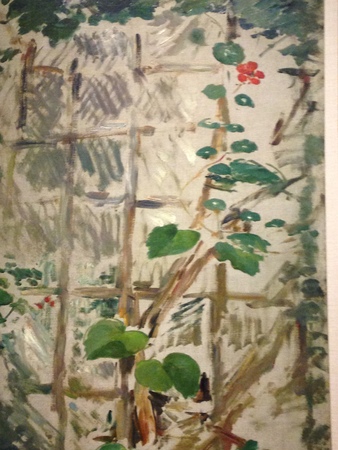 Last summer, the summer of 2019, the Art Institute of Chicago had a Manet show, Manet and Modern Beauty which I reviewed for Apollo Magazine.
The paintings in the show were mostly from the late 1870s and early 1880s, a period when Manet's touch and palette were lightening, he was interested in flowers and fashion, and he was also dying of complications of syphilis. Thus the tone was an odd combination of lightness, fluidity, melancholy, and decay.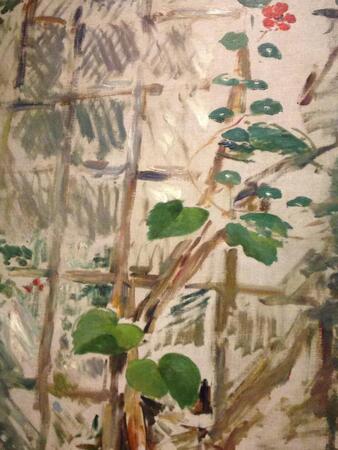 It was a very sad show. I had not realized that Manet was only fifty-one at his death, and he had not been one of my favorite painters, more a painter whose accomplishments and influence I recognized, so it had never really occurred to me to wonder what more he would have done if he had lived through the 1880s and 1890s when many of the paintings I love best – by Cézanne, Morisot, Monet and Pissarro – were made.
This painting, Morning Glories and Nasturtiums, 1881, from the McNay Museum of Art in San Antonio, was left unfinished, or was finished in a radical way, with areas of canvas still open and showing through. It leaves much to the imagination. To my eye, it is more like a sketch of thoughts and intentions. Ideas about the meaning of plants and the space around them.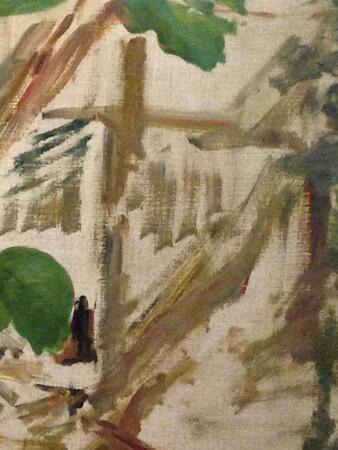 In the show, it was in a gallery with many beautiful letters that Manet wrote to his friends as he was increasingly confined by his illness. He decorated these with water colors of flowers, fruit, bees.
Here is a letter that, in palette and meaning, seems related to the Nasturtiums of 1881. The letter has a watercolor of a horse chestnut. Manet had sent it to Marthe Hoschedé, the year before, in 1880. It belongs to a private collector.
Marthe's father Ernest Hoschedé had been a very important art patron for Manet and others. Ernest Hoschedé went bankrupt in 1878, and moved his family in to a household with the painter Claude Monet and Monet's family. Monet's beloved wife Camille died the next year, in 1879. By the time this letter was sent to Marthe Hoschedé, her mother Alice had formed a new household with Monet and all of their children.
Layers of death, resilience, odd greens, empty spaces around them.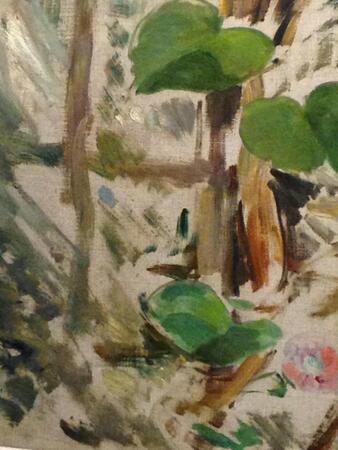 Lenses
Monday, January 4, 2016
Today I got new lenses for my glasses. After more than a month of squinting and blearing and pretending, my eyes knew themselves at last understood and the world came through with that almost bulging astonishing hyper-detail. Learn the task again. A half an hour, every few years, of seeing everything in the world at once.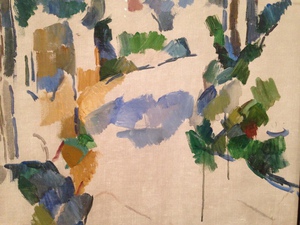 I was running errands and had not planned to go to the Fogg, but, feeling my sudden seeing, I turned left. With which painting should I use this beautiful straining and adjusting sight? I thought of a Beckmann triptych that has eluded me for months, and then of a Cézanne I have struggled with for four years, an unfinished painting from 1904.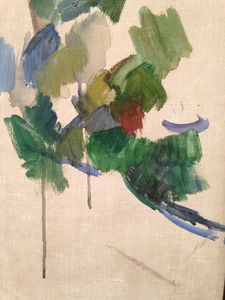 It was a wintry day in Cambridge, cold. A little snow had materialized as I walked to the optometrist, and then was held in abeyance as I walked away again, and back again, and to the museum. I saw the day first with the impeding old glasses, then with the odd freedom and powerful myopia of no glasses, and then, every branch and twig in dark lines before the gray sky, with the new glasses.
It's on the ground floor. Past the main room of the Impressionists, through a doorway and on the right. Often when I get to see a painting well, I have the experience that it seems bigger than I remembered. Before I was even looking, there was the sense of spaciousness.
With each of the different degrees of seeing I had today, I was aware of the strange effect of the snow clouds. Sometimes the gray sky is leaden, and at other times is in wondrous motion. When it actually particularizes as snow, the eyes draw a hundred relations at once.
My eyes leaped for it. And went directly to its depths. It had always seemed very flat to me, an array of touches on the surface of a gray canvas, but now unmistakeable were the curved road and arching branches.
All those touches of paint with their several directions clustered together were like little flags indicating the motion of air and light.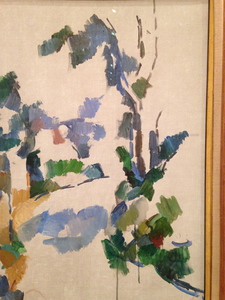 In the painting, it was summertime, some summer moment in which, by virtue of everything being a little strange, a little distorted, all the relations between things were suddenly clear.
When I walked on the street again I saw that I and the other people walking seemed made solitary by the gray snow sky. But we also seemed held up and surrounded by the palpable space.
Sargent Notes
Sunday, May 22, 2016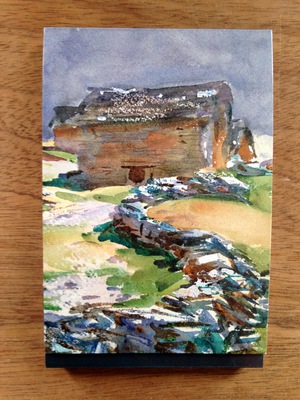 I am writing this in a notebook that has on the cover of it a part of a Sargent water color. It's of a house, gray and brown mingled in the wash, with a roof speckled and dashed with white. An ordinary small mountain house, to which a stone wall in the shape of an S rises.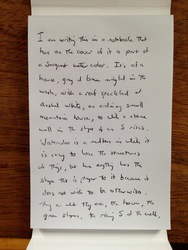 Watercolor is a medium in which it is easy to lose the structures of things, but here everything has the shape that is proper to it because it does not wish to be otherwise. They are what they are, the house, the green slopes, the rising S of the wall, the gray sky. They do not blame or advise.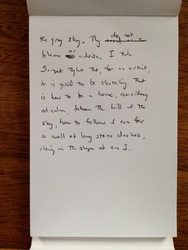 I think Sargent thought that, for an artist, it is good to be sketching. That is how to be a house, considering and calm, between the hill and the sky, how to follow and care for a wall of long stone dashes, rising in the shape of an S.