Tang Chang Calligraphic Blue
Thursday, July 2, 2020
Something about the blue in the Mary Cassatt I was looking at yesterday and the calligraphy in the Persian miniature I looked at before that made me think of an extraordinary calligraphic blue that I witnessed in a show at the Smart Museum of Art a couple of years ago.
The show was called Tang Chang: The Painting that is Painted with Poetry is Profoundly Beautiful. Tang Chang (1934-1990) also known as Chang Sae-Tang painted and wrote poetry in Thailand.
In the 1950s, he moved into gestural abstraction, not because of the international art scene, but out of the demands of what he was at work on.
He painted in a way that meditated on writing, and he wrote poetry, and he made poetry-drawings. There are nice exhibition materials and a small booklet-catalogue on the Smart Museum website linked below.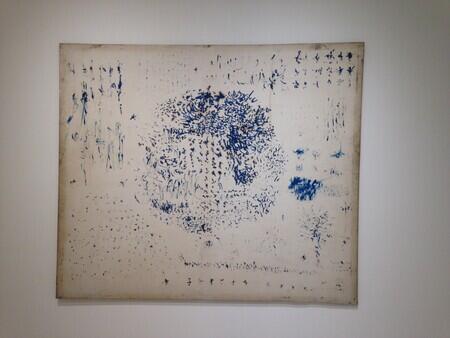 I mostly photographed one painting. Untitled, from 1975. It's a large painting. 81 7/8 by 96 7/16 inches, so nearly seven feet tall and 8 feet wide.
I spent quite a bit of time sitting with it, and I remember at one point walking a group of students through looking at it. There was a sequence of impressions, places that seemed to call for attention.
I found it uplifting, invigorating. I felt like I was really learning by looking at it.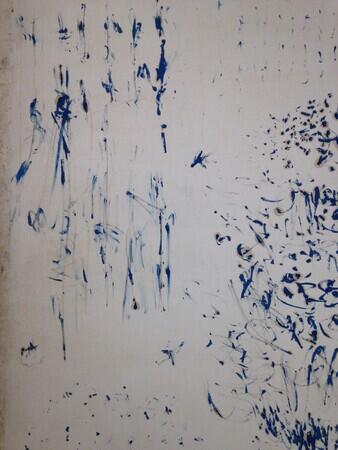 for Issa Lampe
Weekend Glimpse: Cézanne Bouquet for Mother's Day
Sunday, May 10, 2020
Here is a Cézanne, The Vase of Tulips, from about 1890. It is at the Art Institute of Chicago. I took the photos.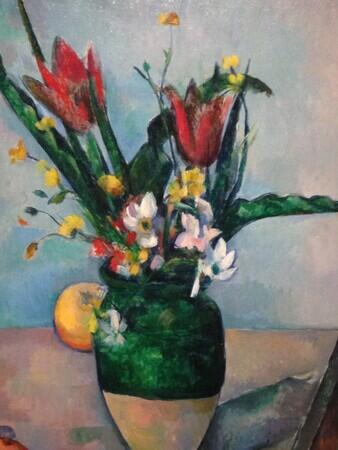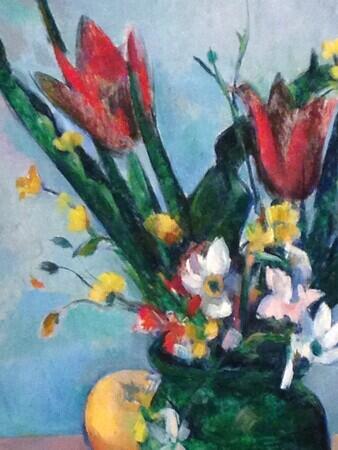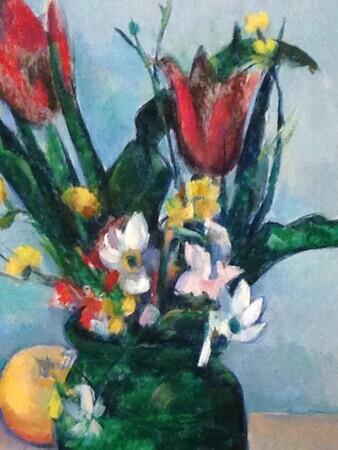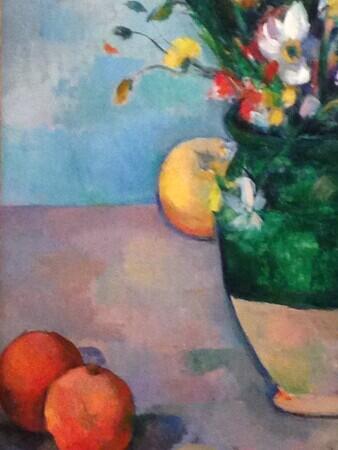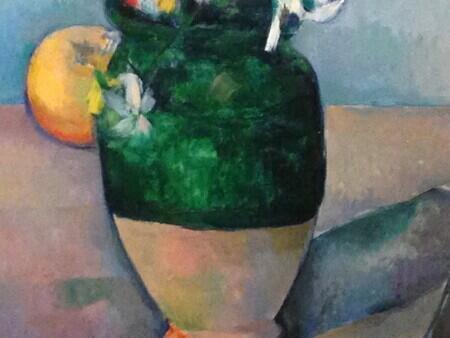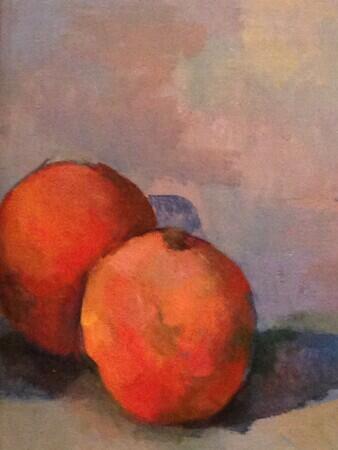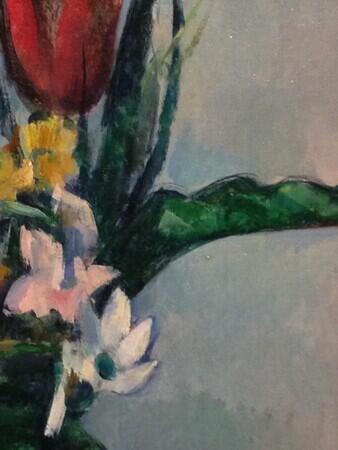 Happy Mother's Day
Faith Ringgold Story Quilts
Tuesday, May 5, 2020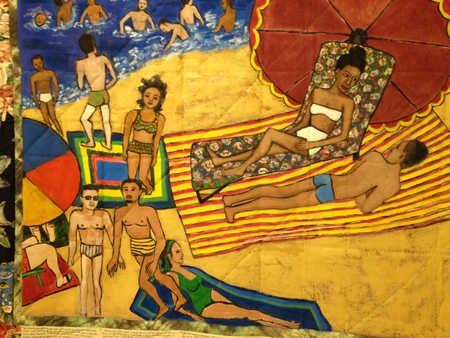 "On the Beach at St. Tropez" was the first Faith Ringgold story quilt I'd seen, and I was completely unprepared for the encounter.
I was floored. And know what that expression means as I find it is the right one: it means my soul rushed down to the floor so that I could look up and take the measure of this.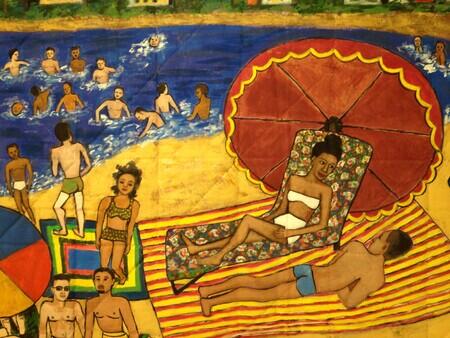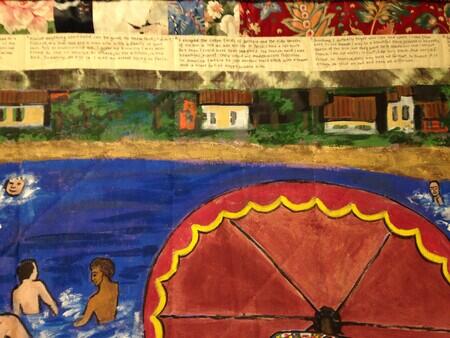 I had already read the wall text, so I knew that there was a character, Willia Marie Simone, an African-American artist who had gone to Paris in the 1920s and had a wonderful, historically very nearly possible but not quite, life in art.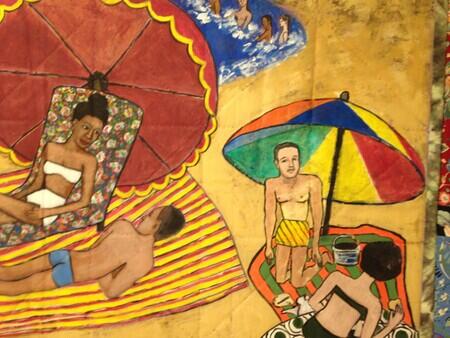 Willia Marie Simone had known Gertrude Stein and James Baldwin and other people in the Paris settings where I had also tried to depict Stein and Baldwin in my first book. I knew that territory of imagination well, and I had thought about different kinds of impersonation that may open in that vicinity.
I looked for a while at the color.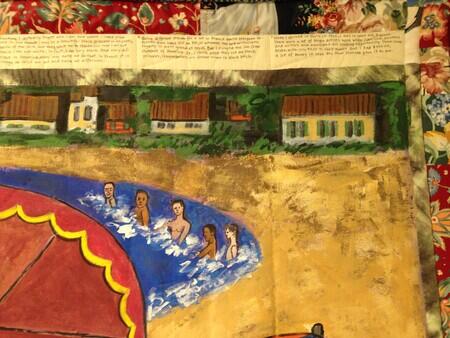 And then I began to read the words. And I laughed out. It was so funny, the tone. This character, her audacity, and self-involvement, the way she said absolutely true things and self-serving things and loving things and perceptive things and things ground out of economic and racial reality and how she seemed alive to people and their bodies.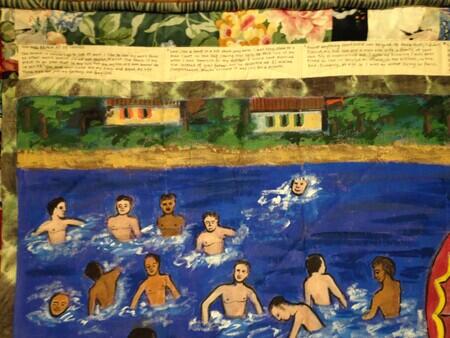 I wrote about On the Beach at St. Tropez almost as soon as I started doing this project, this museums-are-closed-and-what-do-I-want-to-look-at-in-the-room-of-my-computer project. But the pictures I had taken weren't sharp enough to show the text. I could find the wit in the swimmers' faces, the loungers' bodies, but the deliberateness I knew was there was hard to bring through.
A kind colleague from the Smart Museum, Berit Ness, saw my post and sent over a higher-resolution image. And I read the text eagerly. But then I couldn't quite find the humor and boldness that had been so strong in my first impression.
I've read through it several times over the last six weeks. The closest I come to getting the impression back is when I scroll across the image with the words still in my mind. It was the impression of both together that gave the language its tone. Read with the painting, it's a speaking voice. You are the child getting the letter, from this mother, yours, who sent you off to live with Aunt Melissa so that she could paint and go to the beach at St. Tropez, but who lives in this realm of vividness that is like no other thing in life, and you are also the knowing person in a museum who feels the inextinguishable rightness of this written personality, the slyness and tenderness of the faces and gestures here observed, and you can laugh.
Here is a kind of center of the story quilt. The text is numbered, and the passages below are 10, 11, 12, 13, 14.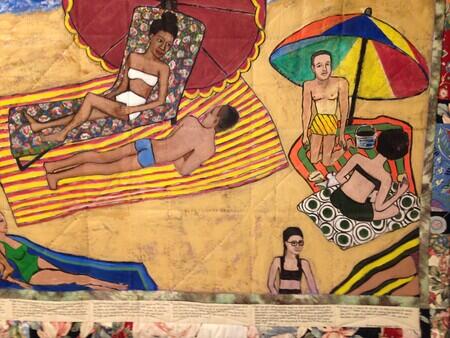 10 is at the base of a column of space with the central figure watching the young man lying below her, then under the woman in the green bathing suit lounging on blue towel.
I find the line breaks are important:
10. You are such a beautiful boy, my son, and if you want to judge
me it is your choice to do so. But it will only make us both
sad. I cannot change my past or yours. I abhor criticism. It is
so useless to be judged in your later years, when you have
no time to change. We must learn to change all that is amer
à doux, bitter to sweet.
*
Not too long after we moved here, I bought, at the 57th Street Bookstore, a book of poems for children called Bronzeville Boys and Girls. The poems are by Gwendolyn Brooks. Each is about a child, and the title of the poem is the child's name, and sometimes something about the child. "Narcissa," "Vern," "Robert, Who is Often a Stranger to Himself," "Eunice in the Evening."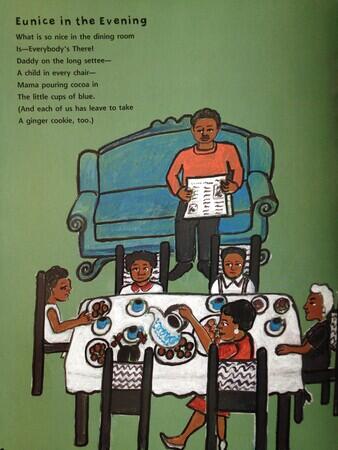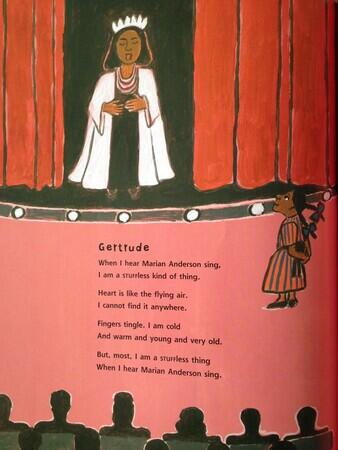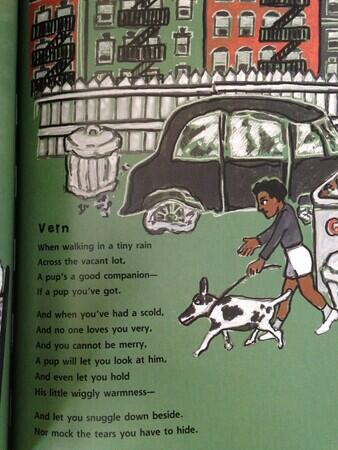 It was only while we have been in shelter, and reading those poems again, that I realized that the illustrations in our book are part of a new edition from 2007, and were made by Faith Ringgold.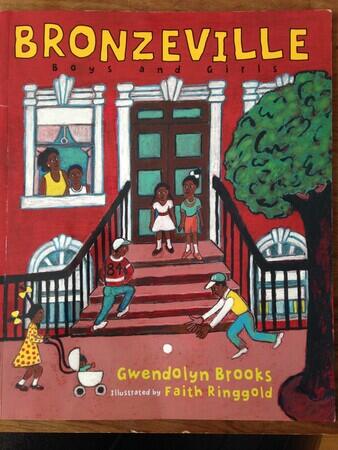 Since mid-March, every day, almost every day, that we are sheltering, one or the other of us takes the children and we walk to Gwendolyn Brooks Park, which is about six blocks away, and we look at the sculpture of her there by Margret McMahon, that McMahon made in close collaboration with Gwendolyn Brooks's daughter Nora Brooks Blakely. Every day, I try to think about how to write about Gwendolyn Brooks. I do not know how to write about Gwendolyn Brooks.
Bronzeville Boys and Girls, words and paintings, is a masterpiece. Because of the Ringgolds, you may hear the voices in ways you didn't expect. Tomorrow, I will try to think about the sounds of this.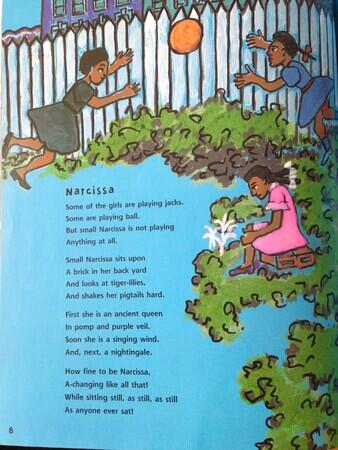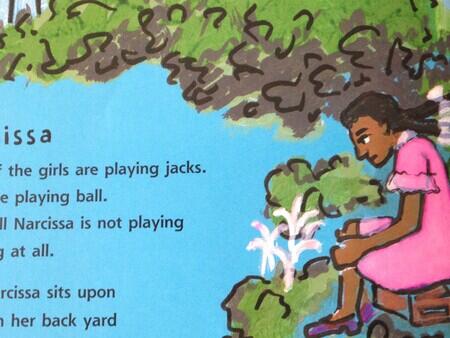 Morisot – A Daughter at the Window
Monday, April 20, 2020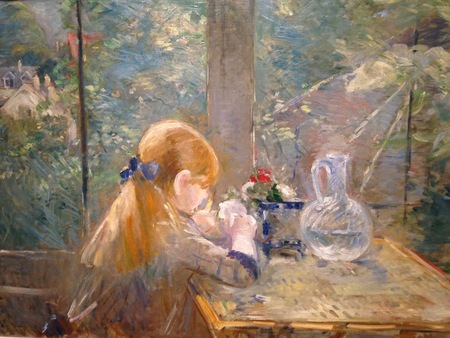 A daughter at the window is poignant. She is here with you, in the interior, but she is thinking of what lies beyond.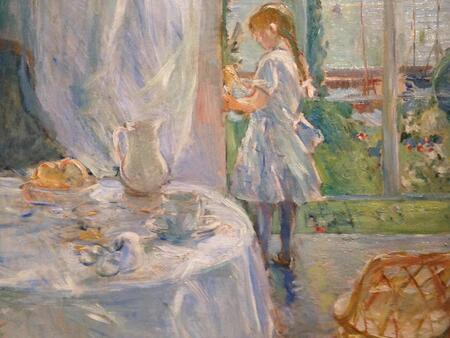 Berthe Morisot, Cottage Interior, 1886. Musée d'Ixelles. Photos Rachel Cohen.
Berthe Morisot painted and drew her daughter Julie probably several hundred times. There are masterpieces of Julie as a baby with her wet nurse, as a toddler swinging her foot in a chair, as a little girl with her father in the garden. I've studied three of Morisot's daughter as a little bit bigger girl, with her auburn hair pulled back, near windows, looking out windows.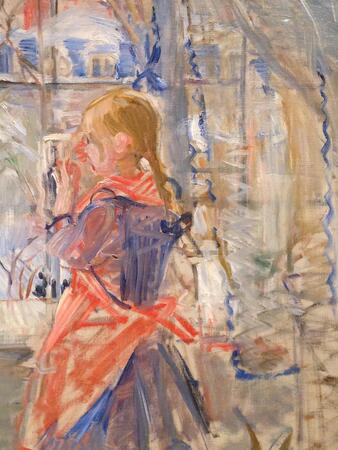 Berthe Morisot, Child in a Red Apron, 1886. Rhode Island School of Design Museum, Providence. Photos Rachel Cohen.
A daughter at the window is free also – she has her own thoughts even if she knows you are watching her.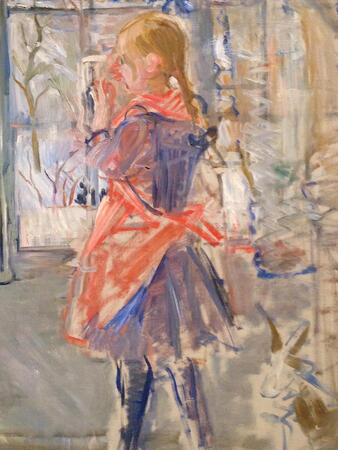 Windows are so important right now, in our confinement. These days, our children often go to watch the birds and squirrels out the back window, with great enjoyment, but they go less than they used to to the front window, where we can see people going by. I think it makes them feel too wistful.
These window paintings of Julie were mostly done at houses in the country, where the two painter-parents would go with their only child for summer months. It would be radiant and solitary.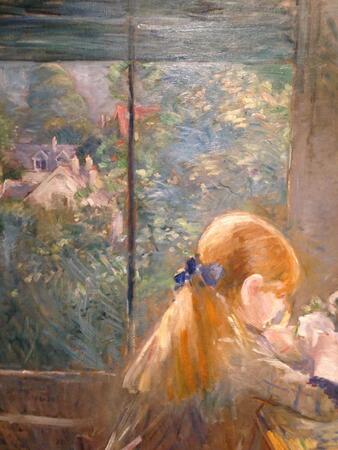 I imagine that the three of them worked on observation together, and Julie, from the diary she left, did grow up to be very observant of color in the natural world.
I imagine that, much later, it was a beautiful experience for the daughter to look again out the windows of her childhood, in the paintings her mother had made. She would be able to see what she saw, and what her mother saw.
Sometimes, watching our daughter at the window these days, I think that that is a part of every window, a mother or father standing behind, perhaps slightly reflected in the glass, watching us watching the world.
Sargent Stone Water Stone Paper
Frederick Project: Materials
Thursday, April 9, 2020
In 2013, a show of John Singer Sargent watercolors. I saw it at the Museum of Fine Arts in Boston; it was co-organized with, and also shown at the Brooklyn Museum of Art. These two institutions have the two finest collections of Sargent watercolors.
These first details are from I Gesuati, ca. 1909.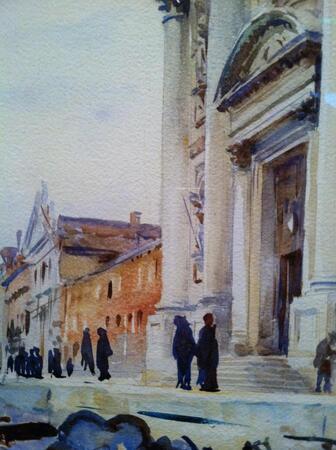 [Works shown in this post belong to the Museum of Fine Arts, Boston; except for two, belonging to the Brooklyn Museum, noted below.]
It interested me that walls were so beautiful in his hands. Some of what he showed were walls of houses that had been painted with paint, and it made sense that the fluidity of watercolor would serve. But other walls would have been of marble.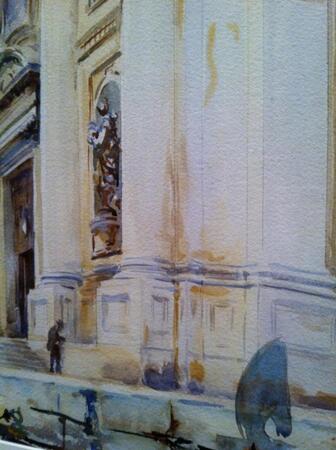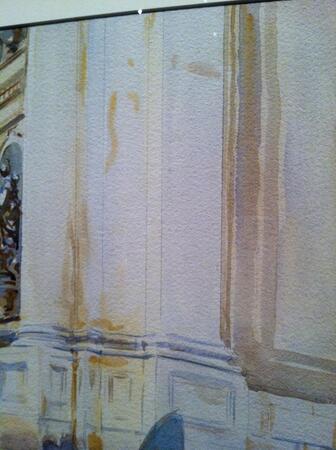 Venice was one of his great subjects. Water flowing before and among walls. Bridges over and under. Here is a detail from Santa Maria della Salute, 1904, from the Brooklyn Museum of Art.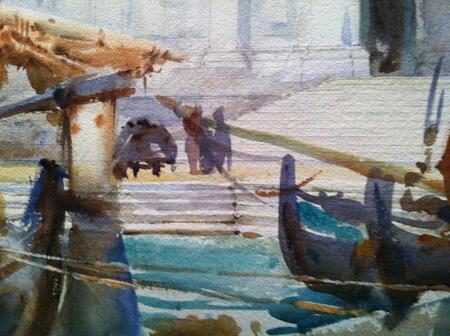 This extraordinary curve, the vault of the Rialto Bridge, seen from underneath, water running below stone and light echoing above. Venice: Under the Rialto Bridge, 1909.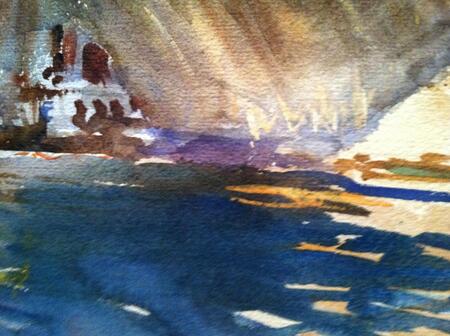 Water itself was not only Sargent's subject but his technique, his material, and his ideas of time. This, All'Ave Maria, (from about 1902-1904, belonging to the Brooklyn Museum) is of people walking on the Zattere near Santo Spirito, at the time of evening vespers, was done very fast, the technique called "wet on wet" which makes the colors bleed into one another, as they do at that time of day.
Late in the show, this watercolor made on a trip to Carrara, Sargent called it Carrara: Wet Quarries. It's from 1911.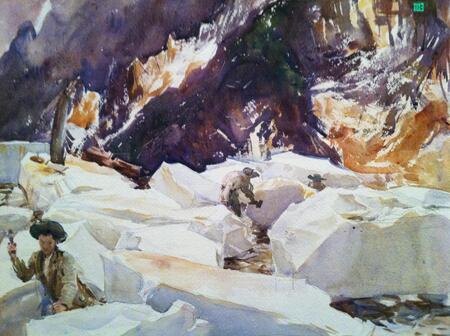 I haven't been able to figure out why wet; something to do with the process of cutting stone, but I don't see how water is involved.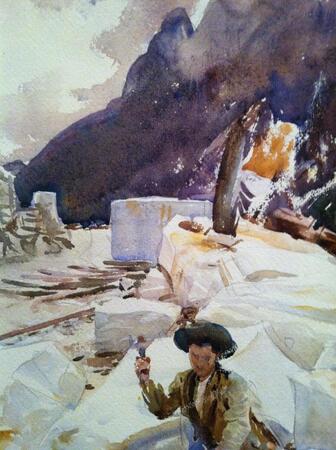 The men working look very hot among their blocks of stone. Sargent spent two weeks at this camp, he would have stood among his pieces of paper.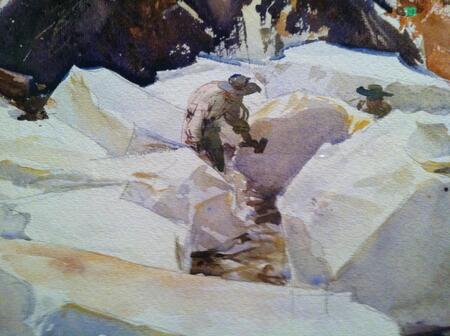 Quarrying had changed at that time, and was being done with dynamite which laid waste to much of the marble.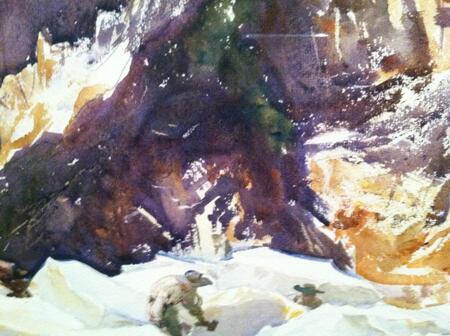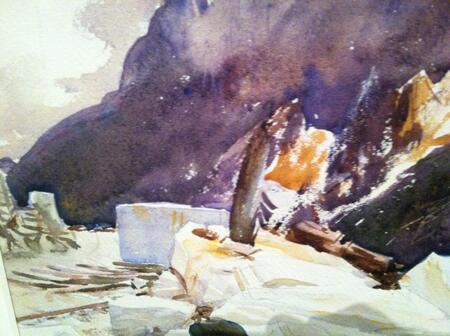 These are all from one watercolor, but in the exhibition, there were a whole series done at Carrara, strikingly abstract, with purples, yellow, green, and the great stones strewn about.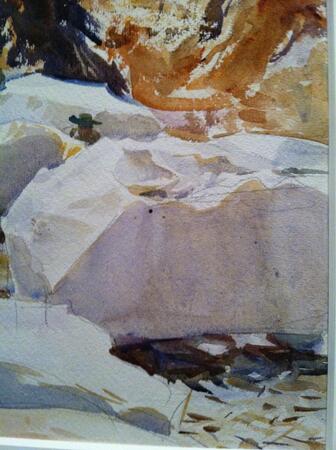 When I look at this set of five Sargent watercolors – I Gesuati, Santa Maria della Salute, Venice: Under the Rialto Bridge, All'Ave Maria, Carrara: Wet Quarries – I read a history of stone, made with water, on paper. A story of the most substantial medium, conserved in translucence.
for Massimo Warglien, Anna Gerotto, and in memory of Michael Cohen, all sheltering in Venice
for Hilary Cohen, sheltering in Ann Arbor
Hiroshige's Views of Kyoto
Frederick Project: Reconstruction
Wednesday, April 8, 2020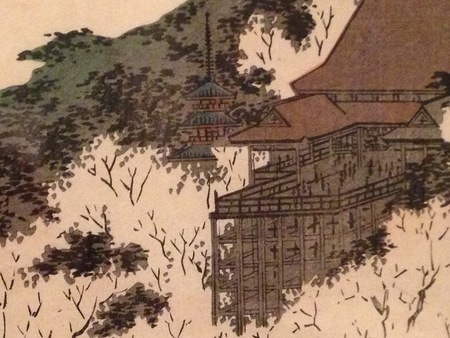 In December of 2019, I went to New York for a few days and various reasons, and I went twice to the Metropolitan Museum of Art. I was covering their show Kyoto: Capital of Artistic Imagination, for which they had reinstalled their Japanese galleries with works from their permanent collection that partake in the long Kyoto tradition. Kyoto was for many centuries the capital of Japan – this capital was eventually shifted to Edo, which is now called Tokyo. The two cities were connected by a famously beautiful road, the Tokaido Road, and many artists traveled along this road, making some of the fifty-five stops along it and recording the views of temples and natural wonders.
This morning, I thought I would like to write about a set of four abstract Joan Mitchell paintings called "La Vie en Rose," painted in 1979, which I had looked at while at the Met. But when I went to look at my pictures I couldn't bear the tones – pale rose, white, lavender, black. Some other day they will be wonderful again, but not today.
Most of the other pictures were from the Kyoto exhibition, and I idled around in them for a while. Then I came upon three that I loved.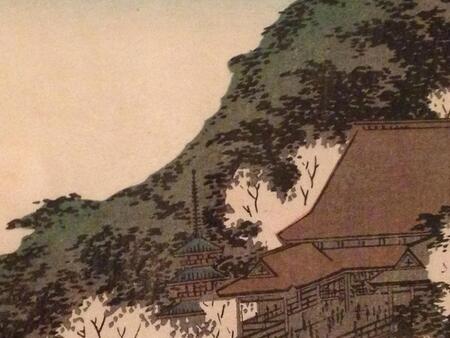 This was the tonality of this morning. It was gray out, there was a dull feeling of undertaking the routine again. I loved this brown, the way in one area it was blue-infused, and in the others combined with the under-green, like something from a pine woods. I loved the buff-colored space that had been left open in areas, the pieces of olive-gray that formed and scattered.
I was pretty sure these fourth and fifth photos were of the same print, because of the open spaces, the way the branches lifted across them, the palette of gray, and this yellow that made sense.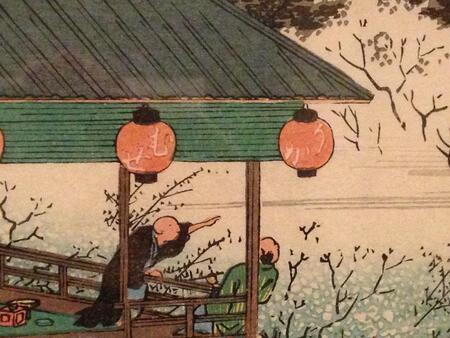 They were from a woodblock print that had been on the left-hand wall of one of the last galleries, among several, all by Hiroshige, each one under glass, with a glare, and quite hard to photograph. I had taken a few hurried shots on the first visit, and when I returned had forced myself to slow down and try to get better photographs, slightly from the side. I always photograph the wall text at the same time, so I know what my images are from, but hadn't, on the second visit. So I spent a precious forty minutes combing through the 745 Hiroshiges that belong to the Met. Who knew they had so many. In the small thumbnails, blues were most apparent. I was skipping blue, though, looking for gray-brown with some under green, some yellow in the sky. Finally it occurred to me to search for Hiroshige and Kyoto, and I found it. From the Metropolitan Museum of Art: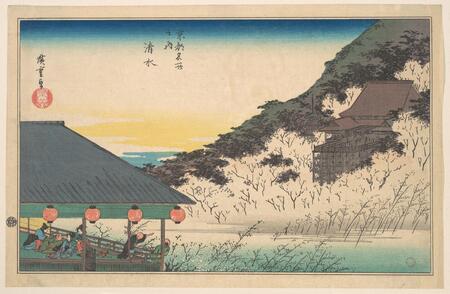 It would have been easy to have looked most at the veranda and the larger figures, but I had loved the distant view, which is in the work's title. Kiyomizu Temple (Kiyomizu), from the series Famous Views of Kyoto (Kyoto meisho no uchi), ca. 1834. The reproduction from the Met is clear, and if you go to their website you can zoom in and get details and it's quite nice. But, it does not have the warm tonality I love in my own pictures, which I believe really are closer to the original.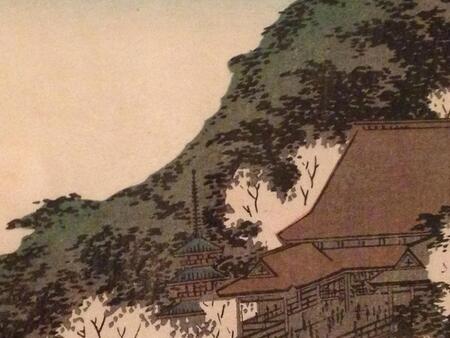 Utagawa Hiroshige (1797-1858), who lived in Edo, went several times to Kyoto. He made the trip along the Tokaido Road in 1832, and made several sets of prints about Kyoto.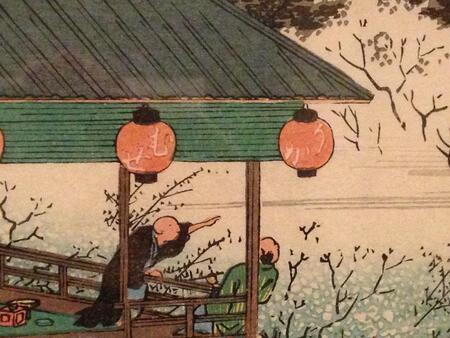 The people on this veranda are looking across to the distant temple. They point, and, looking again, I can make out small ink lines of figures in the open space of the temple. These other lines of figure seem involved in their own observance, but perhaps a few are looking in turn at the figures we stand close to.
I realized that I couldn't locate this detail, the one that had first caught my eye, whose blue seemed the necessary counterpart to the pine green of the others.
It must be in the print, the foliage so similar. But a little bit of writing lifted in the sky above couldn't be made to fit. Another print then. More searching. Ah, the one that had been next to it. The Great Bridge at Sanjo, ca. 1847-52. From the Metropolitan Museum:
That was the end of the Tokaido Road. I had also taken this detail, of two working women carrying firewood.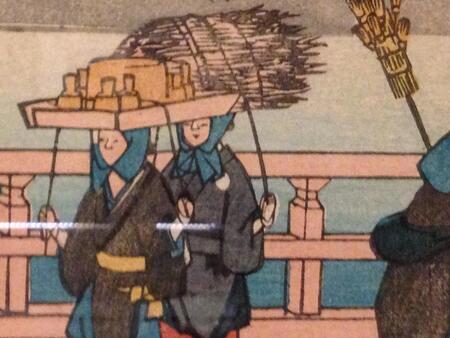 When looking back through, I had amalgamated the buildings near the edge of the hill into the other print.
Fifteen years separate the two prints. In the Met's reproductions there is not even a hint of brown in this later one, all is a slatey gray. But, because of a few accidents of juxtaposition and elision in my own records, I felt the details from the two prints were united. I can see how the artist might have thought of that earlier view across to the temple as he and his printers worked at this plate.
Out my own window, the tonality has changed entirely, sky now blue-white and branches lit from the sides with April sun. It was a frustrating little bit of morning, but I learned something about brown and its relationship to green, to buff, to olive. The yellow and blue in the sky matter, even though I could only see the tonalities I wanted when they had been set aside.
iris Kensmil and Remy Jungerman Further Looking
Frederick Project: Before and After
Thursday, March 26, 2020
Yesterday I turned up a subject – a pavilion at the Venice Biennale with works by iris Kensmil and Remy Jungerman, curated by Benno Tempel. I decided to follow it through in the order of my experience: seeing the pavilion in June of 2019, having the sense of interest quickened, documenting something of what I saw, being offered materials which I glanced at, but kept, and then, some nine months later, paying another kind of attention, internet attention, which let me put together other layers of meaning.
The installation was set up like this:
The pavilion, designed by influential architect Gerrit Rietveld, was built in 1954. The catalogue text notes that its features are open space, light, modular dimensions. When you entered the door at the bottom of the diagram, you were immediately facing works by Remy Jungerman in the large installation of the three suspended structures (Horizontal Obeah GEENGESITONU) over a long table set on a slightly raised bed (Kabra Tafra).
You were also aware of the large vertical structure immediately to your right, also by Remy Jungerman, Promise IV.
As you walked into the space, you could see, on the wall marked 6, to your left, that there were many images of what look like other installations, as well as a glass case of books, and a single book in a case. This is Beyond the Burden of Representation, assemblage of works by iris Kensmil.
If you went to the left, and turned, then you would see the largest part of iris Kensmil's work, the seven portraits of The New Utopia Begins Here #1.
Here is a photo of this from Kensmil's website: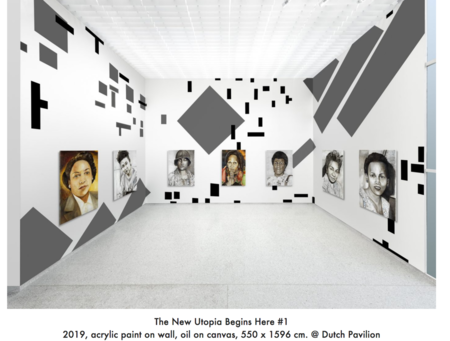 If you now either turned around, or, had, in the first place, gone forward into the space of Kabra Tafra defined by the horizontals of the raised bed, table, suspended structure, and then turned to the right, you would see the wall-size The New Utopia Begins Here #2: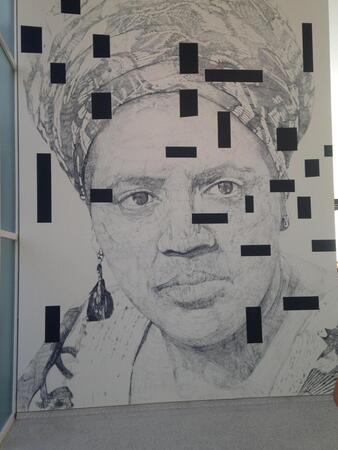 The works were deliberately intermingled. It was not really possible to see the works of one of the artists without being aware of works by the other artist, either through seeing them at the same time, or having just walked through or past one to see the other.
They were further brought together by certain artistic commonalities of sensibility and technique. The grid-like patterns, and delicate blue and black traceries that seem both like architectural blueprints and like textiles.
The installation is called The Measurement of Presence. A way of stating a theme might be: relationships of grids and people.
Some relationships that, facing the work from this distance, and able to peruse the exhibition essay at length, now come to mind:
1. A grid may make an abstract space that more than one person can inhabit. A design for a house. A pattern of four walls for a room. The plan for this installation, which you can mentally enter.
2. A grid may have an electric energy, the power grid, urban life and modernity. Mondrian's Broadway Boogie Woogie.
3. The artists and curator of The Measurement of Presence write of Remy Jungerman: During 2018 Remy Jungerman lived in New York, a city with a dual meaning for him. It is the city where Piet Mondrian, an artist of great importance to Jungerman, found refuge in 1940. At the same time New York is the place where in 1674 the Dutch traded Suriname with the British. In a bilateral negotiation they made a deal to swap conquered land: New Amsterdam became New York, and Suriname passed from British into Dutch hands and became a Dutch colony. A grid, then, can be traded, swapped, sold.
4. On Horizontal Obeah GEENGESITONU, the authors comment, In colonial times, the grid was an important element by which to divide the land, as well as a prison structure for enslaved people who tried to escape.
5. A grid is also a textile pattern. Warp and woof. On Jungerman's website: Jungerman is a descendant of the Surinamese Maroons who escaped enslavement on Dutch plantations to establish self-governed communities in the Surinamese rain forest. Within their rich culture, many West-African influences are preserved including the prominent use of abstract geometrical patterns. Jungerman uses fragments of Maroon textiles, in his work. This grid wraps a body, or covers the table to which the ancestors are invited.
6. Does a grid dehumanize? Obstruct personhood?
7. Kensmil's portrait of Audre Lorde. Perhaps the presentation of self is gridded in a way that does not only obstruct? I think that's part of Kensmil's consideration. The pavilioin installation text says that Audre Lorde fought for a way out of the identity-politics, in which society is trapped now.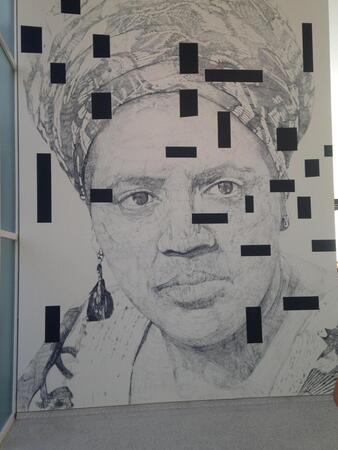 8. I go back and forth about the black painting of geometric patterns that Kensmil has used. Is it too evident, the way it imposes? Does it close the people down? The abstract mural, says the installation text, is inspired by the works of Piet Mondrian and Kazimir Malevich, whom Kensmil regards as the iconographers of modernist utopianism. But instead of citing them, she composes the spatiality and dynamics with elements derived from their work. I try to picture the installation without these black geometric elements and it flies apart and dissolves. So, we cannot do without the grid. Or we cannot work without reference to the grid.
9. Something that seems ungriddable is water. And yet the long table of Jungerman's Kabra Tafra is covered in kaolin clay, used in many African religious traditions, the clay is dry, without water, and patterns of textiles have been carved into it. And the whole, says the installation text, rests in a dried-up riverbed. This riverbed, with the absence of water, but still remembering its presence, evokes the transatlantic slave trade that redefined the world and expanded networks of exchange of ideas, art and influences. Like a grid based in a more complex mathematical understanding.
10. Ideas of Measurement and People. Jungerman's Promise IV borrows from conceptual artist stanley brouwn's renowned works of measurement. brouwn, like Jungerman, was born in Suriname, trained first in Paramaribo, then moved to Amsterdam, where he became a very significant, reclusive, conceptual artist. Wikipedia on brouwn's artistic inventions: "He developed the 'stanley brouwn foot', which was the length of his foot. It measured approximately 26 cm. One of his works, "Afghanistan-Zambia", is a typewritten register of the number of steps brouwn completed in various cities across the world, and a physical example of his concerns surrounding measurement and distance."
11. Promise IV is, according to the artists and curator, a grid-work cube. Its slats are composed of coloured fields that are arranged in terms of five units of measurement. Three units are partly based on the work of artist stanley brouwn (1935-2017): the foot (F), the ell (E), the step (S). Two other units are fictional measurements, the R and the J, based on Remy Jungerman's own initials. These five units can generate a total of 120 compositional combinations.
12. One juncture point of a three-dimensional grid would be a nail. Jungerman's work refers to the nails featured in West African Nkisi Nkondi power sculpture.
13. A grid may feel spacious, as mathematics does, drawing out what may otherwise ripple overwhelmingly, while still being interruptible.
14. The sixth work in the installation, Beyond the Burden of Representation, is actually, I realize, paintings of photographs of artists' exhibition installations. Installations by Posenenske, brouwn, Kawara, Hammons, and Piper. I had forgotten that these were painted photographs, but it explains why my photos of the paintings of the photos look the way they do. An installation of installations, framing the frameworks of these other artists choices. In this way, a grid, an abstract container, may connect, and perhaps free.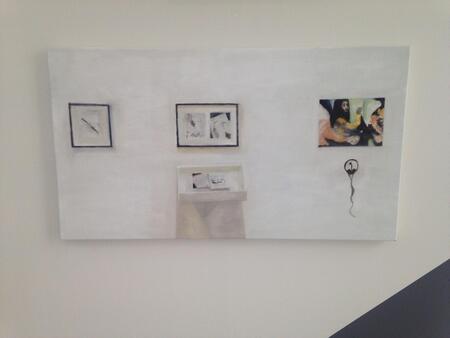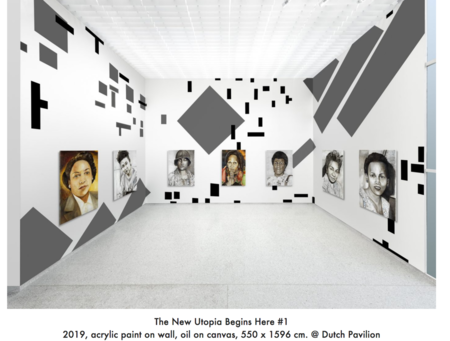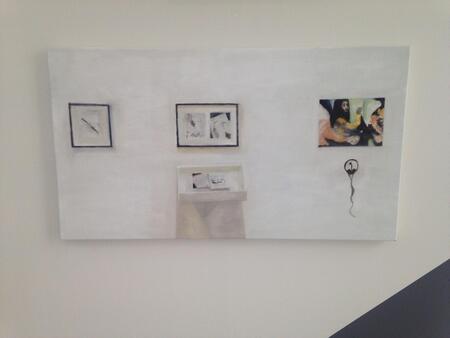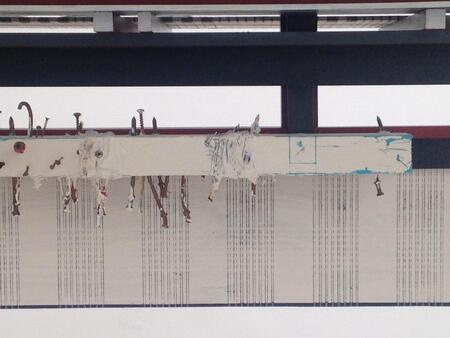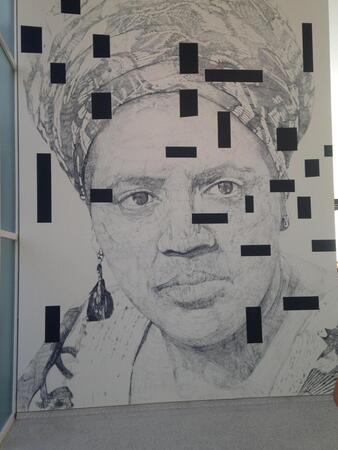 Faith Ringgold at St. Tropez
Frederick Project: Colors and History
Friday, March 20, 2020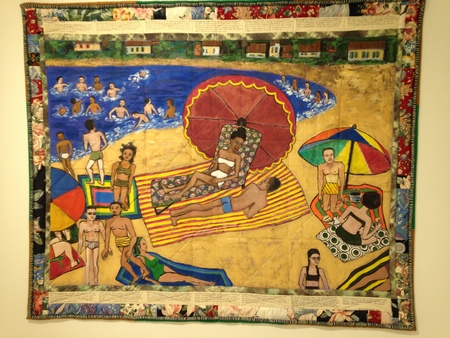 Thinking of intense experiences of color in the last few months. Immediately Faith Ringgold. Her painted canvas and quilt On the Beach at St. Tropez, from the series of twelve story-quilts The French Collection, which came as a revelation in the Smart Museum of Art's show called Down Time: On the Art of Retreat this past fall.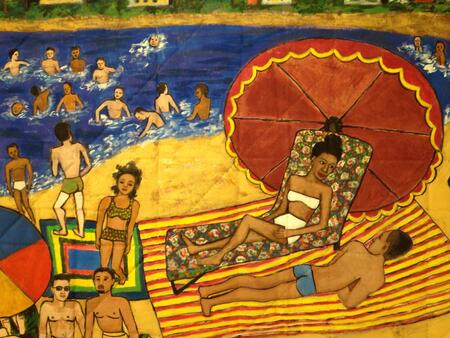 You walked into the gallery and were literally flooded with color.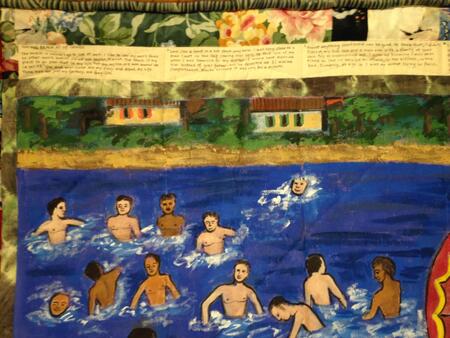 Ringgold paints on canvas then stitches the canvas to quilt, finishes the backs with cotton batting. A bravura painter, years of careful experiments with pigment to get the skin tones she wanted, the flatnesses and depths of water, cloth, patterns.
You are also immediately aware of the story – border of carefully written incidents running along the edges. The stories are about Willia Marie Simone, a fictional character with some qualities of the painter and some of the painter's mother and some that are the character's own. (I will try to decipher one of the stories for a later entry, my pictures are smaller than I had thought.) Willia Marie Simone ran away to Paris at the age of 16, in the 1920s, and had a storied life. The work is so very witty.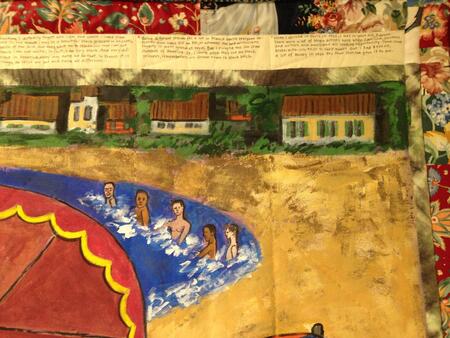 There are many articles that follow a well-worn, useful, but somehow insufficient path, explicating how, in this series, Faith Ringgold insists on the place of African-American women and artists who have been left out of history and museums. Looking at this quilt, the size of a wall, its flooding colors, my impression was more of something that shrugs its shoulders and rises.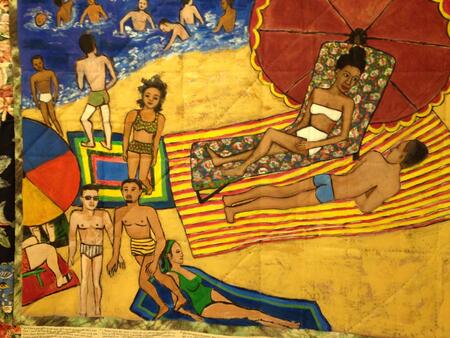 It's all there, really: the quilters of Gee's Bend, making their glorious abstractions from the worn clothes of their families who labored; the bathers of Cézanne and Degas stretching back to the bodies of the Italian Renaissance; the rogue persona storytellers in Zora Neale Hurston and Fernando Pessoa; all these kinds of work that Ringgold had done her training with, and had loved enough to do justice to them (meaning that she saw them whole, with their beauties and the things they failed to see). She knew them, and had thrown them over her shoulder, so that art could rise anew.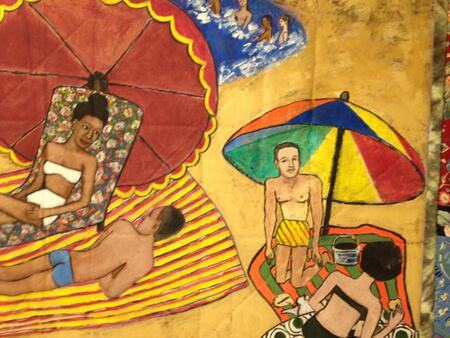 Color tells stories that cannot be abstracted from history – joyful as a child in sand, forceful as a woman at the height of her powers, unforgetting as age.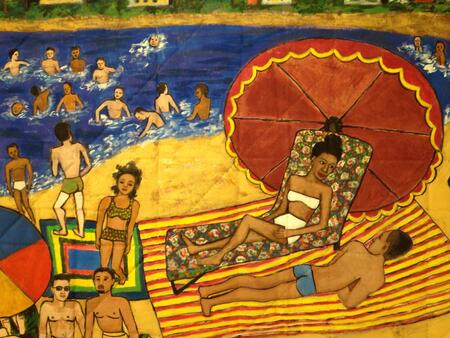 Down Time: On the Art of Retreat at the Smart Museum of Art was curated by Leslie Wilson in collaboration with the students University of Chicago's department of art history's course Exhibition in Practice.
Cézanne Still and Blue
Frederick Project: To Resolve
Thursday, March 19, 2020
Today I'm going to work on how Cézanne's blue resolves.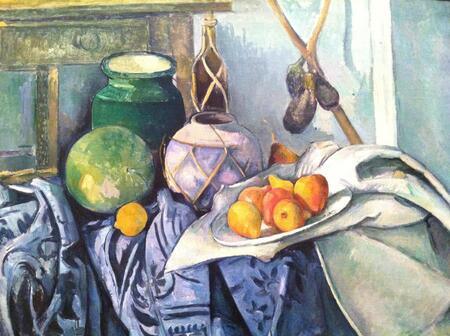 One sense of resolve is to determine to go forward. Cézanne's perennial project. Famous for destroying his canvases, for painting them out and scraping them off and beginning again, for going out on the road every day to set up his easel and work again at the view of the bay, the view of the mountain. Speaking to few, often frustrated, lonely.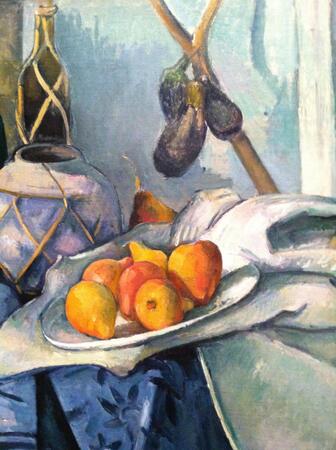 The resolve took great force of character because it was full of uncertainty. He never was sure. Which points back toward an earlier sense of the word resolve, to melt, dissolve, reduce to liquid. See his acknowledged unsteadiness.
We say that photographs have high resolution when we cannot see the separation of their elemental particles. This could mean that the particles are thoroughly dissolved into the medium, the liquid inks, the electronic fields of color. Highly resolved is when things that have been separate are made continuous.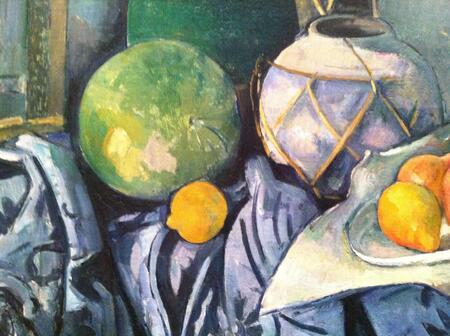 For Cézanne, blue is a key to resolution. Blue knew how hard he worked and was gracious with him.
The resolution to go forward in uncertain circumstances – a resolution that seems especially necessary to get hold of today – would take its force from a thousand small divergences coordinated into one medium.
This is the incredible property of paint: a liquid medium in which the elements of the world may be dissolved and reconstituted anew.
Blue of Paul Cézanne
Frederick Project: To Resolve
Wednesday, March 18, 2020
Yesterday, I wrote about Beauford Delaney's blue, green, and yellow – the way the blue filters down through the trees; the radiant effect of combined green and yellow. Today, I want to pursue blue.
I've taught Rebecca Solnit's essay on blue from her Field Guide to Getting Lost, and I've taught Maggie Nelson on blue in her book Bluets. Blue runs through many fields of study – those two writers and many others have traced its threads in landscape, in vision, in philosophy, memory, sorrow, tranquility.
Today I'd like to think about blue as a color of resolve.
My mind skittered for a bit. But it settled on Cézanne. That is a way to talk about blue and resolve. Which Cézanne? The Bay at L'Estaque here at the Art Institute? That unfinished oil I've written about that's at the Fogg Museum in Cambridge? Or the mountain, St. Victoire, that he painted so often. The St. Victoire my mind is most familiar with is the one at the Metropolitan, with that long slow curve of rising brown. Mont Sainte-Victoire, ca. 1902-1906.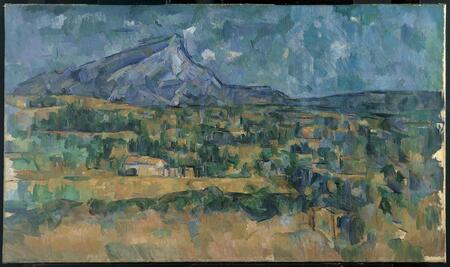 Surely I have photos? A kind of desperation to get to them all, photograph them again with their accumulating areas of blue, the blue over blue. Panic of separation. Forty-five minutes of searching through photos, no, it seems I never took pictures of that. How many hours have I stood in front of it. The reproduction is impressive, the Met allows you to focus in on brushstrokes, but it doesn't seem like my own impression, I feel it effacing my memory. So not that painting. And not the Bay of Marseille, Seen from L'Estaque c. 1885 at the Art Institute either.
We were to go to France this spring. I was going to see paintings and talk with curators, go to Aix, and see, for the first time, the bay at Estaque, Mont St. Victoire. Small losses; nevertheless, impediments to understanding; better to acknowledge.
Here's what I can find today. I did photograph the painting that hangs next to the Bay on the wall at the Art Institute. Here is the museum's photo of the The Bathers 1899 / 1904.
Four photographs.
And perhaps this is not so bad. Because you could look at them all day.
The lines around the figures are of a deep blue, I think it has cobalt in it. Without those lines the figures would dissolve. And blue is also the atmosphere, the air, sky, and water of the painting.
What I want to think about is this. There are two meanings of the word resolve, both from the French resolver. One began in the 14th century. As etymonline has it:
Late 14c., "melt, dissolve, reduce to liquid;" intransitive sense from c. 1400; from Old French resolver or directly from Latin resolvere "to loosen, loose, unyoke, undo; explain; relax; set free; make void, dispel."
Why is explain with loosen, set free, undo and dispel?
The second meaning came a century later:
From early 15c. as "separate into components," hence the use in optics (1785). Meaning "determine, decide upon" is from 1520s, hence "pass a resolution" (1580s).
Here the sense of determination, the courage and clarity to proceed. This is what I will think about today, and write about again tomorrow – how is Cézanne's blue holding both of these senses of resolve?
Close Observation
Monday, January 20, 2014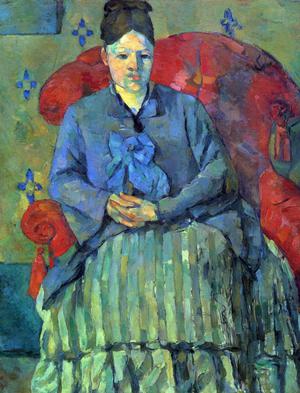 A woman, long blue shirt carefully tied over striped skirt, sits in a red chair. She leans a little to her right, our left, elbow on the arm of chair. Her hands are folded.
Cézanne's way of painting faces means that you can look at them or not. Everything has surfaces and depths. Much of the meaning of the figure is not in the face. The folded hands are important and beautiful.
Between the forefingers and thumbs are a green that relates them to the skirt below, a blue consonant with the blue shirt above. Shapes of laced fingers echo shape of dark what seems to be locket or pendant about neck.
Somewhere Roger Fry writes about the courage of Cézanne's face-on verticality. The painting ought to be static, there is so little motion in the way the figure and face are arranged. All the motion has to come from the paint itself.
The red armchair. Faces, designs, flowers in it. Begins to have an unusual kind of softness around her.
The model is Hortense Fiquet, for many years his mistress and eventually his wife. He painted her almost thirty times.
The skirt.
Another place of conjunction. Red tassel over yellow wall with blue wainscoting, edge of blue shirt over skirt. All this is beautiful, orderly, loved, observed, and yet paint.
The Large Bathers
Sunday, April 21, 2013
Since my father's death I've been twice to look at the Cézanne
Large Bathers
that our museum has borrowed from the one in Philadelphia. I might have gone more often but with the baby there hasn't been so much time. It's a vast painting – eight feet high and nine long. The wall text says its vault of tree trunks makes a cathedral and this is right, not merely architecturally. These tree trunks, along with a general impression of blue, and the gathered naked bathers, are the things you're aware of before you know you're looking, and the trees – four major lines on the left, two which join on the right – organize the space and direct your view. The groups of people are at ease because they are gathered under and near the trees; the relationship of the figures – to the ochre ground, blue of water with swimmer, huge blue leafy cloudy sky – makes sense because of the curved, triangular view through the trees.
One of the things your eye is drawn to, small in the distance, is a church with an oblong blue roof over the main building, and a little higher, a triangular blue over its steeple tower. When I first saw this pair of roofs I thought they were one very beautiful shade of perhaps a cobalt blue. After I had been looking at the painting for some time I realized that the roofs incorporated many shades of blue. This was so obvious that I was quite surprised by how definite my early impression of a singular shade had been. I already knew that the relationships among colors take time to see in paintings, but I hadn't realized before how dramatically an impression of an individual color can change. In studying the painting, I had been acquiring subtleties of comparison and distinction, a general blue was becoming various enough to give me back figures, water, distance, sky. It was all there from the first, but I didn't have enough experience to see it.