Morisot Following Black
Frederick Project: Closed and Open
Sunday, March 22, 2020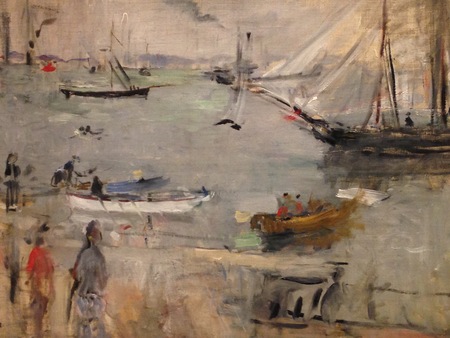 The first Morisot I ever really paid attention to was a small watercolor from the Clark Institute of Art (currently closed) that I happened upon in an exhibition of works on paper at the Frick (closed) in New York.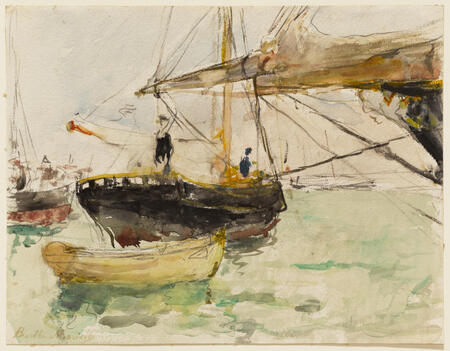 Berthe Morisot, Before a Yacht, 1875, Clark Art Institute, 8 1/8 x 10 9/16 inches.
I was taken by it.
And then, that afternoon, saw five of her paintings in a show on Impressionism and fashion at the Met (closed). By this fortunate set of circumstances, I was, in a single day, persuaded that I had missed one of the great painters in history, in a period I had studied extensively. It turned out that I was seeing an edge of transformation, after a century of consistent neglect, institutions and scholarship were beginning to attend to Morisot.
I set about repairing the absence in my own understanding – searching out her paintings in Paris (Musée Marmottan Monet, closed), in Chicago (Art Institute, closed), and then getting to spend many days in the 2018-2019 Morisot retrospective, which I covered for Apollo.
Now I could talk to you about Morisot for a day and a night. And I want to tell you everything, because there has never been anyone who handled paint with more freedom, and once you really begin to look at them, they blow space open.
*
This morning, I went back to my photos from the Morisot retrospective, which I first saw in the luminous installation at the Musée National des Beaux-Arts de Québec (MNBAQ closed). I wanted to follow the blacks of yesterday's Hokusai, those night-time blacks, which had an extraordinary boldness and freedom.
Katsushika Hokusai, Courtesan and Paper Lanterns, 1798/1800, the Weston Collection.
Detail photo Rachel Cohen.
Morisot would not have seen the Hokusai, but she was familiar with Japanese work of the Edo period, which was avidly collected in Paris. Some of the collectors were Morisot's friends Degas and Monet, and her brother-in-law Édouard Manet, another marvelous painter of black.
My eye lit on this harbor scene, English Seascape. It's probably from the same trip to England, in 1875, when she made the watercolor that first caught my attention. Morisot would go down to the harbor and sometimes go out on the boats, enjoying the challenge of working while she went up and down with the waves.
I don't have a picture of the whole, but this is all but the left edge:
Berthe Morisot, English Seascape, 1875, European private collection, 17 inches x 25.
Detail photo Rachel Cohen.
Black holds this together. Stretches the space apart.
You stand at the lower left, with these two figures: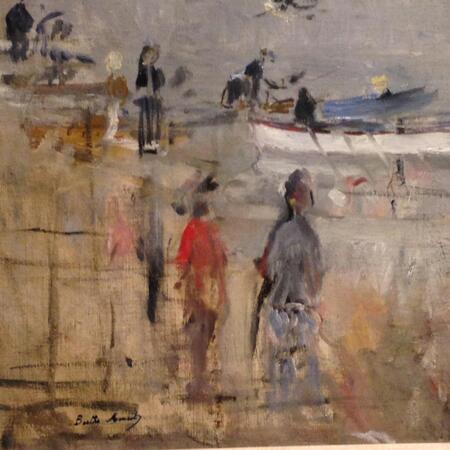 And before you is a great ship, dissolving into air:
And just look at this space: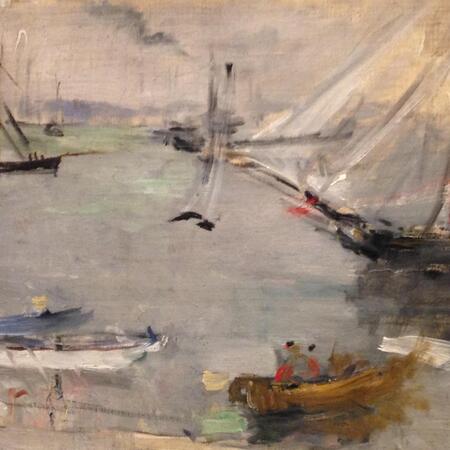 Thin Air
Tuesday, July 2, 2013

We are in the air. The baby and I. She sleeps in my right arm; I type with my left thumb. Clouds below discrete cotton floaters, at our level cirrus band and behind that at sky's horizon higher piled. Despite glimpsed majesty, in airplane capsule thoughts inward, my mother, her grief, my father's study, which I cleaned while home, naturally, as if straightening a desk nearly my own, books and notes, small discoveries, the text by Confucius, a picture of my sister her head thrown back in happiness.

I forget that I am often in the sky. The way clouds look from above doesn't occur to me; I have to force myself to think of it. They're cut out of life, these air interludes. But I notice the baby thinks of the sky as a place one can go. When the elephant jumps the fence or the bear sneezes and the animals go flying she holds the book up in the air as she does her tiny wooden plane when we talk of flying. This week she missed her Dad intensely and it seemed she had the idea that he had gone, not to a conference in Greece, but to the moon. 'Moon,' she said when we spoke of him, and once late, unable to fall asleep, she insisted we go out and look for the moon in the night sky.

She has a book in which a little girl asks for the moon and her father climbs a long ladder and brings it down for her. I had forgotten the book earlier this week, the night of the rare equinoctic moon, apparently larger and closer than in decades, which I wanted badly to get up at four in the morning to see, but instead dreamt of getting up to see and in the dream caught only the last sight, huge, pale orange and planetary, with rings like Saturn, slipping over the horizon. In the dream I told my mother and sister how beautiful it had been. I did then wake up and go out to look but it was already gone. The next day I told them of the dream and felt my father, planetary, hovering. But not to be reached by the baby and me, so far from these clouds even as we descend through them, much farther I think than Confucius was from his skies or I would not have written this into my cell phone as we fly.



Reading Toward Renoir
Tuesday, July 16, 2013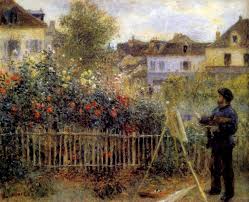 Renoir to me has always been the outlier – the one among the Impressionists without austerity enough to make room for me. Too sweet, too voluptuous. All skin, no air. But loved by Leo Stein, Gertrude's brother, who understood Cézanne's apples right away. When he and Gertrude split up the household they had for decades shared, both wanted the apples, but were content for her to keep the Picassos, him to take the Renoirs.

---

Stein was a man for whom sensuality was difficult and I've wondered if Renoir seemed to offer in an uncomplicated way, enjoyment. It sounds from the memoir written by the son, Jean Renoir, as if the painter was a rare person, fundamentally tolerant of himself and of other people. It's true that his paintings show people taking pleasure in life. Who else does that? Perhaps some Dutch painters, though there is often a suspicion that Frans Hals is laughing at his revelers. In Renoir they take a quiet pleasure. Jean Renoir says the sitters have "serenity." They are settled, but they are still full of the activity of being themselves; they look out on their surroundings and see much to interest them.

---

When the son spoke to the father of different women he had admired and painted, a great variety of women, society ladies and street walkers, the painter was full of appreciation, his greatest commendation, "she posed like an angel." In the portraits, the sitter and the painter seem to share a lively and devoted understanding.

---

There is a Renoir of Monet in a garden painting. I wondered when I saw the reproduction recently if it were a Renoir or a Monet. The flowers have a lot of whites reaching upward in a way that I thought might be Monet, but when I checked the back flap I was not really surprised to see that it was a Renoir. The way to tell would have been to look at the figure, the painter in his hat, all his energy turned toward his craft. Features, soft, almost indistinct, but the impression of the face is of concentration and happiness. He could be humming.

---

Apparently Renoir loved all craftsmanship. He had himself begun by painting porcelain and then window shades. His father was a very good tailor. Renoir used to lament the passing of know-how and the replacement of hand industries by machines. He had felt grateful to grow up in the old Tuileries neighborhood before it was torn down – all the stairways and niches and small corner carvings of the buildings bespoke the loving care of craftspeople. Women, he told his son, at their daily tasks, know how to live. "Around them I feel happy."

---

In a state of happy engagement people are very close to the surface, much closer then we usually are able to be even with close friends, whose faces barricade them in reserve. Perhaps what I have taken for too much luster, too much skin, is really more unsettling, the close presence of people in a state to which we are no longer accustomed, as we may find the unsanitized smells from earlier eras – a barnyard, a field of clover, dried lavender in sheets – overwhelmingly, almost intolerably, sweet.