Paint, paint, paint
Wednesday, September 16, 2020
On Monday, I went to the Art Institute of Chicago for the first time in six months. It was quiet; everyone had a mask. There were people with devices to check you in electronically and you were informed by text when there was enough space in the one exhibition that is drawing any kind of crowd. The atmosphere was reserved, cautious.
But the paintings.
El Greco, St. Louis King of France, and a page, Louvre Museum

El Greco, Fray Hortensio Félix Paravicino, 1609, Museum of Fine Arts, Boston

The paintings came pouring and leaping off the walls. The paintings were full of news and observations. The paintings had just left the Louvre and the Prado, and had come out of private homes for the first time in decades, had had the chance to be quiet together in their home in Chicago. They were busy conversing with one another. In the photos I took, and I took a great many, they spoke of humanity, struggle.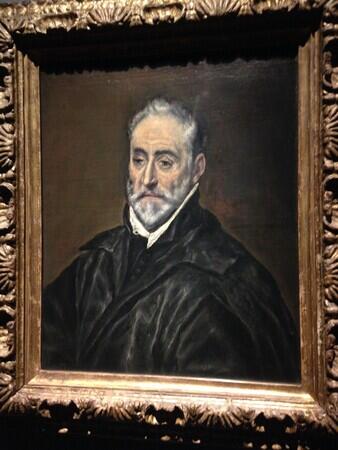 El Greco, Portrait of Antonio de Covarrubias y Leyva, about 1600, Louvre Museum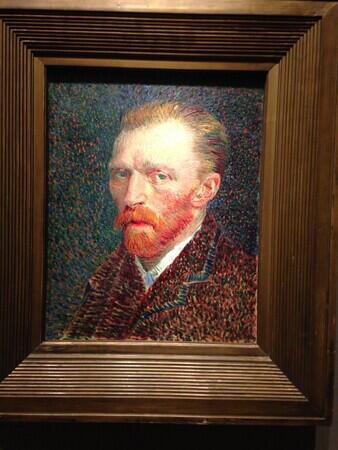 Vincent Van Gogh, Self-Portrait, 1887, Art Institute of Chicago
And of reflection.
El Greco, View of Toledo, ca. 1599-1600, Metropolitan Museum of Art, detail photo Rachel Cohen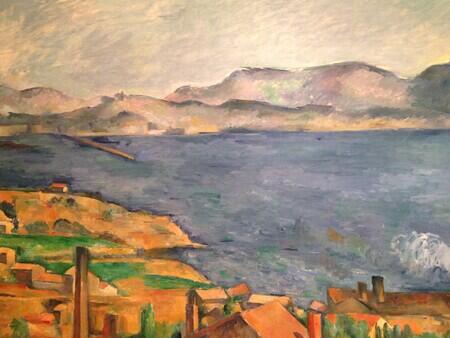 Paul Cézanne, The Bay of Marseilles, Seen from L'Estaque, c. 1885, Art Institute of Chicago

Claude Lorrain, View of Delphi With a Procession, 1673, Art Institute of Chicago
Claude Monet, Vétheuil, 1901, Art Institue of Chicago
But mostly they returned to one subject, one of infinite interest and variation:
Paul Cézanne, Still Life, on display at the Art Institute of Chicago but not on their website
paint,
Louise Moillon, Still Life with a Basket of Fruit and a Bunch of Asparagus, 1630, Art Institute of Chicago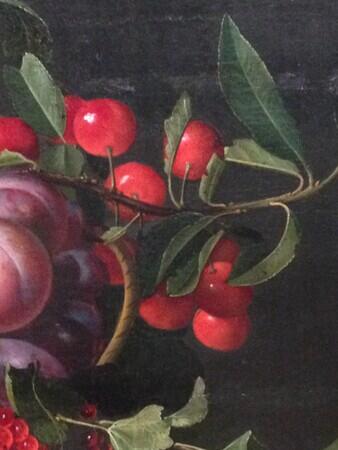 Louise Moillon, Still Life with a Basket of Fruit and a Bunch of Asparagus, 1630, Art Institute of Chicago
paint,
El Greco, St. Louis King of France, and a page, Louvre Museum
paint.
Monet, The Water Lily Pond, 1917-1920, Private Collection
Monet, The Water Lily Pond, 1917-1920, Private Collection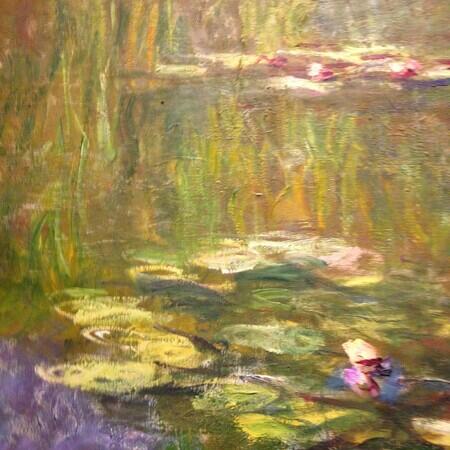 Monet, Water Lily Pond, 1917/1919, Art Institute of Chicago

El Greco, View of Toledo, ca. 1599-1600, Metropolitan Museum of Art, detail photo Rachel Cohen.
At the museum, it was delirious and quiet.
Late Manet
Frederick Project: Unfinished
Sunday, March 29, 2020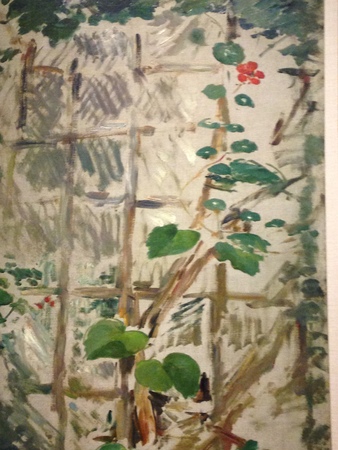 Last summer, the summer of 2019, the Art Institute of Chicago had a Manet show, Manet and Modern Beauty which I reviewed for Apollo Magazine.
The paintings in the show were mostly from the late 1870s and early 1880s, a period when Manet's touch and palette were lightening, he was interested in flowers and fashion, and he was also dying of complications of syphilis. Thus the tone was an odd combination of lightness, fluidity, melancholy, and decay.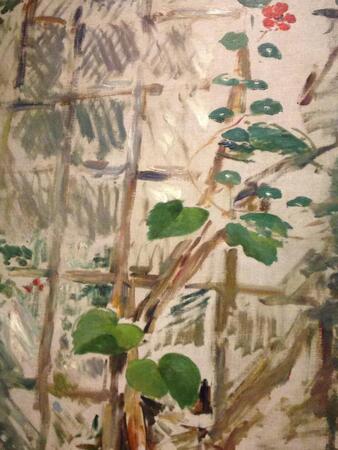 It was a very sad show. I had not realized that Manet was only fifty-one at his death, and he had not been one of my favorite painters, more a painter whose accomplishments and influence I recognized, so it had never really occurred to me to wonder what more he would have done if he had lived through the 1880s and 1890s when many of the paintings I love best – by Cézanne, Morisot, Monet and Pissarro – were made.
This painting, Morning Glories and Nasturtiums, 1881, from the McNay Museum of Art in San Antonio, was left unfinished, or was finished in a radical way, with areas of canvas still open and showing through. It leaves much to the imagination. To my eye, it is more like a sketch of thoughts and intentions. Ideas about the meaning of plants and the space around them.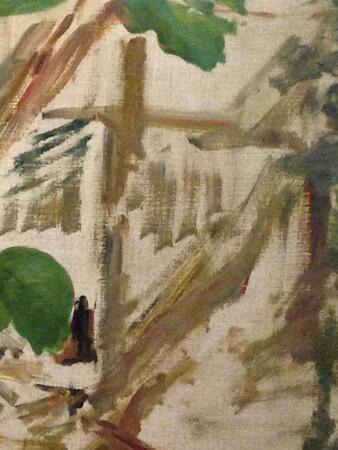 In the show, it was in a gallery with many beautiful letters that Manet wrote to his friends as he was increasingly confined by his illness. He decorated these with water colors of flowers, fruit, bees.
Here is a letter that, in palette and meaning, seems related to the Nasturtiums of 1881. The letter has a watercolor of a horse chestnut. Manet had sent it to Marthe Hoschedé, the year before, in 1880. It belongs to a private collector.
Marthe's father Ernest Hoschedé had been a very important art patron for Manet and others. Ernest Hoschedé went bankrupt in 1878, and moved his family in to a household with the painter Claude Monet and Monet's family. Monet's beloved wife Camille died the next year, in 1879. By the time this letter was sent to Marthe Hoschedé, her mother Alice had formed a new household with Monet and all of their children.
Layers of death, resilience, odd greens, empty spaces around them.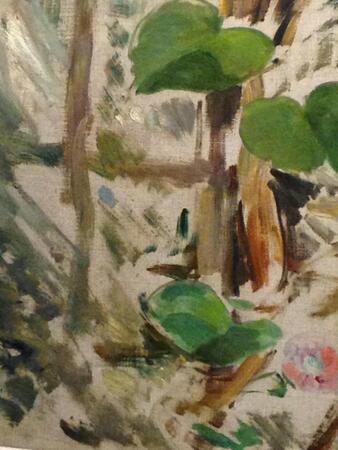 Shopping in Style
Friday, September 27, 2013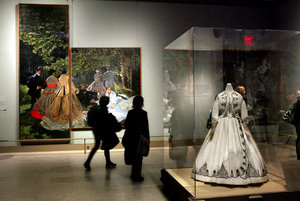 The Impressionists were my first painters, as I think they were many peoples'. They required no explanation. I liked them. I came early to painting and at twelve was fervently memorizing schools, dates, palettes, styles, as other children at that age remember scores, teams, clothes, lyrics. The works of each painter moved in my mind like small rushing galaxies; at museums, I knew a Degas or a Monet across a room.

As one grows older one comes to like bitter tastes. The first sweet passions of youth, even if still felt now and again in private, seem soft, insufficient, a little embarrassing. Coffee, Beckmann – one turns to darker matters. The Impressionists don't seem troubled enough; theirs are styles without irony.

One of the difficulties of seeing the Impressionists again is to learn to see the difficulties. The paintings – reproduced in cheap metal frames in every dorm room and dentist's office – can seem as if they're not really paintings, not really individual canvases labored over by individual artists, at all. Even the story of them, the way the artists were shunned by the Academy and were hungry and obscure and worked in a manner at the time genuinely radical and offensive, all seems shaded over with a sort of happy satisfaction. When I try to say what this happy satisfaction is, the one that these paintings can seem to exude, I find myself thinking that it is vaguely akin to the feeling of shopping.

Shopping – in the sense of ordinary middle class people wandering about in a maze of acquirable but not strictly necessary commodities – came to have certain peculiar characteristics in the 19th century in Paris as the Impressionists were growing up and beginning to paint.

Here is a description of the flâneur and the shopfronts taken from Pierre Larousse's Grand Dictionnaire universel (Paris 1872) that Walter Benjamin included in his Arcades Project, his vast fragmentary meditation on 19th century shopping arcades. "First of all, there are the flâneurs of the boulevard, whose entire existence unfolds between the Church of the Madeleine and the Théâtre du Gymnase. Each day sees them returning to this narrow space, which they never pass beyond, examining the displays of goods, surveying the shoppers seated before the doors of cafés…. They would be able to tell you if Goupil or Deforge have put out a new print or a new painting, and if Barbedienne has repositioned a vase or an arrangement; they know all the photographers' studios by heart and could recite the sequence of signs without omitting a single one." [Arcades Project, p451, translated Eiland, McLaughlin, fragment M18a,3]

Goupil, of whom it is immediately noticed if he has put out a new painting, opened the first retail house for the sale of paintings in 1829. The Impressionists were among the first French children to see paintings in shops. A fragment of an Etruscan fresco displayed in a Paris art shop window looks very different than a painting painted after the 1830s does in the same window, and part of the reason for this is deep in the consciousness of the painter, who knows his work is going to be seen this way, and who, as a result, gets unavoidably entangled in questions of style.

Here is what Larousse's image of the scrutinizing flâneurs suggests to me about an emerging idea of style. Examination, at a distance, of wares behind glass, of the style of shops, and the examination, at a distance, of bodies enveloped in clothes, of the wares walking about, recognizable by their style, a style that is an intricate combination of the style of the designer / manufacturer and the style of the wearer. Little thin layers of the exterior and the interior, wares of shops to be displayed inside homes and outside bodies; the painter of costumed bodies in decorated interiors reproducing these wares as further wares.

It was a troubling feature of the Metropolitan Museum's recent "Impressionism, Fashion, and Modernity," exhibition that it was harder than usual to tell the difference between the exhibition itself and the gift shop set up at the end. In the exhibition halls, mannequins in glass cases modeling clothes similar to those in the paintings had the effect of making the paintings seem like fashion plates for a magazine. Although this was possibly a productive confusion, it made me unhappy.

I came away with an incipient thought that the Impressionists' use of paint texture becomes a means of distinguishing the paintings at a great distance. A painting, like a dress along a boulevard, now had to be recognizable from afar – commerce adjudicated in the space of the 19th century city with its fashionable women and magazines of fashion.

In a way this might be considered a further step related to that of the late medieval Italian painters who began to paint on portable canvases and to sign their pictures. The authenticity and saleability of the object, both at once, are established by the signature and, in the later case, by the signature style.

Part of what now makes us, or me anyway, suspicious of the Impressionists is how saleable they are. The ever higher prices the original works command seems but the top of a pyramid of sales: you can buy reproductions of Monets in good oil paint for many hundreds of dollars, in museum gift shops you can buy silk scarves made in Italy with patterns of Monet's water lilies on them, online you can order for your baby a onesie made of camouflage fabric printed with a Monet.

All this apparel, for the exterior of the body and the interior of the home seems to make the Impressionists blameworthy. As if their facility with style and shopping diminishes their work. But perhaps this is a way of deflecting my own attention from the much more disturbing problem that museums have to a great degree set themselves up as large department stores, in which one acquires "looks" and purchases suitable accoutrements and mementos at the end of the visit. A Beckmann seems to scorn my commercial desire, have I been mistaken in worrying that the Impressionists comply with it?


Trying to be Taught
Friday, September 13, 2013

Reading about the early years in the lives of the Impressionists – the period in the late 1850s and early 1860s when they began to arrive and to meet one another in Paris – I have been thinking about the necessity and difficulty of finding teachers. Unlike writing, the craft of painting has always been passed on in ateliers and schools. Sometimes it seems like every painter in the mid-17th century in the Netherlands spent a productive period in Rembrandt's studio. Painting is an apprentice trade. You watch the hand of a master and your hand becomes knowledgeable. You practice under a master's eye and the lines of your drawings lose their clumsiness.
The men and women who became known as the Impressionists were desperate for teachers. As a young man in Le Havre, Monet was fortunate to stumble on Boudin and Jongkind. In Aix, Cézanne, arguing with his banker father to be allowed to study art and confined to the study of "dusty plaster casts" and "black and white engravings after paintings," was, John Rewald estimates, "in dire need of guidance."
[i]
But in Paris there was a surprising paucity of genuine help. The
Ecole des Beaux-Arts
, controlled to calcification by the persnickety academicianism of the followers of Ingres, had made a decades-long practice of excluding Delacroix and the fiery energy he would have brought to students in search of more expressive means. Delacroix himself, though his studio was open to any sincere seekers, was isolated and growing old. Teachers like Gérôme were fiercely critical of what seemed to them the ugly uncouthness that resulted when younger painters attempted to render realistically the world around them.
Delacroix, Tiger and Snake, 1862


Ingres, Turkish Bath, 1863
At that time, Courbet was the enfant terrible of realism and the Paris art world was shot through with partisanship. At the end of 1861, some students even left the
Ecole des Beaux-Arts
in protest and petitioned Courbet to teach them. He tried. For a few crazy months he rented a large space and everyone went there with great enthusiasm and he had horses and bulls brought in to be painted 'from life' and cartoons of this ran in the papers. But he was haranguing and repetitive, good at the manifesto of his own work but not at helping students discover their own and the experiment was given up in April of 1862, just at the time that Renoir enrolled in the
Ecole des Beaux-Arts
, and a few months before the arrivals of Sisley, Monet, and Bazille.
They met instead at the school run by affable, old-fashioned, unimpassioned Gleyre. He looked at a study of a nude that Monet had done and he said, "not bad!... but it is too much in the character of the model – you have before you a short thickset man, you paint him short and thickset – he has enormous feet, you render them as they are. All that is very ugly." The vigorous, impatient Monet remembered this vividly when he was interviewed about it some forty years later. Gleyre had continued, "I want you to remember, young man, that when one draws a figure, one should always think of the antique. Nature, my friend, is all right as an element of study, but it offers no interest. Style, you see, is everything."
[ii]
After that, Monet came to the studio just enough to pacify his family, who were already quite uncertain about letting him pursue painting.
Gleyre's interaction with Renoir is also illustrative. Renoir remembered, again decades later, that Gleyre had said to him, "No doubt it's to amuse yourself that you are dabbling in paint?" And light-hearted Renoir replied, "of course… if it didn't amuse me, I beg you to believe that I wouldn't do it!" Renoir thought Gleyre was "a second rate schoolmaster but a good man,"
[iii]
who at least "left them pretty much to their own devices."
[iv]
And Gleyre made a place where they could work. Determined to learn, Renoir, Bazille, and Sisley went on diligently in that studio, meeting afterward to talk through all their own ideas.
When these just-emerging painters looked around them in 1862, the teacher who seemed just a few steps ahead of them on the path was Manet. In those first heady conversations as they walked out of Gleyre's, Bazille told Renoir "Manet is as important to us as Cimabue or Giotto were to the Italians of the Quattrocento; and as the Renaissance is beginning again, we must be part of it..."
[v]
Part of the excitement of studying Impressionism is to watch how this quite large group of people was able to teach one another and themselves. In the lives of writers, two, three, four friends may have a long effect on one another's understanding, but in painting, large groups – in this case there are easily twenty figures of great significance, perhaps many more – may teach one another in a very substantial, personal way.
"Each of Renoir's friend brought him a gift for which he was grateful," the painter's son judged later. "Bibesco [a prince and patron] gave him his first opportunity to see the bare shoulders of women in their beautiful evening gowns; Cézanne revealed to him the precision of Mediterranean thought; Monet opened his eyes to the wild imagination of the people of the north European countries; and Pissarro formulated in theoretical terms his own and his friends' researches… Sisley's gift was gentleness."
[vi]
Manet, Concert in the Tuileries Gardens, 1862
---
Private Collection II (with Paul Valéry)
Monday, June 3, 2013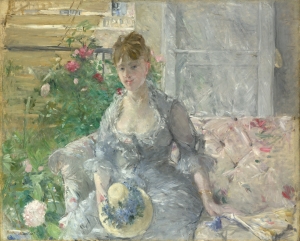 Some weeks later I remembered that I had read something about Berthe Morisot, long ago, in a book by Paul Valéry, a collection of occasional pieces about painting with the somewhat misleading title
Degas, Manet, Morisot
. I hurried back to read the passages on Morisot, three really, altogether perhaps ten pages.
The man who wrote the introduction to the volume decided, rather ruefully, that, despite living among the Impressionists and being himself so intelligent, Valéry's writing about them was only in a limited way perceptive. The poet seems in a way to take the painters and their achievements for granted. But, for me, these few passages, coming as they do from a man who was married to one of Morisot's nieces, and lived in the house that had been Morisot's, offer something more than useful about "Tante Berthe." Morisot's daughter and her cousins had grown up surrounded by paintings: Morisot's and also those of their close friends – Renoir, Degas, Monet. Berthe Morisot was Berthe Manet, as she was married to Édouard Manet's brother, Eugène. I've read Morisot's correspondence with Stephane Mallarmé now, too, and the letters give the impression of life intensively lived among a few choice acquaintances. "Rare and reserved," Valéry says; the work, too, is private.
Of all the artists he encountered, Valéry weighed it out, Morisot, he thought, was the one:
to live her painting and to paint her life, as if the interchange between seeing and rendering, between the light and her creative will, were to her a natural function, a necessary part of daily life. It is this which gives her works the very particular charm of a close and almost indissoluble relationship between the artist's ideals and the intimate details of her life. Her sketches and paintings keep closely in step with her development as a girl, wife, and mother. I am tempted to say that her work as a whole is like the diary of a woman who uses color and line as her means of expression. (119)
This might be a subtle way of dismissing a woman's work – another woman damned with praise for her understanding of the quotidian – but it doesn't strike my ear that way. Valéry also says of her canvases:
Made up of nothing, they multiply that nothing, a suspicion of mist or of swans, with a supreme tactile art, the skill of a rush that scarcely feathers the surface. But that featheriness conveys all: the time, place, and season, the expertise and swiftness it brings, the great gift for seizing on the essential, for reducing matter to a minimum and thus giving the strongest possible impression of an act of mind…. (121)
The surprising texture of paint in her handling, the odd inward structure of the material, these phrases of Valéry's, give something to think about.
Landscape of La Creuse, 1882, Private Collection.
Woman Hanging Out the Wash, 1881, Ny Carlsberg Glyptotek
Young Woman in a Rowboat, Eventail, 1880, Private Collection.
Citations from: Valéry, Paul,
Degas, Manet, Morisot.
Translated by David Paul. Edited by Jackson Matthews. With an Introduction by Douglas Cooper. Princeton University Press: 1960.
Paintings: see the Athenaeum.
Reading Toward Renoir
Tuesday, July 16, 2013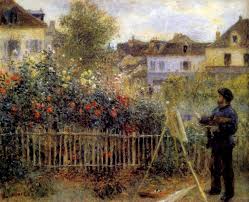 Renoir to me has always been the outlier – the one among the Impressionists without austerity enough to make room for me. Too sweet, too voluptuous. All skin, no air. But loved by Leo Stein, Gertrude's brother, who understood Cézanne's apples right away. When he and Gertrude split up the household they had for decades shared, both wanted the apples, but were content for her to keep the Picassos, him to take the Renoirs.

---

Stein was a man for whom sensuality was difficult and I've wondered if Renoir seemed to offer in an uncomplicated way, enjoyment. It sounds from the memoir written by the son, Jean Renoir, as if the painter was a rare person, fundamentally tolerant of himself and of other people. It's true that his paintings show people taking pleasure in life. Who else does that? Perhaps some Dutch painters, though there is often a suspicion that Frans Hals is laughing at his revelers. In Renoir they take a quiet pleasure. Jean Renoir says the sitters have "serenity." They are settled, but they are still full of the activity of being themselves; they look out on their surroundings and see much to interest them.

---

When the son spoke to the father of different women he had admired and painted, a great variety of women, society ladies and street walkers, the painter was full of appreciation, his greatest commendation, "she posed like an angel." In the portraits, the sitter and the painter seem to share a lively and devoted understanding.

---

There is a Renoir of Monet in a garden painting. I wondered when I saw the reproduction recently if it were a Renoir or a Monet. The flowers have a lot of whites reaching upward in a way that I thought might be Monet, but when I checked the back flap I was not really surprised to see that it was a Renoir. The way to tell would have been to look at the figure, the painter in his hat, all his energy turned toward his craft. Features, soft, almost indistinct, but the impression of the face is of concentration and happiness. He could be humming.

---

Apparently Renoir loved all craftsmanship. He had himself begun by painting porcelain and then window shades. His father was a very good tailor. Renoir used to lament the passing of know-how and the replacement of hand industries by machines. He had felt grateful to grow up in the old Tuileries neighborhood before it was torn down – all the stairways and niches and small corner carvings of the buildings bespoke the loving care of craftspeople. Women, he told his son, at their daily tasks, know how to live. "Around them I feel happy."

---

In a state of happy engagement people are very close to the surface, much closer then we usually are able to be even with close friends, whose faces barricade them in reserve. Perhaps what I have taken for too much luster, too much skin, is really more unsettling, the close presence of people in a state to which we are no longer accustomed, as we may find the unsanitized smells from earlier eras – a barnyard, a field of clover, dried lavender in sheets – overwhelmingly, almost intolerably, sweet.


A First Glimpse of Sargent and Monet
Wednesday, December 11, 2013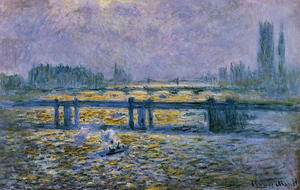 In a book on Monet's series paintings of London (between 1900 and 1904 he made almost a hundred paintings of three subjects: the Waterloo Bridge, the Charing Cross Bridge, the Houses of Parliament) I read this cursory paragraph:
The successful portrait painter Sargent, who urged Monet to show in London in the early 1890s, may have encouraged the artist's professional interest in London. He was very much in evidence when Monet was in London and assisted him in making arrangements, dined with him, and provided social contacts – some of whom may have been intended as potential patrons. [1]
They had known each other some time, apparently, and Sargent was good at, and generous about, practical arrangements.
In a letter from Pissarro to his son Lucien written in 1891, "What you say about Sargent doesn't surprise me; Monet had told me that he is very kind." Monet, though, seems to have had more feeling for Sargent as a compatriot painter than Pissarro did. In the letter, Pissarro continued, "As for his painting, that, of course, we can't approve of; he is not an enthusiast, but rather an adroit performer, and it was not for his painting that Mirbeau [the novelist and critic] wanted you to meet him. He is a man who can be very useful…" [2]
There he is -- Sargent -- darting about in the background of Monet's life. Encouraging, facilitating. Both men were extremely rigorous, both worked incessantly, both were fastidious in their artistic ideas and tastes. What did they mean to each other?
[1] Grace Seiberling, Monet in London, High Museum of Art, distributed by University of Washington Press, 1988, p36.
[2] Camille Pissarro, Letters to His Son Lucien, edited John Rewald and Lucien Pissarro, Da Capo, New York: 1995, letter of October 6, 1891, p183.