A little more late Manet
Frederick Project: Fortitude
Monday, March 30, 2020
Yesterday, I began from Manet's morning glories and nasturtiums to arrive at a letter he sent to Marthe Hoschedé, with a water color of a horse chestnut on it.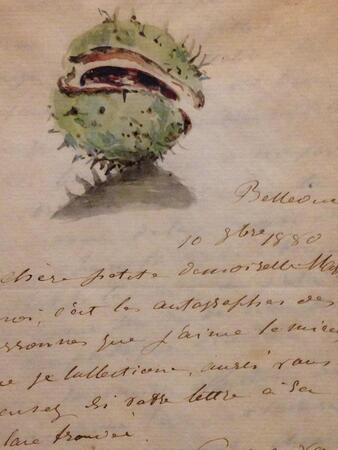 Letter to Marthe Hoschedé, Decorated with a Chestnut, October 10, 1880, private collection.
Detail photo Rachel Cohen.
In the exhibition, at the museum, next to the letter with the horse chestnut, there hung a watercolor of plums. Today I'm going to begin there.
Three Plums, 1880. Collection of Cecille Pulitzer. Detail photos Rachel Cohen.
Believed to have been made for an autograph album or a collector, but still with the casual, personal quality, watercolor on paper, a line of inscription.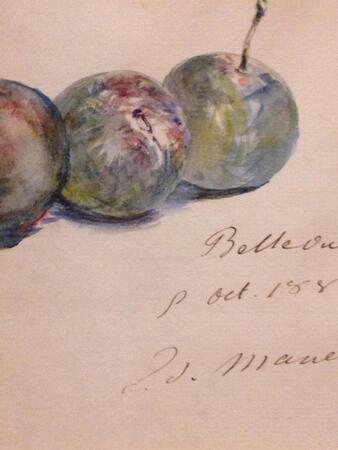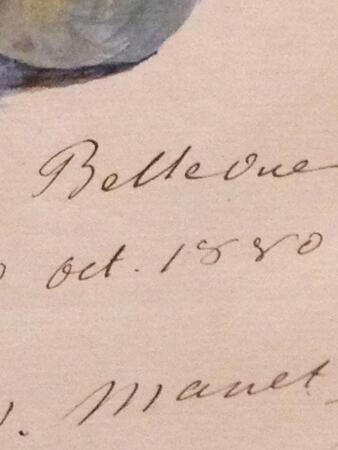 Mostly, I just want to show the layers, the colors.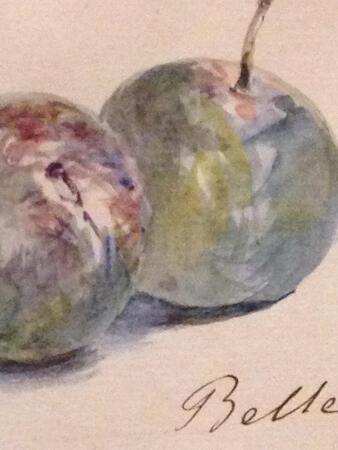 Notice the definition of the space just below and between the two fruits on the left, that unexpected red over blue.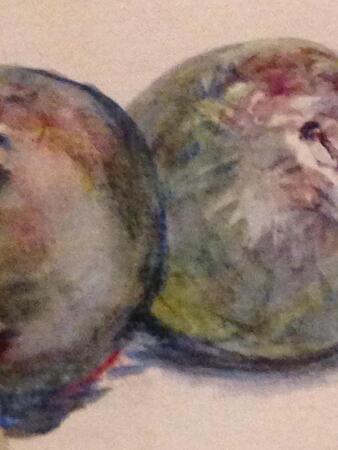 In the show, two rooms later, there was one of the great assemblages, perhaps a dozen still lifes from the very last years, when Manet was exhausted and ill and alone. In 1880, the same year he sent the watercolored letters, he painted these plums: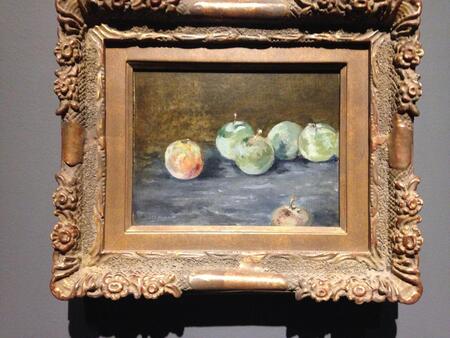 Plums, ca.1880, Museum of Fine Arts, Houston. Detail photos Rachel Cohen.
The still life has a long association with mortality, from the vanitas paintings of the Dutch tradition that Manet had studied intently, to the nature morte (literally translated dead nature) paintings of the French tradition, especially those by Chardin (1699-1779), who was one early father of Impressionism, and whose wonderful still lifes still impart tenderness, domestic fortitude, and courage. Manet, perhaps thinking of Chardin: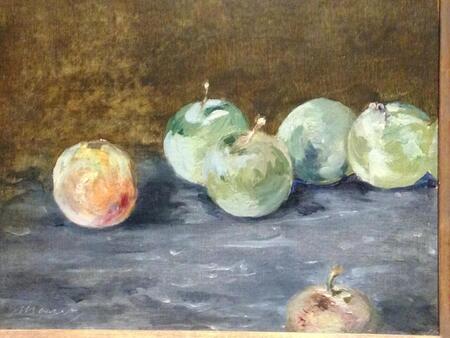 Topaz of the background: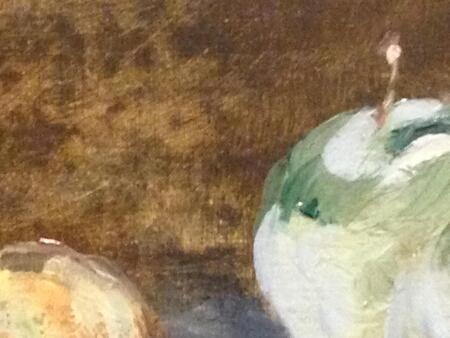 Notice the space between, the definition in blue this time: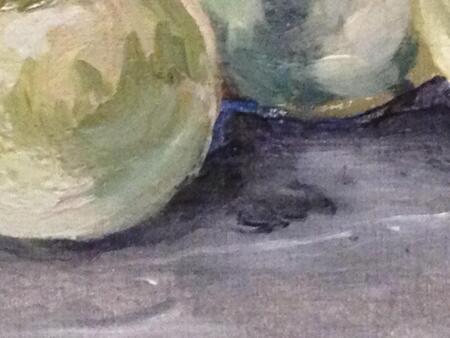 Manet had painted huge revolutionary canvases, the Déjeuener sur l'Herbe, and the Bar at the Folies Bergère, paintings that had provoked battles and schisms and had their place on the barricades. When he was dying and saw very few friends, and loved them, he painted these.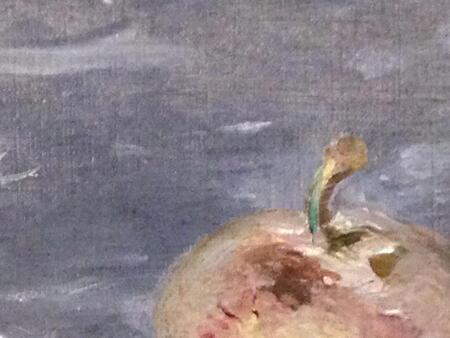 Trying to be Taught
Friday, September 13, 2013

Reading about the early years in the lives of the Impressionists – the period in the late 1850s and early 1860s when they began to arrive and to meet one another in Paris – I have been thinking about the necessity and difficulty of finding teachers. Unlike writing, the craft of painting has always been passed on in ateliers and schools. Sometimes it seems like every painter in the mid-17th century in the Netherlands spent a productive period in Rembrandt's studio. Painting is an apprentice trade. You watch the hand of a master and your hand becomes knowledgeable. You practice under a master's eye and the lines of your drawings lose their clumsiness.
The men and women who became known as the Impressionists were desperate for teachers. As a young man in Le Havre, Monet was fortunate to stumble on Boudin and Jongkind. In Aix, Cézanne, arguing with his banker father to be allowed to study art and confined to the study of "dusty plaster casts" and "black and white engravings after paintings," was, John Rewald estimates, "in dire need of guidance."
[i]
But in Paris there was a surprising paucity of genuine help. The
Ecole des Beaux-Arts
, controlled to calcification by the persnickety academicianism of the followers of Ingres, had made a decades-long practice of excluding Delacroix and the fiery energy he would have brought to students in search of more expressive means. Delacroix himself, though his studio was open to any sincere seekers, was isolated and growing old. Teachers like Gérôme were fiercely critical of what seemed to them the ugly uncouthness that resulted when younger painters attempted to render realistically the world around them.
Delacroix, Tiger and Snake, 1862


Ingres, Turkish Bath, 1863
At that time, Courbet was the enfant terrible of realism and the Paris art world was shot through with partisanship. At the end of 1861, some students even left the
Ecole des Beaux-Arts
in protest and petitioned Courbet to teach them. He tried. For a few crazy months he rented a large space and everyone went there with great enthusiasm and he had horses and bulls brought in to be painted 'from life' and cartoons of this ran in the papers. But he was haranguing and repetitive, good at the manifesto of his own work but not at helping students discover their own and the experiment was given up in April of 1862, just at the time that Renoir enrolled in the
Ecole des Beaux-Arts
, and a few months before the arrivals of Sisley, Monet, and Bazille.
They met instead at the school run by affable, old-fashioned, unimpassioned Gleyre. He looked at a study of a nude that Monet had done and he said, "not bad!... but it is too much in the character of the model – you have before you a short thickset man, you paint him short and thickset – he has enormous feet, you render them as they are. All that is very ugly." The vigorous, impatient Monet remembered this vividly when he was interviewed about it some forty years later. Gleyre had continued, "I want you to remember, young man, that when one draws a figure, one should always think of the antique. Nature, my friend, is all right as an element of study, but it offers no interest. Style, you see, is everything."
[ii]
After that, Monet came to the studio just enough to pacify his family, who were already quite uncertain about letting him pursue painting.
Gleyre's interaction with Renoir is also illustrative. Renoir remembered, again decades later, that Gleyre had said to him, "No doubt it's to amuse yourself that you are dabbling in paint?" And light-hearted Renoir replied, "of course… if it didn't amuse me, I beg you to believe that I wouldn't do it!" Renoir thought Gleyre was "a second rate schoolmaster but a good man,"
[iii]
who at least "left them pretty much to their own devices."
[iv]
And Gleyre made a place where they could work. Determined to learn, Renoir, Bazille, and Sisley went on diligently in that studio, meeting afterward to talk through all their own ideas.
When these just-emerging painters looked around them in 1862, the teacher who seemed just a few steps ahead of them on the path was Manet. In those first heady conversations as they walked out of Gleyre's, Bazille told Renoir "Manet is as important to us as Cimabue or Giotto were to the Italians of the Quattrocento; and as the Renaissance is beginning again, we must be part of it..."
[v]
Part of the excitement of studying Impressionism is to watch how this quite large group of people was able to teach one another and themselves. In the lives of writers, two, three, four friends may have a long effect on one another's understanding, but in painting, large groups – in this case there are easily twenty figures of great significance, perhaps many more – may teach one another in a very substantial, personal way.
"Each of Renoir's friend brought him a gift for which he was grateful," the painter's son judged later. "Bibesco [a prince and patron] gave him his first opportunity to see the bare shoulders of women in their beautiful evening gowns; Cézanne revealed to him the precision of Mediterranean thought; Monet opened his eyes to the wild imagination of the people of the north European countries; and Pissarro formulated in theoretical terms his own and his friends' researches… Sisley's gift was gentleness."
[vi]
Manet, Concert in the Tuileries Gardens, 1862
---
Morisot in Paris
Wednesday, June 4, 2014
At the Musée Marmottan last week a chance to really see Morisot: a whole room of the paintings; a smaller room with fifteen watercolors and a selection of works she owned; drawings by the artist and by members of her family; and a special exhibition of paintings from private collections that contained several further canvases.
[Edouard Manet at the Isle of Wight, c1875]
Struck, afresh, by the strange quality of paint as she used it. Very thick, the strokes seeming to hang almost like banners in the air, sometimes gauzier as curtains, but sometimes veritable stripes, and yet the works are of great transparency, luminous and fresh, the air always dewy, a light breeze stirring.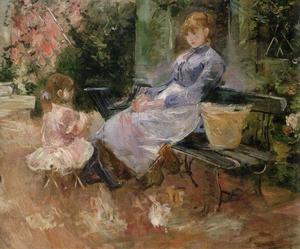 [La Fable, c1883, currently on display in Impressionism Privé at the Marmottan]
Some of this she worked out from Corot, one of her early teachers and a good friend, whose thick greens also manage to be ever-light and full of air. Some of the weight she had from Manet, the painter she probably worked in closest conjunction with, a lifelong companion in art, and in family life, since she was married to his brother. But where Manet is deliberately opaque, Morisot is spacious, and a peculiar kind of space, as if interior to the paint itself. The text at the Marmottan acclaims her, in my view rightly, one of the great watercolorists of her day, and suggests that her practice in watercolor influenced her objectives in paint. This seems plausible but does not really begin to answer the question: how?
Private Collection II (with Paul Valéry)
Monday, June 3, 2013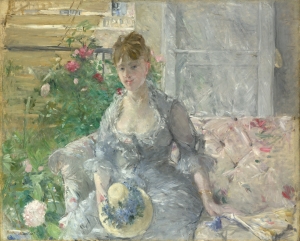 Some weeks later I remembered that I had read something about Berthe Morisot, long ago, in a book by Paul Valéry, a collection of occasional pieces about painting with the somewhat misleading title
Degas, Manet, Morisot
. I hurried back to read the passages on Morisot, three really, altogether perhaps ten pages.
The man who wrote the introduction to the volume decided, rather ruefully, that, despite living among the Impressionists and being himself so intelligent, Valéry's writing about them was only in a limited way perceptive. The poet seems in a way to take the painters and their achievements for granted. But, for me, these few passages, coming as they do from a man who was married to one of Morisot's nieces, and lived in the house that had been Morisot's, offer something more than useful about "Tante Berthe." Morisot's daughter and her cousins had grown up surrounded by paintings: Morisot's and also those of their close friends – Renoir, Degas, Monet. Berthe Morisot was Berthe Manet, as she was married to Édouard Manet's brother, Eugène. I've read Morisot's correspondence with Stephane Mallarmé now, too, and the letters give the impression of life intensively lived among a few choice acquaintances. "Rare and reserved," Valéry says; the work, too, is private.
Of all the artists he encountered, Valéry weighed it out, Morisot, he thought, was the one:
to live her painting and to paint her life, as if the interchange between seeing and rendering, between the light and her creative will, were to her a natural function, a necessary part of daily life. It is this which gives her works the very particular charm of a close and almost indissoluble relationship between the artist's ideals and the intimate details of her life. Her sketches and paintings keep closely in step with her development as a girl, wife, and mother. I am tempted to say that her work as a whole is like the diary of a woman who uses color and line as her means of expression. (119)
This might be a subtle way of dismissing a woman's work – another woman damned with praise for her understanding of the quotidian – but it doesn't strike my ear that way. Valéry also says of her canvases:
Made up of nothing, they multiply that nothing, a suspicion of mist or of swans, with a supreme tactile art, the skill of a rush that scarcely feathers the surface. But that featheriness conveys all: the time, place, and season, the expertise and swiftness it brings, the great gift for seizing on the essential, for reducing matter to a minimum and thus giving the strongest possible impression of an act of mind…. (121)
The surprising texture of paint in her handling, the odd inward structure of the material, these phrases of Valéry's, give something to think about.
Landscape of La Creuse, 1882, Private Collection.
Woman Hanging Out the Wash, 1881, Ny Carlsberg Glyptotek
Young Woman in a Rowboat, Eventail, 1880, Private Collection.
Citations from: Valéry, Paul,
Degas, Manet, Morisot.
Translated by David Paul. Edited by Jackson Matthews. With an Introduction by Douglas Cooper. Princeton University Press: 1960.
Paintings: see the Athenaeum.
Private Collection
Monday, May 13, 2013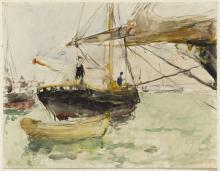 A small watercolor by Berthe Morisot was the most surprising thing I saw on our trip to New York. At the Frick, on loan from the Clark, in that basement space they use for special exhibitions and works on paper, in an assortment of drawings by French Impressionists. The watercolor is of a dark boat floating in green water among other crafts – masts, bow, lines for sail and anchor, a few indistinct figures moving about their work. Colors wonderful – shadows of boats reflecting darker green below, sense of movement, mass, buoyancy. Apparently she drew while herself on a neighboring boat and relished the difficulty of getting the lines while she herself went up and down. A much better draughtsman than I had realized, learning from Turner's watercolors in ways that I've not seen others do, allowing the colors to make a structure. Who is she? Berthe Morisot. The images I know are of her, especially Manet's portraits, not by her. At the Met later that day four or five really wonderful paintings by Morisot as part of their "Impressionism and Fashion" exhibition. The women in these paintings – reclining or sitting, looking in mirrors or at us – emerge out of a shaded and subtly modulated atmosphere. The air itself is thick with paint that condenses in the figure. Clothes are beautiful. A manifestation of what animates their wearers. These women have not been dressed, they dress themselves. I had little time, but tried to look carefully at just these paintings, promising myself that I would spend more time with them one by one in the museums where they reside. In the gift shop, quickly scanning the one book on Morisot, I saw to my disappointment that nearly all her work is in private collections.
A Shawl for Morisot
Tuesday, September 10, 2019
Last summer, the summer of 2018, I was immersed in the work of Berthe Morisot.
I spent three days in Québec City, at the Musée national des beaux-arts de Québec, at the revelatory Morisot retrospective, which I reviewed for Apollo Magazine.
https://www.apollo-magazine.com/berthe-morisot-comes-into-her-own/
I was one of the critics who called for a reconstitution of our understanding of Impressionism with Morisot centrally placed. I said that scholarship and consideration should be given to Morisot in relation to Manet, Degas, Renoir, and Monet, on all of whom she had considerable influence, both as a painter, and as a close friend. I speculated about shows I would like to see – shows of Morisot and Monet, a show on landscape painting, another on gestural painting; another, A Woman Alone: Paintings by Morisot, Toulouse-Lautrec, Valladon, Manet.
In the year that followed, I saw the Morisot show again, in Philadelphia at the Barnes Collection. The months passed, and, in the back of my mind, I went on with a kind of subconscious labor. It really is hard work to change received notions about significance. I have loved Morisot's work for years, and sought it out in every museum I can; I have been writing about it in this notebook since 2013.
https://rachelecohen.com/blog/Impressionism/Morisot/23
And yet, it is so engrained in my apprehensions – what is important in a painting, what constitutes a discovery, what I am looking for as I first cast my eyes over a canvas – that I am still just at the very beginning of seeing Impressionism again with Morisot worked through my vision.
This summer, of 2019, there was a show at the Art Institute of Chicago called Manet and Modern Beauty. I reviewed this show for Apollo, too, and saw it five or six times over the course of the summer. The Manet show was many years in the planning, and so it would have been hard for the curators to take account of the 2018 Morisot show. It did not seem fair to criticize this lack in my review.
Nevertheless, I feel a missed opportunity, to let the Manet show build upon what was brought out by last year's Morisot show. The curators' choice to focus on lesser known works – Manet's green garden paintings, his late portraits of women alone, his interest in fashion, the delicate still lifes of his last year of illness – meant that they did turn their attention to the paintings most directly in conversation with Morisot. But this conversation was only acknowledged briefly in one wall text, next to a nude that Morisot had bought for herself at Manet's estate sale after his death. The show focused on the influence several other women had on his work, women with whom he enjoyed conversation, whom he painted, and to whom he sent lovely illustrated letters. But what of one of the geniuses of the period, who was his sister-in-law, and whom he saw sometimes daily, whose paintings he owned and valued, who had painted next to him for nearly fifteen years, and whom he had painted fourteen times? Surely his ambitions in these greener domains had to do with his relationship with Morisot?
* * *
I think it might be interesting to get all the way down to the fine grain of looking at one painting, to see if I can bring out what it would be to see Manet with Morisot in mind. I am trying to give myself the consciousness of someone who, as a child, had always seen Morisots displayed prominently in important museums, had always been told that the freedom of her brushwork was one of the great achievements in the history of paint, one that had opened the gates for gestural abstraction in the 20th century.
At the Manet show, I round a corner and see this: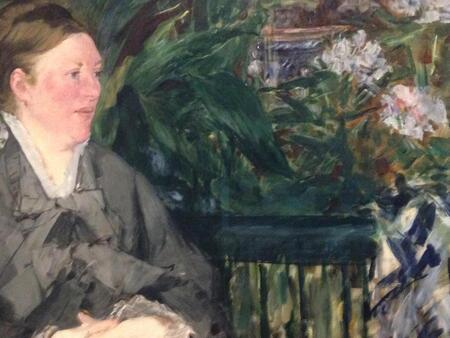 And the first thing I think, is 'look at that shawl on the right, that is pure Morisot.' That is just the way that she gets volume by feathered strokes of white – the rush and power of a swan.
I look at the date, signed and dated by the artist in 1876, but, because of a complex set of different historical accounts, considered by curators to have been worked on in the range of 1876 to 1879. Suzanne Manet was a pianist, from the Netherlands. She kept this portrait for herself, and it was not displayed publicly. Eventually, in 1895, she could no longer afford to keep it, and she had to sell it.
Édouard Manet would already have thought of Morisot as a virtuoso of white. Some years before, she had given him her painting of 1869, The Harbor at Lorient, with a woman seated on a stone wall, dressed in white with touches of dark blue. In 1876, beginning this painting of his wife, stopping by Morisot's studio, which was the center room of the family home, a studio that he saw both because he paid attention to her work, and whenever he went to see his brother, he could have seen The Mirror (1876) taking shape: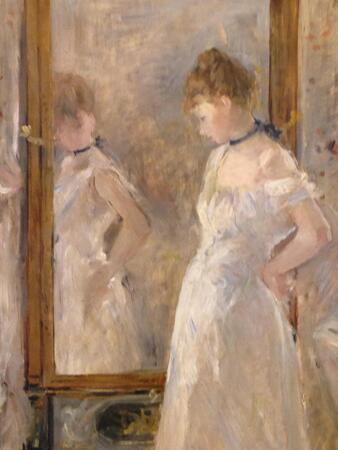 He would have seen her white cloths over a long fence, in Hanging the Laundry Out to Dry, from the previous year, of 1875,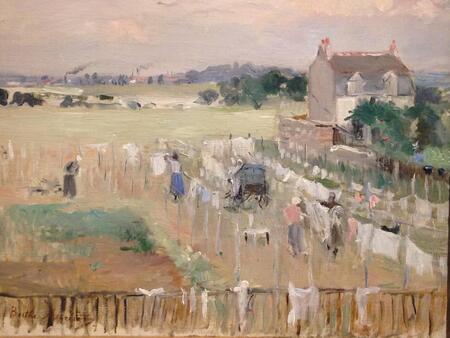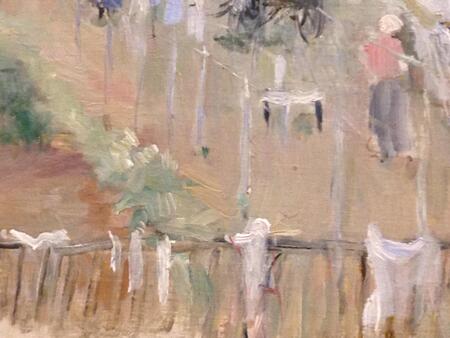 Perhaps his eye would have been caught by these two girls, from a painting done in England, also in 1875. She often intermingled white with blue around children, and the waists and necks of women: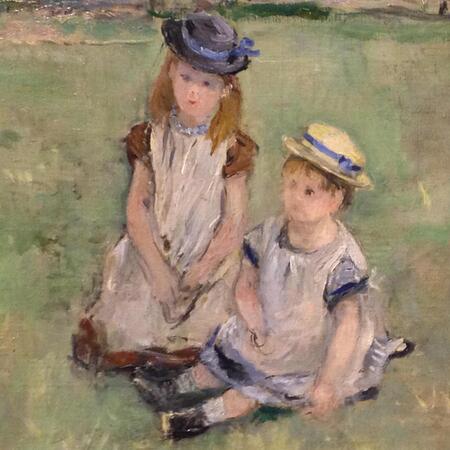 He would certainly have known this 1875 portrait, In England, of his brother looking out the window.
How related their two private paintings are: on the left, loved spouse; dark green connecting rail – of a window, of a bench – ; white effusion on viewer's right.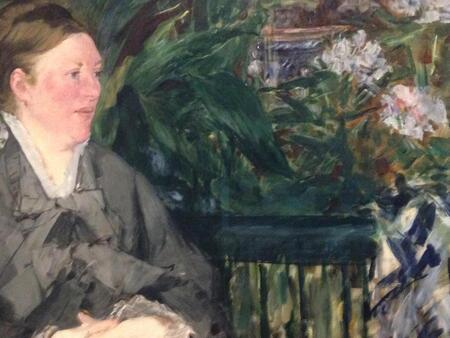 Manet had a wonderful eye, and he knew what to borrow. In that white scarf or shawl thrown over the back of the green bench, he interlaces a deep many-shaded blue. It was as if he saw it and tossed it off, a magnification of what Morisot was already doing and would do more of. This combination was, and would go on becoming, one of Morisot's most characteristic – she would use them again and again – her own complex white, with touches of that deep bright blue.
Near the arm of a woman dressed for a ball, in 1879: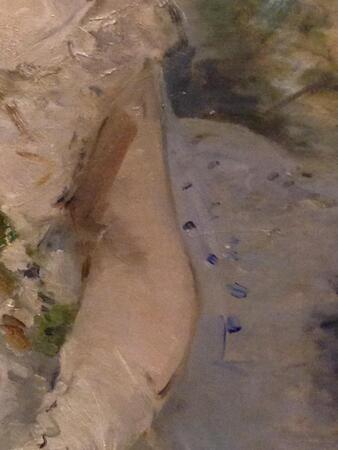 Her daughter, Julie Manet, daughter of the painter Eugène Manet, niece of Édouard Manet, uniting three painters, painted here with her nurse, in 1880.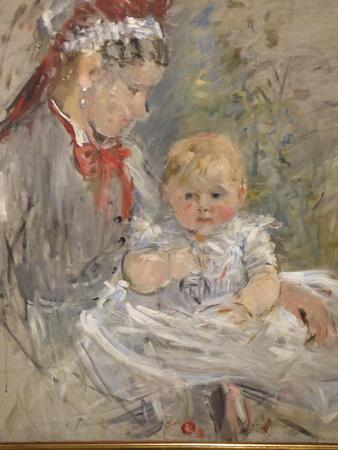 The shawl Manet painted is a record and a prediction, and it is a guide for looking at Morisot's work, and for how he looked at it. It is as if it were Morisot's shawl, perhaps she left it visiting one day, that he has included as a part of the portrait of his own talented wife. Four adults, three painters and a musician, their private thoughts and the world they shared.
When she painted Serving Girl in 1886, her brother-in-law had been dead for three years. She had thought so much about it -- there it is, pooled again, above and beneath the woman's feet.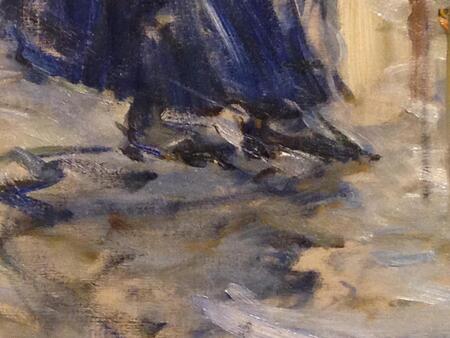 Open to the Public
Sunday, November 17, 2013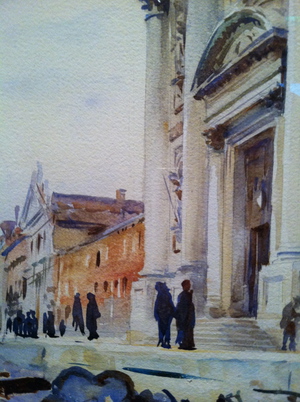 Last Friday at the Isabella Stewart Gardner Museum I had a notion of looking for her Sargents, to keep company with the sense of the artist developing in my mind because of the watercolor show at the MFA. On entering the Gardner I must have half-noticed a small poster with a Venetian-looking Sargent on it, but this didn't entirely register. I went first to the new wing to look at the Sophie Calle show Last Seen, about the great theft of pictures from the Gardner in 1990.
This show I liked very much. Simple, a photograph of a person standing in front of an empty frame, next to it, in the same size and shape as the frame, a series of short quotations from different people about the missing work. Some from interviews done at the time of the theft, a more recent group done now, about the empty spaces twenty-three years on. The show had a kind of intimacy with the paintings, especially in those quotations about the missing pictures that clearly came from the guards. One, speaking of a little Rembrandt self-portrait etching, a piece that had been stolen before, said that she (or he) always felt a little extra protective of that one, "I would just give it a little look as I went by."
I went down the bright Renzo Piano stairs and into the dim museum Gardner designed herself to look for the Sargents. In the first of the small dark rooms containing the flotsam and jetsam of sketches done by Gardner's acquaintances lowers one great brooding Manet of his mother. In the second little room, there should have been the Sargent watercolor of Gardner wrapped in white, the last portrait of her before she died.
I asked the guard about the sketch's whereabouts. He was large, friendly, Russian, too friendly, he had already accosted me about a daub with orange flowers, and made me guess who had drawn an awkward sketch of a dancer. I said had the portrait gone to the MFA show, though I knew that was unlikely since the Gardner cannot lend or borrow. No, he said grandly, "it is in our show." A little group, in the space beyond Mme Manet.
Eight, and the four on the left wall of Venice, and each of those four as good as the best on display across the Fens. Brilliant, improvisatory, dedicated, and, as I looked, a sudden lift, each one in turn seemed to give the air and moisture of Venice, I was in the city, felt it.
I had been careful at the MFA, but it was always so crowded in the first room of the watercolors of Venice that in the end I hadn't needed the protection. They were just beautiful quick images, I didn't have to think of our trip to Venice earlier this year and of scattering my father's ashes there as he had asked. At the MFA I had noticed, admired, walked on.
But here at the Gardner, suddenly, taken by surprise, there is was, Venice. And then I longed to be there, and to think of my Dad. I would try to take down what Sargent had done to transport in this way. No photographs in the Gardner, of course, so I thought I would sketch his sketches.
I had just done the first, boats riding at anchor with the great church behind when another guard interrupted me. "I'm sorry, miss, no pen is allowed," and he proffered a dull pencil, bitten or broken in half. "I forgot," I said pleasantly, and, still determined, set to work to do the others in pencil. Of course it was much less fluid, and without ink couldn't approximate the vivid feeling of looking, but I got some of the shadows. Another guard had come in and begun to talk in a loud voice to the one who had given me the pencil. I was midway through the third image, of a low bridge over the water, when it became impossible to pretend that my concentration had not been destroyed by his insistent story, about a man who had deliberately put his face too near the crotch of a boy, and the boy's reaction. I glared to little effect, finished my sketches for form's sake, and tried to return the pencil on departing, "you may keep it," the guard said magnanimously….
I went up to the top floor, to see Sargent's full-length oil portrait of Mrs. Gardner. It was her fault, anyway, all of these ridiculous regulations, no photos, no pen, even sketching made almost impossible, these hovering, intrusive guards. I've liked the stories of the early days of her museum, how shocked she was by souvenir hunters (and it's true one lady did take our her scissors and try to take home a swatch of tapestry) and by teachers lecturing students, and by, worst of all, reporters, and how difficult she made it for the public to attend the museum that she intended to offer to that same public. So difficult that in the end she was charged all the back taxes she had avoided by claiming that her art imports were for the public good. This was all amusing enough, I thought to myself, mounting the staircases, but even a century later the place was still uncertain about just how open to the public it intended to be.
She presides in Sargent's portrait, and there is a glad welcome in the figure – "you've come, you've come all the way up," she says, and is pleased. What if they'd taken that picture? I thought I would go down again, and try to see the Venice my Dad loved and had left himself to.
There was no one in the little alcove when I entered. I had stood for a few seconds, thought I detected the first slight trembling, and through the door barreled the large Russian guard, waving his arms. As he came up to me, much too close, I said, frigidly, "I really would like to look at these pictures by myself, please." He sealed up his mouth but waved energetically behind me. Yes, I said, I had seen the one of Mrs. Gardner. He nodded and walked away. Of course that finished it. Had I been rude, probably I had been rude. The openness I had to the pictures was gone. I went and found the man, thanked him again for his help; he hardly nodded.
I left the Gardner.
And went across to the MFA, and went down to see the Sargents. No one advised me, no one interrupted me, no one cared how I looked at the watercolors. One of which was almost an identical view of I Gesuati that had seemed so evanescent at Mrs. Gardner's. I can reproduce it here:
The pale yellow wash of the façade, the beautiful dark blue and gray details. But the one at Mrs. Gardner's, without passersby, with a more steep angle of the water and stone wall, was undeniably more dramatic, more empty. I had thought of my father, walking there.
How do the dead come and go in the places to which they have left themselves?
Sophie Calle had asked a medium to come and look at the empty frames in the Gardner. The medium had felt joy, felt that the spirit of the paintings was now diffused through the whole museum, and that the frames were open to possibility as they hadn't been when they contained the paintings themselves.
I do not know how long it takes to come to the point where we do not wish our dead back on the actual earth with the air playing over their living faces, but I am not there yet. I want the paintings back.