Faith Ringgold at St. Tropez
Frederick Project: Colors and History
Friday, March 20, 2020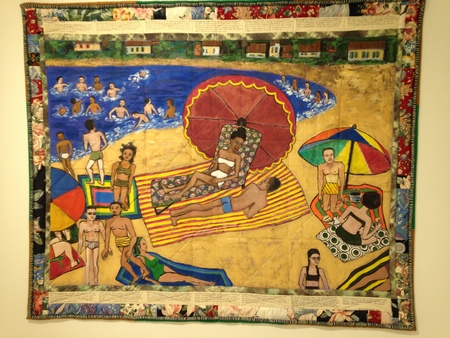 Thinking of intense experiences of color in the last few months. Immediately Faith Ringgold. Her painted canvas and quilt On the Beach at St. Tropez, from the series of twelve story-quilts The French Collection, which came as a revelation in the Smart Museum of Art's show called Down Time: On the Art of Retreat this past fall.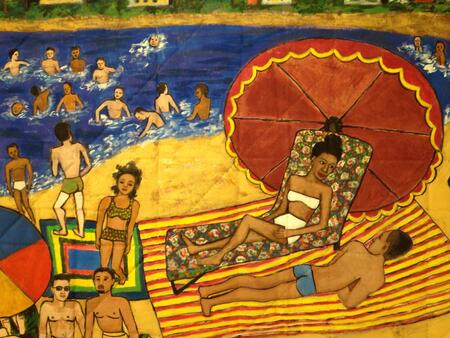 You walked into the gallery and were literally flooded with color.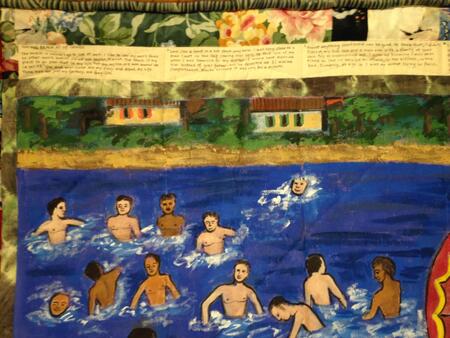 Ringgold paints on canvas then stitches the canvas to quilt, finishes the backs with cotton batting. A bravura painter, years of careful experiments with pigment to get the skin tones she wanted, the flatnesses and depths of water, cloth, patterns.
You are also immediately aware of the story – border of carefully written incidents running along the edges. The stories are about Willia Marie Simone, a fictional character with some qualities of the painter and some of the painter's mother and some that are the character's own. (I will try to decipher one of the stories for a later entry, my pictures are smaller than I had thought.) Willia Marie Simone ran away to Paris at the age of 16, in the 1920s, and had a storied life. The work is so very witty.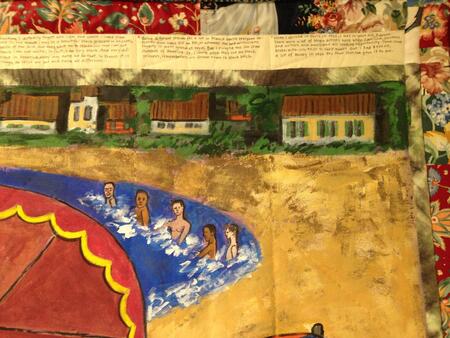 There are many articles that follow a well-worn, useful, but somehow insufficient path, explicating how, in this series, Faith Ringgold insists on the place of African-American women and artists who have been left out of history and museums. Looking at this quilt, the size of a wall, its flooding colors, my impression was more of something that shrugs its shoulders and rises.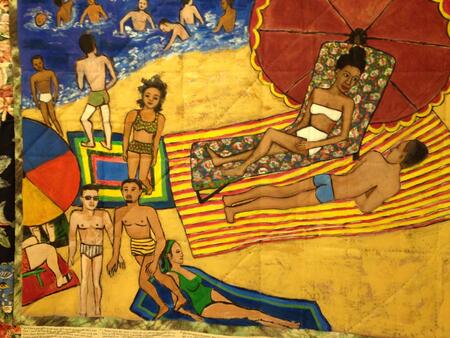 It's all there, really: the quilters of Gee's Bend, making their glorious abstractions from the worn clothes of their families who labored; the bathers of Cézanne and Degas stretching back to the bodies of the Italian Renaissance; the rogue persona storytellers in Zora Neale Hurston and Fernando Pessoa; all these kinds of work that Ringgold had done her training with, and had loved enough to do justice to them (meaning that she saw them whole, with their beauties and the things they failed to see). She knew them, and had thrown them over her shoulder, so that art could rise anew.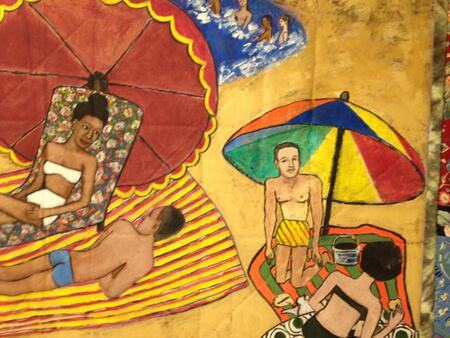 Color tells stories that cannot be abstracted from history – joyful as a child in sand, forceful as a woman at the height of her powers, unforgetting as age.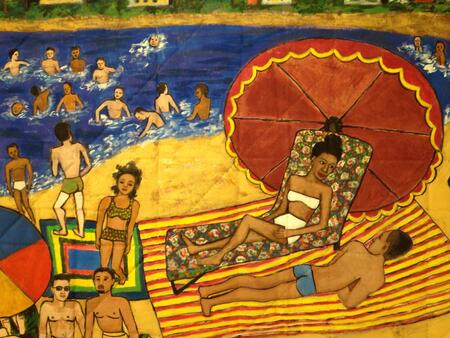 Down Time: On the Art of Retreat at the Smart Museum of Art was curated by Leslie Wilson in collaboration with the students University of Chicago's department of art history's course Exhibition in Practice.
Sophie's Painting
Sunday, July 30, 2017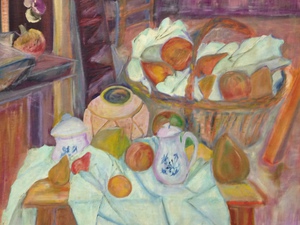 My cousin Sophie is dying. She is ninety. It seems likely that she will die today, and I hurry to write those words to use the present tense one last time. We were with her, all of us, at different moments in the last couple of weeks. My mother is there now.
Sophie loved painting. She took painting classes in New York in the 1960s when she lived there, and there are still many of her paintings, some on squares of canvas with a cardboard backing, some directly on cardboard. They seem insubstantial, but they have held up for fifty years. She used a paint called caesin, which, a painter once told me, is actually quite a good paint, now mostly discontinued, and this has preserved the vividness of her choices of colors. She admired Marsden Hartley, always had a Marsden Hartley still life up in her small apartments, and, from the look of this picture, which I had not seen until last week, Cézanne.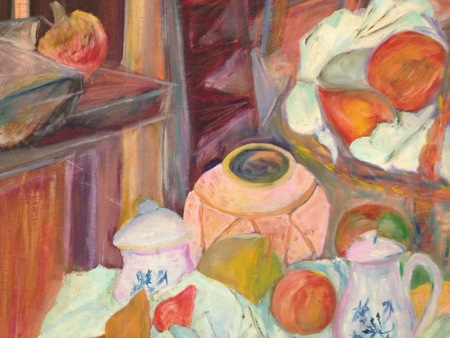 Maybe it is a very good painting and maybe it is only wonderful to us. I did not have time to tell. But perhaps I would not even be able to tell if I spent a lot of time with it. I like the hot colors, the purples and oranges of a Bonnard, and I like the odd declivities between the shapes, all jumbled together, but not really impinging on one another. This was like Sophie, she had delight in color, saw no need for fussy restraint, and she was always unto herself, even when generous with other people. She was self-contained, but not elusive, she had an independent presence that I recognize in the objects she has painted.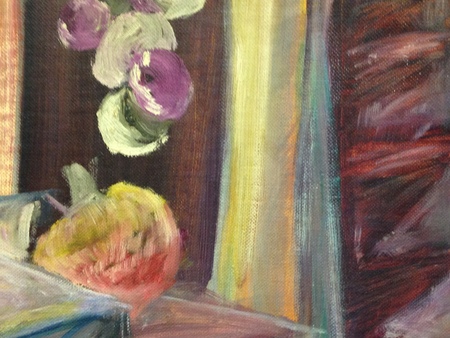 I am sitting in the garden, a midsummer garden in which every plant bears a different combination of different shades of green, each unto itself, the whole so harmonious. Our daughter, whose middle name is Sophie, is behind me, sitting on the wooden steps, secluded under the arch of vines, reading a book. There will be a phone call, perhaps in a few minutes. A painting may say,
now, we are here.
Sophie Degan died early in the morning of August 1st. May she rest in peace.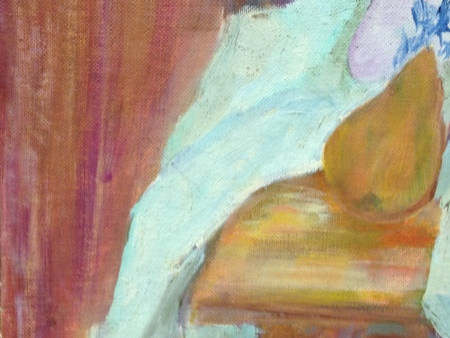 Trying to be Taught
Friday, September 13, 2013

Reading about the early years in the lives of the Impressionists – the period in the late 1850s and early 1860s when they began to arrive and to meet one another in Paris – I have been thinking about the necessity and difficulty of finding teachers. Unlike writing, the craft of painting has always been passed on in ateliers and schools. Sometimes it seems like every painter in the mid-17th century in the Netherlands spent a productive period in Rembrandt's studio. Painting is an apprentice trade. You watch the hand of a master and your hand becomes knowledgeable. You practice under a master's eye and the lines of your drawings lose their clumsiness.
The men and women who became known as the Impressionists were desperate for teachers. As a young man in Le Havre, Monet was fortunate to stumble on Boudin and Jongkind. In Aix, Cézanne, arguing with his banker father to be allowed to study art and confined to the study of "dusty plaster casts" and "black and white engravings after paintings," was, John Rewald estimates, "in dire need of guidance."
[i]
But in Paris there was a surprising paucity of genuine help. The
Ecole des Beaux-Arts
, controlled to calcification by the persnickety academicianism of the followers of Ingres, had made a decades-long practice of excluding Delacroix and the fiery energy he would have brought to students in search of more expressive means. Delacroix himself, though his studio was open to any sincere seekers, was isolated and growing old. Teachers like Gérôme were fiercely critical of what seemed to them the ugly uncouthness that resulted when younger painters attempted to render realistically the world around them.
Delacroix, Tiger and Snake, 1862


Ingres, Turkish Bath, 1863
At that time, Courbet was the enfant terrible of realism and the Paris art world was shot through with partisanship. At the end of 1861, some students even left the
Ecole des Beaux-Arts
in protest and petitioned Courbet to teach them. He tried. For a few crazy months he rented a large space and everyone went there with great enthusiasm and he had horses and bulls brought in to be painted 'from life' and cartoons of this ran in the papers. But he was haranguing and repetitive, good at the manifesto of his own work but not at helping students discover their own and the experiment was given up in April of 1862, just at the time that Renoir enrolled in the
Ecole des Beaux-Arts
, and a few months before the arrivals of Sisley, Monet, and Bazille.
They met instead at the school run by affable, old-fashioned, unimpassioned Gleyre. He looked at a study of a nude that Monet had done and he said, "not bad!... but it is too much in the character of the model – you have before you a short thickset man, you paint him short and thickset – he has enormous feet, you render them as they are. All that is very ugly." The vigorous, impatient Monet remembered this vividly when he was interviewed about it some forty years later. Gleyre had continued, "I want you to remember, young man, that when one draws a figure, one should always think of the antique. Nature, my friend, is all right as an element of study, but it offers no interest. Style, you see, is everything."
[ii]
After that, Monet came to the studio just enough to pacify his family, who were already quite uncertain about letting him pursue painting.
Gleyre's interaction with Renoir is also illustrative. Renoir remembered, again decades later, that Gleyre had said to him, "No doubt it's to amuse yourself that you are dabbling in paint?" And light-hearted Renoir replied, "of course… if it didn't amuse me, I beg you to believe that I wouldn't do it!" Renoir thought Gleyre was "a second rate schoolmaster but a good man,"
[iii]
who at least "left them pretty much to their own devices."
[iv]
And Gleyre made a place where they could work. Determined to learn, Renoir, Bazille, and Sisley went on diligently in that studio, meeting afterward to talk through all their own ideas.
When these just-emerging painters looked around them in 1862, the teacher who seemed just a few steps ahead of them on the path was Manet. In those first heady conversations as they walked out of Gleyre's, Bazille told Renoir "Manet is as important to us as Cimabue or Giotto were to the Italians of the Quattrocento; and as the Renaissance is beginning again, we must be part of it..."
[v]
Part of the excitement of studying Impressionism is to watch how this quite large group of people was able to teach one another and themselves. In the lives of writers, two, three, four friends may have a long effect on one another's understanding, but in painting, large groups – in this case there are easily twenty figures of great significance, perhaps many more – may teach one another in a very substantial, personal way.
"Each of Renoir's friend brought him a gift for which he was grateful," the painter's son judged later. "Bibesco [a prince and patron] gave him his first opportunity to see the bare shoulders of women in their beautiful evening gowns; Cézanne revealed to him the precision of Mediterranean thought; Monet opened his eyes to the wild imagination of the people of the north European countries; and Pissarro formulated in theoretical terms his own and his friends' researches… Sisley's gift was gentleness."
[vi]
Manet, Concert in the Tuileries Gardens, 1862
---
Passages: Dewey
Tuesday, August 27, 2013
Here are two passages I've been struck by recently in reading John Dewey's
Art as Experience
.
(Perigree Trade Paperbacks, Berkeley Publishing Group, Penguin, originally published 1934, edition August 2005 p84, p98.)
Throughout the book, Dewey argues that esthetic experience is a heightening of every day experience, that all experience has, immanently, the possibilities of order and understanding that are reached in esthetic experience. This continuity used to be more commonly felt and understood when many people were engaged in crafts, and when the arts had not become specialized, cordoned-off areas. Dewey argues for re-establishing the sense of continuity between life and art:
The problem of conferring esthetic quality upon all modes of production is a serious problem. But it is a human problem for human solution; not a problem incapable of solution because it is set by some unpassable gulf in human nature or in the nature of things. In an imperfect society -- and no society will ever be perfect -- fine art will be to some extent an escape from, or an adventitious decoration of, the main activities of living. But in a better-ordered society than that in which we live, an infinitely greater happiness than is now the case would attend all modes of production. We live in a world in which there is an immense amount of organization, but it is an external organization, not one of the ordering of a growing experience, one that involves, moreover, the whole of the live creature, toward a fulfilling conclusion. Works of art that are not remote from common life, that are widely enjoyed in a community, are signs of a unified collective life. But they are also marvelous aids in the creation of such a life. The remaking of the material of experience in the act of expression is not an isolated event confined to the artist and to a person here and there who happens to enjoy the work. In the degree in which art exercises its offfice, it is also a remaking of the experience of the community in the direction of greater order and unity.
In the fifth chapter, "The Expressive Object," Dewey presents a very helpful set of ideas about how the act of expression involved in making art and the esthetic experience of perceiving that art are related to the art that he calls "the expressive object." In one nice passage he points out that "expressivity" by no means excludes abstraction:
Art does not, in short, cease to be expressive because it renders in visible forms relations of things, without any more indication of the particulars that have the relations than is necessary to compose a whole. Every work of art "abstracts" in some degree from the particular traits of objects expressed. Otherwise, it would only, by means of exact imitation, create an illusion of the presence of the things themselves. The ultimate subject matter of a still life painting is highly "realistic" -- napery, pans, apples, bowls. But a still life by Chardin or Cezanne presents these materials in terms of relations of lines, planes and colors inherently enjoyed in perception. This re-ordering could not occur without some measure of "abstraction" from physical existence. Indeed, the very attempt to present three-dimensional objects on a two-dimensional plane demands abstraction from the usual conditions that exist. There is no a priori rule to decide how far abstraction may be carried.... There are still-lifes of Cezanne in which one of the objects is actually levitated. Yet the expressiveness of the whole to an observer with esthetic vision is enhanced not lowered. It carries further a trait which every one takes for granted in looking at a picture; namely, that no object in the picture is physically supported by any other. The support they give to one another lies in their respective contributions to the perceptual experience. Expression of the readiness of objects to move, although temporarily sustained in equilivrium, is intensified by abstraction from conditions that are physically and externally possible.
I especially like "Expression of the readiness of objects to move."