Gorky
Second Gorky
Saturday, May 17, 2014
"There is my world." – Arshile Gorky on
Summation
What would it be to begin without a location in time? A letter or an email always begins with a date, even the hour; when I begin these entries my first instinct is always to situate in time – last Wednesday, after studying Ernst's collages. But I think part of the strangeness of Arshile Gorky's
Summation
is that it avoids a location in time. The experience is of many, local, whirring events or personages. Maybe as the mind feels on waking in the night, though with more tranquility than that, as, on a quiet day, taking a thankful walk. The mind casts about, and, although it dreams and wonders about the unknown and recollects and watches the known, this is not really felt as looking forward and backward but as looking around.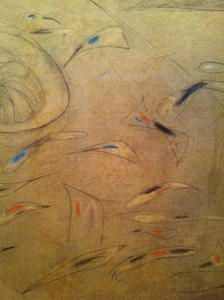 Why is it only now, many months after I saw and struggled with
Summation
, that this seems evidently its mode and quality? I remember that when I went to see it I was in a hurry to get home to the baby and had been unable to find a taxi, and that there were only a few minutes before closing. I remember that I hoped to find something to help me think about my father. Perhaps, fixed on locating the sequence of events in the months before he died, turning from this to picture hurrying to the immediate needs of next days, I was too oriented toward calendar time to see the Gorky. [Here it is, whole, though too small to feel at wall's expanse.]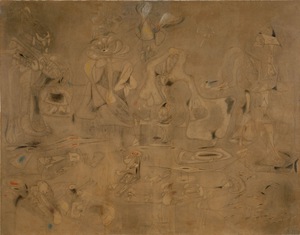 In my mind now it seems well-distributed, elegant and coherent. It would be very difficult to say where it starts, even where one's eye lights first or in what order it observes. A summation bears a different relationship to time, or happens in another realm of time – a repetitive, cyclical, associative time – not approachable in a sequence of minutes, but felt in the round of years. Part of the fear of death must be that, as the minutes are torn from us one by one, we will not be able to hold, and hold to, the beautiful spaciousness of rounding in time.