A Chance Meeting
Press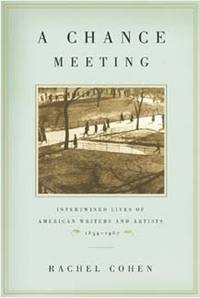 "Enthralling...The thirty-six essays, as they progress... from the Civil War to the civil rights movement, constitute something of a new genre, rare in our period...What is being divined is nothing less than a century or so of American taste, the nature of modern literary and artistic tangency in the United States...I know of no remotely analogous cultural articulation—not even Alfred Kazin's richly rehearsed An American Procession—that ventures so explicitly, and so readily, into the American briar patch of racial and sexual encounters....Rachel Cohen's vision of the life of art in her chosen century, and the effect of that vision upon her reader, is one of an astonishing gladness."
—Richard Howard, front page review, Los Angeles Times Book Review
"Strange, beautiful and unclassifiable...The portraits, or sketches, which [Cohen] offers are subtle, intimate, and persuasive... A Chance Meeting is not only a significant study of a century of American culture, but a fascinating entertainment... Risky perhaps, but the risk pays off, marvelously."
—John Banville, The Guardian
"A masterpiece...A Chance Meeting takes thirty American writers and artists from Henry James to Robert Lowell, and braids them together in thirty-six encounters. Each person comes round two or three times, and every meeting, friendship and collaboration has a resonance that can be heard down the ages until what you have before you is an immense chain of artistic consequences."
—The Economist

"Dazzling ... a book that's as addictive as popcorn ... A Chance Meeting heralds an auspicious beginning to an already thrilling career. It elevates name dropping to an art, and transforms literary criticism into a party."
―San Francisco Chronicle
"Symphonic ...elegant and elegiac ... A Chance Meeting answers hungers you did not even know you had ... At book's end, the world to which Cohen returns you is more vivid, peopled with new acquaintances ...Outstanding."
―Chicago Tribune
"Innovative ... faultless... [Cohen] gives us a more intimate sense of these people in a few pages than one sometimes gleans from entire biographies."
―The New Yorker
"Captivating ... like an elaborate fugue ...While carving a set of brilliant miniatures, Cohen is also indirectly telling a story of sex, race, political protest and celebrity culture in America, from the Victorian era to the 1960s."
―The Boston Globe
"Cunningly crafted and meticulously written ... [Rachel Cohen] has produced, in her first book, something fresh and unexpected and promising."
―The New Republic
"Stylish ... A Chance Meeting explores the imaginative enlargement that results from an encounter with an inventive (and kindred) mind...Cohen writes like a fiction writer ... [and] deftly evokes character through eccentric detail."
―Slate
"For her astonishing literary debut, Rachel Cohen spent ten years exploring the ... encounters of some of the greatest names in American arts and letters ... Impeccable."
―Vogue