22. Lorenzetti and Neighborhood
Frederick Project: Elegy
Tuesday, April 7, 2020
This week, the week of Passover and Easter, is a strange one. I think of it as a place in the year where time folds over itself.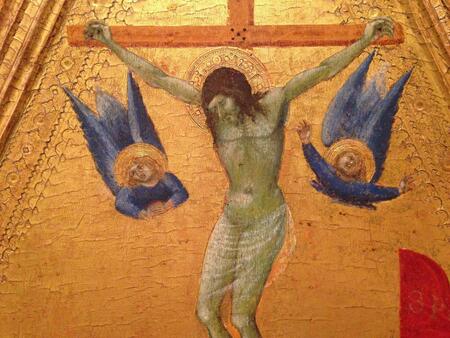 In our family, we observe Passover, the commemoration of the exodus. The story of enslavement and liberation told over and over down the generations. That story, the ritual of its retelling at a meal, is then the setting for the last supper, the prelude to an execution, and the foundation of the new testament, also celebrated in our family, by some devoutly, by others with colored eggs. Every year, a week where two religions show the knot that binds them together.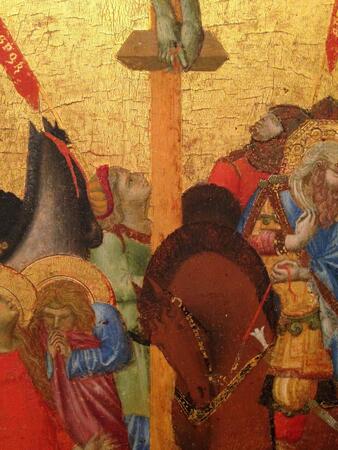 This morning when I woke up, I wanted to pay my respects to the dead.
It is April 7th, 2020. As of this morning, there were more than 300 dead in Illinois, more than 11,000 in the US, more than 78,000 in the world. Many of those people died yesterday and the day before. It is early for elegy.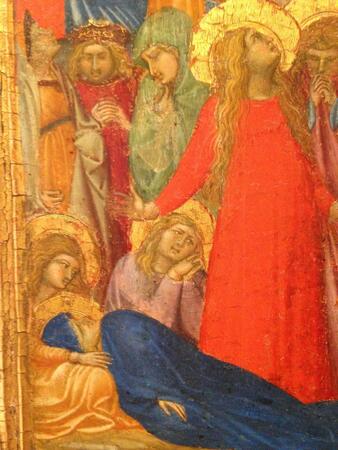 In this morning's news, several articles about racial disparities in the rates of illness and death. The Chicago Tribune reports that 68% of the people who have died in our community are those who have been treated as Black. "Black Chicagoans," the newspaper says, "are dying at a rate nearly six times greater than white residents." They lived on the south side, the west side, and were my neighbors, and my history teachers.
Our elected officials are quoted in the papers saying, rightly, that this is the result of generations of systemic racism and inequality. It is a week when history is compounding itself, and I would like to think about Lorenzetti.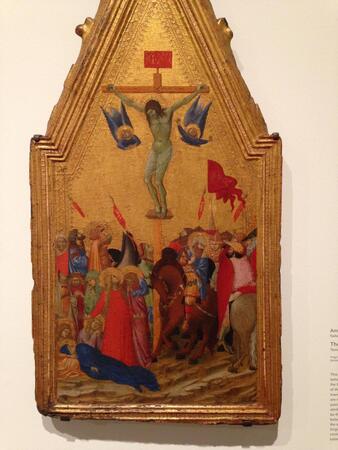 Ambrogio Lorenzetti was an artist in Siena in the 14th century. He painted important frescoes in the Palazzo Pubblico called The Allegory of Good and Bad Government, which demonstrate how different every feature of life is, from the tilling of land to the way neighbors get along, under good government and bad government.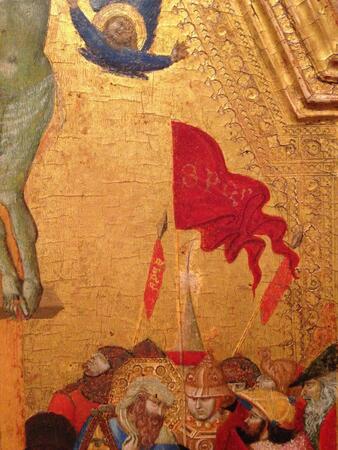 Two weeks ago, many of us watched or listened to the people of Siena singing together in the evening from balconies or behind shuttered windows, under lockdown.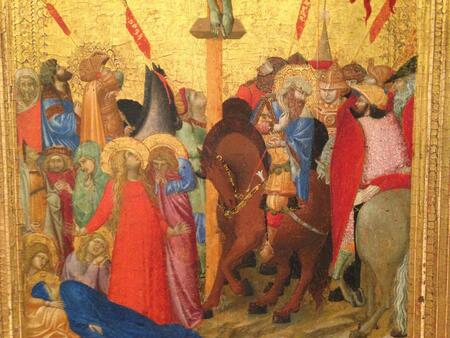 Ambrogio Lorenzetti, like his brother Pietro Lorenzetti, who was also a painter, died of the Black Death in 1348 or 1349. These images are all from one of Ambrogio Lorenzetti's late paintings, The Crucifixion, ca. 1345, which is at the Fogg Museum in Cambridge.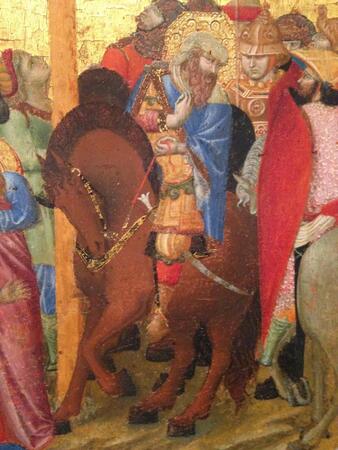 I got very interested in Sienese painting while I was writing a book about the art critic Bernard Berenson. Berenson was an early champion of the radical and lyrical late medieval Sienese work that was at first not especially popular among 19th century collectors; they preferred the more geometric departure from the middle ages that was effected in nearby Florence.
While I was thinking about Sienese painting, we were living in Cambridge, and I was astonished when I discovered that one of the great Lorenzettis was four blocks from our house.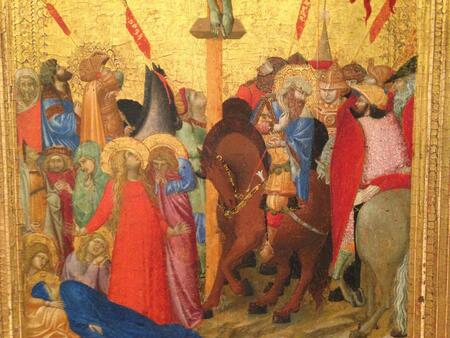 I went often to visit this neighbor, an important history teacher, a delicate one.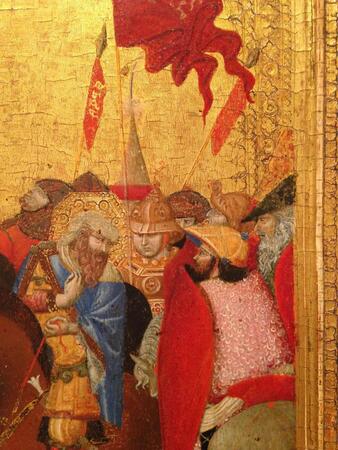 The neighborhood is bannered and caparisoned in grief and bloodshed. We look in all different directions. The story folded over itself, is told again.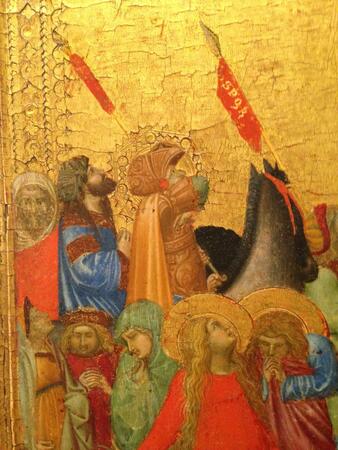 Frederick Project: Crowded
Friday, April 3, 2020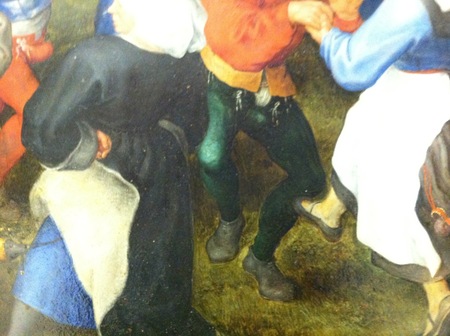 Yesterday I spent some five hours talking to people through screens – a zoom faculty meeting with twenty-five writers at their desks, facetime with my oldest friend, also a writer at a desk, zoom family meet-up for nine with breakout room for cousins. The day closed with a zoom nightcap for my husband and I and a dear friend in Cambridge. Grateful for friends, colleagues, family, health, nevertheless, by the end I was reeling with insubstantiality.
This morning I followed my subconscious through the folders of my art photographs, choosing a trip to France six years ago, the Musée des Beaux-Arts de Bordeaux, then falling to contemplating this painting, Wedding Dance from 1600 by Jan Brueghel the elder.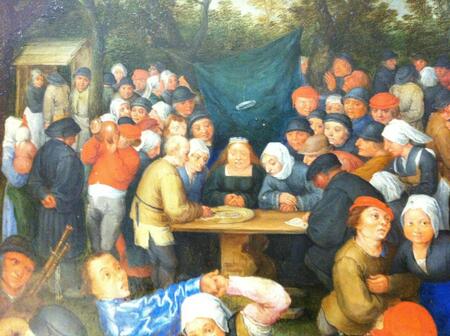 (In the confusing genealogy of Brueghels, this is not by the patriarch of the family, the profound Pieter Brueghel the elder, but by his second son. Jan Breughel grew up to paint brilliant still lifes and genre scenes like this one. After this Jan Breughel, two more generations of painter-Brueghels were born, including another Jan, so that the one who painted Wedding Dance gets called the elder.)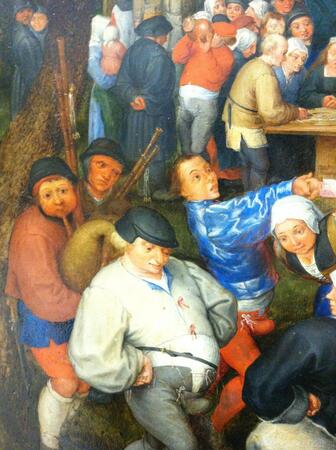 This morning, I love how crowded it is. Even the crowd of difficult-to-keep-straight Brueghel descendants is delightful.
When I took the photos, I was in the Bordeaux Museum with our daughter, who was turning two that week. She was very little and liked best some small bronze statues of animals. We had been in the town's center, at the merry-go-round, which she loved, even in the rain, and I had promised we would go to the merry-go-round again. She was patient, and stood on her little feet, but I knew I was taking pictures fast in order to think later.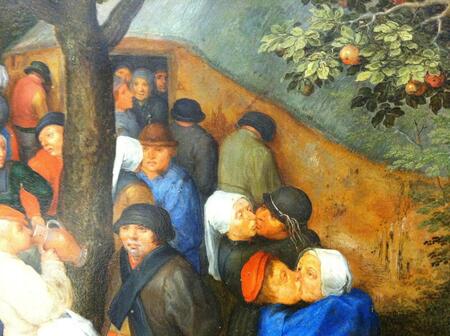 I didn't know, though, that I was taking pictures in order to feel later. Even through my screen, I can get the jolt of collision, face pressed to face, the woman leaning in to advise the none-too-joyful bride.
Stretch of legs and arms to jut and whirl.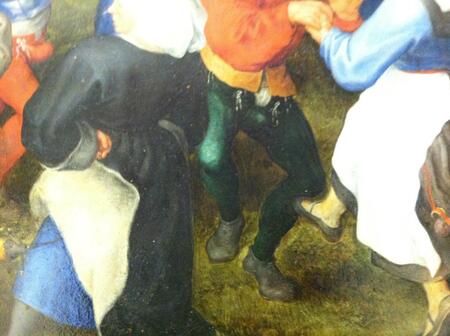 Oh wonderful contact.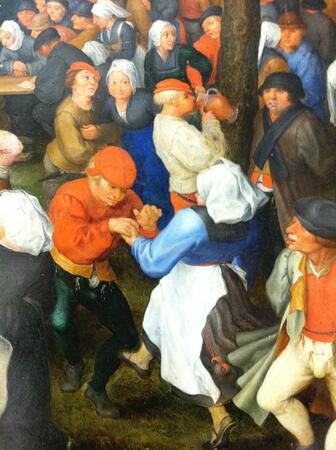 Frederick Project: Colors and History
Friday, March 20, 2020
Thinking of intense experiences of color in the last few months. Immediately Faith Ringgold. Her painted canvas and quilt On the Beach at St. Tropez, from the series of twelve story-quilts The French Collection, which came as a revelation in the Smart Museum of Art's show called Down Time: On the Art of Retreat this past fall.
You walked into the gallery and were literally flooded with color.
Ringgold paints on canvas then stitches the canvas to quilt, finishes the backs with cotton batting. A bravura painter, years of careful experiments with pigment to get the skin tones she wanted, the flatnesses and depths of water, cloth, patterns.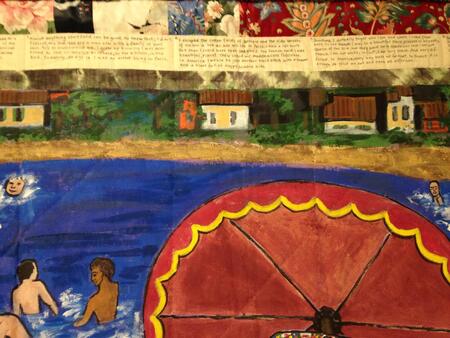 You are also immediately aware of the story – border of carefully written incidents running along the edges. The stories are about Willia Marie Simone, a fictional character with some qualities of the painter and some of the painter's mother and some that are the character's own. (I will try to decipher one of the stories for a later entry, my pictures are smaller than I had thought.) Willia Marie Simone ran away to Paris at the age of 16, in the 1920s, and had a storied life. The work is so very witty.
There are many articles that follow a well-worn, useful, but somehow insufficient path, explicating how, in this series, Faith Ringgold insists on the place of African-American women and artists who have been left out of history and museums. Looking at this quilt, the size of a wall, its flooding colors, my impression was more of something that shrugs its shoulders and rises.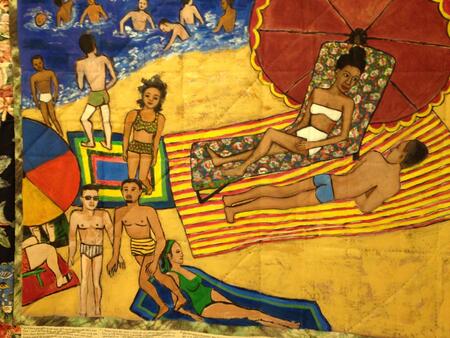 It's all there, really: the quilters of Gee's Bend, making their glorious abstractions from the worn clothes of their families who labored; the bathers of Cézanne and Degas stretching back to the bodies of the Italian Renaissance; the rogue persona storytellers in Zora Neale Hurston and Fernando Pessoa; all these kinds of work that Ringgold had done her training with, and had loved enough to do justice to them (meaning that she saw them whole, with their beauties and the things they failed to see). She knew them, and had thrown them over her shoulder, so that art could rise anew.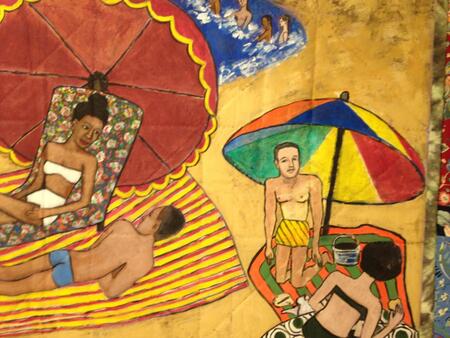 Color tells stories that cannot be abstracted from history – joyful as a child in sand, forceful as a woman at the height of her powers, unforgetting as age.
Down Time: On the Art of Retreat at the Smart Museum of Art was curated by Leslie Wilson in collaboration with the students University of Chicago's department of art history's course Exhibition in Practice.
Close Observation
Monday, January 20, 2014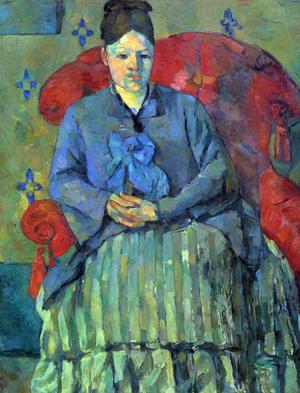 A woman, long blue shirt carefully tied over striped skirt, sits in a red chair. She leans a little to her right, our left, elbow on the arm of chair. Her hands are folded.
Cézanne's way of painting faces means that you can look at them or not. Everything has surfaces and depths. Much of the meaning of the figure is not in the face. The folded hands are important and beautiful.
Between the forefingers and thumbs are a green that relates them to the skirt below, a blue consonant with the blue shirt above. Shapes of laced fingers echo shape of dark what seems to be locket or pendant about neck.
Somewhere Roger Fry writes about the courage of Cézanne's face-on verticality. The painting ought to be static, there is so little motion in the way the figure and face are arranged. All the motion has to come from the paint itself.
The red armchair. Faces, designs, flowers in it. Begins to have an unusual kind of softness around her.
The model is Hortense Fiquet, for many years his mistress and eventually his wife. He painted her almost thirty times.
The skirt.
Another place of conjunction. Red tassel over yellow wall with blue wainscoting, edge of blue shirt over skirt. All this is beautiful, orderly, loved, observed, and yet paint.