Guibert
Unsteady Hands
Friday, May 5, 2017
The prose fragment is a form capable of kindness. After I thought of that sentence, I thought of reading Hervé Guibert again, with students, this quarter. In his use, the fragment has so much discretion all along its edges. We all exist beyond those edges. It's like sending a note when a call might be intrusive, or stepping aside the right degree, to make way but not to shun.
It's not that his writing is especially interested in kindness, but, in writing and photography, he is interested in recognition, both the kind you can accomplish steadily, and the kind where you flinch away. This is a Guibert self-portrait, from 1981.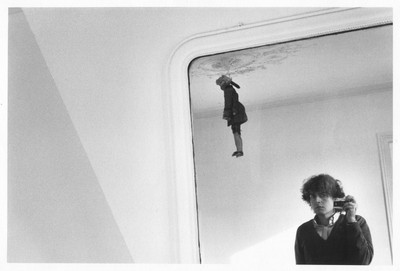 Yesterday I was thinking about Degas. And wondering about his hands when, late in life, he could barely see. I remember reading in a wall text at the Metropolitan Museum that one of his friends helped him to feel a painting he was curious about. What I wondered yesterday was how the paint felt to his fingers, if his hands felt steady to him. I think of steadiness of hand and steadiness of gaze going together. The fact that my hands feel unsteady to me lately seems related to how much I flinch away, from what I am reading, even from watching peoples' faces. In every news article, in the faces of people crossing the street, I seem to see great vulnerability, that we are menaced.
Here is an essay by Guibert I didn't know about. It is a photograph, the joint effort of the subject and the photographer to understand, among other things, Degas. Some day, I hope I will write about the way the picture reflects on Degas' ideas about the brave efforts of our bodies, about drawing and sculpture and form. But my hands are a little unsteady today.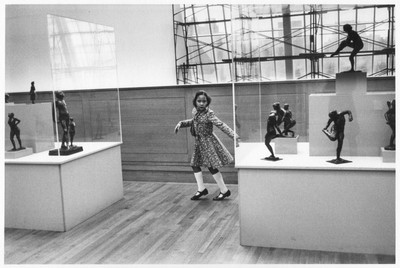 Delacroix's Palette
Saturday, June 28, 2014
The final studio in which Delacroix worked is also, spatially, the last in a series of seclusions. It's a wonderful large square, lit by immense skylights, and surrounded by gardens that Delacroix filled with a profusion of flowers, their colors of his own careful choosing. The studio building is behind, and separate from, the apartment in which Delacroix lived. This apartment is itself on a private courtyard holding quiet entrances for a few buildings. The courtyard is off a small quiet square, really a slight geometric expansion of a narrow street, the Rue Furstenberg, an untrafficked byway not far from the great church of St. Germain des Pres.
The studio was recommended to Delacroix by the restorer and color merchant Etienne Haro, who knew that the artist, unwell in his later years, needed to be within walking distance of St.-Sulpice, where he had undertaken a last sequence of great murals.
When he was young, Delacroix once said to his friend Charles Baudelaire, he could only work if he knew he had somewhere to be that evening, a ball, music, but as he grew older, the discipline of work grew in him and he worked indefatigably. He had visitors, but not so very many, and he kept his last illness private. Even a good friend like Baudelaire was shocked by the news of his death and wrote sorrowfully of how they would no longer find him in that grand square space "where reigned, in spite of our rigid climate, an equatorial temperature."1
* * *
A study in hot and cold, Delacroix as a personality and an artist was in continual motion between shade and gleam. He was revered for his color sense, both daring and precise, and the palettes now on display at the Musée Delacroix make his color sense dramatically visible.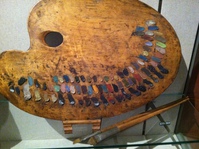 Here you can see, unusually, not a rainbow or color wheel, but hot colors intermingled with cold ones, and dark contrasts grouped together with corresponding brights. The artist mixed his shades in advance and kept careful notes of each one's composition. In
Les Palettes de Delacroix
(1930), Léon Piot noted that when Delacroix was ill, he would have his palette brought to his bed and spend the day there mixing colors. Baudelaire wrote, "I have never seen a palette as minutely and delicately prepared as that of Delacroix. It resembled a bouquet of flowers, knowingly arranged."2 On its website, the Musée Delacroix points out that as time went on the artist, "fragmented more and more the tones, focusing less and less on real color as opposed to shadows, halftones, and reflections."
Baudelaire evidently felt sympathetic to, and recognized by, the atmosphere created by Delacroix's color. "It seems that such color thinks for itself, independently of the object it clothes," Baudelaire is said to have said, "The effect of the whole is almost musical."3
* * *

This palette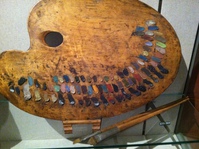 was said to have been given by Delacroix to Henri Fatin-Latour, a great admirer of Delacroix. Fatin-Latour, angered by the lack of official commemoration of the master's death, painted an
Hommage à Delacroix
.
The group portrait includes Fatin-Latour himself (in white blouse), James McNeill Whistler (standing center,) Edouard Manet (standing immediately to the right of the portrait of Delacroix) and Baudelaire (seated right corner.)
Six years later, Fatin-Latour painted a similar group portrait, called
A Studio at Batignolles
that, with its depictions of Manet, Renoir, Zola, Bazille, and Monet, stands as both manifesto for and document of the Impressionist movement in something like the manner of John Trumbull's
Declaration of Independence
: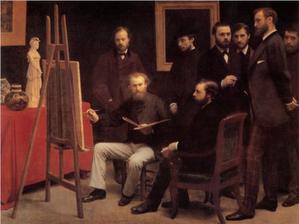 The palette that may have belonged to both Delacroix and Fatin-Latour was eventually donated to the Musée Delacroix by the granddaughter of Léon Riesener, and the Riesener family, through its friendship with the Morisot sisters, provided another, personal, conduit by which the palette of Delacroix was transmitted to the Impressionists.
* * *

This summer, the Musée Delacroix has an exhibition of works that show the influence of Shakespeare on Delacroix. Like Berlioz, Delacroix was greatly moved by the force of drama in the works of Shakespeare and there are wonderful etchings of instants of great intensity from Hamlet (Hamlet on the terrace approached by his father's ghost, the moment before the stabbing of Polonius, the moment "up, sword" of deciding not to kill Claudius at prayer). There is also an oil sketch of Léon Riesener, a cousin and confidante of the painter, himself a painter, and a legatee of Delacroix's.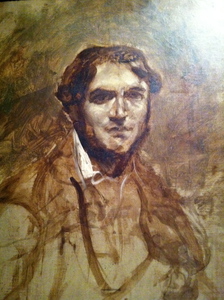 This portrait shows a broad and sympathetic face, tones all of brown and white. In the background and upside down are discernible sketches for another picture, Hamlet and Horatio in the cemetery with the skull of Yorick.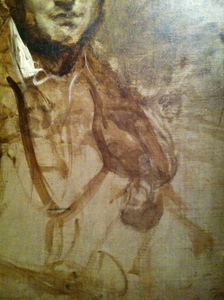 Bequeathal, and legacy were vexed issues for Delacroix, who, says Baudelaire, was increasingly preoccupied with which of his contributions would endure.
Walter Benjamin notes the aptness of Léon Daudet's phrase for Baudelaire. Daudet writes that Baudelaire had a "trap-door disposition, which is also that of Prince Hamlet."4 I take this to mean a theatrical, or a magician's, feeling for circumstances and their manipulation. Appearances and disappearances, sudden dispersals, going within to get out. There seems to be something of Delacroix in the phrase, too.
* * *

Another inheritor of Delacroix was Berthe Morisot, who, in an early summer of her training as a painter was working side-by-side with her sister in the town of Beuzeval in Normandy. Their father had rented for them a mill belonging to Léon Riesener, and the Morisot sisters were soon close to, and much encouraged by, the whole Riesener family. In her notebook, Berthe Morisot recorded an anecdote they related: "Delacroix composed his palette with such precision that he could have it prepared each morning by Jenny, his maid, while he was painting his Apollo ceiling or rather while he had Andrieux paint it as he remained below. One day, he called out to him to use a No. 2 pink and Andrieux thought he would catch him out with a No. 3. 'No, no, exclaimed Delacroix, I said a No.2.' That is absolutely the sensation of a musician."5


* * *

I see two ways out of this series of reflections: one is to try to see further inside the man, the other to try to see further into the legacy of his works. These efforts do not amount to the same thing, but perhaps could be displayed immediately next to each other.
Walter Benjamin, whose interest in Delacroix grew in part from Benjamin's profound relationship to the works of Baudelaire, notes that Delacroix was interested in photography, and that his paintings "escape the competition with photography, not only because of the impact of their colors, but also (in those days there was no instant photography) because of the stormy agitation of their subject matter. And so a benevolent interest in photography was possible for him."6 The ever more profound and fragmentary sense of color, and the idea of creating motion through the juxtaposition of contrasting colors, these went on being a significant part of how painting responded to photography through the rest of the 19th century.
Baudelaire said that his friend Delacroix was a peculiar combination of the "sauvage," and the "homme du monde." He was, writes the poet, "passionately enamored of passion, and coldly determined to seek out the means of expressing passion in the most visible manner."7 In his austere seclusion he would, Baudelaire wrote, find the colors in which to bathe his scenes so that they had their own life. "As a dream is placed in the colored atmosphere proper to it, so a conception, become a composition, must moves in a colored milieu particular to it."8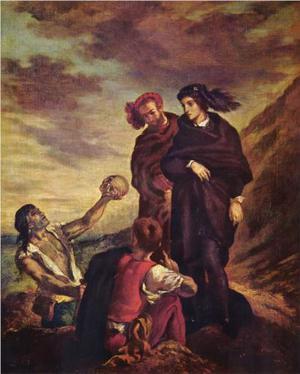 Hamlet and Horatio in the Cemetery, Musée du Louvre
1 Baudelaire,
Critque d'art
, "Eugene Delacroix, son oeuvre et sa vie," p421, translations mine.
2 Baudelaire,
Critique d'art,
p408
3 from Ernest Seillière,
Baudelaire
, (Paris, 1931) cited in Walter Benjamin,
The Arcades Project,
edited Tiedemann, translated Eiland and McLaughlin, (Cambridge, 1999) p277.
4 Daudet,
Les Pélerins d'Emmaus
, Paris, 1928, p101, cited in Benjamin,
Arcades Project
, p265.
5 Morisot, Notebook, 1885, 1887-8, p12-13, cited in Marianne Delafond and Caroline Genet-Bondeville,
Berthe Morisot or Reasoned Audacity,
Paris, 2011, p16
6 Benjamin,
Arcades Project
, p678.
7 Baudelaire,
Critique d'art
, p418, p406.
8 Baudelaire, p408.
Feeling the Air, I
Tuesday, December 3, 2013
I've had a few conversations recently with people who are not that interested in painting. They say, reasonably, that in museums they are overwhelmed by the profusion, or that only really contemporary painting is strange enough to compel their attention, or that in front of paintings long and loudly admired their eyes feel veiled by expectations and history.
It feels odd to say in the face of these large and genuine concerns that when I am at a museum I am often merely after a small, fine sensation. The movement of light and air. That's all. I know this feeling is of a family of quite ordinary feelings – on a good day one may have something like it walking to the grocery store. But, though common in life, it is rare in art. In very great literature, "But, soft! what light through yonder window breaks?" But not, for example, in photography. It might be almost a definition of what distinguishes painting from photography that one does not feel the movement of the air in looking at photographs. Even in front of Ansel Adams, what one feels is majesty, not air. But in front of a painting the movement of light and air have held someone else's attention in a way that lets me feel it and at the same time know myself to be feeling it.
The presence of the Sargent watercolors in Boston this season has focused my attention on how it is that painters offer this sensation to us. Why, looking at Sargent's quick-stroked boats along the edge of a Venetian canal do I suddenly feel the soft air?
My guess is that this sensation is one of the aspects of seeing paintings in person that cannot be rendered in iphone details, but I'm going to try to illustrate what seem to me to be two sides of the answer.
It seems first of all to have to do with things jostling and overlapping. The two gondolas to the right here are at rest, but must be bumping each other. The figures standing on the stone are, in action, distinct but are shown overlapped by the long greenish boom of a boat, and the figures themselves and their shadows bleed into one another.
Boats, water, Venice, all ideal for this because it is not in any of their natures to be still.
We know the light reflected on the underside of the bridge to be dancing, as are the waves given in motion below. Jostling, overlapping, playing over, this gives the sense of motion, permeability, change,
within
the picture.
On the other side, the angle and motion of the viewer are also significant. Look at these two shots, almost identical of
Portuguese Boats
. I think that the sense of motion comes across better in the photo to the left, taken at a slightly stronger angle, then in the flatter front-on one to the right, in any case, shifting rapidly between the two may give something of the sensation.
The shift makes a small suggestion of how one sees the picture as one is oneself in motion. Of course when you see a painting in person you cannot help but move in front of it, if only to walk up to it. The spatial experience of a photograph changes much less as you move around in relation to it. I suppose because of the fixed position of the camera. The painter is constantly moving around in relation to her canvas and constantly changing the perspective. It must be the sense that space is changing around you that you have when you walk to the grocery store.
At Nadar's (but he was already gone)
Monday, November 11, 2013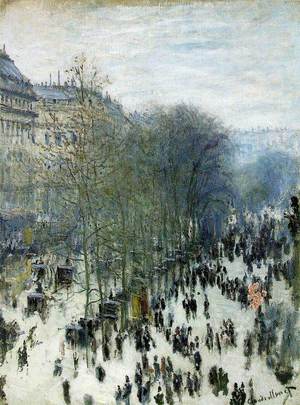 Possibly it was somewhere in two decades of reading and rereading Susan Sontag's
On Photography
that I absorbed a small but suggestive misimpression. In the midst of a passage on the relationship between photography and painting, she devotes a long footnote to Impressionism. This footnote begins, unexceptionably, "the large influence that photography exercised upon the Impressionists is a commonplace of art history."
[i]
Rereading the rest of the footnote I see, as is often the case with Sontag, that I have been thinking about what it contains for a long time without even remembering that she wrote it, and that I will probably now spend many more years arguing with myself about the details she's included in what is for her a brief excursus.
Here is her summary of what the Impressionists found in photography: "The camera's translation of reality into highly polarized areas of light and dark, the free or arbitrary cropping of the image in photographs, the indifference of photographers to making space, particularly background space, intelligible…" This was the "inspiration for the Impressionist painters' professions of scientific interest in the properties of light, for their experiments in flattened perspective and unfamiliar angles and decentralized forms that are sliced off by the picture's edge." Sontag, magpie, quotationalist, admirer of Benjamin, points out that Stieglitz said of the Impressionists, "they depict life in scraps and fragments."
And here is what led me astray, though, as I work this through, I'm beginning to think that the clarification of her small error of suggestion might actually affirm the rest of what she's said. The footnote comes to the following too-irresistible conclusion: "A historical detail: the very first Impressionist exhibition, in April 1874, was held in Nadar's photography studio on the Boulevard des Capucines in Paris."
This information, too, is a commonplace of art history, and if I first saw it in Sontag I've since seen it referred to often enough that when I began to think of keeping this notebook I pictured an essay depicting the scene. It was to be an exciting set piece: one after another the soon-to-be-famous painters would enter the studio, so full of potential. There they are, gathering around the far-seeing Nadar, who loves their work, and says 'you must have the show here,' generously taking down his photographs. They hammer, they arrange curtains, they call out to one another. I knew that the name of the movement came from this first exhibition. Perhaps Nadar himself, watching them at work, had said something that suggested the name...
Not so, not quite so, at any rate, and in a way that matters. A recent, thorough biography of Nadar by the French writer Stéphanie de Saint Marc makes almost no mention of the Impressionists in general. The only one that Nadar really knew was Manet. The biographer says Manet inspired Nadar as a model. She has a heavy description of the famous photograph: Manet's fine features and "romantically undulating chevelure" made a "counterpoint" with the hand "robust, almost peasantlike" seen in the picture's foreground, on the back of a chair.
[ii]
Nadar, Édouard Manet, 1863
This friendship, though, doesn't account for the presence of the Impressionists at Nadar's studio because, as is well known, Manet resolutely did
not
show with his friends in the 1874 exhibition; he was still fighting it out with the official salon. (I've often taken a kind of, probably unfair, satisfaction in Manet's absence from the show. His works seem to be obdurate where those of the other painters are fluid, though I do recognize that this is yet another of my difficulties with seeing Impressionism, as somehow what they saw in him led to what I see in them.)
In any case, I now hurried to John Rewald's
History of Impressionism
to read the chapter on the April 1874 show. The painters formed themselves into a group, not at all impromptu, carefully thought out and argued over, with the financial structure of a joint-stock company (Pissarro's idea,) and a deliberately un-school-like name:
Société anonyme des artistes peintres, sculpteurs, graveurs, etc.
(Renoir's idea.) Though the name Impressionism did arise from the show, it did so in a roundabout, emergent way, not because of a stroke of impressarial brilliance on the part of Nadar.
The name came about through an odd mixture of the offhand, the laudatory, and the vituperative. The catalog of the exhibition was edited by Renoir's brother, Edmond Renoir. Edmond Renoir remembered, in his unpublished recollections, that when he came to the group of pictures Monet had sent he was irritated by, "the monotony of his titles:
Entrance of a Village, Leaving the Village, Morning in a Village
...." Edmond Renoir objected and "the painter calmly told him: 'Why don't you just put
Impression
!'"
[iii]
A painting of Le Havre was called
Impression, Sunrise
, and critics, both the rare ones who liked the show, and the much more common ones who vied to outdo one another in piling up ridicule, seized the name "Impressionists," which the painters themselves accepted as close enough.
They weren't hanging around Nadar and excitedly studying his photographs; they simply needed a space. According to Rewald: "This presented itself in the form of the studios vacated by Nadar, who, according to Monet, lent them the premises without fee."
[iv]
Nadar's biographer confirms that at this period, though he no longer maintained a studio there, Nadar still sometimes sublet the premises. He was fairly friendly with the group of painters, whom he saw now and again at the café Guerbois, but, she says, he stayed "hermétique" with regard to their innovations. He was a fervent admirer of Daumier and Guys – both dear to Baudelaire – but never collected the painters who were to become even more fully the "painters of modern life," as Baudelaire had described Guys in the long essay in which he envisioned a kind of painting.
Baudelaire did write perceptively and admiringly about Manet, a figure with one foot in that earlier generation, and one reluctant foot in the Impressionist camp. But this earlier generation hardly threw themselves into promoting the new way of seeing made explicit in the pictures of Monet, Pissarro, Renoir, Sisley, Cézanne. Nadar may have known that the artists were penniless – if he lent them the studio for no charge that was a helpful generosity in a time when few were helpful to them. What the gesture meant, though, wasn't that the buoyant, insightful, commercially adept, scientifically inquisitive Nadar saw the future and passed the mantle on to his comrades. The show was in a place
left empty
by a great, declining photographer of the previous generation.
What I've been thinking about today is that it may be that the complicated relationship between Manet and the younger Impressionists, which has a strong bearing on the relationship between the movement of Impressionism and photography, could be expressed by these two now slightly refined facts: Manet was the friend of Nadar's; the others got themselves named when they had a show in Nadar's empty studio without Manet.
---
On Photography I
Saturday, October 5, 2013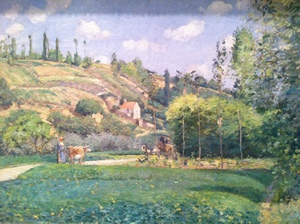 After years of scorning people who come to museums and take pictures – souvenir-hunters! they don't even look at the paintings! – on Tuesday I found myself in the Impressionist rooms at the Met zealously photographing details with my iphone held up in front of the canvases. I had two impulses, or justifications: it seemed expedient – I was in New York for a day only, had a mere hour with the pictures – this was a way to take notes. And at the same time, or even before the thought of expediency occurred to me, I also knew that having details of paintings is very helpful if you are going to post about them. Already the fact of keeping this notebook is changing the way I go to museums.
The second picture I took showed me that the modest magnification of the iphone makes an enormous difference in what you can see. I started with some little Boudin figures at the beach:
I have always felt that if you wait long enough and give yourself patiently to the act of looking your eye will learn to see at this level of detail. But here, presto, the machine could do it instantly – and then looking at the painting with the naked eye I could see it all myself, trained, in a second, by the clarification of the machine.
As I went on, taking pictures of Constables and Daubignys, and made my way to the Pissarro room, I began to experience some of the pitfalls of the new method. The iphone camera overclarifies. It sharpens contrasts, defines edges where the paint is deliberately ambiguous. So that I was in fact learning to see a painting that wasn't the painting I was looking at. I had to try to compensate in the other direction, photographing so quickly that the camera had not yet quite had time to resolve the image, and this seemed to more clearly approximate the paint as it was actually there.
Still, the exciting thing was that I could actually keep track of the sequence of my observations. For example, I saw this beautiful Pissarro from 1874, the year of the first great Impressionist exhibition, painted at Pontoise, one of Pissarro's favorite places to paint.
I saw the picture whole:
Then my eye went to this passage of paint in the foreground:
Then to the cowherd of the picture's title:
A cart further along:
Paint to right foreground, the yellow, blues and lavendars:
Stretch of cultivated field down to earth:
[ Technology suggests and constrains. I find I am limited in the number of images I can post. Just at this moment of drama, when we are about to see further into the picture, I will have to ask my reader to wait. The rest of the sequence will be found under Pissarro, On Photography II ]
On Photography II
Saturday, October 5, 2013
[This is the second installment of visual notes on this Pissarro, documented by iphone.]
Stretch of cultivated field down to earth:
Shape of path as it curves back:
Shape of hill crest, cypressed, below sky:
Step back to look at whole again:
Dark paint, just dashed on, group of trees:
Really dark, low dark hole, yellow grass across lower right corner:
Look again at dark paint just dashed on of upper tree:
Once having looked at these two dark areas, upper tree, lower hole, the whole right side of the picture has beautiful depth:
Now the interior looks quite different, rougher paint:
What would Pissarro have made of this fragmentary way of writing down the seeing of his picture? Would he know right away that, as happened in his own time, our new tools have changed the experience of sight? He was the great theoretician among the Impressionists, the one who articulated what they were after. But in all the letters to his son Lucien that are such a full statement of his thought I cannot find a single mention of photography.
He does, though, indicate how important the idea of the series was to his way of thinking. In a letter from the summer of 1895, he writes that he is sorry that Lucien has been delayed in getting to Paris for now he will miss seeing "the Monets. This is a great pity, for the Cathedrals are being much talked of, and highly praised, too, by Degas, Renoir, myself and others. I would have so liked you to see the whole series in a group, for I find in it the superb unity which I have been seeking for a long time." [June 1, 1895]