22. Lorenzetti and Neighborhood
Frederick Project: Elegy
Tuesday, April 7, 2020
This week, the week of Passover and Easter, is a strange one. I think of it as a place in the year where time folds over itself.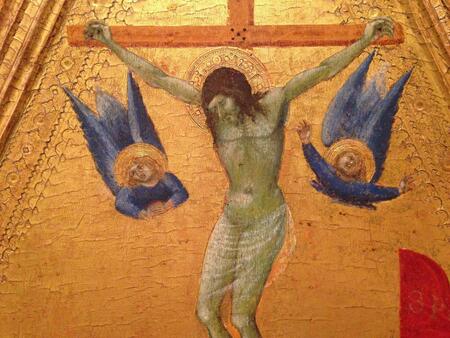 In our family, we observe Passover, the commemoration of the exodus. The story of enslavement and liberation told over and over down the generations. That story, the ritual of its retelling at a meal, is then the setting for the last supper, the prelude to an execution, and the foundation of the new testament, also celebrated in our family, by some devoutly, by others with colored eggs. Every year, a week where two religions show the knot that binds them together.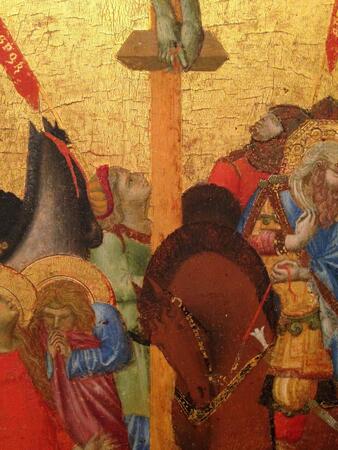 This morning when I woke up, I wanted to pay my respects to the dead.
It is April 7th, 2020. As of this morning, there were more than 300 dead in Illinois, more than 11,000 in the US, more than 78,000 in the world. Many of those people died yesterday and the day before. It is early for elegy.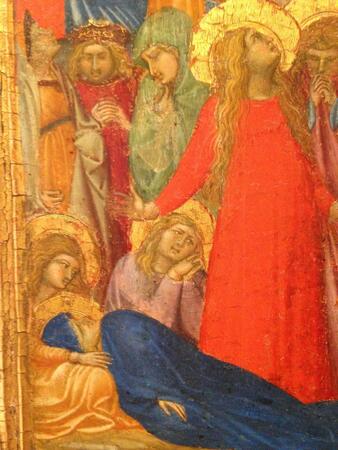 In this morning's news, several articles about racial disparities in the rates of illness and death. The Chicago Tribune reports that 68% of the people who have died in our community are those who have been treated as Black. "Black Chicagoans," the newspaper says, "are dying at a rate nearly six times greater than white residents." They lived on the south side, the west side, and were my neighbors, and my history teachers.
Our elected officials are quoted in the papers saying, rightly, that this is the result of generations of systemic racism and inequality. It is a week when history is compounding itself, and I would like to think about Lorenzetti.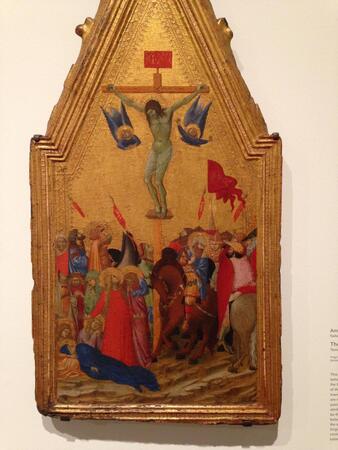 Ambrogio Lorenzetti was an artist in Siena in the 14th century. He painted important frescoes in the Palazzo Pubblico called The Allegory of Good and Bad Government, which demonstrate how different every feature of life is, from the tilling of land to the way neighbors get along, under good government and bad government.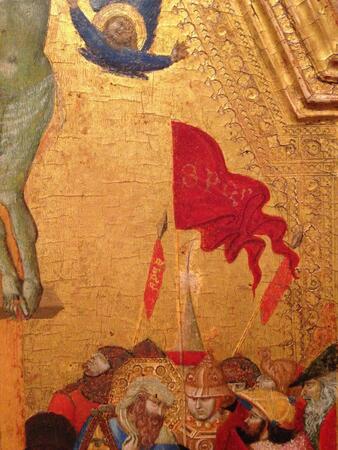 Two weeks ago, many of us watched or listened to the people of Siena singing together in the evening from balconies or behind shuttered windows, under lockdown.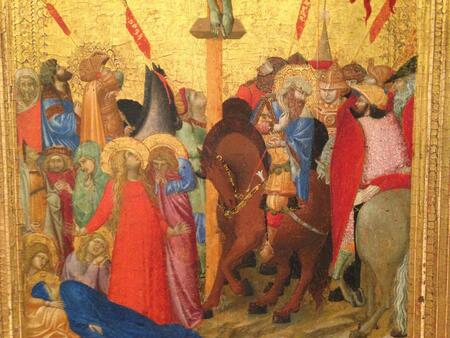 Ambrogio Lorenzetti, like his brother Pietro Lorenzetti, who was also a painter, died of the Black Death in 1348 or 1349. These images are all from one of Ambrogio Lorenzetti's late paintings, The Crucifixion, ca. 1345, which is at the Fogg Museum in Cambridge.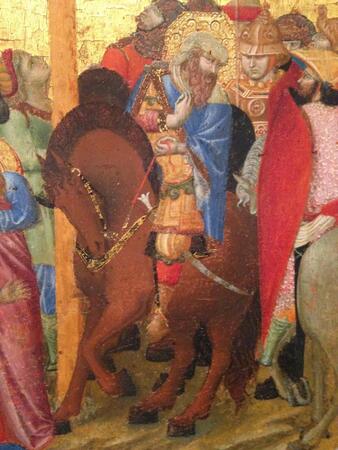 I got very interested in Sienese painting while I was writing a book about the art critic Bernard Berenson. Berenson was an early champion of the radical and lyrical late medieval Sienese work that was at first not especially popular among 19th century collectors; they preferred the more geometric departure from the middle ages that was effected in nearby Florence.
While I was thinking about Sienese painting, we were living in Cambridge, and I was astonished when I discovered that one of the great Lorenzettis was four blocks from our house.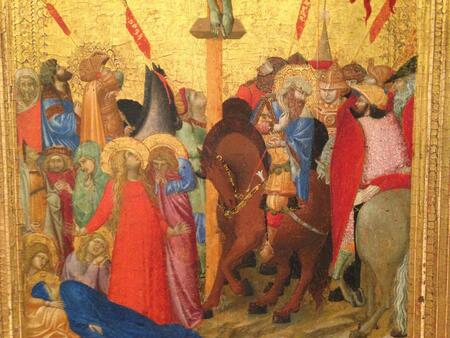 I went often to visit this neighbor, an important history teacher, a delicate one.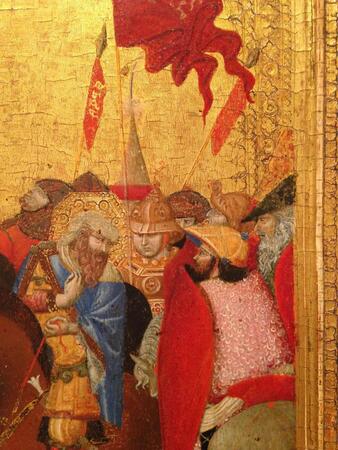 The neighborhood is bannered and caparisoned in grief and bloodshed. We look in all different directions. The story folded over itself, is told again.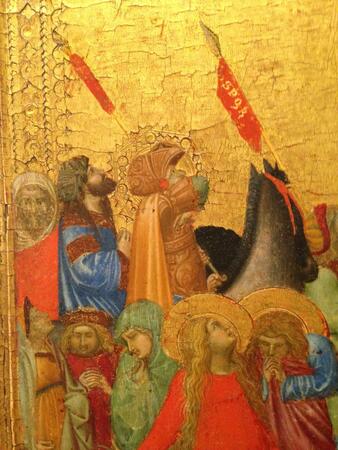 Frederick Project: Abstraction and Retrospect
Tuesday, March 24, 2020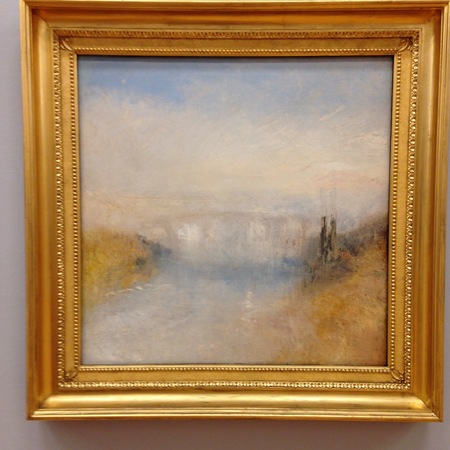 I am interested in the time layers of paintings.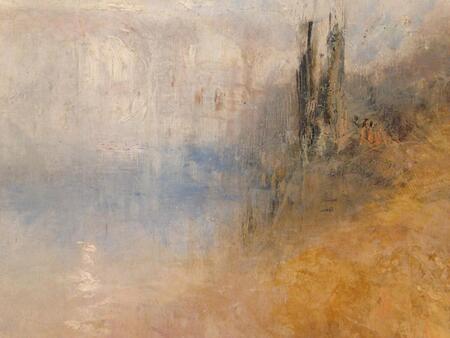 I always go back to J.M.W. Turner (1775-1851), painter of hundreds of oils (radical landscapes, history paintings, the abolitionist Slave Ship, scenes from his teeming imagination), of thousands of watercolors (a lingering soft touch, delicate effects of light, hundreds of studies of Venice, an inspiration to the Impressionists), and artist of some 30,000 works on paper (wonderful sketchbooks, studies in history, architecture, travel.)
Turner died, impoverished and strange, in London in 1851 and a huge bequest went to what is now the Tate Museum in London; when you are there, you can, almost always, go look at Turner paintings, Turner watercolors. I love them, and have made a number of visits, and seen a couple of Turner exhibitions, and Slave Ship is at the MFA in Boston, where I used to live, and I spent a lot of time with it, and all of this now blurs together, hundreds of Turner impressions.
We were in London in 2016. On the day of the Brexit vote, I went to the Tate to see the Turners. I was in luck. The Tate had on display some of the paintings that interest me most, the late oils that are like the watercolors. I loved this, probably unfinished, square one.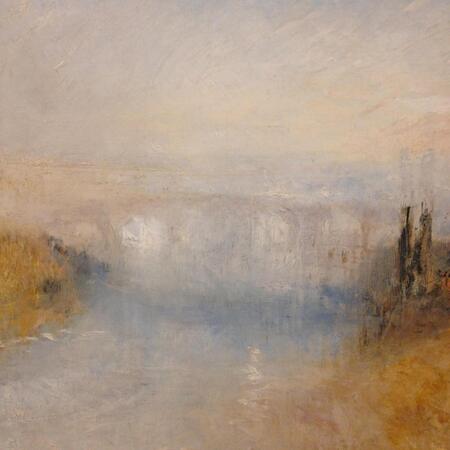 I did not think the Brexit vote was the beginning of a historical era. The polls suggested that the result would be remain. Still, it was a nervous, agitated day.
The late oils are extremely abstract, almost like studies in paint, unbelievably radical for the 1840s, long before Impressionism took hold in Paris. In the 1840s, most of the trained painters in the European capitals were working at highly-finished, realistic history paintings that now look like propaganda for capitalism and empire. Turners look like paint.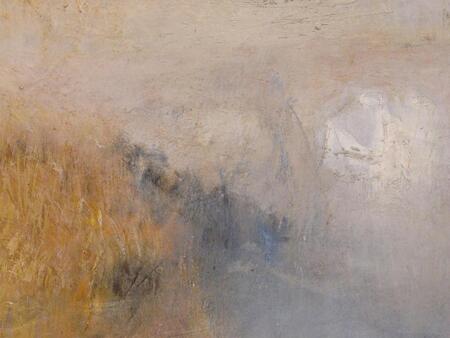 Watercolor is a medium that necessitates quickness, decision. You may make it in layers, returning to it over many days, but everything you lay down remains. I believe that most of Turner's watercolors were made in one impression. He called them "colour beginnings." Here is one from the same period on a similar theme:
J.M.W. Turner, The Moselle Bridge, Coblenz, ca. 1842, Yale Center for British Art, watercolor, 19.13 x 24.25 inches, public domain.
He used watercolor to study transient effects of light. But I think he found in the watercolors unities of understanding that then interested him to consider in paint, which had been, sometimes still is, a much slower medium, built up over weeks, scrubbed out and done again. Here you can see how it resembles watercolor, but still has the scrapes of paint: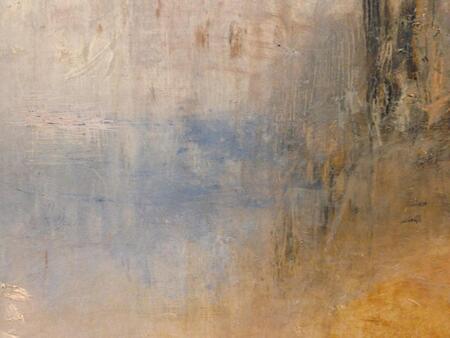 *
The wall text for A River Seen from a Hill says that it might be an Italian landscape.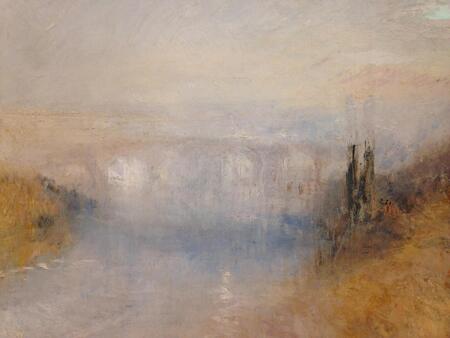 Turner loved Italy, the most of all the places he traveled to, and made several extended trips there. The first, in 1802, came when the Peace of Amiens made European travel possible for British artists. He stored up impressions, perhaps knowing that the peace might not last. The Napoleonic Wars returned; it would be seventeen years before he could return to Italy. In the meantime, as I have been reading this morning, he studied up on Italy, and when he did return, in 1819, he had imaginary, classical ideas of Italian cities and landscapes – these ideas then continued next to, and clashed interestingly with, and had to be revised to accomodate – what he also painted, the complex, impoverished places which he was actually visiting.
He went again ten years later. When he painted A River Seen from a Hill, ca. 1840-5, it had been some fifteen years since he had been in Italy.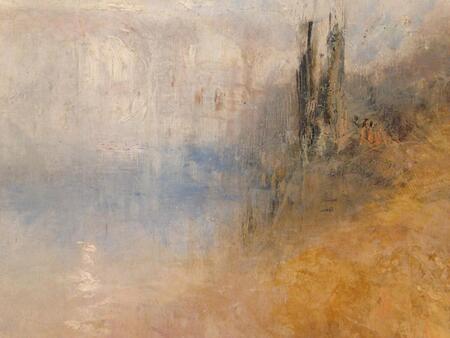 If you think of an abstraction as something that allows you to hold two far apart things on a kind of common ground, then history is one of our most radical abstractions, across time.
Part of what astonishes in this painting, is that, when you first see it, on the wall, in its frame, there is clearly a bridge in the center. But when you get up close, the bridge begins to dissolve.
The painting resolves at a certain distance. You can only get perspective on it, as I can only begin to see what the day of the Brexit vote meant, from some ways away.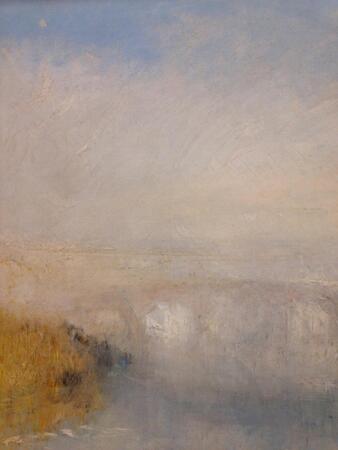 But, you also have to look close. Because you would assume you know how a bridge is made out of paint, but you don't. When you really look close you see that what makes a structure that stands over time is quite different than you thought: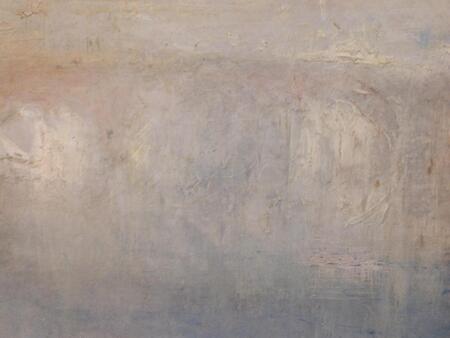 Looking at a photo taken by one person looking in England, of a painting of places another person looked at and remembered in Italy, layers of places that at some periods in history we can go to, and at other periods we can't, you can feel contemplation changing. Retrospect, the holding layers of time in odd proximity, makes memories that learn from water.