15. A little more late Manet
Frederick Project: Fortitude
Monday, March 30, 2020
Yesterday, I began from Manet's morning glories and nasturtiums to arrive at a letter he sent to Marthe Hoschedé, with a water color of a horse chestnut on it.
Letter to Marthe Hoschedé, Decorated with a Chestnut, October 10, 1880, private collection.
Detail photo Rachel Cohen.
In the exhibition, at the museum, next to the letter with the horse chestnut, there hung a watercolor of plums. Today I'm going to begin there.
Three Plums, 1880. Collection of Cecille Pulitzer. Detail photos Rachel Cohen.
Believed to have been made for an autograph album or a collector, but still with the casual, personal quality, watercolor on paper, a line of inscription.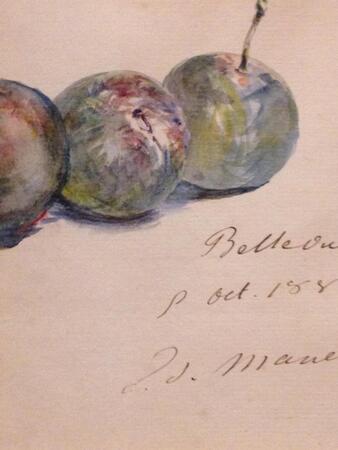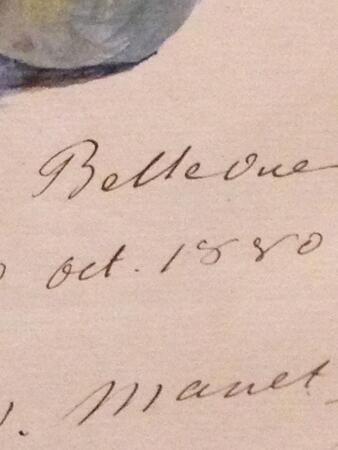 Mostly, I just want to show the layers, the colors.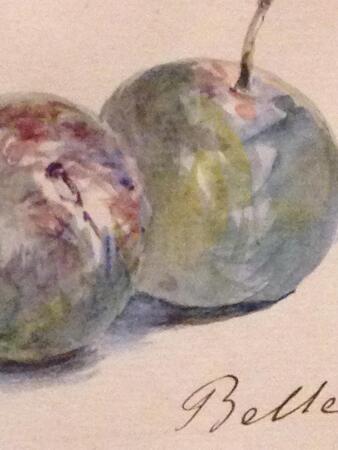 Notice the definition of the space just below and between the two fruits on the left, that unexpected red over blue.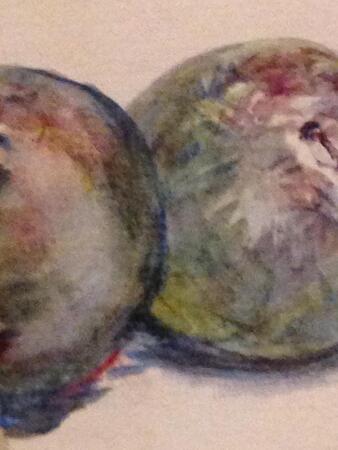 In the show, two rooms later, there was one of the great assemblages, perhaps a dozen still lifes from the very last years, when Manet was exhausted and ill and alone. In 1880, the same year he sent the watercolored letters, he painted these plums: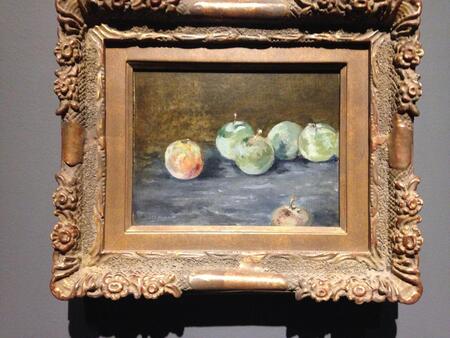 Plums, ca.1880, Museum of Fine Arts, Houston. Detail photos Rachel Cohen.
The still life has a long association with mortality, from the vanitas paintings of the Dutch tradition that Manet had studied intently, to the nature morte (literally translated dead nature) paintings of the French tradition, especially those by Chardin (1699-1779), who was one early father of Impressionism, and whose wonderful still lifes still impart tenderness, domestic fortitude, and courage. Manet, perhaps thinking of Chardin:
Topaz of the background: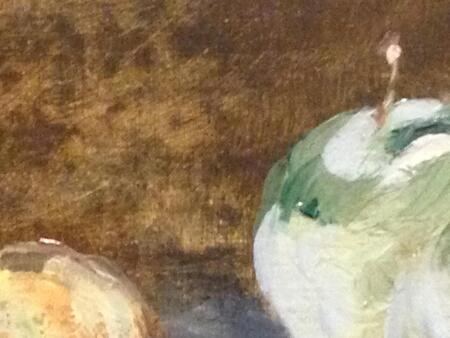 Notice the space between, the definition in blue this time:
Manet had painted huge revolutionary canvases, the Déjeuener sur l'Herbe, and the Bar at the Folies Bergère, paintings that had provoked battles and schisms and had their place on the barricades. When he was dying and saw very few friends, and loved them, he painted these.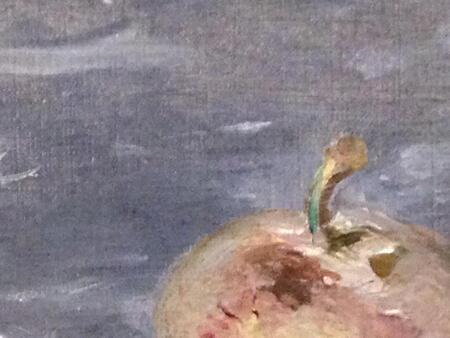 Frederick Project: Unfinished
Sunday, March 29, 2020
Last summer, the summer of 2019, the Art Institute of Chicago had a Manet show, Manet and Modern Beauty which I reviewed for Apollo Magazine.
The paintings in the show were mostly from the late 1870s and early 1880s, a period when Manet's touch and palette were lightening, he was interested in flowers and fashion, and he was also dying of complications of syphilis. Thus the tone was an odd combination of lightness, fluidity, melancholy, and decay.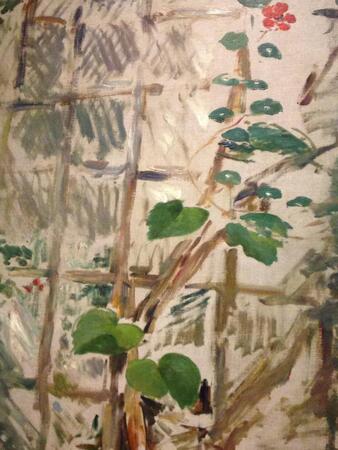 It was a very sad show. I had not realized that Manet was only fifty-one at his death, and he had not been one of my favorite painters, more a painter whose accomplishments and influence I recognized, so it had never really occurred to me to wonder what more he would have done if he had lived through the 1880s and 1890s when many of the paintings I love best – by Cézanne, Morisot, Monet and Pissarro – were made.
This painting, Morning Glories and Nasturtiums, 1881, from the McNay Museum of Art in San Antonio, was left unfinished, or was finished in a radical way, with areas of canvas still open and showing through. It leaves much to the imagination. To my eye, it is more like a sketch of thoughts and intentions. Ideas about the meaning of plants and the space around them.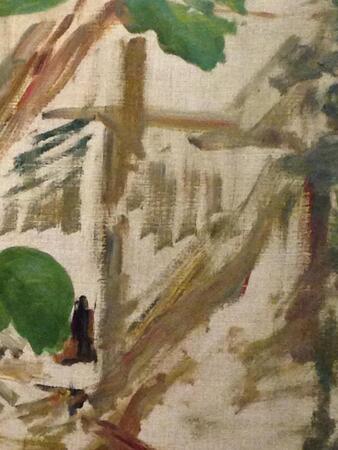 In the show, it was in a gallery with many beautiful letters that Manet wrote to his friends as he was increasingly confined by his illness. He decorated these with water colors of flowers, fruit, bees.
Here is a letter that, in palette and meaning, seems related to the Nasturtiums of 1881. The letter has a watercolor of a horse chestnut. Manet had sent it to Marthe Hoschedé, the year before, in 1880. It belongs to a private collector.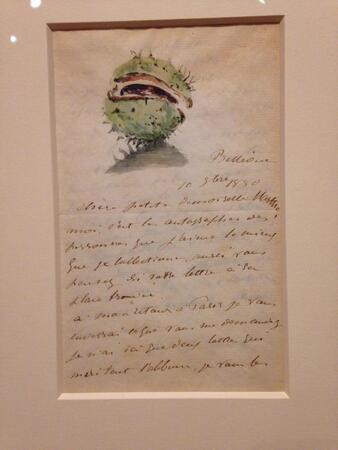 Marthe's father Ernest Hoschedé had been a very important art patron for Manet and others. Ernest Hoschedé went bankrupt in 1878, and moved his family in to a household with the painter Claude Monet and Monet's family. Monet's beloved wife Camille died the next year, in 1879. By the time this letter was sent to Marthe Hoschedé, her mother Alice had formed a new household with Monet and all of their children.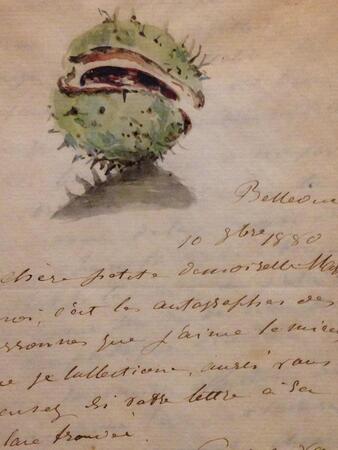 Layers of death, resilience, odd greens, empty spaces around them.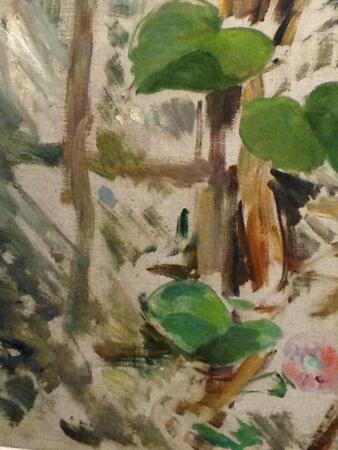 Frederick Project: Commons
Saturday, March 28, 2020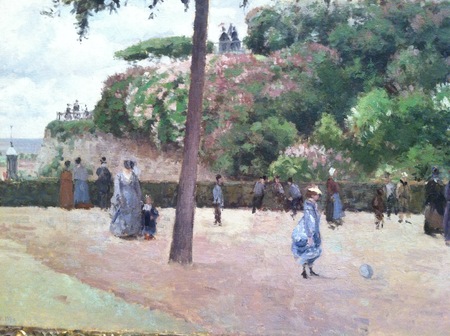 Yesterday in Chicago the lake front and many of the public parks closed. A day or two earlier, there had been a beautiful warm day, and too many people went out to the places we always go to. Jackson Park was closed, too, where the children and I have been going to keep track of spring, and to run around the perimeter of what they call 'the circle garden.' This morning, I am thinking about the relationship between museums and public parks, places whose colors we see, year in and year out, changing and constant.
Camille Pissarro was one of Impressionism's great painters of urban spaces – streets of Paris seen from a balcony in snow, on days of parades, traffic circulating, barges at work along the river. There is a wonderful book about his work on city life, the monograph from an exhibition, The Impressionist and the City: Pissarro's Series Paintings, by Richard Brettell and Joachim Pissarro.
This morning I happened upon a few photos I took of a Pissarro that's at the Metropolitan Museum of Art, The Public Garden at Pontoise, 1874. This beautiful space is connected to the person walking through it, her dress and the feet we can't see in the upper right.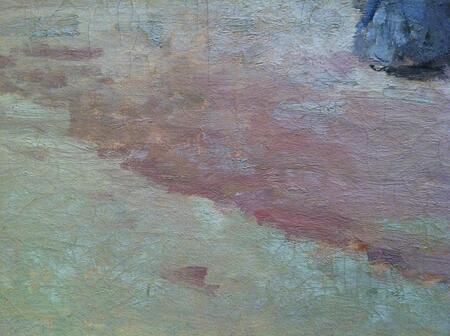 Pissarro was, to my mind, the most radical person in the Impressionist group. Born to Portuguese-French-Jewish parents on St. Thomas, which was then the Danish West Indies, living in Venezuela, then in Paris, a figure whom many historians think held the French Impressionists together, by the breadth of his vision and the kindness of his heart, an appreciator of all their individual talents, probably the one among them with the deepest commitment to portraying working people, the mentor Cézanne needed in the period he most needed it, going ahead into neo-Impressionism with Georges Seurat and Paul Signac, writer of beautiful letters to his friends and his children, a person I have sometimes wished to write a book about.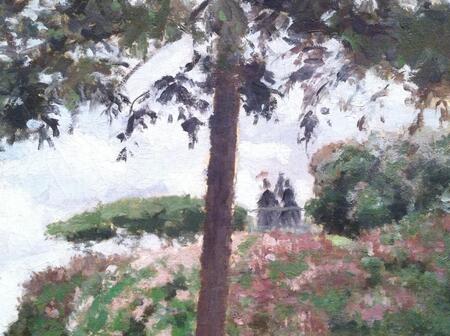 This is just spring, taking the air on a simple day in Pontoise, one hundred and forty-six years ago. I last saw it in the fall of 2013, on an overnight trip to New York without our daughter, then one and a half. I missed her physically, missed the stroller I would have been pushing had she been there.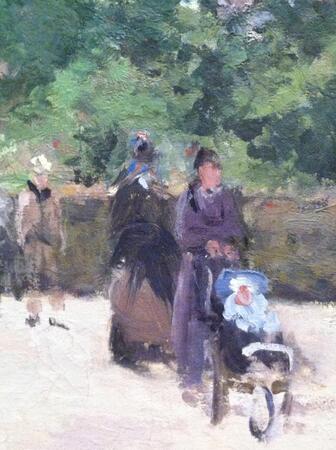 This morning I miss our parks through the children, the way the tree bark feels under their hands. This will be such a different spring than any other we have had. Without the places of common discovery.
Frederick Project: Colors and Collaboration
Friday, March 27, 2020
Helen Frankenthaler (1928-2011) worked with many kinds of material. Two springs ago, the Art Institute of Chicago held a show of her prints: Helen Frankenthaler Prints: The Romance of a New Medium. I went a couple of times, and once took our daughter, for whom colors are living presences.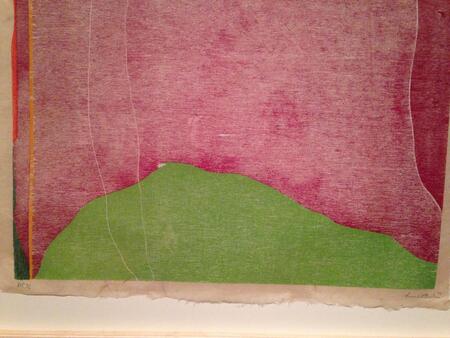 Frankenthaler started working seriously as a high school student, with artist Rufino Tamayo as her teacher. Tamayo, born in Oaxaca, painted in an abstract style, and was influenced by surrealism. Octavio Paz said that to say in one word what distinguished Tamayo's work from that of his contemporaries was to say "sun." Tamayo once told an art critic that using fewer colors increased the possibilities of those colors you used.
Frankenthaler began printing in 1961. She worked at a print workshop on Long Island called Universal Limited Art Editions (ULAE) that had been founded by Tatyana Grosman. Artists whom Frankenthaler was friendly with, Grace Hartigan and Larry Rivers, persuaded her to try the medium out. Together with the various master printers who were her collaborators, she printed seriously for the next seventeen years.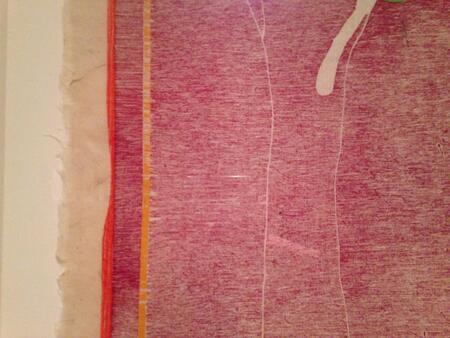 This one we've been looking at is called Savage Breeze. It was hard to get, she said, the hardest print she ever worked on.
Savage Breeze was printed by Bill Goldston and Juda Rosenberg. Pulling prints is extremely technically demanding and printers play a central role. In Japanese woodblock prints, the printer was always acknowledged as a fellow creator, as were those who carved the wood blocks. Mary Cassatt and Edgar Degas both worked with master printers. When I saw the Frankenthaler show, I was delighted by the little handwritten notes from her to the printers on certain draft prints, explaining the effects she was hoping for.
Color is not a given. A long process of trial and error. Savage Breeze began as Vineyard Storm.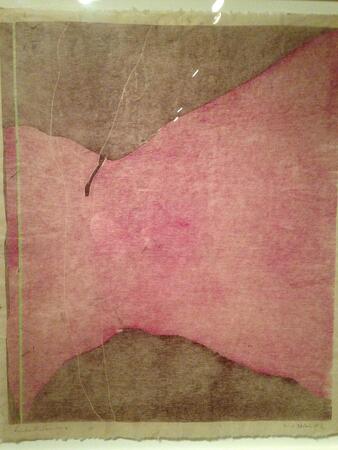 And even once she'd moved from brown to green, the colors still didn't look right. The wall text had a nice quotation from her:
Savage Breeze went dead like a lead balloon. So after many tries, I finally said, let's scratch it. I was almost exasperated. I couldn't get the light I desired. I knew the drawing was right. I knew the scale was right. Then I thought—why don't we whitewash the paper first and then print the other colors I'd mixed over it. We did. And it glowed.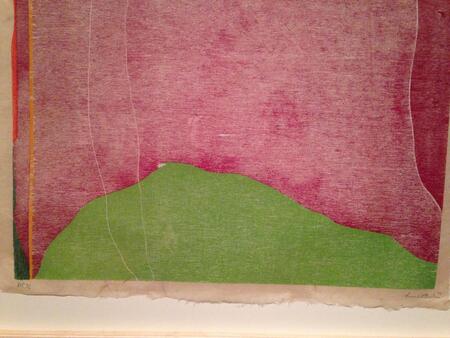 But the composition, the areas of color, still didn't work. They tried a darker burgundy block over the green, but Frankenthaler didn't like the result. In some places, she told them to cut back the burgundy block, and made crayon marks to show where. The cut away areas showed white in the final prints. In another spot, she attached a little green square of paper to show how she wanted it to look – color as edit.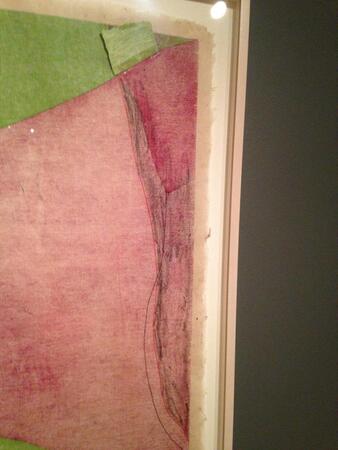 Here in Chicago, the day began with a thick fog and still there seems a layer of gray cotton over the trees and houses. We are waiting, so intently, for spring. Wash, pare, wait, pull the sheets again.
For Tara, sheltering on the Vineyard
Garden Windows
Sunday, February 19, 2017
I was standing in our kitchen this afternoon, and the light from the garden was coming through the windows, garden light, unlike any other, and I started to think of painted gardens. How it is that sometimes the paint itself is even more beautiful than the real light.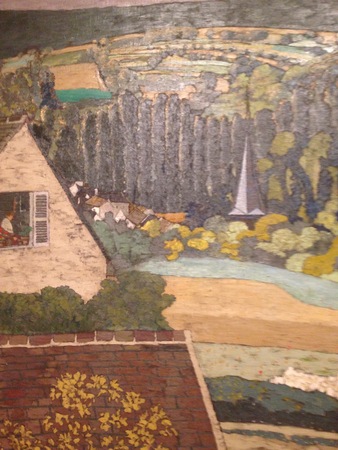 Yesterday and today the air is full of light, sixty-four degrees, sixty-seven degrees, days like April. The trees are rushing to throw off their silver February garb. Green shoots are already up in the garden, although next week it is to freeze.
A friend of my friend's has died. We are in different cities and cannot take a walk together. He wrote that it would be nice to go to a museum.
The last time we were in the same city – he was here, in Chicago – we went to the Art Institute, and looked at this and that, and what we were taken by was Vuillard. In one room, there are two beautiful earth-banners.
Landscape: Window Overlooking the Woods
, 1899, is twelve feet long, eight feet high.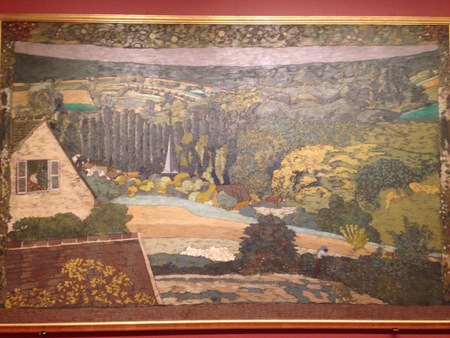 The other,
Foliage—Oak Tree and Fruit Seller,
1918, is a little over nine feet across, some six feet high. You could go every day to look at them.
I had just seen them for the first time a few days before my friend's visit, so we could begin together. There is a woman on the left side, with a child, there, back in the leaves, that is the fruit seller.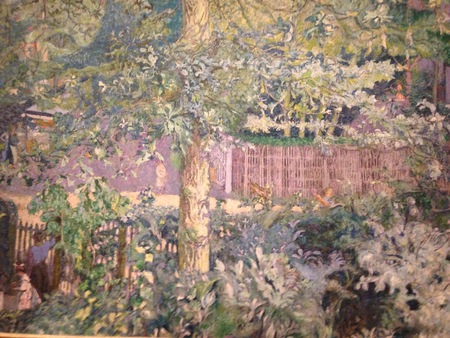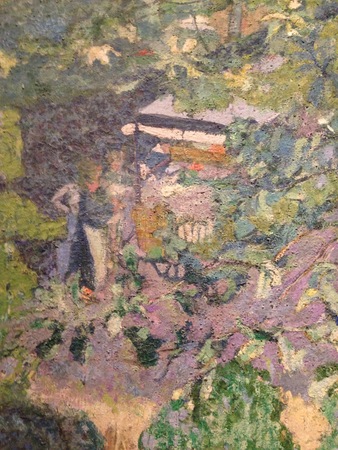 In making
Foliage—Oak Tree and Fruit Seller
, Vuillard used the medium of distemper, in which paint pigments are bound with melted glue. You have to paint quickly, it dries very fast. The wall text also points to the "closely ranged tones of the palette." Sage against olive against forest. In life, friends are like this, right up next to each other, in contrast and bound in their shared medium.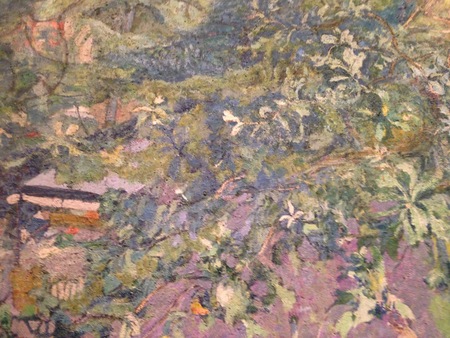 The abstraction of paint, that it may represent both the thing and the light, both the evanescent and the enduring, that would be a comfort, if we could go and look at it today.
In Chicago
Wednesday, September 7, 2016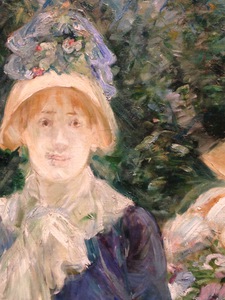 We have moved to Chicago. I went to the Art Institute soon after we arrived and was happy to see that the museum has a wonderful Berthe Morisot. I have wanted to keep thinking about her. I find that I remember vividly each experience I've had of her work in the last few years: two watercolors from the Clark, an exhibition at the Met that had several of her paintings, a visit to the Musée Marmottan while M played with S in the public gardens. The peculiar density of atmosphere that Morisot achieves seems like something to learn from. Perhaps I am affected by knowledge of her biography, and her early death, but it feels to me as if she knew there might not be much time, and that she put everything she knew, about a person, a child, a garden, a hat, into each painting.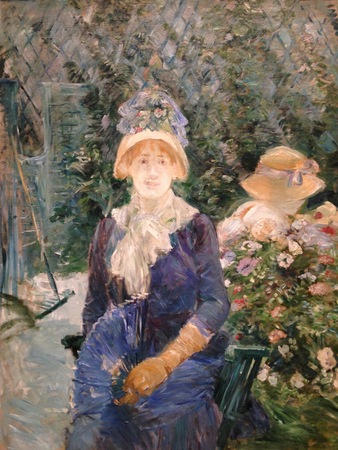 One thing, I think, is that she is able to keep everything in motion. This morning, a first day of school, the perpetual motion of everything and everybody – all our objects, all the four of us, all our places and people – feels overwhelming, but look at how she brings the garden to the dress, the fan away from and toward the dress, the dress itself toward blue, toward purple, toward the body and the air.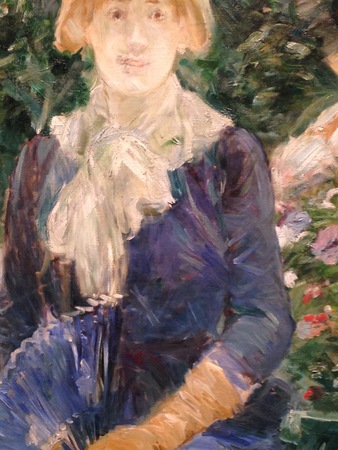 I don't think it is a photographic accident that the face of the woman becomes clearer and more meaningful when looked at with the hat and figure of the child behind her. Morisot has done something with the beige and white shades of their two heads and hats that allows my eye to make a relation between the two figures. The woman's face becomes less ghostly, I see what she thinks about and how she feels happiness and even love across those green strokes to the child.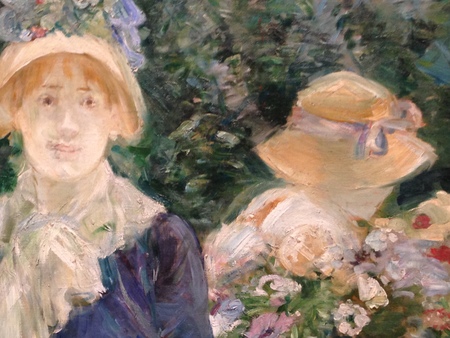 When I look back at our pictures of the summer, I see that we were often sitting where sand or green plants or water made a continuousness between us and the children. I feel I will miss this in the greater distinctness of fall.
In summer there is the challenge of making meaningful and definite that which is blurred by heat and continuity and abundance. Morisot has not forgotten the work of it. This morning, I am especially fond of that rake, like a paintbrush, like a pen, to one side.