20. Xu Longsen at the Art Institute
Frederick Project: Glimpse
Saturday, April 4, 2020
On weekends, I'm going to post some glimpsed works that I can take up in more detail come Monday. These are from an installation of works by Xu Longsen at the Art Institute of Chicago called Light of Heaven, which ran from Feb 1 - June 24, 2018.
At the end, I am also including a photo of the wall text that gives the names of the installations that were in this space, a series of painted columns made of felt, all several feet taller than a person.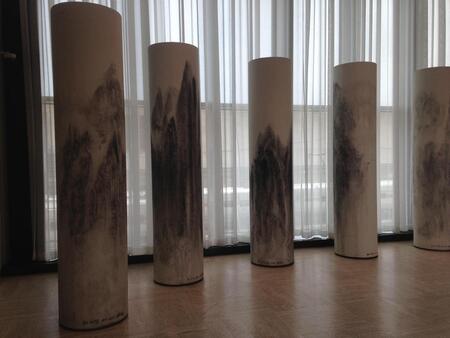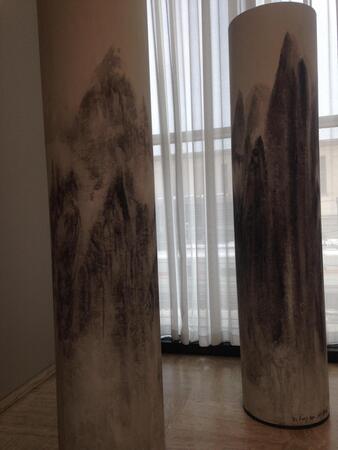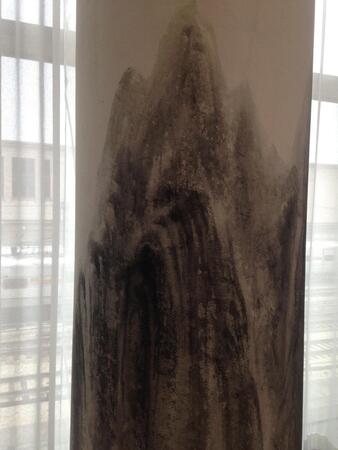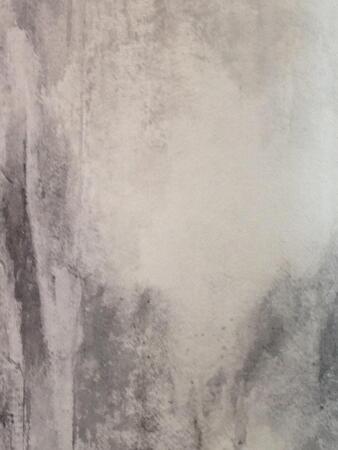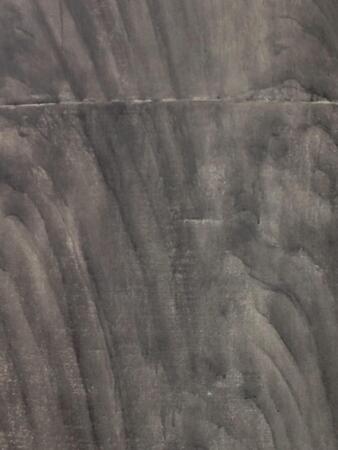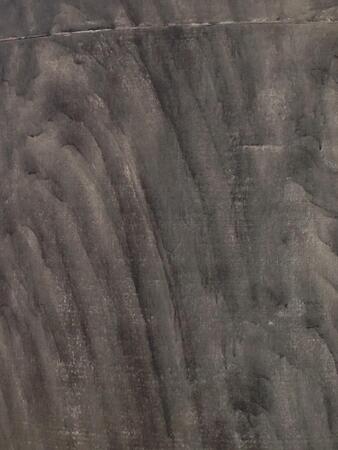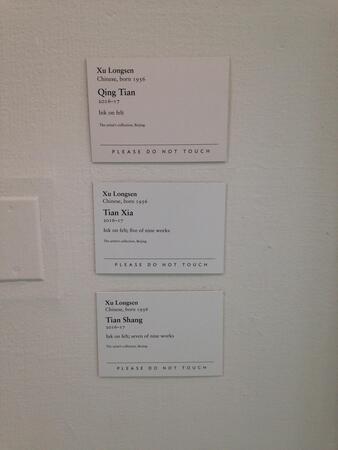 Frederick Project: Stolen
Tuesday, March 31, 2020
I wish I could say that I knew this painting well, but the truth is that I walked by it a few times when we lived in Boston. I went to the Isabella Stewart Gardner Museum fairly often, because I was writing a book about Bernard Berenson, who was one of her most important advisors in building the collection. But Berenson was focused on Italian paintings, and when I went to the museum I spent a lot of my time in the Italian rooms. On most visits, I never even went around to the side of the museum that has this dark room of Flemish and Netherlandish painting, and where this Rembrandt self-portrait hangs.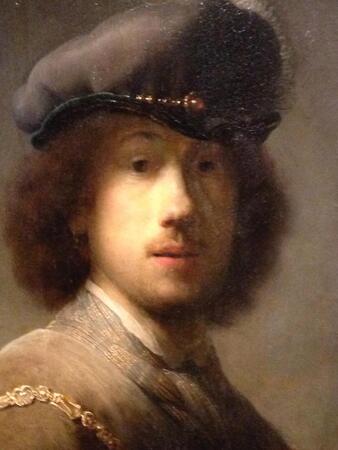 The Dutch paintings room at the Gardner is the one from which several important works were stolen in 1990. I also sometimes avoided it because I found it upsetting to see the empty places on the walls where the missing paintings (Vermeer's The Concert, the two large Rembrandt paintings, the tiny Rembrandt self-portrait etching) should have been.
I won't show that injured wall. This is the wall with the as-of-today present Rembrandt Self-Portrait in the photo that the Gardner Museum thoughtfully offers on its website.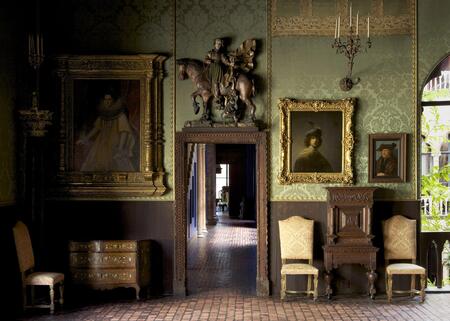 My pictures are dated June 10 of 2016, so I must have gone just a few days before we left Boston to move to Chicago. This was a farewell visit. Rembrandt self-portraits have been a touchstone for me, as for so many writers, for a long time. I first remember looking at them carefully when I was seventeen, so about thirty years.
I guess I thought I might at some point want to write about this painting, because I took quite a few pictures and they came out well. I think you can get a sense of the incredible variety of textures that you feel looking at the painting – the velvet hat, beads, the hair, skin, moustache, cloth.
This morning my eye was caught by the gray.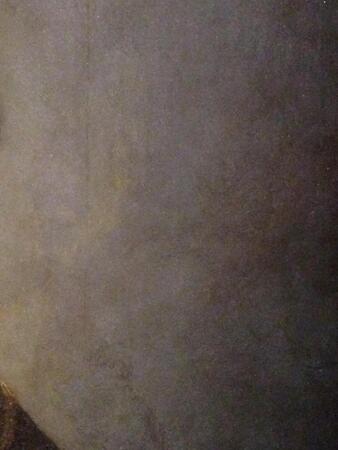 Gray seemed to be connected both to the gray skies we still have, last of March, and to the still life I looked at yesterday by Manet (a Manet was also stolen from the Gardner, which I had forgotten until I looked it up just now.)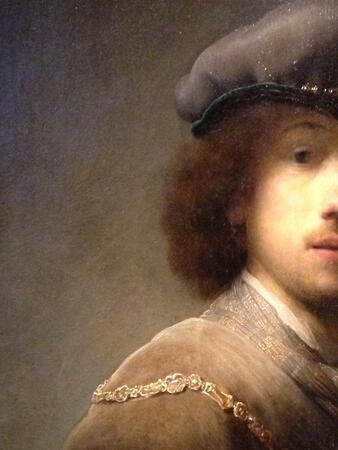 It was only when I began to picture myself walking into the room that I thought about the stolen works. And remembered a headline from yesterday, that a Van Gogh had been stolen from a museum in the Netherlands shuttered by the coronavirus.
Wherever there is money, misfortune, human passion, beauty, violence, trust and mistrust, there will be paintings. When you see a painting in a museum, you do not know if you will see it again, if it will be seen by anyone again.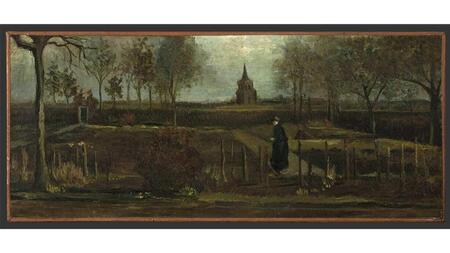 This is the Van Gogh, The Parsonage Garden at Nuenen in Spring, belonging to the Groninger Museum, but on loan to the Singer Laren museum. It was stolen early in the morning of March 30th, which was the painter's birthday. The Parsonage Garden at Nuenen in Spring was painted in 1884. Van Gogh's father was a pastor, and this was the garden of his parents' home, where he stayed with them between 1883 and 1885. It looks to me, in reproduction, an intimate and significant painting, connecting back to Corot and forward to Vuillard. Van Gogh died in 1890 and was, in the mid-1880s, at the height of his powers. It would be nice to see this painting right about now, at the cusp of spring.
This is a little area of the Rembrandt that struck me as especially beautiful a few days before we left Boston.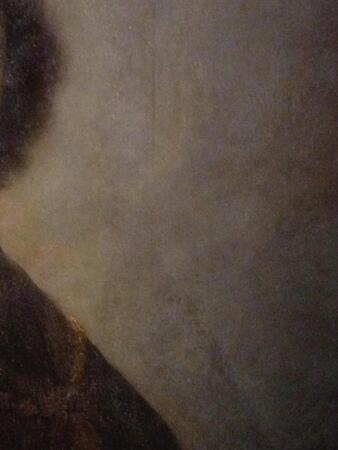 Frederick Project: Unfinished
Sunday, March 29, 2020
Last summer, the summer of 2019, the Art Institute of Chicago had a Manet show, Manet and Modern Beauty which I reviewed for Apollo Magazine.
The paintings in the show were mostly from the late 1870s and early 1880s, a period when Manet's touch and palette were lightening, he was interested in flowers and fashion, and he was also dying of complications of syphilis. Thus the tone was an odd combination of lightness, fluidity, melancholy, and decay.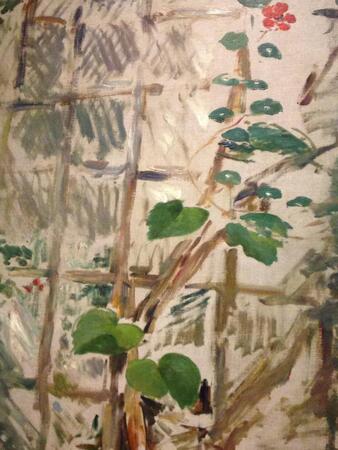 It was a very sad show. I had not realized that Manet was only fifty-one at his death, and he had not been one of my favorite painters, more a painter whose accomplishments and influence I recognized, so it had never really occurred to me to wonder what more he would have done if he had lived through the 1880s and 1890s when many of the paintings I love best – by Cézanne, Morisot, Monet and Pissarro – were made.
This painting, Morning Glories and Nasturtiums, 1881, from the McNay Museum of Art in San Antonio, was left unfinished, or was finished in a radical way, with areas of canvas still open and showing through. It leaves much to the imagination. To my eye, it is more like a sketch of thoughts and intentions. Ideas about the meaning of plants and the space around them.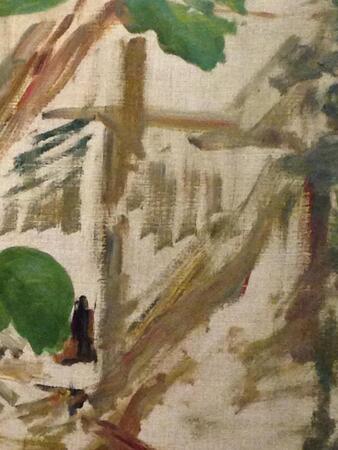 In the show, it was in a gallery with many beautiful letters that Manet wrote to his friends as he was increasingly confined by his illness. He decorated these with water colors of flowers, fruit, bees.
Here is a letter that, in palette and meaning, seems related to the Nasturtiums of 1881. The letter has a watercolor of a horse chestnut. Manet had sent it to Marthe Hoschedé, the year before, in 1880. It belongs to a private collector.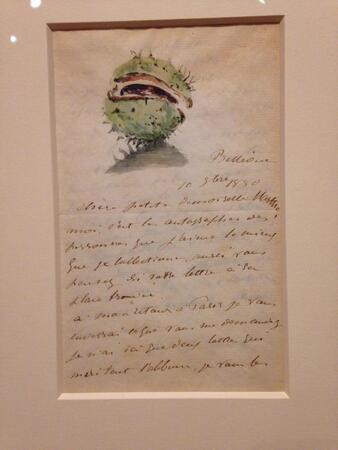 Marthe's father Ernest Hoschedé had been a very important art patron for Manet and others. Ernest Hoschedé went bankrupt in 1878, and moved his family in to a household with the painter Claude Monet and Monet's family. Monet's beloved wife Camille died the next year, in 1879. By the time this letter was sent to Marthe Hoschedé, her mother Alice had formed a new household with Monet and all of their children.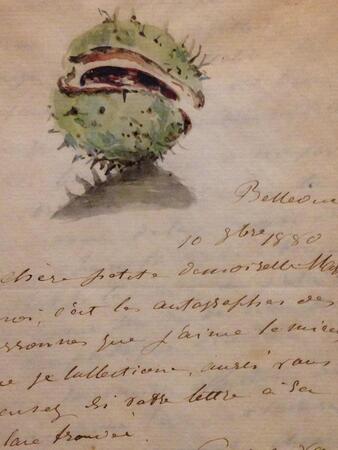 Layers of death, resilience, odd greens, empty spaces around them.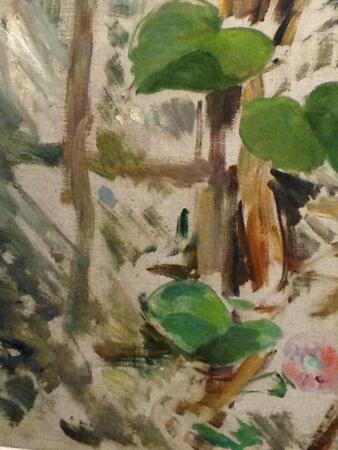 Giacometti and James Lord
Monday, April 2, 2018
Preparing for class this week, I reread James Lord's book
Giacometti: A Portrait
. The book is broken into the eighteen sittings Lord did with Giacometti one fall, in September and October of 1964, for a painted portrait. Lord's book was published the following year.
The class has just begun, but the students and I intend to reflect on drawing, and especially on returning to the same work repeatedly, and I assigned the book in part because of its repetitiveness. It's as if Giacometti is practicing painting Lord's portrait – as he goes on, perhaps most of the times he does it, he does it a little better, but then in despair he paints out large parts of it, in gray, white. He begins again, with some layers remaining of previous efforts, to define the head with strong thin blacks. When it is succeeding, there is a sense of space, of the head and what is around the head; at other times it seems lopsided, opaque. He could go on this way a long time. Neither Giacometti nor Lord has any thought that the painting would eventually be finished, the question is at what point to abandon it.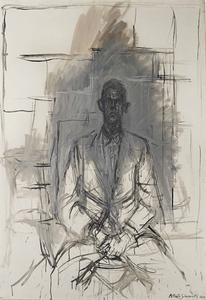 [The portrait as it was abandoned in October of 1964 and subsequently sold.]
I don't know if it would be right to say that I have spent a fair amount of time looking at Giacometti, or if it would be more accurate to say that the time I have spent has felt very acute, indelible. I can return to the experiences with clarity, re-enter them. The works let me strain alongside them, strain to an utmost, and that is memorable. Intermittently, they also give me a sense of rest. The sense that they are unfinished because their maker fought as hard as possible creates around them a special atmosphere – quiet, rigor, charity – that resists even something of the stealth of museumization. The work lets me feel not just that I am forgetting the price it fetched at some auction in a world I have no access to, or the women with expensive educations and scarves writing smooth copy to be posted nearby (I might be such a woman, I sometimes am,) or the gift shop hovering in the background that sells the scarves – lets me not forget these things, but somehow go on thinking without being debased, lets me think instead, here is something, I am thinking about it.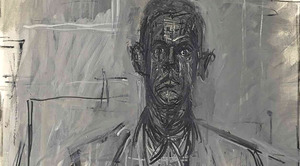 [A detail of Lord's painted face as posted by someone on the internet.]
Lord talks about a similar kind of alternation between strain and rest – rest is the sense of having contributed – in the experiences of posing for Giacometti. Because Lord is a little bit sneaky, a little bit facile, he also brings this to the tale. Lord is always plotting how to steal a little bit of the experience – he is taking photographs of every stage of the work, he is slipping out to make notes about it and then lying to Giacometti about what he is doing, when Giacometti throws out and destroys some drawings, Lord fishes a few out of the trash, on the final day, he is secretly trying to get Giacometti to stop the cycle of painting on an upswing, toward clarity, which will make the portrait, which Giacometti has told him he will give him, more beautiful to Lord, and more valuable. Giacometti must have known all this. He apparently used to say that he wasn't interested in portraying the inner life, it was hard enough just to get the outward aspect, but people, including Lord, thought he was a good judge of character. I think it was a relief to Lord, and perhaps this allows me to recognize part of the relief I feel myself in the vicinity of the works, that Giacometti was not concerned about thieves.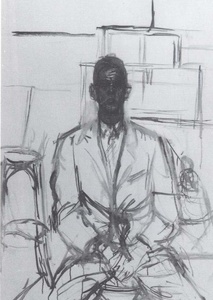 [A version of the portrait in progress as James Lord photographed it.]
Sargent Notes
Sunday, May 22, 2016
I am writing this in a notebook that has on the cover of it a part of a Sargent water color. It's of a house, gray and brown mingled in the wash, with a roof speckled and dashed with white. An ordinary small mountain house, to which a stone wall in the shape of an S rises.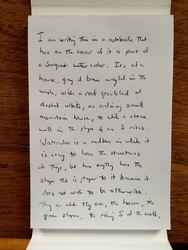 Watercolor is a medium in which it is easy to lose the structures of things, but here everything has the shape that is proper to it because it does not wish to be otherwise. They are what they are, the house, the green slopes, the rising S of the wall, the gray sky. They do not blame or advise.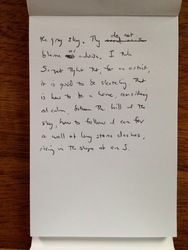 I think Sargent thought that, for an artist, it is good to be sketching. That is how to be a house, considering and calm, between the hill and the sky, how to follow and care for a wall of long stone dashes, rising in the shape of an S.
Lenses
Monday, January 4, 2016
Today I got new lenses for my glasses. After more than a month of squinting and blearing and pretending, my eyes knew themselves at last understood and the world came through with that almost bulging astonishing hyper-detail. Learn the task again. A half an hour, every few years, of seeing everything in the world at once.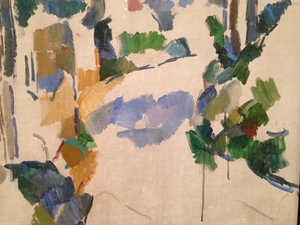 I was running errands and had not planned to go to the Fogg, but, feeling my sudden seeing, I turned left. With which painting should I use this beautiful straining and adjusting sight? I thought of a Beckmann triptych that has eluded me for months, and then of a Cézanne I have struggled with for four years, an unfinished painting from 1904.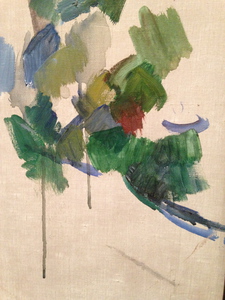 It was a wintry day in Cambridge, cold. A little snow had materialized as I walked to the optometrist, and then was held in abeyance as I walked away again, and back again, and to the museum. I saw the day first with the impeding old glasses, then with the odd freedom and powerful myopia of no glasses, and then, every branch and twig in dark lines before the gray sky, with the new glasses.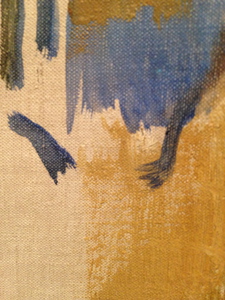 It's on the ground floor. Past the main room of the Impressionists, through a doorway and on the right. Often when I get to see a painting well, I have the experience that it seems bigger than I remembered. Before I was even looking, there was the sense of spaciousness.
With each of the different degrees of seeing I had today, I was aware of the strange effect of the snow clouds. Sometimes the gray sky is leaden, and at other times is in wondrous motion. When it actually particularizes as snow, the eyes draw a hundred relations at once.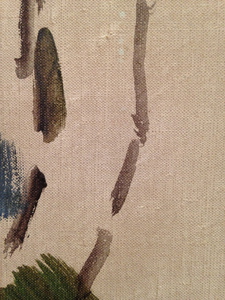 My eyes leaped for it. And went directly to its depths. It had always seemed very flat to me, an array of touches on the surface of a gray canvas, but now unmistakeable were the curved road and arching branches.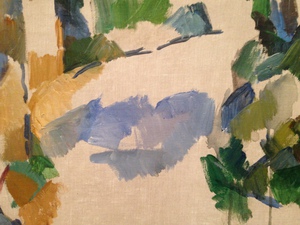 All those touches of paint with their several directions clustered together were like little flags indicating the motion of air and light.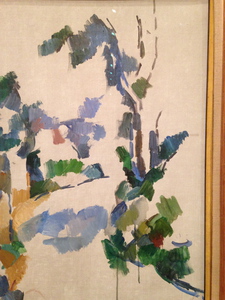 In the painting, it was summertime, some summer moment in which, by virtue of everything being a little strange, a little distorted, all the relations between things were suddenly clear.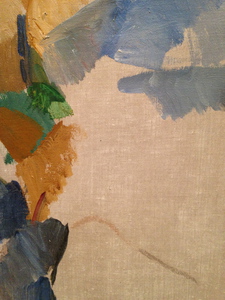 When I walked on the street again I saw that I and the other people walking seemed made solitary by the gray snow sky. But we also seemed held up and surrounded by the palpable space.