19. Jan Brueghel the Elder Dance
Frederick Project: Crowded
Friday, April 3, 2020
Yesterday I spent some five hours talking to people through screens – a zoom faculty meeting with twenty-five writers at their desks, facetime with my oldest friend, also a writer at a desk, zoom family meet-up for nine with breakout room for cousins. The day closed with a zoom nightcap for my husband and I and a dear friend in Cambridge. Grateful for friends, colleagues, family, health, nevertheless, by the end I was reeling with insubstantiality.
This morning I followed my subconscious through the folders of my art photographs, choosing a trip to France six years ago, the Musée des Beaux-Arts de Bordeaux, then falling to contemplating this painting, Wedding Dance from 1600 by Jan Brueghel the elder.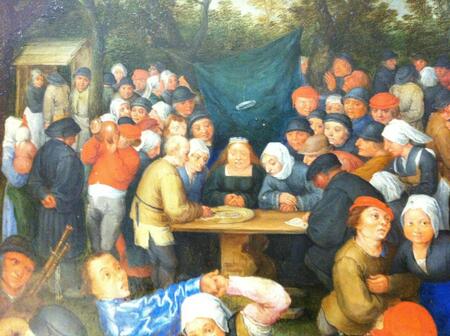 (In the confusing genealogy of Brueghels, this is not by the patriarch of the family, the profound Pieter Brueghel the elder, but by his second son. Jan Breughel grew up to paint brilliant still lifes and genre scenes like this one. After this Jan Breughel, two more generations of painter-Brueghels were born, including another Jan, so that the one who painted Wedding Dance gets called the elder.)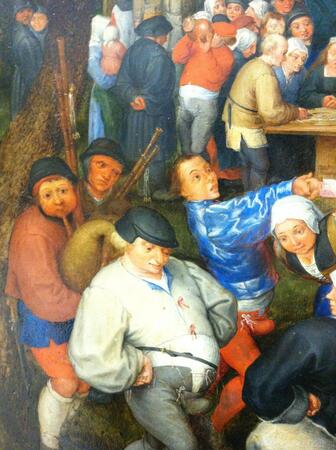 This morning, I love how crowded it is. Even the crowd of difficult-to-keep-straight Brueghel descendants is delightful.
When I took the photos, I was in the Bordeaux Museum with our daughter, who was turning two that week. She was very little and liked best some small bronze statues of animals. We had been in the town's center, at the merry-go-round, which she loved, even in the rain, and I had promised we would go to the merry-go-round again. She was patient, and stood on her little feet, but I knew I was taking pictures fast in order to think later.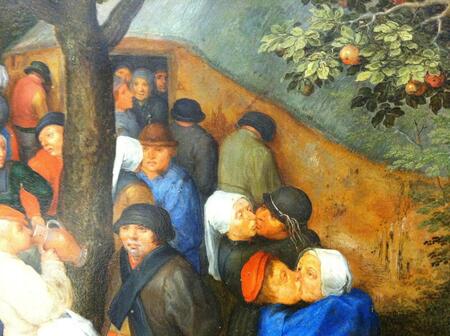 I didn't know, though, that I was taking pictures in order to feel later. Even through my screen, I can get the jolt of collision, face pressed to face, the woman leaning in to advise the none-too-joyful bride.
Stretch of legs and arms to jut and whirl.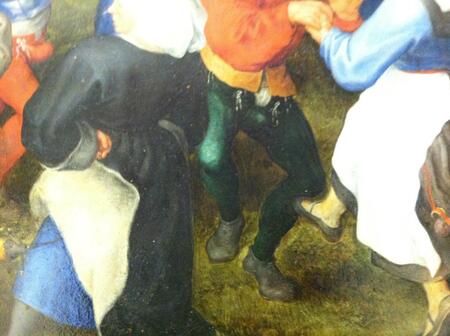 Oh wonderful contact.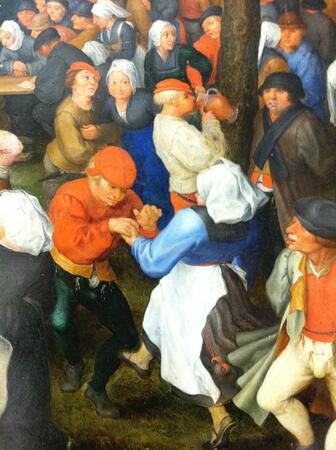 Unsteady Hands
Friday, May 5, 2017
The prose fragment is a form capable of kindness. After I thought of that sentence, I thought of reading Hervé Guibert again, with students, this quarter. In his use, the fragment has so much discretion all along its edges. We all exist beyond those edges. It's like sending a note when a call might be intrusive, or stepping aside the right degree, to make way but not to shun.
It's not that his writing is especially interested in kindness, but, in writing and photography, he is interested in recognition, both the kind you can accomplish steadily, and the kind where you flinch away. This is a Guibert self-portrait, from 1981.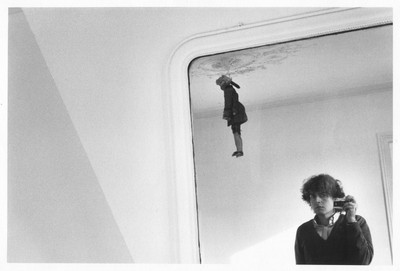 Yesterday I was thinking about Degas. And wondering about his hands when, late in life, he could barely see. I remember reading in a wall text at the Metropolitan Museum that one of his friends helped him to feel a painting he was curious about. What I wondered yesterday was how the paint felt to his fingers, if his hands felt steady to him. I think of steadiness of hand and steadiness of gaze going together. The fact that my hands feel unsteady to me lately seems related to how much I flinch away, from what I am reading, even from watching peoples' faces. In every news article, in the faces of people crossing the street, I seem to see great vulnerability, that we are menaced.
Here is an essay by Guibert I didn't know about. It is a photograph, the joint effort of the subject and the photographer to understand, among other things, Degas. Some day, I hope I will write about the way the picture reflects on Degas' ideas about the brave efforts of our bodies, about drawing and sculpture and form. But my hands are a little unsteady today.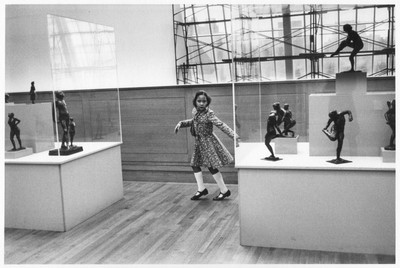 Dancing Couple
Sunday, August 4, 2013
I went with the baby, perhaps two weeks ago now, to look at the Renoirs at the MFA. In the great room of the Impressionists, she liked best the Degas ballerina, "girl! girl!" though she liked better still an actual girl in a polka dot skirt who sat on the bench. In general, her preference was for statues, mirrors, the lime green chairs in the café, the beaded curtain hanging between two rooms of contemporary works, things with which she could have a spatial interaction. It was hard to get her to stand still in front of the great Renoir, the full-length dancing couple. (The people posing for this painting were the painter Suzanne Valadon and Renoir's friend Paul Lhote.) Woman in a red hat, cluster purple fruits part of bonnet, girlish delight; man's face somewhat obscured; both bodies in happy motion. I looked as well as I was able to and already had the impression of a more complex light, space, and atmosphere than I had before credited to Renoir. We hurried out, both of us pushing the stroller, and some time passed – we accustomed ourselves to long strings of glittery beads, were hushed and still in the presence of a magnificent towering seated bodhisattva from the Eastern Wei dynasty, tried the new gelato at the café (excellent, though, as an administrator in the elevator pointed out to us over his delicately balanced cup, dangerously sticky) and purchased a children's board book at the gift shop with pictures of Renoirs, "girl! girl!" said the baby. I wanted, though, to see the Renoir again, and we made our way back to the room – again I saw mostly in glimpses, but how different the painting seemed – now it had those strange depths that open in paintings after longer consideration, now the space moved about the figures and the figures moved through the space. The air
was
soft, but not cloying, pleasures of a summer breeze as summer turns toward autumn. Probably, I thought, as we clambered into the sticky stroller and hastened down to stand in the fountain outside, this is a very great painting indeed.