15. A little more late Manet
Frederick Project: Fortitude
Monday, March 30, 2020
Yesterday, I began from Manet's morning glories and nasturtiums to arrive at a letter he sent to Marthe Hoschedé, with a water color of a horse chestnut on it.
Letter to Marthe Hoschedé, Decorated with a Chestnut, October 10, 1880, private collection.
Detail photo Rachel Cohen.
In the exhibition, at the museum, next to the letter with the horse chestnut, there hung a watercolor of plums. Today I'm going to begin there.
Three Plums, 1880. Collection of Cecille Pulitzer. Detail photos Rachel Cohen.
Believed to have been made for an autograph album or a collector, but still with the casual, personal quality, watercolor on paper, a line of inscription.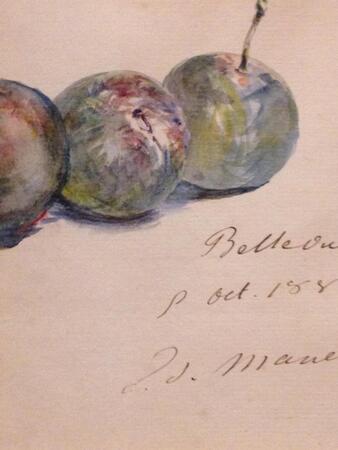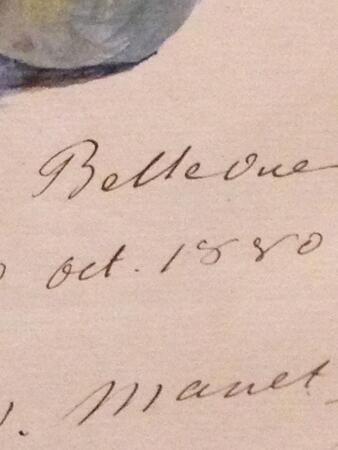 Mostly, I just want to show the layers, the colors.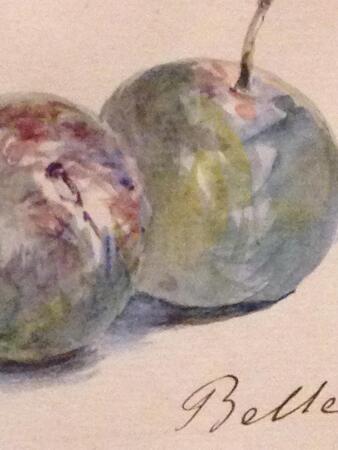 Notice the definition of the space just below and between the two fruits on the left, that unexpected red over blue.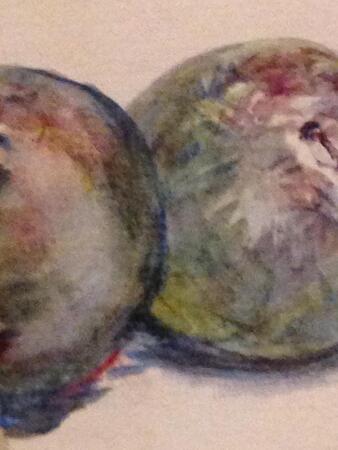 In the show, two rooms later, there was one of the great assemblages, perhaps a dozen still lifes from the very last years, when Manet was exhausted and ill and alone. In 1880, the same year he sent the watercolored letters, he painted these plums: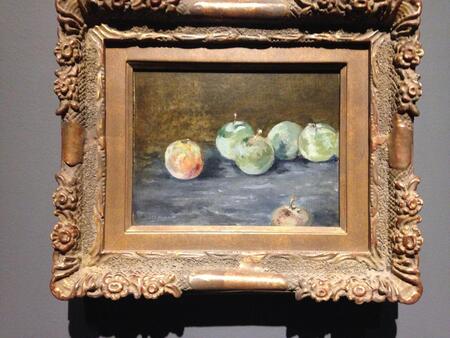 Plums, ca.1880, Museum of Fine Arts, Houston. Detail photos Rachel Cohen.
The still life has a long association with mortality, from the vanitas paintings of the Dutch tradition that Manet had studied intently, to the nature morte (literally translated dead nature) paintings of the French tradition, especially those by Chardin (1699-1779), who was one early father of Impressionism, and whose wonderful still lifes still impart tenderness, domestic fortitude, and courage. Manet, perhaps thinking of Chardin:
Topaz of the background: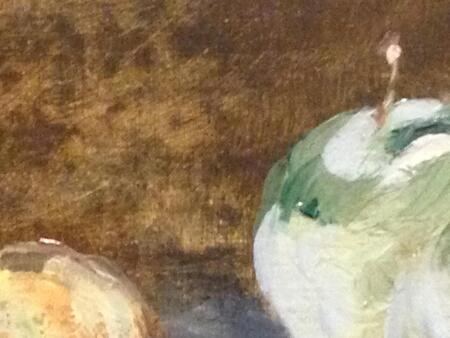 Notice the space between, the definition in blue this time:
Manet had painted huge revolutionary canvases, the Déjeuener sur l'Herbe, and the Bar at the Folies Bergère, paintings that had provoked battles and schisms and had their place on the barricades. When he was dying and saw very few friends, and loved them, he painted these.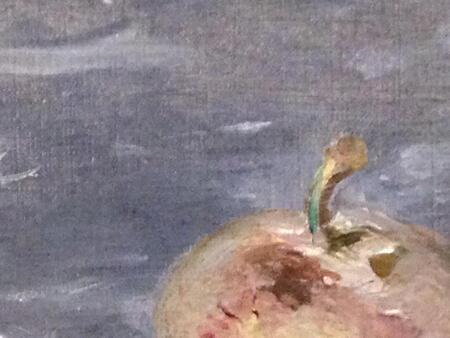 Sargent Notes
Sunday, May 22, 2016
I am writing this in a notebook that has on the cover of it a part of a Sargent water color. It's of a house, gray and brown mingled in the wash, with a roof speckled and dashed with white. An ordinary small mountain house, to which a stone wall in the shape of an S rises.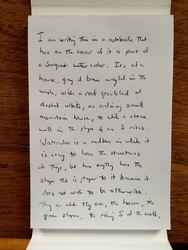 Watercolor is a medium in which it is easy to lose the structures of things, but here everything has the shape that is proper to it because it does not wish to be otherwise. They are what they are, the house, the green slopes, the rising S of the wall, the gray sky. They do not blame or advise.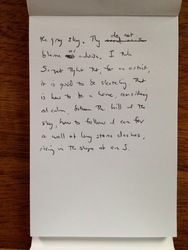 I think Sargent thought that, for an artist, it is good to be sketching. That is how to be a house, considering and calm, between the hill and the sky, how to follow and care for a wall of long stone dashes, rising in the shape of an S.
Delacroix's Palette
Saturday, June 28, 2014
The final studio in which Delacroix worked is also, spatially, the last in a series of seclusions. It's a wonderful large square, lit by immense skylights, and surrounded by gardens that Delacroix filled with a profusion of flowers, their colors of his own careful choosing. The studio building is behind, and separate from, the apartment in which Delacroix lived. This apartment is itself on a private courtyard holding quiet entrances for a few buildings. The courtyard is off a small quiet square, really a slight geometric expansion of a narrow street, the Rue Furstenberg, an untrafficked byway not far from the great church of St. Germain des Pres.
The studio was recommended to Delacroix by the restorer and color merchant Etienne Haro, who knew that the artist, unwell in his later years, needed to be within walking distance of St.-Sulpice, where he had undertaken a last sequence of great murals.
When he was young, Delacroix once said to his friend Charles Baudelaire, he could only work if he knew he had somewhere to be that evening, a ball, music, but as he grew older, the discipline of work grew in him and he worked indefatigably. He had visitors, but not so very many, and he kept his last illness private. Even a good friend like Baudelaire was shocked by the news of his death and wrote sorrowfully of how they would no longer find him in that grand square space "where reigned, in spite of our rigid climate, an equatorial temperature."1
* * *
A study in hot and cold, Delacroix as a personality and an artist was in continual motion between shade and gleam. He was revered for his color sense, both daring and precise, and the palettes now on display at the Musée Delacroix make his color sense dramatically visible.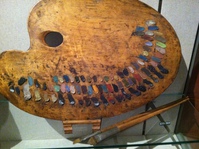 Here you can see, unusually, not a rainbow or color wheel, but hot colors intermingled with cold ones, and dark contrasts grouped together with corresponding brights. The artist mixed his shades in advance and kept careful notes of each one's composition. In
Les Palettes de Delacroix
(1930), Léon Piot noted that when Delacroix was ill, he would have his palette brought to his bed and spend the day there mixing colors. Baudelaire wrote, "I have never seen a palette as minutely and delicately prepared as that of Delacroix. It resembled a bouquet of flowers, knowingly arranged."2 On its website, the Musée Delacroix points out that as time went on the artist, "fragmented more and more the tones, focusing less and less on real color as opposed to shadows, halftones, and reflections."
Baudelaire evidently felt sympathetic to, and recognized by, the atmosphere created by Delacroix's color. "It seems that such color thinks for itself, independently of the object it clothes," Baudelaire is said to have said, "The effect of the whole is almost musical."3
* * *

This palette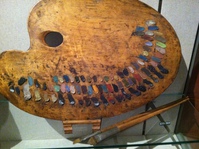 was said to have been given by Delacroix to Henri Fatin-Latour, a great admirer of Delacroix. Fatin-Latour, angered by the lack of official commemoration of the master's death, painted an
Hommage à Delacroix
.
The group portrait includes Fatin-Latour himself (in white blouse), James McNeill Whistler (standing center,) Edouard Manet (standing immediately to the right of the portrait of Delacroix) and Baudelaire (seated right corner.)
Six years later, Fatin-Latour painted a similar group portrait, called
A Studio at Batignolles
that, with its depictions of Manet, Renoir, Zola, Bazille, and Monet, stands as both manifesto for and document of the Impressionist movement in something like the manner of John Trumbull's
Declaration of Independence
: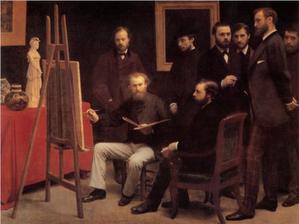 The palette that may have belonged to both Delacroix and Fatin-Latour was eventually donated to the Musée Delacroix by the granddaughter of Léon Riesener, and the Riesener family, through its friendship with the Morisot sisters, provided another, personal, conduit by which the palette of Delacroix was transmitted to the Impressionists.
* * *

This summer, the Musée Delacroix has an exhibition of works that show the influence of Shakespeare on Delacroix. Like Berlioz, Delacroix was greatly moved by the force of drama in the works of Shakespeare and there are wonderful etchings of instants of great intensity from Hamlet (Hamlet on the terrace approached by his father's ghost, the moment before the stabbing of Polonius, the moment "up, sword" of deciding not to kill Claudius at prayer). There is also an oil sketch of Léon Riesener, a cousin and confidante of the painter, himself a painter, and a legatee of Delacroix's.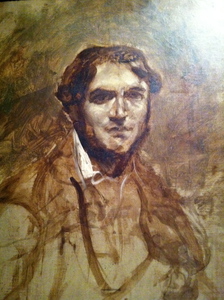 This portrait shows a broad and sympathetic face, tones all of brown and white. In the background and upside down are discernible sketches for another picture, Hamlet and Horatio in the cemetery with the skull of Yorick.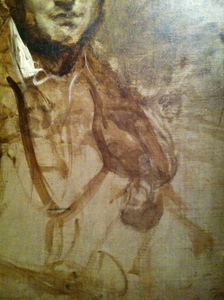 Bequeathal, and legacy were vexed issues for Delacroix, who, says Baudelaire, was increasingly preoccupied with which of his contributions would endure.
Walter Benjamin notes the aptness of Léon Daudet's phrase for Baudelaire. Daudet writes that Baudelaire had a "trap-door disposition, which is also that of Prince Hamlet."4 I take this to mean a theatrical, or a magician's, feeling for circumstances and their manipulation. Appearances and disappearances, sudden dispersals, going within to get out. There seems to be something of Delacroix in the phrase, too.
* * *

Another inheritor of Delacroix was Berthe Morisot, who, in an early summer of her training as a painter was working side-by-side with her sister in the town of Beuzeval in Normandy. Their father had rented for them a mill belonging to Léon Riesener, and the Morisot sisters were soon close to, and much encouraged by, the whole Riesener family. In her notebook, Berthe Morisot recorded an anecdote they related: "Delacroix composed his palette with such precision that he could have it prepared each morning by Jenny, his maid, while he was painting his Apollo ceiling or rather while he had Andrieux paint it as he remained below. One day, he called out to him to use a No. 2 pink and Andrieux thought he would catch him out with a No. 3. 'No, no, exclaimed Delacroix, I said a No.2.' That is absolutely the sensation of a musician."5


* * *

I see two ways out of this series of reflections: one is to try to see further inside the man, the other to try to see further into the legacy of his works. These efforts do not amount to the same thing, but perhaps could be displayed immediately next to each other.
Walter Benjamin, whose interest in Delacroix grew in part from Benjamin's profound relationship to the works of Baudelaire, notes that Delacroix was interested in photography, and that his paintings "escape the competition with photography, not only because of the impact of their colors, but also (in those days there was no instant photography) because of the stormy agitation of their subject matter. And so a benevolent interest in photography was possible for him."6 The ever more profound and fragmentary sense of color, and the idea of creating motion through the juxtaposition of contrasting colors, these went on being a significant part of how painting responded to photography through the rest of the 19th century.
Baudelaire said that his friend Delacroix was a peculiar combination of the "sauvage," and the "homme du monde." He was, writes the poet, "passionately enamored of passion, and coldly determined to seek out the means of expressing passion in the most visible manner."7 In his austere seclusion he would, Baudelaire wrote, find the colors in which to bathe his scenes so that they had their own life. "As a dream is placed in the colored atmosphere proper to it, so a conception, become a composition, must moves in a colored milieu particular to it."8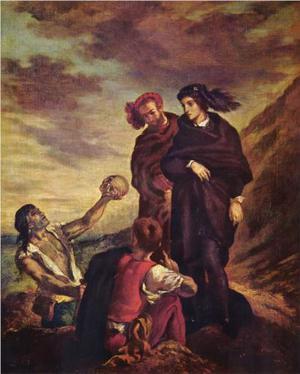 Hamlet and Horatio in the Cemetery, Musée du Louvre
1 Baudelaire,
Critque d'art
, "Eugene Delacroix, son oeuvre et sa vie," p421, translations mine.
2 Baudelaire,
Critique d'art,
p408
3 from Ernest Seillière,
Baudelaire
, (Paris, 1931) cited in Walter Benjamin,
The Arcades Project,
edited Tiedemann, translated Eiland and McLaughlin, (Cambridge, 1999) p277.
4 Daudet,
Les Pélerins d'Emmaus
, Paris, 1928, p101, cited in Benjamin,
Arcades Project
, p265.
5 Morisot, Notebook, 1885, 1887-8, p12-13, cited in Marianne Delafond and Caroline Genet-Bondeville,
Berthe Morisot or Reasoned Audacity,
Paris, 2011, p16
6 Benjamin,
Arcades Project
, p678.
7 Baudelaire,
Critique d'art
, p418, p406.
8 Baudelaire, p408.
Morisot in Paris
Wednesday, June 4, 2014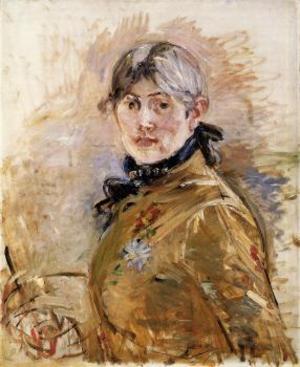 At the Musée Marmottan last week a chance to really see Morisot: a whole room of the paintings; a smaller room with fifteen watercolors and a selection of works she owned; drawings by the artist and by members of her family; and a special exhibition of paintings from private collections that contained several further canvases.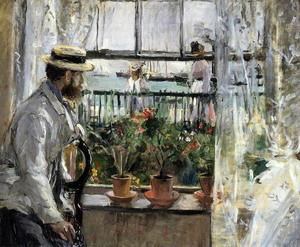 [Edouard Manet at the Isle of Wight, c1875]
Struck, afresh, by the strange quality of paint as she used it. Very thick, the strokes seeming to hang almost like banners in the air, sometimes gauzier as curtains, but sometimes veritable stripes, and yet the works are of great transparency, luminous and fresh, the air always dewy, a light breeze stirring.
[La Fable, c1883, currently on display in Impressionism Privé at the Marmottan]
Some of this she worked out from Corot, one of her early teachers and a good friend, whose thick greens also manage to be ever-light and full of air. Some of the weight she had from Manet, the painter she probably worked in closest conjunction with, a lifelong companion in art, and in family life, since she was married to his brother. But where Manet is deliberately opaque, Morisot is spacious, and a peculiar kind of space, as if interior to the paint itself. The text at the Marmottan acclaims her, in my view rightly, one of the great watercolorists of her day, and suggests that her practice in watercolor influenced her objectives in paint. This seems plausible but does not really begin to answer the question: how?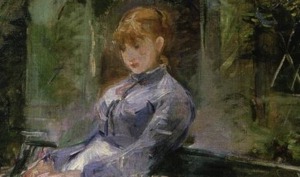 Turner before Monet
Sunday, December 29, 2013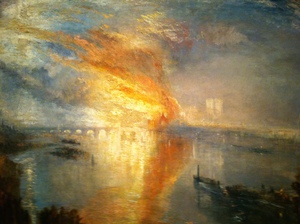 In Cleveland for the holidays, M. and I walked through the galleries of the art museum, and stumbled upon Turner's
The Burning of the Houses of Lords and Commons, 16 October, 1834
.
If I'd seen it before, I'd entirely forgotten. A painting of great power and intricacy.
Turner one of those rare colorists who seems, to me, to have control
within
the color – especially here of red that really burns at the heart of the painting and of the expanding cloud of yellow and white.
The color has shape and density, symmetry and modulation. It is not so much that the painting seems to have a geometry as that the color, within itself, does.
Monet knew Turner's paintings and his admiration for them was part of his decision to go to London to do his three late series. One would like to be sure that he had had adequate time with this particular picture, which seems to have a project related in an important way to his own. Monet set the Houses of Parliament, the Thames before them, and the air above them in such a way that each could be transmuted into the others. Turner and those with him along the banks of the Thames that night saw this happen.
The night of the great fire, October 16, 1834, Turner worked all night, up and down the banks of the Thames sketching rapidly in watercolor, which was his habit. One of these sketches is reproduced in a beautiful called
Turner: Les Carnets de Dessins
with text by William Gaunt. Turner's watercolors, the most wonderful I have ever seen, were his private work, and were not brought before the public until well into the 20
th
century. Thus Monet, hurrying up and down the sides of the Thames desperate to catch his evanescent effects, never knew how close a ghostly colleague he had.
Feeling the Air, I
Tuesday, December 3, 2013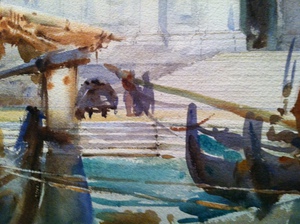 I've had a few conversations recently with people who are not that interested in painting. They say, reasonably, that in museums they are overwhelmed by the profusion, or that only really contemporary painting is strange enough to compel their attention, or that in front of paintings long and loudly admired their eyes feel veiled by expectations and history.
It feels odd to say in the face of these large and genuine concerns that when I am at a museum I am often merely after a small, fine sensation. The movement of light and air. That's all. I know this feeling is of a family of quite ordinary feelings – on a good day one may have something like it walking to the grocery store. But, though common in life, it is rare in art. In very great literature, "But, soft! what light through yonder window breaks?" But not, for example, in photography. It might be almost a definition of what distinguishes painting from photography that one does not feel the movement of the air in looking at photographs. Even in front of Ansel Adams, what one feels is majesty, not air. But in front of a painting the movement of light and air have held someone else's attention in a way that lets me feel it and at the same time know myself to be feeling it.
The presence of the Sargent watercolors in Boston this season has focused my attention on how it is that painters offer this sensation to us. Why, looking at Sargent's quick-stroked boats along the edge of a Venetian canal do I suddenly feel the soft air?
My guess is that this sensation is one of the aspects of seeing paintings in person that cannot be rendered in iphone details, but I'm going to try to illustrate what seem to me to be two sides of the answer.
It seems first of all to have to do with things jostling and overlapping. The two gondolas to the right here are at rest, but must be bumping each other. The figures standing on the stone are, in action, distinct but are shown overlapped by the long greenish boom of a boat, and the figures themselves and their shadows bleed into one another.
Boats, water, Venice, all ideal for this because it is not in any of their natures to be still.
We know the light reflected on the underside of the bridge to be dancing, as are the waves given in motion below. Jostling, overlapping, playing over, this gives the sense of motion, permeability, change,
within
the picture.
On the other side, the angle and motion of the viewer are also significant. Look at these two shots, almost identical of
Portuguese Boats
. I think that the sense of motion comes across better in the photo to the left, taken at a slightly stronger angle, then in the flatter front-on one to the right, in any case, shifting rapidly between the two may give something of the sensation.
The shift makes a small suggestion of how one sees the picture as one is oneself in motion. Of course when you see a painting in person you cannot help but move in front of it, if only to walk up to it. The spatial experience of a photograph changes much less as you move around in relation to it. I suppose because of the fixed position of the camera. The painter is constantly moving around in relation to her canvas and constantly changing the perspective. It must be the sense that space is changing around you that you have when you walk to the grocery store.
Open to the Public
Sunday, November 17, 2013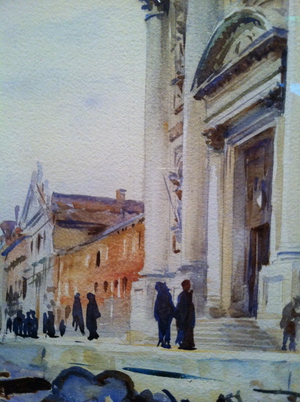 Last Friday at the Isabella Stewart Gardner Museum I had a notion of looking for her Sargents, to keep company with the sense of the artist developing in my mind because of the watercolor show at the MFA. On entering the Gardner I must have half-noticed a small poster with a Venetian-looking Sargent on it, but this didn't entirely register. I went first to the new wing to look at the Sophie Calle show Last Seen, about the great theft of pictures from the Gardner in 1990.
This show I liked very much. Simple, a photograph of a person standing in front of an empty frame, next to it, in the same size and shape as the frame, a series of short quotations from different people about the missing work. Some from interviews done at the time of the theft, a more recent group done now, about the empty spaces twenty-three years on. The show had a kind of intimacy with the paintings, especially in those quotations about the missing pictures that clearly came from the guards. One, speaking of a little Rembrandt self-portrait etching, a piece that had been stolen before, said that she (or he) always felt a little extra protective of that one, "I would just give it a little look as I went by."
I went down the bright Renzo Piano stairs and into the dim museum Gardner designed herself to look for the Sargents. In the first of the small dark rooms containing the flotsam and jetsam of sketches done by Gardner's acquaintances lowers one great brooding Manet of his mother. In the second little room, there should have been the Sargent watercolor of Gardner wrapped in white, the last portrait of her before she died.
I asked the guard about the sketch's whereabouts. He was large, friendly, Russian, too friendly, he had already accosted me about a daub with orange flowers, and made me guess who had drawn an awkward sketch of a dancer. I said had the portrait gone to the MFA show, though I knew that was unlikely since the Gardner cannot lend or borrow. No, he said grandly, "it is in our show." A little group, in the space beyond Mme Manet.
Eight, and the four on the left wall of Venice, and each of those four as good as the best on display across the Fens. Brilliant, improvisatory, dedicated, and, as I looked, a sudden lift, each one in turn seemed to give the air and moisture of Venice, I was in the city, felt it.
I had been careful at the MFA, but it was always so crowded in the first room of the watercolors of Venice that in the end I hadn't needed the protection. They were just beautiful quick images, I didn't have to think of our trip to Venice earlier this year and of scattering my father's ashes there as he had asked. At the MFA I had noticed, admired, walked on.
But here at the Gardner, suddenly, taken by surprise, there is was, Venice. And then I longed to be there, and to think of my Dad. I would try to take down what Sargent had done to transport in this way. No photographs in the Gardner, of course, so I thought I would sketch his sketches.
I had just done the first, boats riding at anchor with the great church behind when another guard interrupted me. "I'm sorry, miss, no pen is allowed," and he proffered a dull pencil, bitten or broken in half. "I forgot," I said pleasantly, and, still determined, set to work to do the others in pencil. Of course it was much less fluid, and without ink couldn't approximate the vivid feeling of looking, but I got some of the shadows. Another guard had come in and begun to talk in a loud voice to the one who had given me the pencil. I was midway through the third image, of a low bridge over the water, when it became impossible to pretend that my concentration had not been destroyed by his insistent story, about a man who had deliberately put his face too near the crotch of a boy, and the boy's reaction. I glared to little effect, finished my sketches for form's sake, and tried to return the pencil on departing, "you may keep it," the guard said magnanimously….
I went up to the top floor, to see Sargent's full-length oil portrait of Mrs. Gardner. It was her fault, anyway, all of these ridiculous regulations, no photos, no pen, even sketching made almost impossible, these hovering, intrusive guards. I've liked the stories of the early days of her museum, how shocked she was by souvenir hunters (and it's true one lady did take our her scissors and try to take home a swatch of tapestry) and by teachers lecturing students, and by, worst of all, reporters, and how difficult she made it for the public to attend the museum that she intended to offer to that same public. So difficult that in the end she was charged all the back taxes she had avoided by claiming that her art imports were for the public good. This was all amusing enough, I thought to myself, mounting the staircases, but even a century later the place was still uncertain about just how open to the public it intended to be.
She presides in Sargent's portrait, and there is a glad welcome in the figure – "you've come, you've come all the way up," she says, and is pleased. What if they'd taken that picture? I thought I would go down again, and try to see the Venice my Dad loved and had left himself to.
There was no one in the little alcove when I entered. I had stood for a few seconds, thought I detected the first slight trembling, and through the door barreled the large Russian guard, waving his arms. As he came up to me, much too close, I said, frigidly, "I really would like to look at these pictures by myself, please." He sealed up his mouth but waved energetically behind me. Yes, I said, I had seen the one of Mrs. Gardner. He nodded and walked away. Of course that finished it. Had I been rude, probably I had been rude. The openness I had to the pictures was gone. I went and found the man, thanked him again for his help; he hardly nodded.
I left the Gardner.
And went across to the MFA, and went down to see the Sargents. No one advised me, no one interrupted me, no one cared how I looked at the watercolors. One of which was almost an identical view of I Gesuati that had seemed so evanescent at Mrs. Gardner's. I can reproduce it here:
The pale yellow wash of the façade, the beautiful dark blue and gray details. But the one at Mrs. Gardner's, without passersby, with a more steep angle of the water and stone wall, was undeniably more dramatic, more empty. I had thought of my father, walking there.
How do the dead come and go in the places to which they have left themselves?
Sophie Calle had asked a medium to come and look at the empty frames in the Gardner. The medium had felt joy, felt that the spirit of the paintings was now diffused through the whole museum, and that the frames were open to possibility as they hadn't been when they contained the paintings themselves.
I do not know how long it takes to come to the point where we do not wish our dead back on the actual earth with the air playing over their living faces, but I am not there yet. I want the paintings back.
Watercolor: Translucence and Resolution
Friday, October 11, 2013
On Tuesday the baby and I saw the John Singer Sargent watercolors now up at the MFA. The baby saw much to please her. In addition to the particularly nice low cushioned gray benches, she liked best the room labeled "watercraft," and in particular this image of boats, also my favorite:
We seemed both drawn to it simultaneously, though how much each might have anticipated the other's preference is hard to determine. She could see immediately that it was boats and then called out the colors – first, her favorite, "orange!" and then, another color she particularly likes, and one pronounced in the picture, "green."
In the last six months or so, watching the baby learn to name her surroundings, I've found again and differently how much of the pleasure of looking is naming. To know what a thing is called is to see it with a distinctness that, nameless, it lacks. One pleasure of Impressionism is of making out what's there – that is a face, a hat, a shadow, a boat upon the water, a reflection. The Impressionist styles of painting slow down the eye's recognition enough that you can feel, again, the early pleasure of coming-to-know-what's-there.
This is also a pleasure of Sargent's work. Though he was not an Impressionist, he developed just a little later and responded to some of the same influences. Many of the watercolors that are part of the exhibition are from the latter half of his career. Watercolor is a great late medium: translucent, indelible, it requires judgment and assurance from its maker.
A mature form for artists, it is also a late form for lookers – requiring subtleties of discernment and resolution. The more experience you've had looking at the world, the more astonished you feel to recognize the effects of diaphanous atmosphere in the watercolor. (Translucent is even one of the names for the kind of paint, the exhibition's wall text lists both translucent and opaque watercolor.)
I had no idea if the baby would be able to see things in this medium – they require much more advanced powers of resolution than what she grasped a couple of months ago when we last went to look together. But, in the last room, labeled, I think, "light on stone," when I said I wanted to look at this white house, she seemed pleased
and when I carried her over to it, she said, of her own accord, "clouds!" That's right, I said. I took out the phone and she wanted to look at the picture of herself with a cat that she knows is on it, but when I said that I wanted to take a picture of the green door she approved and her tone suggested to me that she saw both the object and the way that taking a picture of it was like naming it, an act of recognition: "Door!"
[First two images iphone details of "Portuguese Boats," 1903, last four images iphone details of "Lights and Shadows," 1909.]
Private Collection
Monday, May 13, 2013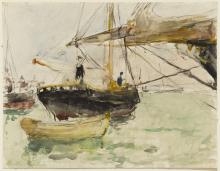 A small watercolor by Berthe Morisot was the most surprising thing I saw on our trip to New York. At the Frick, on loan from the Clark, in that basement space they use for special exhibitions and works on paper, in an assortment of drawings by French Impressionists. The watercolor is of a dark boat floating in green water among other crafts – masts, bow, lines for sail and anchor, a few indistinct figures moving about their work. Colors wonderful – shadows of boats reflecting darker green below, sense of movement, mass, buoyancy. Apparently she drew while herself on a neighboring boat and relished the difficulty of getting the lines while she herself went up and down. A much better draughtsman than I had realized, learning from Turner's watercolors in ways that I've not seen others do, allowing the colors to make a structure. Who is she? Berthe Morisot. The images I know are of her, especially Manet's portraits, not by her. At the Met later that day four or five really wonderful paintings by Morisot as part of their "Impressionism and Fashion" exhibition. The women in these paintings – reclining or sitting, looking in mirrors or at us – emerge out of a shaded and subtly modulated atmosphere. The air itself is thick with paint that condenses in the figure. Clothes are beautiful. A manifestation of what animates their wearers. These women have not been dressed, they dress themselves. I had little time, but tried to look carefully at just these paintings, promising myself that I would spend more time with them one by one in the museums where they reside. In the gift shop, quickly scanning the one book on Morisot, I saw to my disappointment that nearly all her work is in private collections.