Boudin
Catalog of Time: Time and Tide
Friday, October 10, 2014
Suspension, one of the time-qualities a painter may achieve, is particularly pronounced in Boudin's
Low Tide at Deauville
. Sky over the land, figures near and in the water, boats awaiting the wind. Just at low tide there is a pause, the water holds steady, and then it's as if the whole scene takes a next breath, and everything begins to flow the other way.
Time and tide, I find, are not the distinct words I always took them for. Time and tide wait for no man. Those two great forces, I always thought, time and the sea, the hours of the sun, the pull of the moon, the ineluctable powers of the heavens drawing movement from the earth. But no, tide in old English
was
time, with no thought of the sea. The expression began as a repetition of synonyms, two words for time, it tarrieth, they used to say, for no man. We have this older sense, the tidings of season and time, in yuletide, noontide. Tide came to take a sea sense probably in the 14
th
century, time was still its primary valence, the time of the waters. To me the earlier version of the expression almost seems to herald the coming differentiation – it is only when 'tide' has a sea meaning that the expression has its great breadth and completeness, its sense of mortality.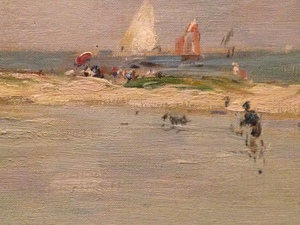 Boudin painted this picture in 1897, the year before he died. Looking at the details I am struck again by the way the figures, especially the one who bends to look at the water, seem to dissolve into the air.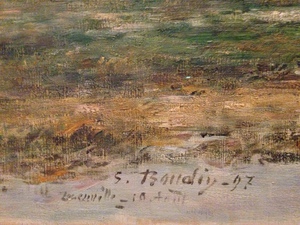 On Photography I
Saturday, October 5, 2013
After years of scorning people who come to museums and take pictures – souvenir-hunters! they don't even look at the paintings! – on Tuesday I found myself in the Impressionist rooms at the Met zealously photographing details with my iphone held up in front of the canvases. I had two impulses, or justifications: it seemed expedient – I was in New York for a day only, had a mere hour with the pictures – this was a way to take notes. And at the same time, or even before the thought of expediency occurred to me, I also knew that having details of paintings is very helpful if you are going to post about them. Already the fact of keeping this notebook is changing the way I go to museums.
The second picture I took showed me that the modest magnification of the iphone makes an enormous difference in what you can see. I started with some little Boudin figures at the beach:
I have always felt that if you wait long enough and give yourself patiently to the act of looking your eye will learn to see at this level of detail. But here, presto, the machine could do it instantly – and then looking at the painting with the naked eye I could see it all myself, trained, in a second, by the clarification of the machine.
As I went on, taking pictures of Constables and Daubignys, and made my way to the Pissarro room, I began to experience some of the pitfalls of the new method. The iphone camera overclarifies. It sharpens contrasts, defines edges where the paint is deliberately ambiguous. So that I was in fact learning to see a painting that wasn't the painting I was looking at. I had to try to compensate in the other direction, photographing so quickly that the camera had not yet quite had time to resolve the image, and this seemed to more clearly approximate the paint as it was actually there.
Still, the exciting thing was that I could actually keep track of the sequence of my observations. For example, I saw this beautiful Pissarro from 1874, the year of the first great Impressionist exhibition, painted at Pontoise, one of Pissarro's favorite places to paint.
I saw the picture whole:
Then my eye went to this passage of paint in the foreground:
Then to the cowherd of the picture's title:
A cart further along:
Paint to right foreground, the yellow, blues and lavendars:
Stretch of cultivated field down to earth:
[ Technology suggests and constrains. I find I am limited in the number of images I can post. Just at this moment of drama, when we are about to see further into the picture, I will have to ask my reader to wait. The rest of the sequence will be found under Pissarro, On Photography II ]
Trying to be Taught
Friday, September 13, 2013

Reading about the early years in the lives of the Impressionists – the period in the late 1850s and early 1860s when they began to arrive and to meet one another in Paris – I have been thinking about the necessity and difficulty of finding teachers. Unlike writing, the craft of painting has always been passed on in ateliers and schools. Sometimes it seems like every painter in the mid-17th century in the Netherlands spent a productive period in Rembrandt's studio. Painting is an apprentice trade. You watch the hand of a master and your hand becomes knowledgeable. You practice under a master's eye and the lines of your drawings lose their clumsiness.
The men and women who became known as the Impressionists were desperate for teachers. As a young man in Le Havre, Monet was fortunate to stumble on Boudin and Jongkind. In Aix, Cézanne, arguing with his banker father to be allowed to study art and confined to the study of "dusty plaster casts" and "black and white engravings after paintings," was, John Rewald estimates, "in dire need of guidance."
[i]
But in Paris there was a surprising paucity of genuine help. The
Ecole des Beaux-Arts
, controlled to calcification by the persnickety academicianism of the followers of Ingres, had made a decades-long practice of excluding Delacroix and the fiery energy he would have brought to students in search of more expressive means. Delacroix himself, though his studio was open to any sincere seekers, was isolated and growing old. Teachers like Gérôme were fiercely critical of what seemed to them the ugly uncouthness that resulted when younger painters attempted to render realistically the world around them.
Delacroix, Tiger and Snake, 1862


Ingres, Turkish Bath, 1863
At that time, Courbet was the enfant terrible of realism and the Paris art world was shot through with partisanship. At the end of 1861, some students even left the
Ecole des Beaux-Arts
in protest and petitioned Courbet to teach them. He tried. For a few crazy months he rented a large space and everyone went there with great enthusiasm and he had horses and bulls brought in to be painted 'from life' and cartoons of this ran in the papers. But he was haranguing and repetitive, good at the manifesto of his own work but not at helping students discover their own and the experiment was given up in April of 1862, just at the time that Renoir enrolled in the
Ecole des Beaux-Arts
, and a few months before the arrivals of Sisley, Monet, and Bazille.
They met instead at the school run by affable, old-fashioned, unimpassioned Gleyre. He looked at a study of a nude that Monet had done and he said, "not bad!... but it is too much in the character of the model – you have before you a short thickset man, you paint him short and thickset – he has enormous feet, you render them as they are. All that is very ugly." The vigorous, impatient Monet remembered this vividly when he was interviewed about it some forty years later. Gleyre had continued, "I want you to remember, young man, that when one draws a figure, one should always think of the antique. Nature, my friend, is all right as an element of study, but it offers no interest. Style, you see, is everything."
[ii]
After that, Monet came to the studio just enough to pacify his family, who were already quite uncertain about letting him pursue painting.
Gleyre's interaction with Renoir is also illustrative. Renoir remembered, again decades later, that Gleyre had said to him, "No doubt it's to amuse yourself that you are dabbling in paint?" And light-hearted Renoir replied, "of course… if it didn't amuse me, I beg you to believe that I wouldn't do it!" Renoir thought Gleyre was "a second rate schoolmaster but a good man,"
[iii]
who at least "left them pretty much to their own devices."
[iv]
And Gleyre made a place where they could work. Determined to learn, Renoir, Bazille, and Sisley went on diligently in that studio, meeting afterward to talk through all their own ideas.
When these just-emerging painters looked around them in 1862, the teacher who seemed just a few steps ahead of them on the path was Manet. In those first heady conversations as they walked out of Gleyre's, Bazille told Renoir "Manet is as important to us as Cimabue or Giotto were to the Italians of the Quattrocento; and as the Renaissance is beginning again, we must be part of it..."
[v]
Part of the excitement of studying Impressionism is to watch how this quite large group of people was able to teach one another and themselves. In the lives of writers, two, three, four friends may have a long effect on one another's understanding, but in painting, large groups – in this case there are easily twenty figures of great significance, perhaps many more – may teach one another in a very substantial, personal way.
"Each of Renoir's friend brought him a gift for which he was grateful," the painter's son judged later. "Bibesco [a prince and patron] gave him his first opportunity to see the bare shoulders of women in their beautiful evening gowns; Cézanne revealed to him the precision of Mediterranean thought; Monet opened his eyes to the wild imagination of the people of the north European countries; and Pissarro formulated in theoretical terms his own and his friends' researches… Sisley's gift was gentleness."
[vi]
Manet, Concert in the Tuileries Gardens, 1862
---